Imagine the wedding of your dreams in your very own private piece of paradise. At AMResorts, you can experience the ultimate destination wedding filled with romance and luxuries designed just for the two of you. With resorts located in some of the world's most breathtaking locales, from Central America to Mexico, the Caribbean, and beyond, eloping at AM Resorts may feel more like a fairytale than real life.
Destination weddings at AMResorts include:
The expertise of a specialized, on-site wedding coordinator
Personalized ceremony services
Sumptuous accommodations with over-the-top luxuries
Fine dining and wine
Unparalleled pampering for the newlyweds
And much more!
More information on destination wedding packages at AMResorts >>>
Wedding Packages & Romance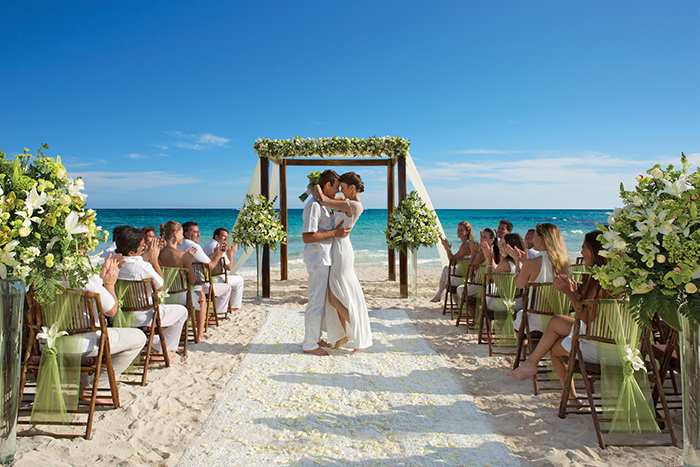 If eloping is something you and your partner have been discussing, there's no better place to do it than at AMResorts. The specialized Elope in Luxury package is designed to create a day that's filled with romance and luxury without the stresses of accommodating an entire guest list. Discuss what you want out of your special day with a Certified Destination Wedding Specialist and meet with the on-site wedding planner to discuss the elements of your dream wedding escape, and watch your vision unfold into reality. Additional perks of AMResorts all-inclusive wedding packages include:
Fresh fruit and sparkling wine upon arrival in your room or suite
Hairstyling and makeup for one member of the wedding couple on the day of the ceremony
Bouquets and boutonnieres for the wedding couple
A symbolic and unforgettable ceremony
20 digital photos of the ceremony
Preparation of the wedding day attire
Sparkling wine toast and wedding cake for two
Romantic fine dining arrangements for two on the wedding night
A luxurious turn-down service on the night of the ceremony
Your romantic escape for two doesn't stop there. The AMResorts Elope in Luxury package also includes a 15-percent discount on all spa treatments at the resort, breakfast-in-bed for two including mimosas, late check-out for the newlyweds and a complimentary hydrotherapy circuit treatment for two. Couples can also return for anniversary escapes and receive two complimentary nights with 5+ paid nights.
AMResorts aren't just known for the unbeatable Elope in Luxury package. These resorts offer full destination wedding packages as well as packages for anniversaries and honeymoons too. They're also ideal destinations for corporate meetings in idyllic settings or vacations that simply stand above the rest. Whether you're celebrating your first anniversary, your 40th, or simply need to get away, there's no better place to book than AMResorts.
With so many resorts in such gorgeous locations, you can have any type of wedding venue that you can imagine. Whether that be a classic beach ceremony, a beautiful garden, or a fun and scenic rooftop!
---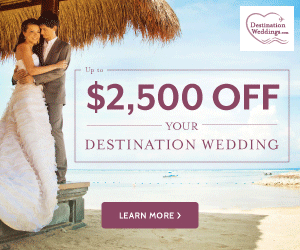 RELATED: Eloping in Jamaica: What Couples Need to Know 
---
Accommodations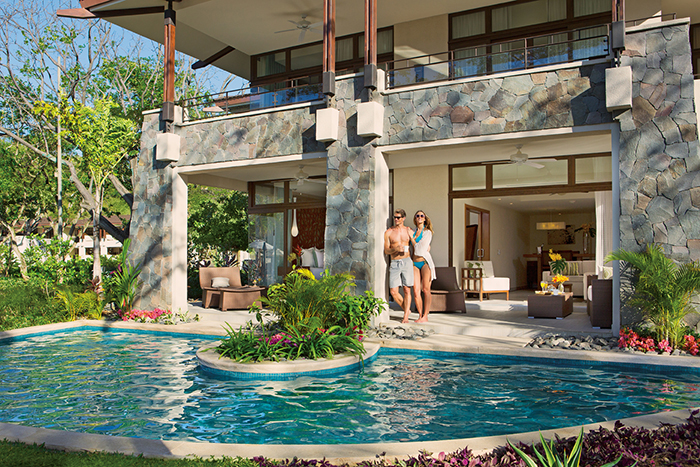 The AMResorts Elope in Luxury package is available at several participating resort locations. These include:
The rooms and suites at all of the participating AMResorts locations vary, but whichever destination you choose, you're guaranteed to have a selection of well-appointed and sumptuous rooms available for your picking. Feel the fresh ocean breeze from your balcony, sip ice-cold beverages from the mini bar, enjoy a luxurious turn-down service or experience even more romance in a personal swim-out pool. The variety of rooms available allows you to cater to your romantic escape exactly to your liking.
By working with a Certified Destination Wedding Specialist you will be able to choose the perfect resort for you and your love to indulge in. With so many different resorts focused on different things like wellness, nightlife, families, etc you will be able to narrow down exactly what you are looking for with your specialist. In addition to that since our specialists have such exclusive relationships with these resorts, they will be able to find you deals that you will not be able to get anywhere else that can fit perfectly into any couple's budget!
Restaurants and Bars
AMResorts are known for their variety of dining options, ranging from quick bites for your beach day to fine dining in the evening. Depending on the resort you choose for your Elope in Luxury escape or other getaways, you'll be able to choose from a number of restaurants and bars able to accommodate all of your cravings and moods. Coffee, baked goods, craft cocktails, small plates, fresh seafood, a perfectly-cooked steak — you can find them all at AMResorts.
You will be in heaven with all of the amazing menus being offered. With so many delicious options the number of romantic dinners you and your love can share will be endless!
Activities and Amenities
Some of the biggest perks of choosing AMResorts are the activities and amenities you can enjoy when there. Every day of your escape you can choose how adventurous or laid-back you want to be. Join in an action-packed game of beach volleyball, take a kayak out to sea, enjoy a scenic yoga session or lounge by one of several on-site pools with a good book. Activities vary depending on the resort you choose, but one thing is for certain, you'll never feel bored when eloping or vacationing with AMResorts.
Be sure to schedule in some relaxation time too at one of AMResort's ultra-luxurious spas. With so many rejuvenating treatments on the menu you will walk out feeling like a new person. Endless massages, facials, and aromatherapy, aka true paradise on earth!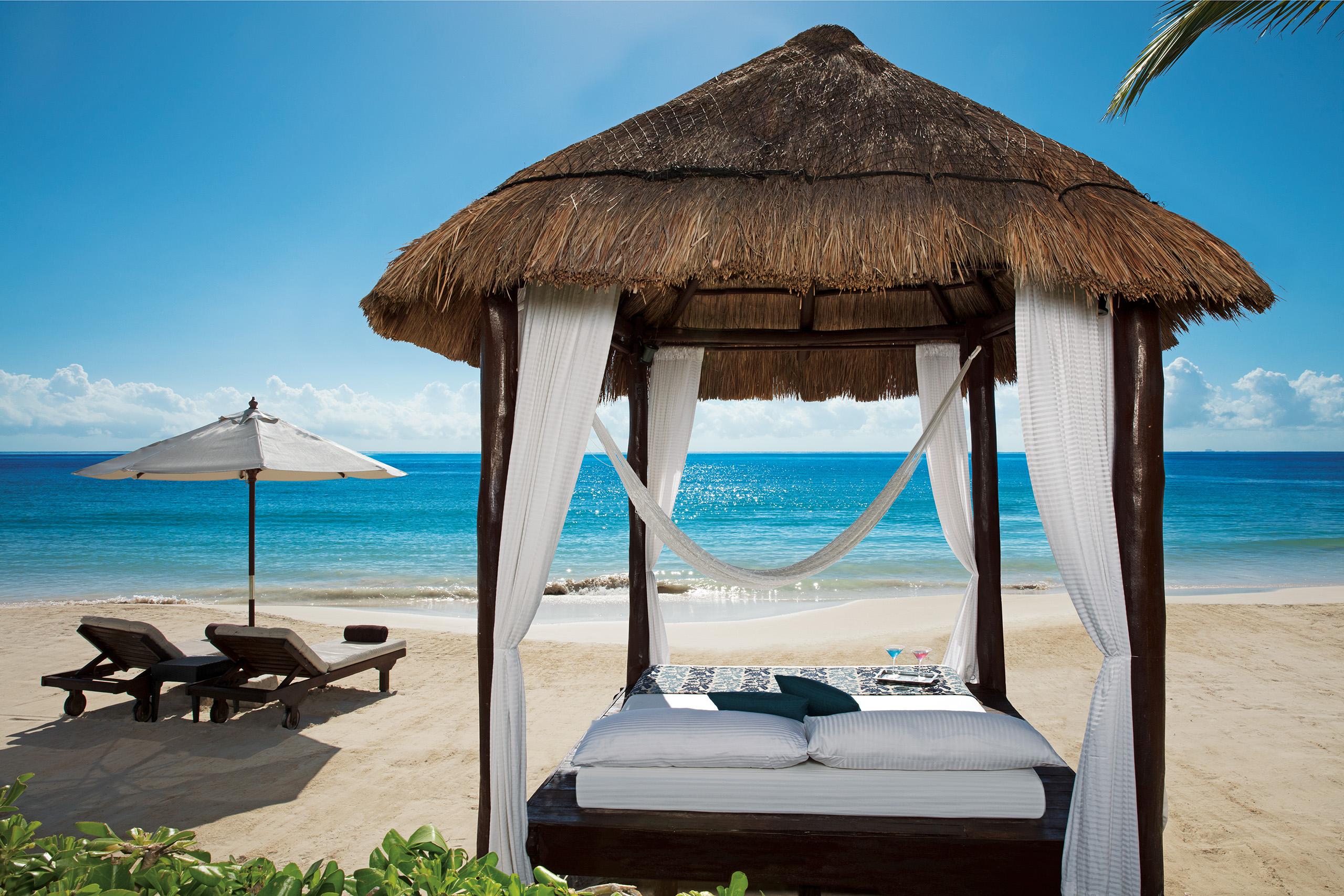 In conclusion:
The AMResorts Elope in Luxury Package is one that allows you to enjoy your dream wedding for two without the stresses or hassles of wedding planning and an extensive guest list. Let the experts handle the details while you simply look forward to your ceremony and an escape into one of the world's most idyllic travel destinations. AMResorts is prepared to create what you and your new spouse will be happy to call the best day of your lives.
Ready to start planning? Create a profile today to beginning planning your dream wedding! >>>