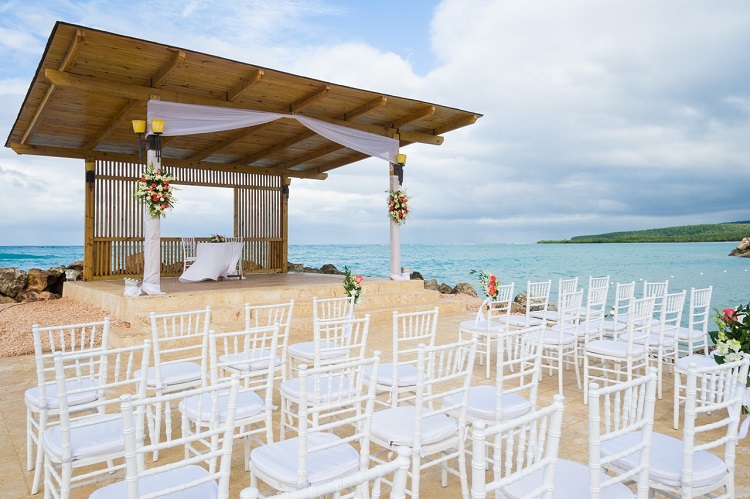 The Caribbean and Mexico are gorgeous places to find unique destination wedding venues. You can browse stunning locations on the beaches of the Dominican Republic, the lush coast of Central America, historical landmarks in Mexico and Jamaica, and beyond. But just because you've always envisioned having a stunning view while exchanging vows, keep in mind that your wedding doesn't necessarily need to take place directly on the beach with your toes in the sand. A non-beach destination wedding offers all of the views, with a wide variety of benefits.
There are so many destination wedding resort properties throughout the Caribbean and Mexico that that offer alternative venues for your ceremony and reception. These hotel properties many times offer all-inclusive packages and a variety of options for all styles and budgets that will make your nuptials as breezy as the beach you won't be on.
The best non-beach destination wedding venues include:
Garden Gazebos
Rooftop Terraces
Panoramic Piers
Oceanfront Chapels
Archeological Ruins
The Pros and Cons of a Beach Destination Wedding 
While weddings right on the beach are beautiful and a lot of fun, they are not always ideal. Since the beach is typically accessible by all guests on the resort, you can expect a little bit of an audience on your wedding day. While they are "oo-ing" and "ah-ing" over your gorgeous décor and romantic scenery, you are probably wishing for a little more privacy.
There is also the threat of weather. The beach is subject to rain, harsh winds, and direct sunlight due to the lack of shade. Also, you must be okay with making your way through the sand.
The Best Destination Wedding Venues (Not on the Beach)
Luckily, there are so many different gorgeous locations to hold your destination wedding ceremony on an all-inclusive resort. With all of the views and double the privacy, you will be in wedding heaven.
Let's go through some options…
A Garden Gazebo
Many destination wedding resorts have outdoor gazebos that they offer for wedding ceremonies. This is such a gorgeous option that usually photographs very well for the wedding. A gazebo is also a terrific option if you love flowers and greenery. The gazebo is an easy place to decorate going all the way up the arches of the structure for a magically natural setting that you'll feel is straight out of a fairy tale.
UNICO 20˚87˚ offers a gorgeous, yet modern garden gazebo. For those looking for an intimate and romantic setting, this is an easy choice.
A Rooftop Sky Terrace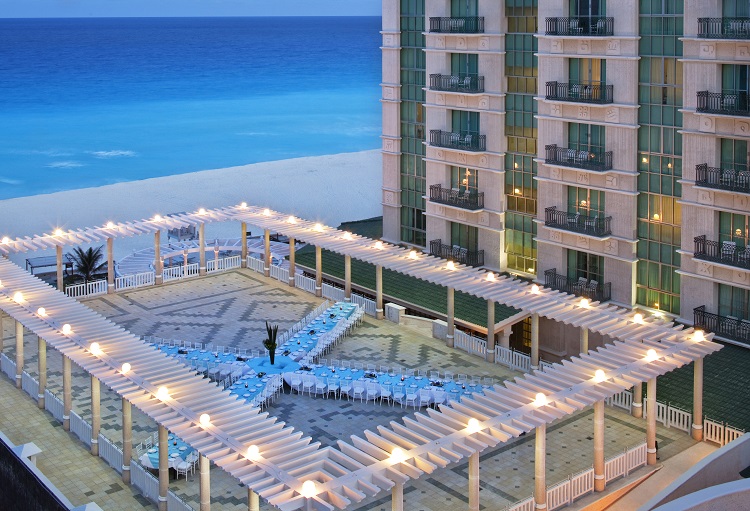 For something modern, you may want to consider a rooftop wedding venue. This can overlook the entire property of the resort with its many pools and beautiful tropical foliage all around. Panoramic views alone are enough of a reason to hold a wedding on the roof of a hotel that may have a high-end lounge or restaurant on the top of the hotel. Another major benefit to this is complete privacy amongst you and your guests.
Sandos Cancun Lifestyle Resort features a rooftop terrace that offers one-of-a-kind views of the ocean and jungle. It is also the perfect place to dance the night away after the "I do's" are complete.
---

RELATED: How to Plan a Destination Wedding on a Budget
---
A Pier with Panoramic Ocean Views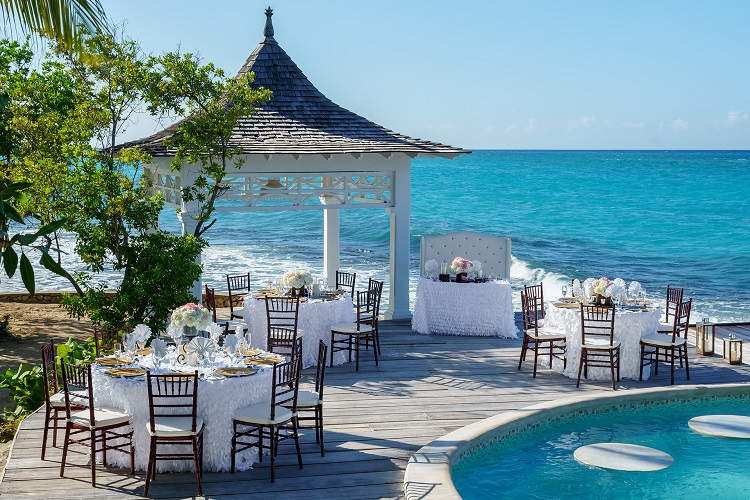 If you don't want to get married directly on the beach, a long pier is a beautiful option. This will give you gorgeous views of the Caribbean blue seas while you are having your ceremony. With a soft breeze blowing and the sounds of the ocean waves below, this type of wedding venue can make for a memorable setting that still fulfills all of your beach wedding dreams.
Couples Tower Isle has a pier that looks over the crystal blue waters of the Caribbean sea. It is the perfect backdrop to your non-beach destination wedding, and a great way to feel like you're on the beach without all of the sand!
Oceanfront Catholic Chapels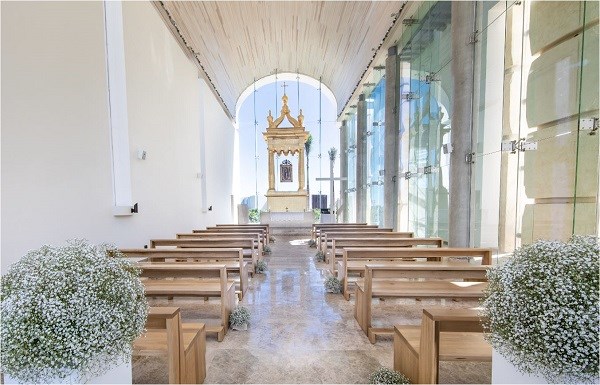 Many all-inclusive properties have gorgeous, quaint chapels right on the resort. If this feels more like an appropriate space to have your wedding, check with your Wedding Specialist to see if that's an option at the specific property. You can also check out local chapels or churches in the area to see if they will allow you to have your wedding there.
A chapel on-site at the resort is a great backup option if, for some reason, the day of your wedding gets some unexpected rain. Of course, it doesn't rain a ton in the Caribbean, but if on the off-chance you do get some rainy skies, it's nice to have a backup. And hey, don't be too sad about the rain on your wedding day…some think it's a sign of good luck for the marriage.
Grand Palladium Costa Mujeres Resort & Spa offers a Chapel that is simple and elegant. Flooded with light, it is a gorgeous space to be filled with gorgeous florals. For couples looking for a more traditional ceremony, this is such a beautiful option.
Archeological Ruins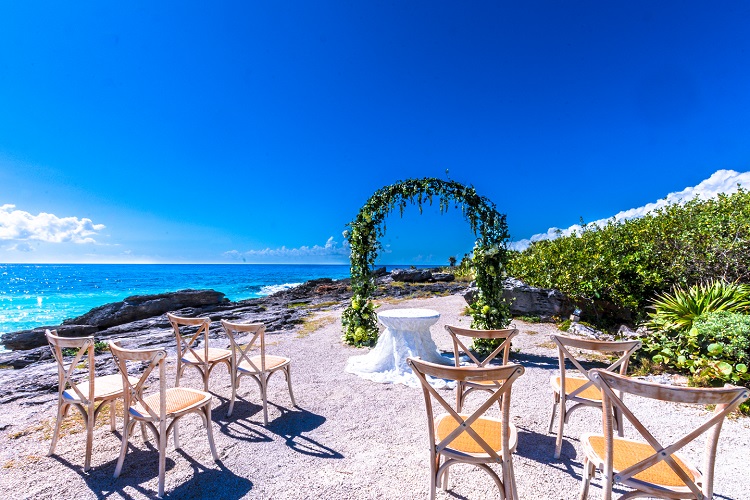 This is a one-of-a-kind ceremony setting that can only be attainable in the tropics. Extraordinarily unique and beautiful, you will be looking back on these photos forever. Resorts like Occidental at Xcaret have this type of historical scenery that is an absolutely stunning backdrop for a destination wedding.
The Benefits of an All-Inclusive Resort Wedding Venue
An all-inclusive vacation package means everything is included in one affordable price upfront. Meaning that you and your guests don't have to worry about food, drink, entertainment, or activities once you get there. Plus, your wedding package will likely come with an onsite wedding coordinator, who will be available through the planning process and with you on the big day to guide you every step of the way.
Many wedding packages include all the necessities for a gorgeous ceremony like flowers, decorations, and even cake and champagne! You might also get special room upgrades and discounts at the spa; the perks of an all-inclusive destination wedding are truly endless!
Another great perk of a destination wedding is the experience that you get to share with your guests. It is a much more intimate setting that focuses on fun and relaxation. It is hard to be in poor spirits in paradise! It is sure to be a memory that everyone will cherish for many years to come.
Also with everyone in one place, transportation does not have to be worried about!
Click here to get your free quote now! >> 
One Last Bit of Advice about Your Destination Wedding Location
Wherever you choose to hold your destination wedding ceremony and reception, make sure the location is one that will make you and your fiancé(e) happy. Check out photos of the site before you make your choice and when you arrive at the property, one of the first things you should do is look at the venue in person with your wedding coordinator. They will be able to help facilitate any last-minute requests you may bring up so you can have the wedding of your dreams!
With so many gorgeous locations – both on and off the beach – it is hard to go wrong. We hope that this list of unique, non-beach destination wedding venues has opened your eyes to all of the possibilities for your romantic wedding in paradise.
Ready to start planning? Create an online profile today so one of our award-winning Specialists can assist you in creating your perfect destination wedding!