The destination wedding trend is bigger and better than ever. Couples are embracing all-inclusive wedding resorts that are making their special day as stress-free and affordable as possible. Plus, family members and guests are thrilled to combine a vacation with a loved one's wedding. It's a win-win!
While a destination wedding is exciting for everyone involved, it's still a financial commitment for both the couple and their wedding guests. Knowing how to set a destination wedding budget is half the battle. Luckily, we're breaking down everything you need to know here. Even better, we'll provide our top tips on how to plan a destination wedding on a budget, and the best budget destination wedding locations for you to choose from!
Ready to start planning today? Get a free quote now!  >>
What is a Good/Realistic Destination Wedding Budget?
The wedding itself is one thing, but remember that with a destination wedding, things like airfare, hotel, and transportation need to be accounted for as well. Despite all these different expenses, the cost of a destination wedding can range anywhere from $5,000 to $30,000. It all just depends on your needs and, of course, your budget. No matter what that number is, always keep it in mind while you're planning. This helps you stay conscious of how much you're spending so you don't max out your budget or go over.
The average cost of a destination wedding is $7,000-$10,000 for the couple.*
Learn more about destination wedding costs here >>
Destination Wedding Budget Planning Tips
Plan and prioritize
There's no denying that the costs of a destination wedding can add up very quickly. That's why it's a good idea for you and your significant other to sit down and come up with a price you both feel comfortable spending. Once that's figured out, you can start researching to get quotes from vendors and see how much your travel expenses will be.
Instead of stretching your budget thin, you can also save by deciding what areas of your wedding you may want to splurge on. For example, if having a top-notch photographer is a priority, consider spending more on gorgeous photos.
Let the experts help
Hiring a Certified Destination Wedding Specialist helps you score great deals and find the best wedding packages available. They'll answer your questions and resolve any issues that may arise, making sure you feel at ease as the big day approaches. Specialists will also take care of your guests so that everyone has a memorable experience.
All-inclusive wedding packages
Some of the best budget destination wedding locations are found at all-inclusive resorts. Beautiful properties across Mexico and the Caribbean have become popular spots for couples to celebrate with loved ones. You can choose an affordable resort that caters to your needs as well as the needs of your guests. From private swim-out suites and 24-hour room service to gourmet dining options and sparkling infinity pools, there's something for everyone to enjoy.
Additionally, these resorts offer all-inclusive wedding packages as a way for you to save money while still creating the wedding of your dreams. Package pricing varies, allowing you to choose whichever one best suits your budget. You'll receive help from a professional wedding coordinator who ensures every detail is taken care of. Venues like white-sand beaches, garden gazebos, and open-air terraces create beautiful backdrops to your big day. All the essentials plus amazing perks are included with each wedding package so you get the wedding you deserve that's well within your budget.
---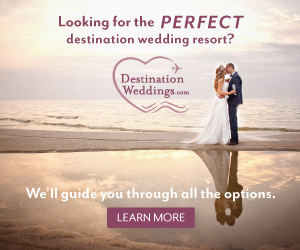 RELATED: How to Get Married in Mexico on a Budget
---
Budget-Savings Tips for Couples
Consider the size of your guest list
Destination wedding couples find that their guest list tends to be smaller, which is another way to stick within the limits of your budget. As you're creating your list, consider narrowing it down to your closest friends and family. Remember, the more people you invite, the more you're going to have to spend.
DIY some details
Instead of hiring vendors to handle all the details, get creative and see what you can do on your own (DIY!). For example, throw a DIY party to create floral arrangements and other decorations that will shave some money off of your bottom line. DIY projects are a great way to involve loved ones in the planning process. Plus, it's a great way to customize your wedding exactly the way you envision it. You may even be able to give your DIY projects to guests as wedding mementos.
Consider the timing of your trip
A weekend wedding might seem like it makes the most sense, but have you considered a weekday? Couples are replacing the typical Saturday evening wedding with a celebration during the week. It's a more cost-effective way to say "I do" as hotel accommodations, vendor rates, and even airfare tend to be cheaper. Your guests are already taking time to travel for your wedding, so why not opt to have it during the week?
Use local vendors and resources
One of the best things about a destination wedding is the location. Wherever you decide on for your big day, you can let nature's beauty be the backdrop. This could potentially mean less décor or taking a more simplistic approach to help you save.
You can also check out your destination's local vendors and suppliers. It's a lot easier and cheaper if everything you need for your day is already at your location. Plus, you won't need to pay any expenses to ship everything.
Ready to Start Planning Your Celebration?
Sticking to your destination wedding budget may seem like a challenge, but it doesn't have to be. There are plenty of ways to plan a destination wedding on a budget to alleviate stress and prevent overspending. Between careful planning and utilizing the services of a Certified Destination Wedding Specialist, you can bring your dream wedding to life.
Get in contact with us today for a FREE quote! >>
*This is based on DestinationWeddings.com customer base only and is inclusive of airfare, accommodations and the wedding package.