It's no secret that modern weddings are expensive. From venues to centerpieces, getting married means shelling out a pretty penny for a single day of bliss.
What if you could spend less while enjoying a romantic experience spanning several days? All-inclusive destination weddings in Mexico allow you to live the dream on a budget.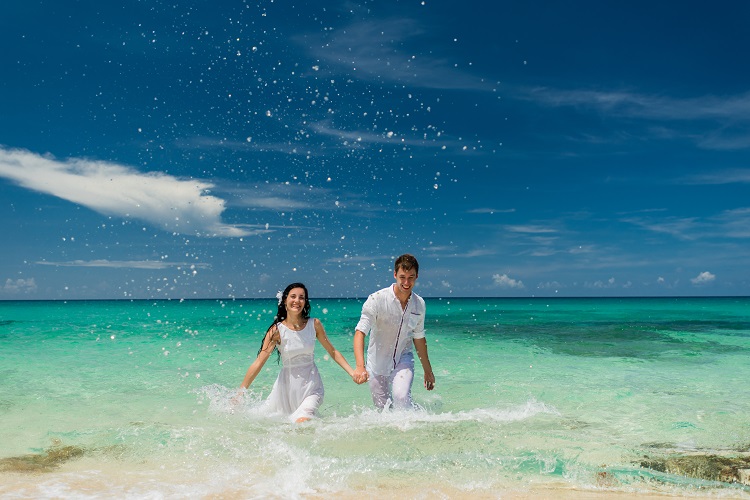 How Are Destination Weddings So Affordable?
A variety of factors bring down the cost considerably for destination weddings. Chief among them? The guest list. Most couples manage to keep destination guest lists down to a few dozen attendees, focusing on close friends and family members. This dramatically reduces the price, even for extravagant nuptials.
Size is a definite factor, but even large weddings can be affordable away from home. All-inclusive packages get a large share of the credit; resorts automatically include services such as floral arrangements, DJs, photography, and videography. Bundling these elements saves couples not only thousands of dollars but also dozens of hours that would otherwise be spent researching and reserving wedding services.
Still not convinced that getting married abroad is the more affordable option? Let the stats do the talking. Our  latest Destination Weddings Trend Report reveals an average price of $8,237 for a destination wedding, compared to the whopping average cost of $33,900 highlighted by The Knot.
Why Getting Married in Mexico is so Affordable
Mexico provides the greatest concentration of resort destinations, and nearly all cater to brides and grooms. Sheer variety means that couples with pricing concerns can find an affordable option. Eager to book wedding guests, many resorts offer complimentary packages with generous amenities.
With accommodations, venue, and food covered by all-inclusive packages, all that remains is wedding apparel (which, for a beach wedding, can be shockingly inexpensive) and your flight. Mexico allows for greater savings compared to other resort destinations; depending on when you book, you could easily score a flight for under $400.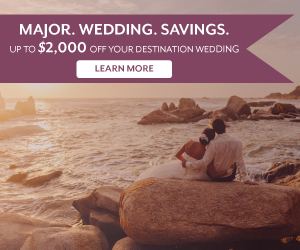 RELATED: Top 10 Reasons to Get Married in Mexico
The Average Cost of a Destination Wedding in Mexico
Across all wedding locations, our brides and grooms spend an average of $4,088 on accommodations and $3,149 on the wedding package itself.
Mexico destination weddings can be as luxurious or as frugal as you desire. In general, however, nuptials in Cancun, Cabo, and other hot spots are reasonably priced.
Our latest data reveals couples spend an average of $2,704 on Mexico destination wedding accommodations, while guests can expect to spend $1,568.
Most Affordable Wedding Destinations in Mexico
Some regions in Mexico offer more affordable wedding venues and packages than others. Keep an eye on these destinations as you plan your wedding:
Year after year, Cancun ranks among our most beloved wedding destinations. The resort town is popular for a reason; not only does it boast Mexico's best nightlife, but its resorts also offer exceptional amenities at a modest price point.
Dramatic beaches and Mayan ruins set Tulum apart. Caves, caverns, and cenotes keep adventurous types happy. A diverse array of local and international dishes is available at Tulum's all-inclusive resort restaurants.
Situated at the very end of the Baja Peninsula, Cabo San Lucas is known for its dazzling party scene and its wealth of water activities. Its resorts keep the party going at night, but provide true serenity for those who seek it.
You may be willing to pay a premium for tranquil settings — but when Cozumel resorts are available, you won't have to. The scenic, largely undeveloped island boasts an eco-park and several exceptional scuba diving spots.
The natural beauty and cultural appeal join forces in Puerto Vallarta, which is home to a gorgeous cobblestone town center and picturesque beaches. The LGBT-friendly destination is a favorite among budget-conscious same-sex couples.
Most Affordable Wedding Resorts in Mexico
Options abound, but a few resorts stand out for brides and grooms on a budget. You'll get the most bang for your buck at these hot spots:
Hit up BlueBay Grand Esmeralda for a tropical adventure in Playa del Carmen. Wed in a stunning garden, by the pool, or right on the beach. No matter the venue, you'll enjoy complete pampering.
Located in the heart of Cancun's desirable Hotel Zone, Riu Caribe offers romantic and affordable wedding packages. The LGBT-friendly resort welcomes all couples with open arms.
The white sands of Cancun provide a dazzling backdrop for weddings at Occidental Tucancun. Recently renovated, the resort strikes the perfect balance between sophistication and budget-friendliness.
Eco-conscious brides and grooms appreciate Sandos Caracol Eco Resort's commitment to sustainability. Reconnect with nature as you prepare to say your vows in the most beautiful setting imaginable.
Sunscape Puerto Vallarta Resort & Spa
Sunscape resorts are known for their unlimited approach, and the Puerto Vallarta location is no exception. Your personalized wedding package is designed to amplify the romance and keep stress to a minimum.
How to Save Money on a Destination Wedding
No matter which resort you choose, clever strategies will help you make the most of your budget. From booking during the off-season to selecting the right wedding package, you could turn an otherwise pricey affair into a shockingly affordable celebration.
1. First and foremost, aim for an all-inclusive experience. Meals, drinks, and special services add up quickly, but with all-inclusive, you and your guests can indulge to your heart's delight. A trusted specialist can help you find the best deals on all-inclusive wedding packages. Often, these incredible deals are inaccessible to brides and grooms searching on their own.
2. Your destination wedding Specialist may recommend that you book your nuptials during Mexico's off-season. Not only does this improve your chances of landing your venue of choice, but it could also dramatically decrease prices. We've found that the most popular month for travel in Mexico is May; vacationers also flock to Mexico during spring break. That means couples getting married in Mexico should aim for an October or November wedding date, in order to score an off-season price break.
3. Decor budgets for ordinary weddings can quickly hit tens of thousands. That cost is not necessary for Mexico, where the natural scenery does all the talking. Say 'I do' on the beach or in a lush garden; you'll enjoy the most beautiful backdrop without having to spend extra on decor.
Sticking to a budget shouldn't mean sacrificing the beauty or romance of your big day. Book your nuptials in Mexico, and you'll save a bundle on the ceremony of your dreams.
Speak with our one of expert Certified Destination Wedding Specialists today to get a free quote for your wedding in Mexico!