Mexico is loaded with dream wedding destinations, from the tropical beaches of Puerto Vallarta to the Caribbean waters of the Riviera Maya, and the sacred Mount Kuchumaa. The country has long been praised for its year-round tropical temperatures, colorful culture, postcard-worthy scenery, and spicy local eats.
Whether you plan your wedding in a lush mountain setting or on one of Mexico's picture-perfect beaches, you and your guests will be blown away by the hospitality of the Mexican people, the rich cultural sites, the abundance of all-inclusive resorts, and the affordability of the entire wedding.
There's no denying that Mexico is one of the dreamiest wedding destinations in the world, but getting married in a foreign country isn't the same as getting married at home. This guide offers all of the details you need when planning the perfect destination wedding in Mexico.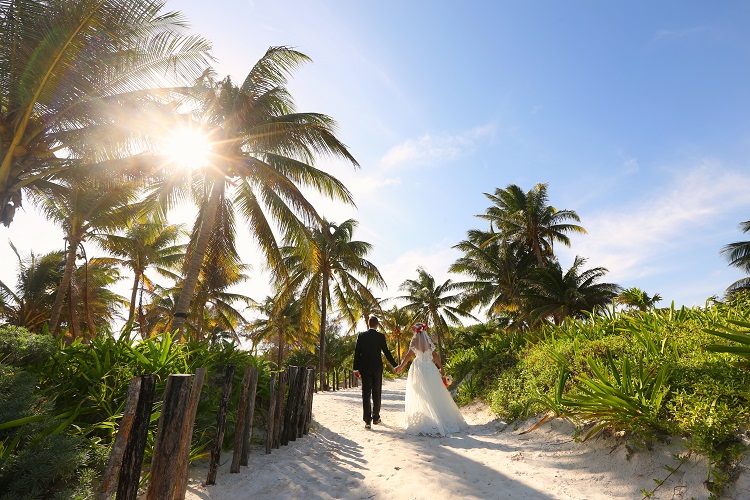 Getting Married in Mexico FAQ
Getting married in Mexico can involve slightly more preparation than getting married in the U.S. Here, you'll learn some of the best Mexican locales for your destination wedding, the best time of year to get married in Mexico, what to expect in terms of costs, and the country's marriage requirements.
Where Should We Get Married in Mexico?
Location is probably the first issue you will discuss when planning a destination wedding. There are so many gorgeous locales throughout Mexico that you may have a difficult time deciding. The following are a few of the most desirable wedding locations from the shores of the Caribbean Sea to the Pacific and the Sea of Cortez.
Cancun
Located on the sunny Yucatan Peninsula, Cancun is one of the most popular vacation destinations in all of Mexico. This means you won't be the only tourists at your resort on your big day, but it also means there are an abundance of accommodation options available to suit your individual wedding dreams. Resorts line the white sand just steps from the turquoise Caribbean Sea, and waterfalls and ancient ruins are just a short drive away.
Cabo San Lucas
Cabo San Lucas is the crown jewel of the Baja California peninsula. Similar to Cancun, you'll find white beaches and gorgeous seas here. You'll also find natural wonders that are unique to Baja California Sur. Your wedding backdrop will likely be the photogenic cliffs at Land's End, and the area's iconic towering cacti and deserted beaches are minutes away. Cabo San Lucas is a wedding destination where you can combine the most lavish amenities with the rugged natural beauty that's distinct to Baja.
Riviera Maya
This stretch of white sand coastline along the crystal clear Caribbean Sea is known for offering some of the world's top resorts and retreats. Sunshine, warm waves, coral reefs, Maya ruins, exclusive spas, and world-class restaurants combine to create an unforgettable wedding setting.
Puerto Vallarta
Puerto Vallarta is a tropical Mexican city steps from the deep blue of the Pacific Ocean. The historic downtown area (don't miss the restaurants of Old Town), towering palm trees, a backdrop of tree-covered mountains, and average year-round temperatures in the 80s make "Vallarta" one of the top wedding destinations in the world.
Cozumel
Planning a more low-key wedding getaway? Cozumel, located on a somewhat undeveloped island in the Caribbean, offers footprint-free beaches, some of the top reefs in the world, and a variety of intimate hotels and resorts for the ultimate romantic wedding getaway.
When Is the Best Time to Get Married in Mexico?
Mexico is known for offering year-round tropical temperatures in most of the popular beach areas. The around-the-clock warm weather means you can plan your dream wedding during any time of year — even winter.
What Are the Best Wedding Resorts?
Loaded with luxurious beachfront resorts, Mexico is an ideal place to get hitched. In fact, there's a resort for every type of wedding, and many of them are all-inclusive, making the wedding planning (and budget) process much less stressful. Riviera Maya offers several dream resort locations, boasting full all-inclusive luxury experiences for you and your guests. A few of the most popular wedding resorts in Mexico include:
El Dorado Royale in Riviera Maya
Moon Palace Cancun
UNICO 20 87 in Riviera Maya
Secrets The Vine Cancun
Le Blanc Spa Resort Los Cabos
And if you're looking for something less over-the-top, islands like Cozumel and Isla Mujeres offer more intimate accommodations, like the quaint 73-room Cabanas Maria del Mar or the Playa Azul boutique beach hotel. Whatever your wedding vision may be, you're guaranteed to find the perfect resort venue in Mexico.
What Should We Expect in Terms of Costs?
Destination weddings in Mexico can range from affordable to extremely expensive. However, according to PlayaDelCarmen.com, the average cost of a destination wedding in Mexico is between $5,000 to $7,000. That figure includes between 30 and 60 guests, so expect to pay around $10,000 for a wedding with 100 guests.
Our latest Trend Report states that the average cost of a destination wedding in Mexico (per person) was $1,509 in 2018.
What Are the Marriage Requirements in Mexico?
Mexico's marriage requirements are quite flexible, making it easier for non-residents to get married in Mexico than in many other countries. However, it's recommended that you work with a wedding planner to ensure you have all the proper documentation prepared for your destination wedding in Mexico.
The following are a few things you'll need to know:
You don't need to be a resident of Mexico to get married there legally. However, you will need your tourist permit, a passport, and a Marriage Certificate legalized in Mexico.
You will need four witnesses present at the wedding ceremony. They will each need a passport or government-issued identification.
If you'll be marrying a Mexican in Mexico, you will need the results of chest x-rays and blood tests performed locally in Mexico (not required in all states).
You must be at least 18 years of age to get legally married in Mexico without parental consent.
Many couples opt for symbolic ceremonies so they don't need to jump through the legal hoops, and simply get married (legally) in the United States either before or after the destination celebration.
Read our Ultimate Guide to Destination Weddings in Mexico >>
What are you waiting for? Mexico is the perfect warm-weather location for your romantic, luxurious, and affordable destination wedding. Find even more tips and inspiration for your upcoming wedding in Mexico on our website or Pinterest page.