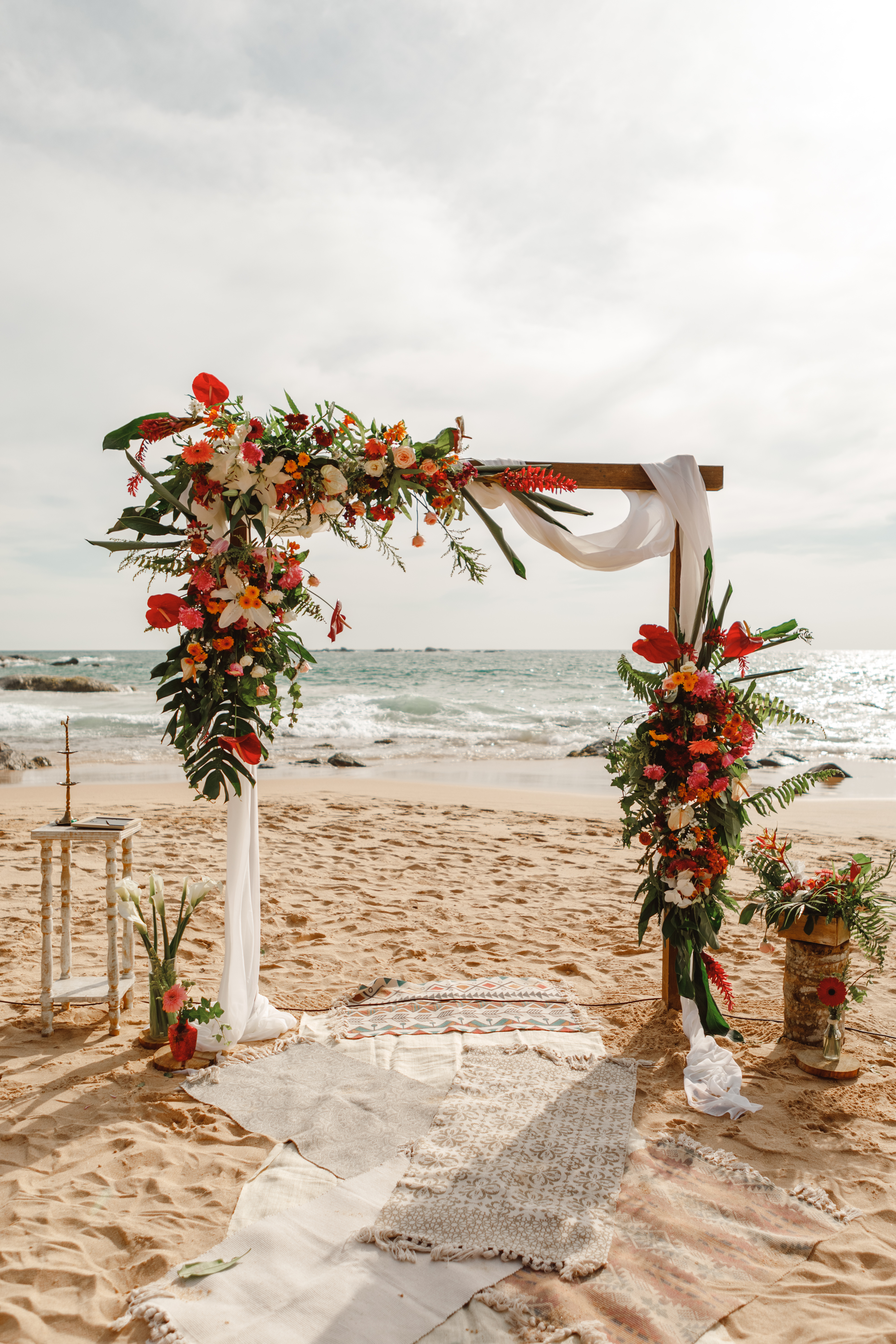 For couples looking for a destination wedding location that stands out from the rest should look no further than Cancun, Mexico. Weddings in Mexico are always fun, beautiful, and luxurious – but there is something about having them in Cancun that takes them to the next level. With various types of idyllic landscapes and a wide range of exciting resorts, you will soon see why getting married in Cancun is the perfect way to celebrate your love.
In addition to being budget-friendly, easy to get to, home to world-famous beaches and warm temperatures year-round, Cancun is also one of our top destination wedding locations. Due to this, we have become experts on what it takes to create the perfect destination wedding experience in Cancun.
Like any other tropical location, a Cancun wedding will take a lot of planning. So follow along as we map out what couples need to know about getting married in Cancun.
Marriage Requirements
One of the most important steps in the planning process is to acquire all of the proper paperwork and nail down the marriage requirements.
Mexico's marriage requirements are as follows:
A valid passport and tourist card for both members of the wedding couple
Four witnesses to stand at the ceremony (who also have passports and tourist cards). If you're eloping, your resort is usually able to provide these witnesses for you.
Health and birth certificates for the couple
A prenuptial blood test for both spouses
Luckily, by working with us, a Certified Destination Wedding Specialist can take care of organizing this for you, ensuring a stress-free planning process!
What to Consider
With Cancun having so much to offer, there is a lot to consider once you have begun planning. Although it is one of the top traveled-to destinations for our couples, there are still a handful of unique factors that need to be kept in mind!
The Best Time to Get Married in Cancun
One of the greatest things about Cancun is that they have tropical temperatures all year long. This means that there is plenty of sunshine to soak up from January to December! Those looking to make their getaway as affordable as possible should avoid going during the busy season. This is anytime between December to March. Another thing to take into consideration is Cancun's hurricane/rainy season. This typically occurs from September to November.
The Average Budget of Getting Married in Cancun
Couples who choose to swap "I dos" far away from home typically are pleased with the price tag of their special day. Not only is your wedding extra unique and beautiful in a tropical location, but it is almost ¼ of the average domestic wedding cost.
Couples getting married in Cancun can expect to pay around $8000 for their entire destination wedding package. This includes roundtrip airfare for the couple, several nights of accommodations, the wedding ceremony, a honeymoon package plus all sorts of special touches like massages and breakfast in bed.
Guests can expect to pay around $750 per person on their accommodations. This can be even less when booking as a group since they are always subject to lower rates and exciting deals. Your Specialist will come in handy here as they are savvy with scoring the best deals like free excursions, complimentary packages, and upgrades.
Our Favorite Resorts/Venues in Cancun
Cancun has a vast landscape that features all types of stunning beauty. From beautiful white sand beaches to Mayan Ruins, cenotes and much more, wedding couples are able to choose what suits their wedding vision the most. Each of these resorts has luxurious accommodations, unique wedding venues (think caves, sky terraces, and Oceanside gazebos to just name a few), and incredible views.
Here is a list of some of the best resorts meant for getting married in Cancun:
Cancun Hotel Zone
Playa Mujeres (North of Cancun)
Riviera Maya
---

RELATED: How to Choose the Best Wedding Resort Abroad 
---
Steps to Getting Married in Cancun
With so much to consider it may seem overwhelming. But don't worry – your Certified Destination Wedding Specialist will be with you every step of the way. Beyond that, we have summed up the whole planning process in a few simple steps.
Here are there six steps to getting married in Cancun:
Think about your budget
Meet with a specialist who knows all about Cancun Weddings
Choose a venue or resort in Cancun
Customize a wedding package
Book!
Finalize the details with a Mexico destination wedding specialist
To Recap
Getting married in Cancun offers endless possibilities to couples and their guests. As one of the top destination wedding locations in the world, it is known to create a once-in-a-lifetime experience. With its affordability, gorgeous landscapes, personalized wedding packages, and opportunities to explore and immerse yourself into Mexico's culture you will never want to leave this dream location!
Are you ready to start planning now? Click here to get a FREE quote today! >>>