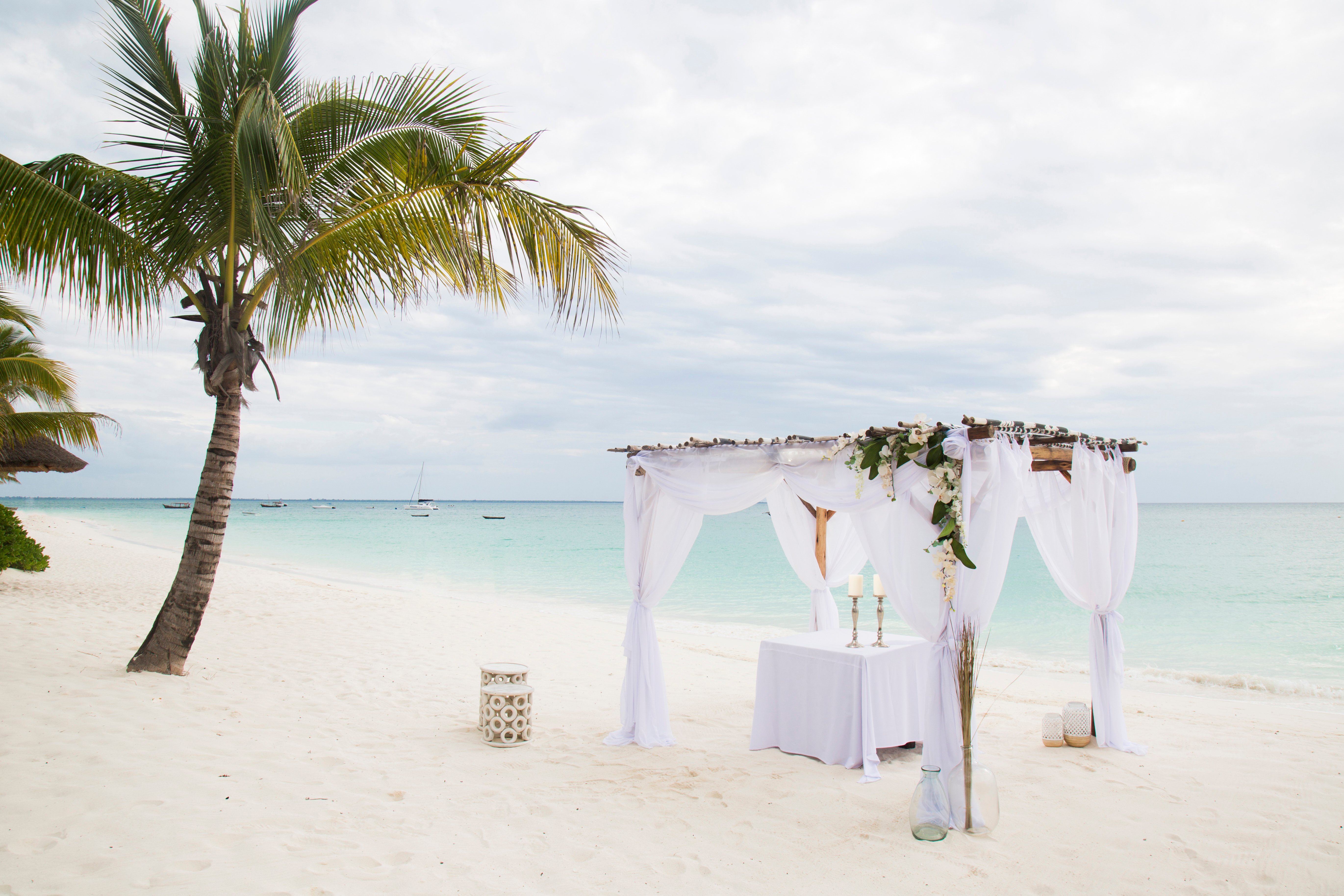 As more young couples are getting married (and trying to stick to a budget) DIY is becoming a bigger part of the wedding planning process. And for many, this might mean nixing the added cost of a wedding planner. In the case of traditional weddings, this makes sense – wedding planners aren't essential when you're getting married close to home. But when you are getting married 200+ miles away, a wedding planner becomes a necessity. The laws are different, the resort is far (and could have a language barrier), and it helps to have someone with all-hands-on-deck leading up to the big day (especially when you can't be there yourself!). Fortunately, destination wedding planners can be a complementary part of your wedding package.
At DestinationWeddings.com we are proud to have over 200 Certified Destination Wedding Specialists. They are the biggest assets to our team and are the ones who ensure that our wedding couples have wedding days they always dreamed of. They are there for you every step of the way! They help you pick your resort, venue, wedding package, excursions and more. Plus they are there to organize your group's travel and are your go-to if any issues arise. They are the ones that keep the planning process fun and stress-free!
Let's take a look at these top 5 benefits of a destination wedding planner:
They are a complimentary service
They provide a stress-free planning experience
More time for couples to focus on the details and fun
They can help with paperwork and legal documents
They are a constant point of contact
Plus more!
1.     Complimentary Service
One of the greatest perks of a Certified Destination Wedding Specialist is that their expertise is totally free! Typically, wedding couples will pay thousands for a wedding planning with the amount of knowledge and experience we have. By getting all of this for free, you can get much more out of your destination wedding budget. This allows you to splurge more on fun things like excursions, spa treatments, and amazing honeymoon packages!
2.     Stress-free Planning
Planning a wedding takes a lot of time, work, and patience. We know that everyone may not have that, and we don't want that to make your wedding planning process a drag. As the happiest time in your lives, you and your spouse-to-be should only be focusing on all of the fun and relaxing that will be happening on your trip.
Plus planning a trip of 30+ guests is never easy. With conflicting schedules, different travel preferences and so much more, help is going to be needed. Our wedding experts have years of experience coordinating travel for large groups like this. They are super savvy and know how to score the best room rates and travel deals. We can't say it enough, they truly make it easy!
Because of the work that destination wedding planners do, research shows that couples are generally less stressed throughout the planning process. And, when the time comes, destination wedding couples are more likely to enjoy their wedding day than couples who plan an at-home celebration
---

RELATED:  Top 10 Best Destination Wedding Resorts in 2020 
---
3.     More Time for Couples to Focus on the Details and Fun
With your Certified Destination Wedding Specialist working out all of your tedious travel plans, you can explore all of the fun things that are offered at your destination wedding resort. A destination wedding is an ultimate excuse to "treat yo self"! You're already in paradise, so why not totally indulge?
This means booking the most luxurious suite with ocean views and Jacuzzi tubs. (We are obsessed with the stand-alone tubs on the balconies of UNICO 20˚87˚) Most rooms come with incredible amenities, 24-hour service and even special breakfasts in bed and turndown service.
There is also a whole laundry list of extra special things that couples can do while on the resort of their choosing. This means 5-star restaurants featuring all sorts of delicious cuisines, (bring on the fresh seafood, Italian, and award-winning steakhouses.) along with the most amazing spa treatments of your life. Book VIP couples treatments like the one featured at Moon Palace Jamaica that include a private suite for the couple where they will be treated to a massage, pedicure/manicure, facial and endless champagne! There are also a number of exciting excursions like sunset catamaran cruises, snorkeling, and even zip-lining!
4.     Paperwork & Legal Documents
One of the most stressful parts of planning your destination wedding can be filling out the paperwork. Each country seems to have different requirements and deadlines. This can just add confusion and take the fun away of planning in a tropical location. Luckily, our specialists have years of experience in assembling all of these important documents. They know the legal requirements of each country and will work closely with you to make you aware of what they need so that they can acquire the proper marriage licenses for you far ahead of time.
5.     Constant Support
One of the greatest things about working with a Certified Destination Wedding Specialist is that they are always there for you. From the moment that you begin planning they are there to help you choose the best resort and location based on your preferences, guest list size, and budget. They are there to lend their advice and expertise on any topic you need help with. Whether that be with your air travel, excursions you want to book, or even which wedding package makes the most sense. They are there when things go wrong and you need to make last-minute changes. Basically, they provide the peace of mind that when something doesn't go your way, you don't have to deal with it. And they will work their hardest to give you the day that you have always imagined, no matter what!
To Recap
There are endless perks to destination weddings. Not only are they budget-friendly, super fun, and take place in the most amazing locations – but when you work with us you get an incredible Certified Destination Wedding Specialist. This allows you to enjoy the planning process and have the most fun and stress-free wedding day possible. Our Specialists are the secret ingredient to an amazing wedding day, and they are so passionate about all of the ways that they can help!
Are you ready to start planning? Create a profile now for a FREE consultation >>>