Think you have it all covered with planning your destination wedding? You may be right, but the task is not for everyone. Planning a wedding is one thing, but a destination wedding is a completely different set of to-dos. One of your talents could be the master of event planning; if not, there's nothing wrong with exploring the idea of working with a wedding travel agent. You have enough on your plate to deal with—and not just wedding cake. Plus, there are things a wedding travel agent can do that you could not pull off on your own (trust us)!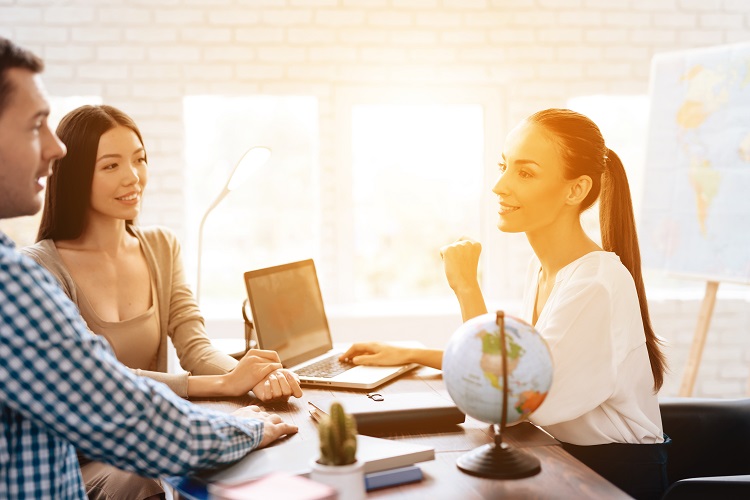 What is a wedding travel agent?
A wedding travel agent—also known as a Certified Destination Wedding Specialist —is someone who specializes in organizing wedding events in distant places away from your home. Most often, the wedding they assist with will take place at overseas destinations, including Mexico, the Caribbean islands and beyond. A wedding travel agent provides answers to all the inquiries couples-to-be have about destination wedding locations, based on their experience and expertise. They will have extensive first-hand knowledge of destination wedding planning from A-Z. That experience will enable careful planning, organization, and ability to oversee you and your guests travel to your desired wedding location.
What are the duties of a wedding travel agent?
First and foremost, a wedding travel agent takes some of the travel planning pressure off you (and your guests!). With their help, you can focus on other wedding details leading up to the big day and enjoy all the special moments when you arrive. They offer useful information on the weather, climate and condition of your dream location, as well as hone in on the perfect spot to tie the knot based on your style and budget. Through hands-on experience, they can also give professional advice on the best time of year to book your trip and help find exclusive wedding savings you may not have otherwise been aware of. The destination wedding travel agent assists with completing all necessary paperwork for transit to and from your destination wedding location, so you and all your friends and family will be in good hands!
A wedding travel agent is especially valuable when you are going to a destination that is new to you. This person will assist you in planning every aspect of your travel itinerary, including accommodations, organization, consultation, interpretation and negotiations. They essentially act as a liaison between you and your onsite wedding coordinator to ensure everything goes off without a hitch!
Reasons to call a destination wedding travel agent
Travel agents for weddings can do countless things for you, but there are five main reasons why you should work with one while planning your destination wedding:
1. To help you choose the perfect venue
With hundreds of destination wedding locations, resorts and venues to choose from, you could feel overwhelmed off the bat with planning your celebration. Luckily, a destination wedding expert has been to so many locales and seen so many ceremony and reception setups, it's easy for them to guide you in the right direction. As soon as they know your estimated guest guest, rough budget and overall vision for what you're looking for, you'll be sure to have a solid 3 venue options to knock your socks off!
2. To assist with any unclear international paperwork
Some destinations may require travel visas, passports, blood work or legal paperwork for you to get married. A wedding travel agent will know what each location requires for both a legal or symbolic ceremony. With their knowledge, they can assist brides and grooms, their wedding parties and guests, through this process. You may be able to take care of your own documents, but some of your guests may need help or have questions. Instead of them blowing up your phone, it will be great to have an expert—dedicated to helping them—that you can direct them to.
3. To protect you from hidden costs
Working with a destination wedding travel agent could help you keep more money in your pocket with the same amount of benefits or even more. First off, having experience working with many resorts, they help couples avoid any hidden fees or the cost of unwanted add-ons. Wedding packages offer a lot of rewards for the bridal party and guests of honor, but many perks pack on extra charges. A wedding travel agent has helped many couples get freebies and vouchers for excursions which is something the most loyal customers couldn't even get on their own. Their relationships with preferred wedding resorts allow them to work their magic, so you have all the extras you didn't even know you wanted!
4. To serve as the main point of contact
Whether the couple needs help with transportation or guests need help booking the best room for their needs, a wedding travel specialist is a reliable resource to call on for assistance. It is not always possible for you to know your destination better than a travel agent. Thus, you can always reach out to your Specialist in case you need any service while traveling or on property. No matter the situation; it could be a missed flight, bad rental car, or lousy service at the front desk. In case of any emergencies, even before you make it there, a reliable wedding travel agent will be there for you 24/7.
5. To book guest travel & accommodations
The wedding travel agent's tasks do not stop with your arrangements alone. They also put together guest travel and accommodations, making sure everyone has the option to be in one, secure place for the duration of your trip. The connections these professionals have across the globe can get you special group rates on transportation, cruises, resorts, excursions and more!
6. To help with the wedding planning details
Don't worry; wedding travel agents have connections that go beyond booking a room and getting you there. Because of their established relationships with wedding planners in each destination, they'll be able to facilitate the coordination of all decor and planning details for the big day. This includes ceremony and reception decor, entertainment, a custom menu, and much more; the sky is the limit!  Be it a large production or a small, private ceremony, your agent will help you make it happen. With them, your planning is lighter, stress levels are much lower, and beautiful memories will overflow!
What should you expect once you find a Wedding Travel Agent?
Once you're ready to consult a Destination Wedding Specialist, be ready to provide information to make your planning a smooth process. They will need details about yourself, your hotel and resort preferences, preferred style/theme, ceremony types and any other custom requests. Also have your budget in mind and be ready to share it with your agent, even if it isn't finalized.
After this, your agent will give you options that best fit your wedding needs. The more information you give, the closer you will get to your dream wedding. Don't be afraid to ask for anything you want and contact them as frequently as you need them.
If you are like most couples planning a destination wedding, you need to be hands-on in some way to make sure your day is flawless. A wedding travel specialist knows that and is there to carry some of your burden while including you along the way.