Is there anything cuter than a tulle-clad flower girl tossing out handfuls of petals, or a rambunctious ring-bearer running down the aisle? Not unless it's a group of giggling toddlers showing off their tiny dance moves during the reception! Whether you are hosting a small intimate ceremony, or a big event, there are bound to be a few kids on the guest list. Of course, lengthy ceremonies and travel days can be trying for antsy kiddos. Keep kids (and their parents) happy and entertained with these tips for kid-friendly destination weddings.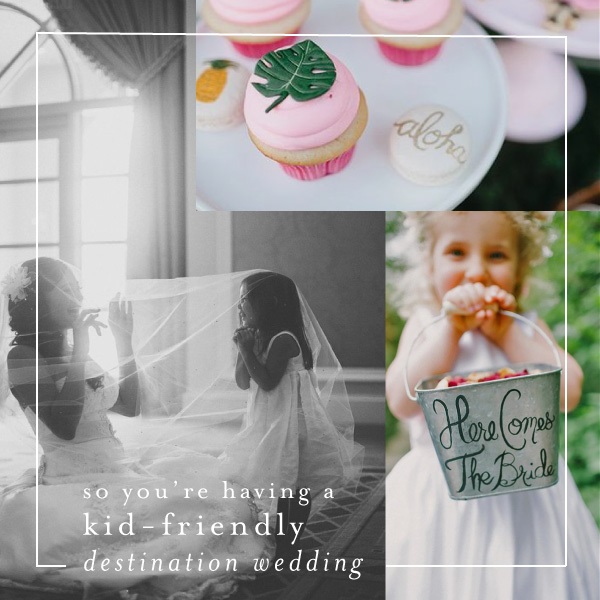 Minimize travel challenges
Between lugging around car seats and interfering with nap times, getting from point A to point B with a little one can present some extra challenges. Look for destinations with short, direct flights and easy, prearranged transfers between the airport and resort.
Choose the right resort
To turn your destination wedding into a family-friendly vacation, look for a resort that caters to all ages. Don't worry about sacrificing luxury. Many resorts blend the activities kids love with the opulence adults crave. Opt for a resort that offers kid's and teen's clubs, on-site child care, kid's pools and entertainment programs geared towards children of all ages.
Get the timing right
As it turns out, kids aren't late-night partiers! And, much like travel-weary, busy brides, they need naps. Plan a morning or early afternoon wedding and reception that won't interfere with sleep schedules.
Plan a festive, fun reception
No one knows how to let loose and enjoy themselves like a young crowd. Why not embrace that jovial attitude with a laid-back, kid-friendly reception? Provide lawn games, piñatas, or a craft table stocked with stickers and coloring sheets to keep young guests busy. Live entertainment, such as hula dancers or clowns, are sure to be a hit as well.
Feed them well
Stock the buffet with kid-friendly finger foods in addition to the foodie-favs that the adults will feast on. While a towering cake is gorgeous, cupcakes are easier for little hands. An extra treat of milk and cookies is sure to be appreciated by both the young and young-at-heart guests.
For more wedding tips & inspiration, browse through our latest edition of Get Married Away or our Pinterest page!