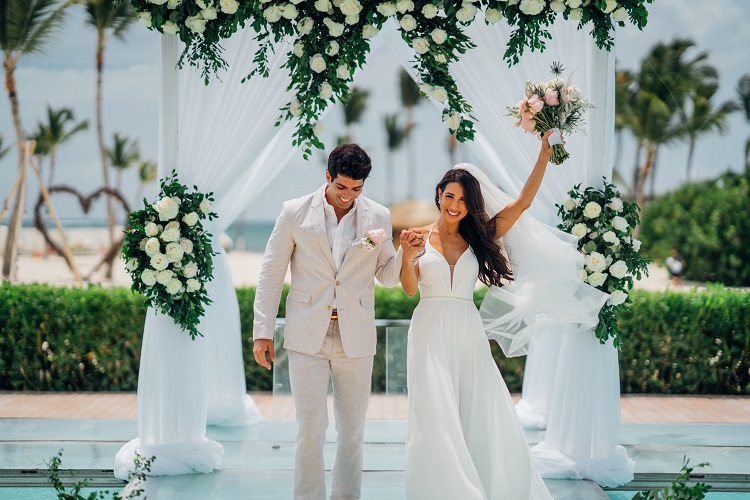 Located on the white sandy beaches of Juanillo Beach, escape to Margaritaville Island Reserve Cap Cana (Hammock or Wave) for your destination wedding in paradise. If you are searching for the perfect haven for your big day, look no further than this luxurious Caribbean destination.
Discover all beauties of the Dominican Republic with the rich culture, stunning ocean backdrop, and tropical ambiance – and that's just the beginning! Be swept away by what this 5-star resort has to offer with world class restaurants, a brand new adults and family only sections, and wedding packages fit for any unique style.
Entertainment and Amenities
We recommend you leave all your stress at the door and jump start your celebrations in paradise with plenty of things to eat, see and do!
Entertainment is HUGE on site, so the only issue is finding the time to do all of your favorite activities during your stay.
Our foodie couples can enjoy plenty of international eats from carefully selected steaks, Italian favorites, and Pan-Asian cuisine. Pair it with their world-famous rum or a curated selection of wine for a perfect romantic evening.
For a more interactive dining experience, couples can try their hand at a cooking class with one of their talented culinary masters. Walk in as an amateur and walk out a pro with industry secrets that are sure to wow your partner.
For all your adults on the guest list, follow the painted parrots on the walls to discover the best bars. Nothing screams 'let's celebrate!' like cheersing to the soon-to-be newlyweds with the best top shelf spirits the island has to offer.
With a few of those world-class margaritas, listen and jam out to live entertainment from a solo singer or full band belting out the tunes of all your favorite classics. Request a special song for you and your partner to slow dance to all night. Or better yet, sway to the song that was playing when you both first fell in love.
Put on your dancing shoes and bust out your smooth moves before your big day! Brush up on some of your moves with a romantic Latin dance class. Dance cheek to cheek to Latin sultry beats and learn how to spin, twirl, and shimmy like a natural ballroom dancer. Your first dance will be a crowd favorite with some classic Latin flair to spice things up!
Love is in the air at Margaritaville and their team knows how to prepare a romantic escape for just you and your partner. Spend some quality time together before you walk down the aisle with a beautifully decorated picnic along the white sandy beaches. Enjoy delicious bites surrounded by breathtaking ocean views with the perfect set up of plush pillows and a soft oversized blanket.
Not only is love in the air, but a stress free environment is, too. Relaxation checks in as soon as you step foot on the property (and the beach of course), and there are plenty of ways to unwind before your paradise wedding. Pamper yourself to soothing, healing and holistic treatments at the St. Somewhere Spa where rejuvenation is guaranteed. Opt in for a calming facial or even a tension-taming body massage to melt all the pre-wedding jitters away.
Wave and Hammock Sections
It's no secret that Margaritaville has everything you need to have the best destination wedding experience, but their two new additions to the property make for an even better celebration:
Wave – Family Friendly Weddings
To all the guests that brought their kiddos along, we have great news! Introducing the new family-friendly section that has endless activities for the whole family. Kids of all ages can experience corn hole and pickleball tournaments, water slides, paddle boarding and kayaking and their weekly flip-flop olympics with games like the flip-flop toss, flip-pong and more.
If your guest list is craving some adult time or you need to steal them away for wedding prep, drop off your kids ages 4-12 for island inspired activities and fun at the Parakeet's Kids' Club.
Hammock – Adults Only Weddings
Experience the luxurious and new adult-only section of the property, Hammock. You and your guest list are sure to be impressed with all the exclusive perks and amenities this side of the resort has to offer.
Whisk away your significant other to the dedicated adult-only pools to soak in some sun and grab a cocktail from the Rum Runners or the 5 O' Clock Somewhere Bar. Toast to the wedding (and vacation) of your dreams with their specialty rum and margarita drinks.
For your last meal as fiances, indulge in a luxury culinary journey at Lam Bik with a curated weekly fixed menu. Don't forget to make reservations!
Enjoy all the perks of the adults-only section plus access to all the main resort amenities too.
Wedding Packages
Make your dreams into reality with two lavish wedding packages for your big day in paradise. Leave all your worries behind with the wedding planners and focus on looking and feeling your best before and after your magical celebration. Take your pick at the perfect all-inclusive package to exchange your vows:
Isle Love You Wedding
Be the only couple to tie the knot during your stay! It's guaranteed that if you are saying your I dos, that no other wedding will take place before, after or during your time in paradise. Walk down the aisle surrounded by your loved ones to a beautifully decorated sky or beachfront venue with either rustic beach or modern styles.
Celebrate your nuptials with an endless amount of pre and post wedding events for you and your guests. Indulge at the 3-course plated dinner with an international open bar and dance the night away at the tiki party with live local musicians, even try your luck in the limbo contest.
After you exchange your vows, more wedding celebrations are underway with a lively 4-hour reception. Children will be amused with the bubbles and coloring kit stations, while the adults break out their dancing feet on the monogrammed dance floor. Tunes from the DJ and the margarita popsicle cart will have everyone grooving to the music.
Love Song Wedding
Treat yourself and your guest list to intimate celebrations to kick off your wedding in paradise. Enjoy one hour of mingling with your loved ones at a special cocktail party with freshly prepped margaritas and an international open bar. Listen to live local music and dig into your 3-course plated dinner with a monogrammed menu.
Walk down the aisle with your choice of wooden or white linen aisle runner and have picturesque views of either the skyview or beachfront venue. Splurge on extra finishing touches with their $500 wedding decor credit to make your tropical wedding oasis come to life.
Join your loved ones at the reception after a quick outfit change and enjoy the family style dinner with delicious bites. Celebrate your new last name and share your first bite of the beautifully made two tier cake. Then, finish off your magical celebration dancing with your partner and loved ones to your favorite tunes with the 4-hour DJ set.
Planning a Destination Wedding in the Dominican Republic
Your Dominican Republic destination wedding will be an unforgettable experience for you and your loved ones. Look back on all the memories made from the exciting activities, the breathtaking views, and dancing the night away during your big day!
Ready to start planning? Contact us today for a free quote!