Getting married at Iberostar Grand Hotel Paraiso
Wondering about the goings-on of Mexico beach weddings? You'll be pleased to know many dreams have come true by planning a destination wedding in Riviera Maya! Be prepared for your guests to indulge in relaxation and entertainment of all types. Weddings at Iberostar Grand Hotel Paraiso are perfect for couples and their guests to have a memorable experience!
Destination wedding couples and their guests will find themselves experiencing these exceptional amenities at Iberostar Grand Hotel Paraiso:
Crystal azure waters of the Caribbean Sea
Luxurious all-inclusive pampering
World class dining experiences
Exclusive adults-only ambience
And much more!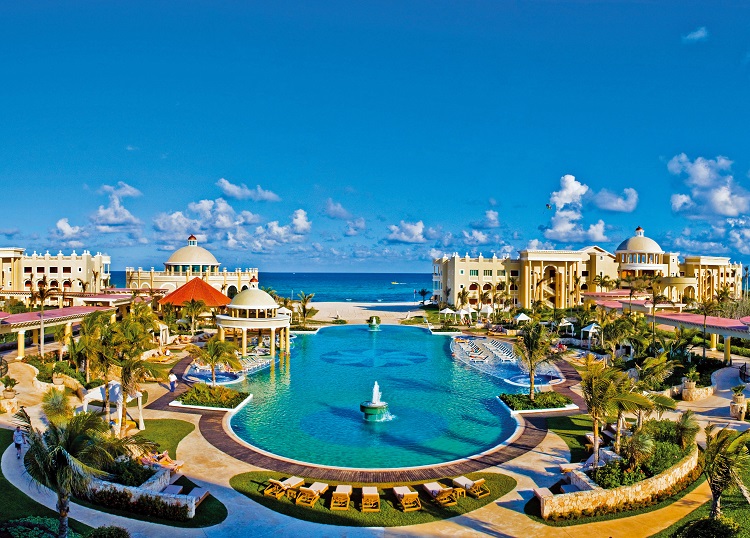 More about having a destination wedding at Iberostar Grand Paraiso in Riviera Maya, Mexico
Wedding Packages & Romantic Touches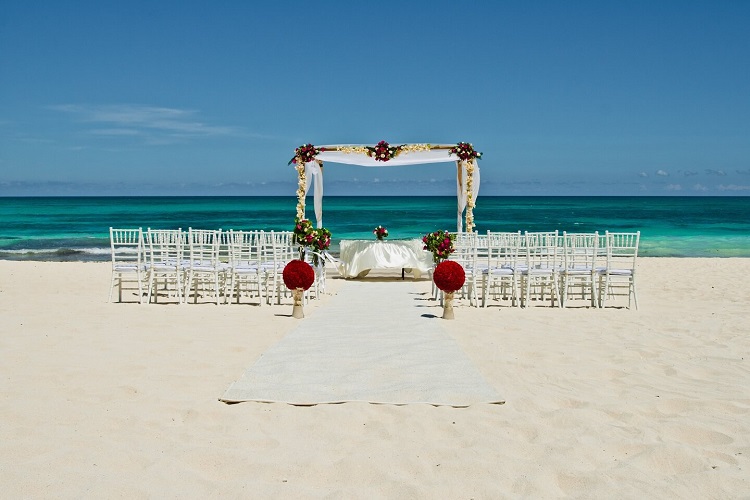 Your perfect wedding awaits at Iberostar Grand Hotel Paraiso! This special day and the journey leading up to it are a romance craver's dream come true. Begin with a relaxing couples massage at the spa, followed by a romantic dinner over international cuisine, and ending with luxurious suite amenities.  You'll be ready to walk the beautiful Caribbean sands to exchange vows among guests, wildlife, and sea creatures!
Destination wedding packages at Iberostar Grand Hotel Paraiso have been created to help you put together any vision imaginable, so you can create memories you'll never forget! The Star Wedding package allows up to ten guests and includes the ceremony, venue setup, champagne toast after the ceremony, flowers for the bridal bouquet and groom's boutonniere, and reception dinner and cake.
The Silver Star Wedding package doubles the amount of guests allowed to twenty. Along with everything included in the Star Wedding package, you'll also get floral centerpieces for the head table, a sound system and CD player to use during the ceremony, and discounted spa services for your guests!
Take the Silver Star Wedding package up a notch with the Gold Star package! Live music is included with the additional services offered. The bride and groom get a gift from Iberostar, they can upgrade to the next room category, and they receive a late checkout. The bride can go to the salon for a hair trial before the wedding, and then she can join her future husband for a couple's massage at the spa. To conclude their celebration, the happy couple gets a romantic dinner for two!
Intimate Accommodations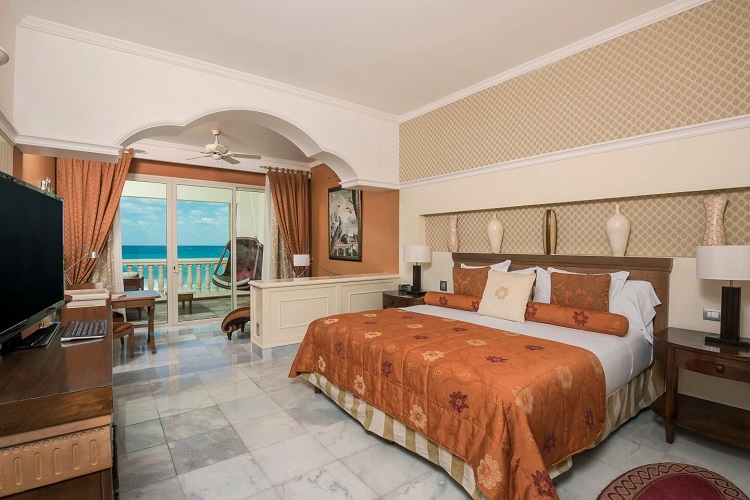 Iberostar Grand Hotel Paraiso lives up to its reputation by offering high-end, luxurious suites, perfect for wedding couples and their guests to enjoy. Each room has ample space with top-of-the-line décor and amazing views of the ocean, pool, or gardens. Butlers spoil and pamper by ensuring you have everything you need to feel comfortable and relaxed. Tranquil in-room amenities like a whirlpool tub, mini bar, and aromatherapy make the suite experience just as lovely on the inside as your experience is outside!
Couples also have the Honeymoon Villa room option for a more private, romantic experience with access to their own pool, in-room check-in, a personal server during a romantic dinner, and much more!
---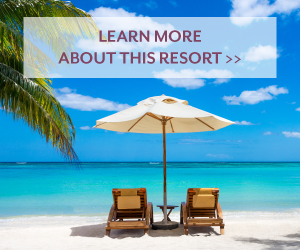 RELATED: Top Mexico Wedding Resorts
---
Activities & Amenities for Your Entire Guest List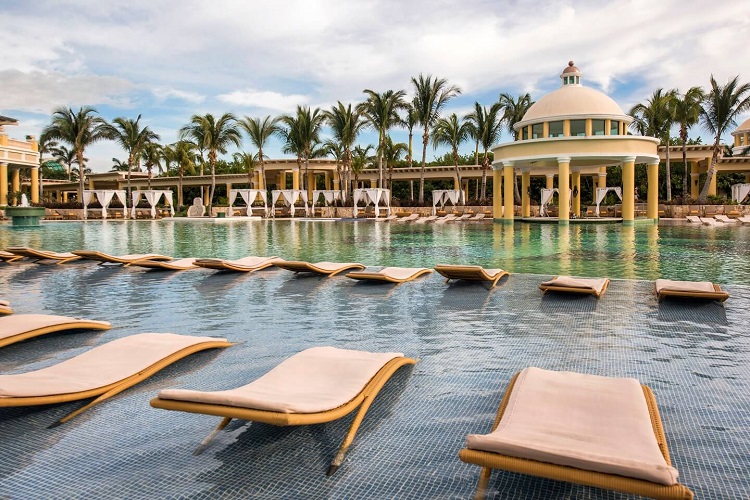 Whether you want to be active, lazy, or a little of both, this resort has it all! Relax by or dive into one of their three pools or get in touch with nature on a dreamy, white-sand beach. A variety of land and water sports are available to keep your heart pumping as well! Fitness classes, dance lessons, and golf will whip you into shape before you explore the deep blue sea with scuba diving, sailing, or windsurfing. When you need to recharge, unwind with pampering at the Spa Sensations. Finally, end your day of fun in the sun with cocktails, dancing, or live entertainment!
Bars and Restaurants to Host Your Wedding Events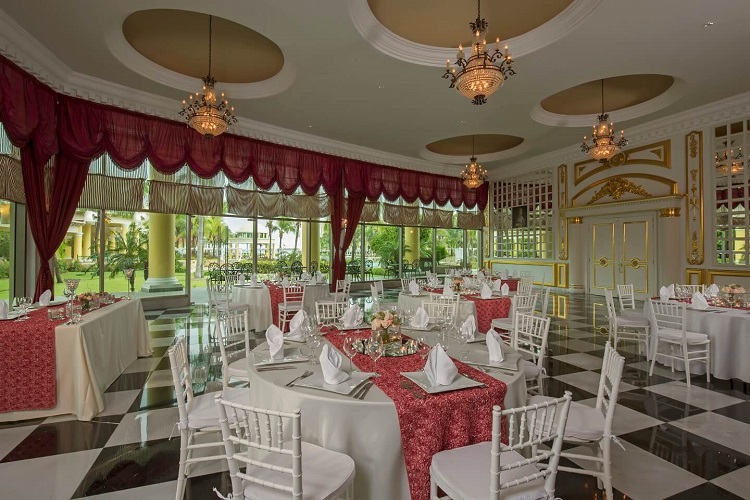 This all-inclusive wedding resort is proud to offer the best food and beverage experience in the Playa del Carmen area. Six restaurants and seven bars aim to give a unique experience in every setting from casual to gourmet. Choose from different cuisines and one-of-a-kind drinks to satisfy all palates and quench any imaginable thirsts. You and your guests will indulge in your choice of American, Mexican, Italian, or Japanese meals at either an a la carte restaurant or buffet.-
Bars are crowd pleasers (especially with wedding guests involved!) with a different experience at each location. This resort doesn't miss out on allowing guests to grab a cocktail whenever the please.  Enjoy a combination of drinks and entertainment at the theater bar. If you're unwinding at the spa, sip on your favorite beverage at the health bar prior to your relaxation treatment. Both the pool and beach  bar are available so you can veg out in the sun with a drink in hand. Catch a game at the sports bar or rid yourself of any worries at the cigar bar. Last but not least, the lobby bar is open 24/7 for you to grab a drink any time of day!
Let's recap weddings at Iberostar Grand Hotel Paraiso
If you can dream it, you can have it all at the award-winning Iberostar Grand Hotel Paraiso! Enjoy luxury, all-inclusive activities, and romance in an adults-only environment before experiencing the wedding of your dreams. Hopeless romantics will be on cloud nine!
For more destination wedding planning inspiration, visit our website and Pinterest!