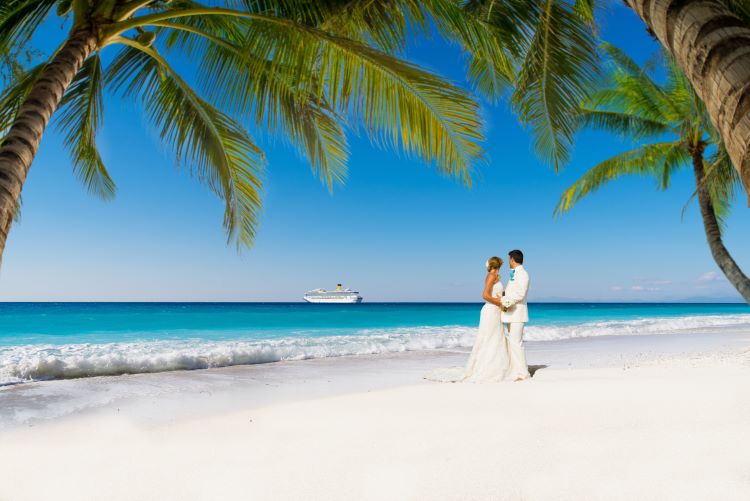 There is no better place for a destination wedding than the Dominican Republic. Filled with pristine beaches, a breathtaking coastline, and exciting history, it is perfect for any romantic getaway. The country caters to the lovers that travel there to celebrate, with their array of gorgeous resorts and all-inclusive wedding packages plus its exciting list of attractions.
A one-of-a-kind wedding backdrop is created by the lush jungles, stunning sea, and beautiful nature. Couples can choose to swap their vows in an abundance of places, such as either right on the beach, in a seaside chapel, or in a beautiful, floral garden. With such lovely scenery, it is impossible to go wrong!
Choosing where to get married is the easy part. There are a lot of things that goes into getting married in the Dominican Republic. Luckily, our friends at the DR Tourism Board have mapped it out for us to make it easy.
Follow along for a simple how-to guide including:
The marriage requirements needed
Where to get married
Venues to get married in
And more!
Marriage Requirements
The marriage requirements for the Dominican Republic can seem intimidating. Luckily by working closely with your Certified Destination Wedding Specialist, they can easily help you through this and make the process very simple.
You will need the following:
An original passport plus a photocopy.
Sworn declaration before a notary public of being single and eligible to marry, known as a Single Status Affidavit.
Original Birth Certificates.
If previously married, the Divorce Certificate or Death Certificate, if applicable.
Adoption Certificate, if applicable.
Parental Authorization, if applicable.
Two or more witnesses with valid passports. Relatives cannot be witnesses.
Where to Get Married
The Dominican Republic is made of a few idyllic and romantic regions to get married in. All are surrounded by the beach, jungle, and have some of the most luxurious resorts in the world. Let's take a closer look to see which is perfect for you!
Punta Cana
This is one of the most popular tourist destinations in the Dominican Republic. It is surrounded by 100 miles of gorgeous beach that has crystal blue waters warm enough to have you swimming all day long. It is also the perfect spot to catch a sunrise or sunset. New to Punta Cana is an exciting Dolphin Encounter. Visitors are taken into the waters and are set free to snorkel with magnificent marine life like dolphins, sea lions, and even sharks! If that does not appeal to you then check out the casinos, golf courses, and nightlife that Punta Cana is known for!
La Romana
La Romana is the perfect combination of boutique accommodations, beautiful beaches, and exciting attractions. This is one of the Dominican's newest up and coming tourist spots that we can't help but swoon over! Home to one of the most romantic resorts in the world, Casa De Campo it is a no-brainer for a romantic getaway. This resort has unlimited luxurious amenities, incredible service, delicious cuisine, and some incredible activities. It has numerous pools, villas, plus its own golf course and marina. La Romana is also home to Catalina Island, which is accessible only by boat. Not only does it have incredible views, but one of the best reefs to snorkel to on the whole island.
Puerto Plata
Puerto Plata is known for being the most versatile location in the Dominican Republic. Not only do they have gorgeous beaches that allow you to bask in the sun all day, but they also have a super exciting Ocean World Adventure Park. Here guests can get close to and even swim with sea creatures of all kinds. In the downtown area, there is architecture to swoon over. For those looking to learn more culture and history of the country, this is the perfect place. Additionally, for those seeking adventure, there are the 27 Waterfalls of Damajagua that are perfect for climbing and swimming.
---

RELATED: 5 Steps to Getting Married in Punta Cana 
---
Wedding Venues
There are plenty of wedding venues exclusive to the Dominican Republic that are sure to take your breath away. For those looking religious ceremonies, beachside ceremonies, garden ceremonies and beyond can find what they are dreaming of in the DR. Here is a list of all of the exciting wedding venues that are available:
San Estanislao Church in Altos de Chavón (La Romana)
Basilica La Altagracia, Higuey, La Altagracia (Punta Cana)
Jesús Maestro Parish (Bávaro)
Cathedral of Puerto Plata
Sosúa Synagogue (Puerto Plata)
Santo Domingo Synagogue
Cathedral of Santo Domingo
Dominicus Convent (Santo Domingo)
Cathedral of Santiago
and more!
To Recap
Not only is the Dominican Republic perfect for weddings, but it is very ideal for honeymoons as well. With so many romantic regions to explore, it gives couples the opportunity to get married in one and then enjoy a honeymoon in the other.
There are so many romantic resorts that cater to couples celebrating this exciting time in their lives. All adorned with beachside suites, incredible spas, and amazing service! With all of the beautiful views, exciting activities, and once in a lifetime experiences, getting married in the Dominican Republic is a great idea for anyone!
Ready to start planning? Click here for a FREE consultation now >>>