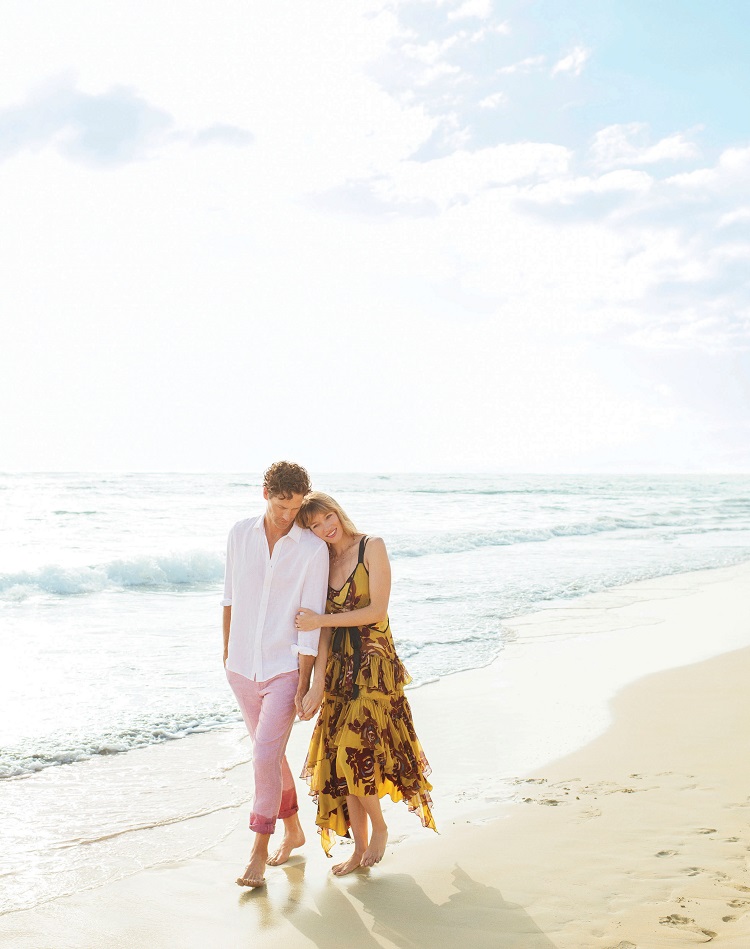 All the months of planning your destination wedding with care and detail are almost over. Hopefully, during this process, you both have looked into where you'd like to spend your first getaway as newlyweds. A romantic honeymoon is a time-honored vacation typically taken right after your nuptials. It's an opportunity to enjoy post-wedding bliss in a relaxing, tranquil atmosphere. You'll take long romantic walks on the shores, sip champagne, and bask in the glow of your new marriage.
One of the best places to honeymoon in tropical luxury is the Dominican Republic. Located between the Caribbean Sea and the Atlantic Ocean, this island country invites you to indulge all of your honeymoon fantasies.
Popular Places to Honeymoon in the Dominican Republic
With its pristine beaches and spectacular landscape, the Dominican Republic has the perfect spot to offer each couple an unforgettable time in paradise. Whether you are looking for fun and adventure or just want to relax along the crystal-clear waters of the ocean, you'll find that one of these regions is right for you. Plus, booking your honeymoon at an all-inclusive resort means being spoiled by island luxury while staying within your budget!
Let's take a deeper look into the most popular honeymoon destinations in the Dominican Republic.
Punta Cana is a coastal city in the most eastern part of the Dominican Republic. It's known for its long stretch of white-sand beaches that border parts of the Caribbean and the Atlantic Ocean. All you have to do is grab a private cabana and personal butler to be on your way to honeymoon bliss! There is also a beautiful 1500-acre ecological park and reserve that is a popular destination for many visitors to experience the island's gorgeous, natural setting.
The nightlife is booming in Punta Cana. If you're a couple who likes to feel the energy of your surroundings, this is the place to be. With plenty of casinos, clubs, and restaurants all near the main resort area, you will never be lost for entertainment.
All-inclusive honeymoon resorts in Punta Cana offer some of the most luxurious amenities on the island, including private balconies with Jacuzzis, beach dinners with champagne and butler service, rose-petal turndown service, and much more!
For couples looking to take in more local culture, Santo Domingo is a great location to consider. As the historic capital of the Dominican Republic,  you'll find a vibrant city filled with architecture dating back to the 1500s. In addition, there are museums and cafes all over the city that will immerse you in the region's history and culture.
Although this city is not directly on the coast, the Boca Chica Beach is a short drive away. Here, the bay is much calmer than the waters on the Atlantic, setting the stage for a serene day under the sun. Great deals on the top romantic resorts like Barcelo Santo Domingo and Be Live Experience Hamaca Garden in Santo Domingo are not far from reach either. Consult with a Certified Destination Wedding Specialist to get a free quote and start planning your dream honeymoon today!
Puerto Plata in the Dominican Republic's hidden gem located on the northern coast of the island. This city is known for its many tropical beaches where you can sip on frozen cocktails and enjoy tranquil moments with your new spouse.  If you are looking for a fun excursion to break up your day, take a tour just west of the city that goes up the Isabel de Torres Mountain Peak on a cable car.  This fun day trip lets you enjoy the stunning views of the island for as far as the eye can see. Be sure to have your camera ready for this  Instagram-worthy view!
If you are looking to relax on your honeymoon, then the resorts in Puerto Plata are perfect. Check to see which ones offer perks and amenities like swim-out suites, candlelit dinners on the beach, or couple's massages for a truly romantic time!
Another lesser-known honeymoon spot in the Dominican Republic is La Romana. Located on the southern tip of the island between the Caribbean Sea and the Chavon River, this city provides honeymooners with everything they need for an unforgettable trip.
La Romana is home to a myriad of gorgeous resorts that specialize in romance, relaxation, and luxury. You will really feel like you have escaped reality in this picturesque setting while you focus on one-on-one time with your new spouse.
This is a gorgeous location to really appreciate the scenery. Be sure to catch a few sunsets and maybe even a sunrise or two!
The Dominican Republic's Most Romantic Honeymoon Resorts
Once you've decided on the region that most appeals to you for your honeymoon, it's time for the fun part: choosing a resort!  Many all-inclusive resorts in the Dominican Republic offer romantic honeymoon packages for you to enjoy. These packages can include special perks such as a free room upgrade, couple's massage, spa credit, in-room champagne upon arrival, and much more!
Speak with a Certified Destination Wedding Specialist who can look into seeing if a complimentary honeymoon package is available at your ideal resort.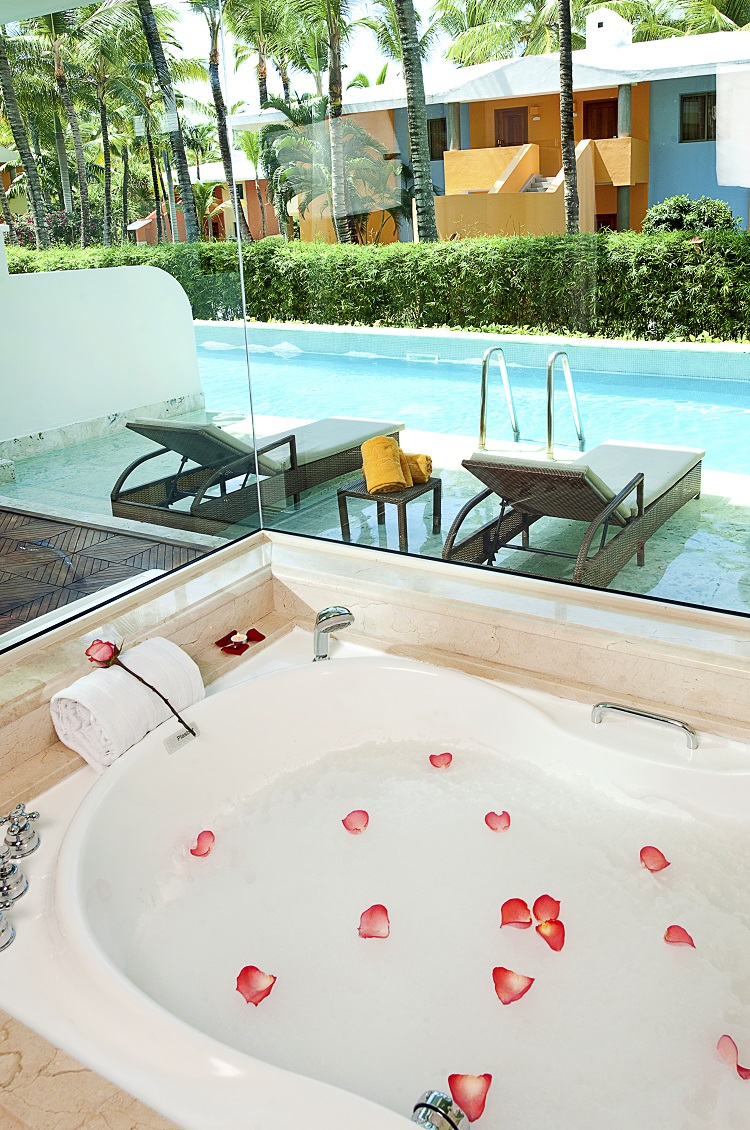 This all-inclusive resort offers an adults-only experience right on Bavaro Beach in Punta Cana. It's a very popular and romantic spot to have your honeymoon. The hotel itself is a luxury all the way. As an all-suite property with five restaurants, five pools, two bars, and a casino, you'll have plenty to do. They even have swim-up pool suites and many of the accommodations overlook the ocean.
When booking, be sure to reserve the Junior Suite Honeymoon package. The room features a king bed, living area, and private balcony. Couples can enjoy a massage, romantic dinner on the beach, and aromatherapy, all complimentary with this package. There's no better way to celebrate your marriage!
There are so many romantic details, that your hearts will barely be able to take it. From floral arrangements, special turndown service, and even chocolate-covered strawberries and champagne!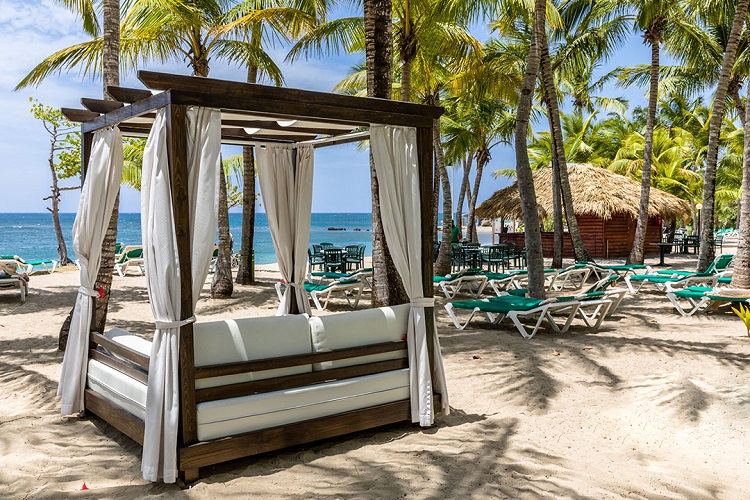 Another romantic all-inclusive resort for your honeymoon is the Playabachata Resort in Puerto Plata. Located right on the beach with almost 1000 suites and rooms, this giant property is full of things to do. Couples can spend their days with their toes in the white sands while drinking in gorgeous views of the ocean and each other.
The resort is complete with beautiful swimming pools, sun terraces, and large gardens to get lost in. There are four specialty restaurants to enjoy plenty of romantic meals at.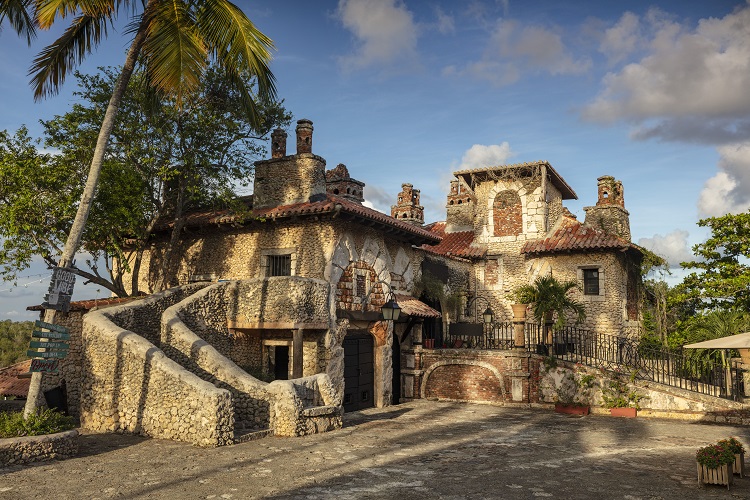 A honeymoon at Casa De Campo is like stepping into a fairytale. The stunning 7,000-acre resort is filled with impressive rooms and unique amenities. Each room comes with its own golf cart so couples are able to explore the property and fill their days however they please without any restrictions.
There is so much to discover at Casa De Campo.  It's home to  Teeth of the Dog, which is the #1 ranked golf course in the Caribbean.  There's also an expansive Marina, tennis courts, polo facilities, and the private white-sands of Minitas Beach. Day trips to the secluded Catalina and Saona Islands provide a very romantic and beautiful beach experience.
Couples can expect to bask in luxury, amazing amenities, and beautiful views at  Casa de Campo. Known as one of the most romantic resorts in the Dominican Republic, it is a dream come true to have your honeymoon here.
View more of our favorite Dominican Republic honeymoon resorts  >>
---

RELATED: 5 Steps to Getting Married in Punta Cana 
---
All-Inclusive Honeymoon Packages to Consider
Many all-inclusive resorts in the Dominican Republic offer special honeymoon packages. Keep in mind that if you are planning a destination wedding, some of these benefits might include complimentary nights and free room upgrades. Some of the additional benefits to ask about include:
Early/late check-in and check-out times
Special arrival basket
In-room champagne
Spa treatment discounts
Romantic turn-down service
And much more!
Some of the most popular all-inclusive honeymoon packages in the Dominican Republic are:
Dreams Eternity Honeymoon Package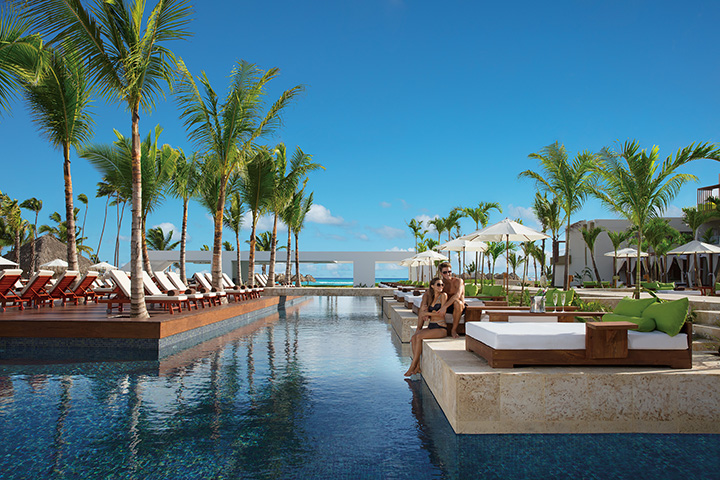 For this package, couples can enjoy romantic breakfasts in bed complete with mimosas, a tension release massage for two, and a private beachfront dinner. Couples can even enjoy free anniversary nights when booking a minimum of 5 paid nights.
Sunscape Sweet Escape Honeymoon Package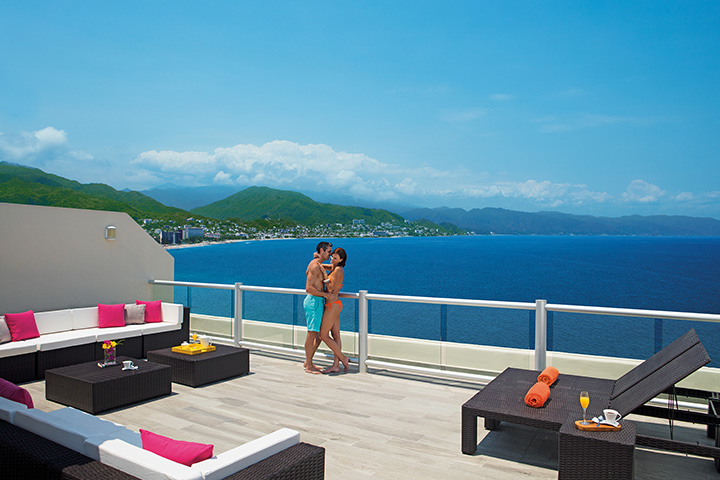 Fresh flowers, fruit, and champagne await honeymoon couples upon check-in. Over the course of their stay, couples can enjoy romantic breakfast in bed one morning, a couples massage and facial, a romantic dinner on the beach, and turn down service with petit flowers.
Excellence Punta Cana Honeymoon Package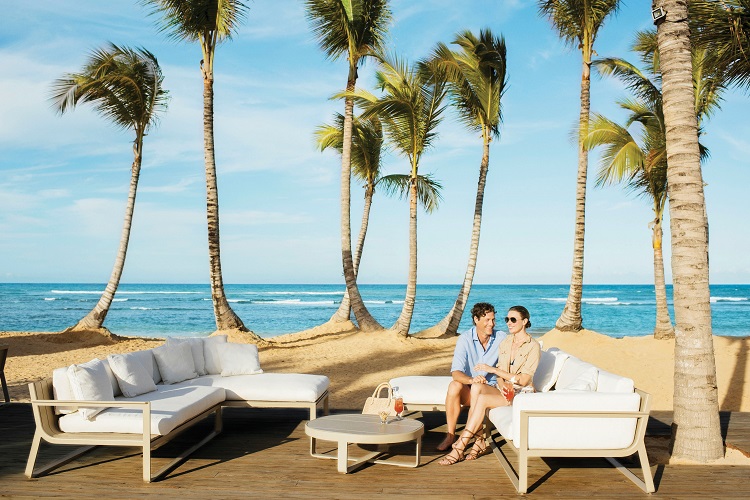 Couples are greeted with champagne upon arrival and will find an exotic fruit basket in their room accompanied by fresh flowers. They can expect a romantic breakfast in bed and dinner on the beach at sunset followed by a rose petal bath back in their room. Couples will be in aromatherapy heaven during their Look Inside Ritual.  Enjoy a  blend of rosemary, eucalyptus, and Melissa essential oils in a releasing scalp, neck, and shoulder massage followed by a lavender soothing balm  (which sounds amazing!).
By working with a Certified Destination Wedding Specialist, you can gain exclusive access to these offers to really enhance your romantic getaway!
Can't Miss Honeymoon Activities in the Dominican Republic
There are tons of water sports to enjoy on your Caribbean honeymoon. You can kayak, parasail, jet ski, and take a romantic dinner cruise.
The Dominican Republic also has a great history to learn about. If you enjoy museums, chapels, and art, you'll find all that in the capital city of Santo Domingo.
All-inclusive resorts in the Dominican Republic offer exciting nightlife! Some are home to casinos if you're willing to test your luck! Take in a show at the Onsite Theater, or dance the night away in a discotheque where house DJs will keep you on your toes until sunrise.
The Dominican Republic has so much to offer couples no matter what they are looking for. Enjoy a honeymoon filled with lounging by the pool, deep tissue massages, and endless Jacuzzi baths for complete relaxation. For a more cultural experience, taste some of the local food and embark on fun island adventures. With stunning beauty and endless amenities, couples will enjoy the paradise of the Dominican Republic that will make their honeymoon unforgettable!
Ready to start planning? Create a profile today to get in touch with a Certified Destination Wedding Specialist! >>>