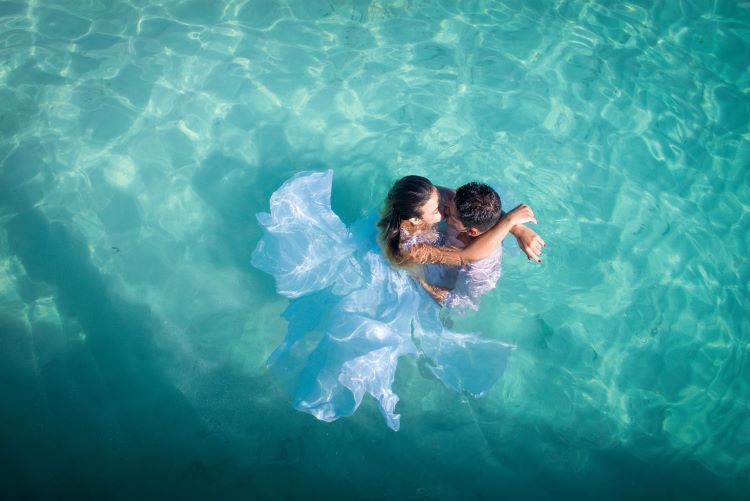 You've decided you want to tie the knot in one of the world's most stunning locales — the coral-based Bahamas archipelago. Undoubtedly, any destination you choose in this stretch of the Caribbean will provide a picture-perfect backdrop for your big day. Bahamas wedding venues are like none other and are sure to create an incredible destination wedding experience.
That's because this collection of Caribbean islands is known for its luxurious resorts, offering some of the world's top all-inclusive wedding experiences. But you've probably heard of, or even been to, a number of Bahamas-based weddings, and maybe you're looking for something a bit different than the usual resort-based experience.
These eight unique Bahamas wedding venues will take you away from the common resort and into a day you, your new spouse, and your guests are guaranteed to remember forever.
1. Get Hitched on a Private Beach — Tiamo Resort, The Out Islands
When you decided to get married in the Bahamas, you may have had getting hitched with your toes in the sand in mind. However, you may not have expected to have all of that sand reserved simply for you and your guests. Tiamo Resort, and its private beach, is the ultimate wedding venue for those who want complete solitude. This resort is only accessible by boat or seaplane, creating the dreamiest, and most intimate location.   With only 10 individual cottages onsite, the entire place can belong to you and your wedding party. Talk about an amazing wedding getaway!
2. Ride Away on Horseback — Coral Sands Hotel, Harbour Island
The Bahamas are known for land- and water-based adventures and couples seeking a thrill are guaranteed to find it in the outdoor playground of Harbour Islands. The Coral Sands Hotel, and Harbour Island as a whole, is known for its pink sands and turquoise waters as a backdrop.
For a very special and unique exit, couples can depart their ceremony by bareback horseback riding. Or if they want to be bold, and trash the dress they can jump right into the calm, shallow waters. Either method is for sure to create some incredibly instagrammable photos!
3. Tie the Knot Underwater — Nassau (multiple locations)
Snorkeling, diving, and other water activities are a way of life in the Bahamas, so if you and your fiancé are water lovers, you won't want to pass up the chance to get married underneath the surface of the sea. A number of dive companies, like Stuart Cove's Dive Bahamas, specialize in underwater weddings with half- and full-day trips available for small wedding parties. There's no better backdrop than the coral reefs, shipwrecks and other underwater beauty of the Bahamas.
---

RELATED: Can A Wedding Be a Vacation, Too?
---
4. Get Married in a Mansion — Andros, The Out Islands, and More
Not all Bahamas weddings involve staying in a mega-resort. In fact, certain regions of the Bahamas, like Andros, the Out Islands, and more, offer more intimate settings that still provide all of the sumptuous amenities you're seeking. Rent an entire mansion, with pools, butlers, chefs, and more, to spend your big day in the lap of luxury with all the ones you love.
5. Say Your Nuptials and Swim With Pigs — Major's Spot Cay, Exuma
The Bahamian region of Exuma has become famous for one very popular (and cute) activity, and it's guaranteed to make your big day an unforgettable one. Following your nuptials, whether on the sand or with the backdrop of beautiful George Town, head out to Major's Spot Cay, where you can swim with domesticated pigs that love having visitors. Your guide will be sure to give you and your guests plenty of food to make the experience even more memorable.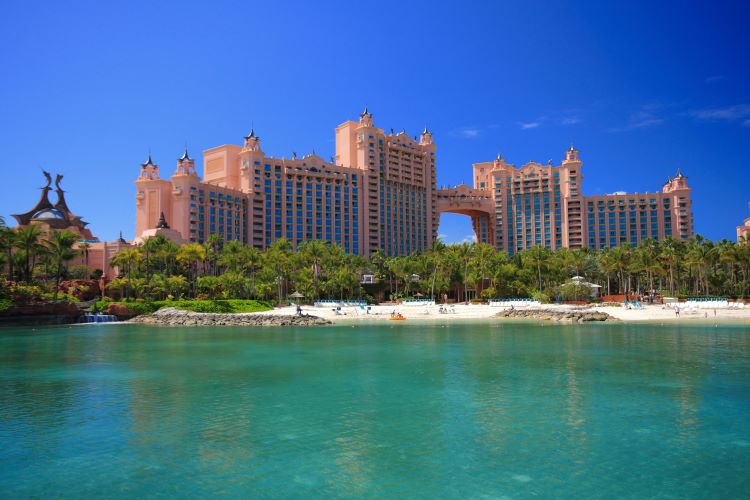 6. Atlantis Awaits — Atlantis, Paradise Island
Atlantis is a dream vacation destination for many, and that's why it's one of the most enchanting wedding venues in the Bahamas. Located on Paradise Island, this world-famous resort features the world's biggest open-air marine habitat with 14 lagoons and more than 50,000 sea creatures. The resort couples land- and water-based adventures with luxurious suites, over-the-top penthouses, and all of the luxury that reminds you this is one of the most important days of your life. Atlantis allows you get married where many people simply dream of traveling one day.
7. Give Your Guests Something to Talk About — Breezes Resort and Spa, Nassau
The staff at the Breezes Resort and Spa in Nassau makes enjoying your wedding to the fullest easy for you as well as your guests. This super-inclusive resort features all of the amenities and adventures you and your guests want in a picture-perfect location that's just minutes from the airport. Join your guests and indulge in the casinos, exciting piano bars, world-class restaurants, and numerous water adventures. Breezes creates a one-of-a-kind atmosphere that you and your guests will be talking about for decades.
8. Keep the Resort to Yourself  — Kamalame Cay, Andros
Kamalame Cay is a destination wedding locale for those who in search of sumptuous amenities and spectacular views without the usual resort crowds. This private oasis features 96 picture-perfect acres of tropical foliage and towering palms. The backdrop for your big day will include a portion of the 3-miles of white-sand beaches and those iconic turquoise Bahamas waters. An abundance of corals and sea life make Kamalame Cay an ideal jumping point for pre- and post-wedding adventures.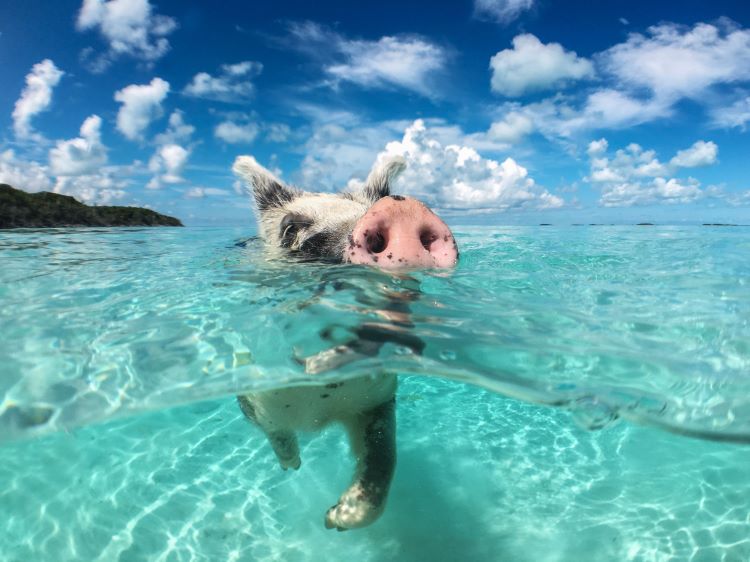 The Bahamas Await…
It doesn't matter what type of wedding you're seeking —  adventurous,  laid-back, completely private or a bit of each — your dream destination wedding venue can be found in the Bahamas. By booking a destination wedding in the Bahamas, you are sure to have an unforgettable experience that is sure to stand apart from the rest.
With so many spectacular options it will be helpful to work closely with your Certified Destination Wedding Specialist who will be able to narrow down the perfect location based on your tastes, preferences, and budget!