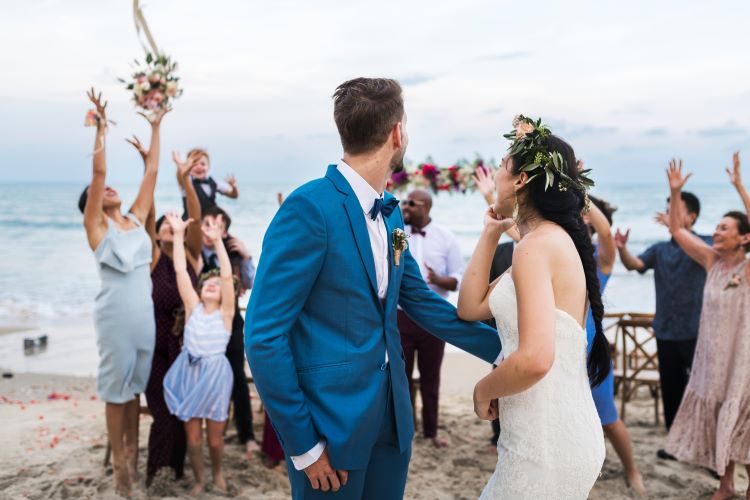 It's the ultimate all-inclusive experience. A vacation, wedding, and honeymoon trip all combined into one mega fantastic time. Not to mention, you will be accompanied by your soon-to-be spouse along with all of your closest family and friends. Doesn't that sound like the most amazing way to get married? If you are wondering if your wedding can actually be a vacation too, then you are in luck. The answer is absolutely!
Many wedding venues in Mexico, Jamaica, and other luxurious Caribbean locations cater to those that want an all-inclusive experience to make their wedding a part of their wildest vacation fantasies.
These resorts have the perfect destination wedding packages to make your vacation a true once-in-a-lifetime experience. Let's take a look at all of the details and benefits of planning your destination vacation wedding in a beautiful, tropical location.
 The Reasons to Choose a Vacation Wedding Experience
There are countless reasons to turn your wedding day into a fun-filled destination wedding experience. While we could go on and on about why we love them so much we have narrowed it down to these six main reasons:
Affordability
Unlimited Time with Guests
Getting Married in Paradise
Amazing Resort Venues
Incredible Destination Wedding Packages
Affordability
There are many reasons to choose a vacation wedding experience. One of the best ones is the affordability. By combining your wedding, vacation, and honeymoon into one big experience, you are ultimately going to save money in the long run by not planning three separate events.
Think about the cost of a large wedding when you plan the ceremony and reception in your hometown, with a guest list that usually goes well over 100 people. The cost of that is enormous. Most people don't invite that many people to a destination wedding. The most popular ones usually just have immediate family and close friends of the wedding couples' to make up a wedding party. Sometimes it might even just be the two of you without any guests at all. It's all up to you and your significant other on what you want your destination wedding experience to look like.
Find Out How Much a Destination Wedding Costs Here! 
Special Time with Guests
Another great reason to turn your destination wedding into a vacation is the opportunity that you get to spend days upon days in paradise with your loved ones. This creates an amazing experience that will not be able to be created otherwise. Weddings at home fly by in what feels like minutes. By spending a whole weekend or longer, there are ample opportunities to connect with all of your guests and create incredible memories.
Working with a Destination Wedding Expert
A Certified Destination Wedding Specialist can help you with all of the details of your wedding. This is much less stressful than planning a huge wedding where you live. In a destination wedding and vacation, many of those details are laid out for you, without the couple having to think much about it. Decide on a few beautiful details and you're done with planning. Talk about stress-free!
Get Married in a Tropical Paradise
Another great part of a destination wedding is that in these tropical locations, like the Bahamas, Cancun, or various Caribbean islands, you can make those wedding vacation plans year-round. It's always nice there, so you don't have to worry about getting married in the cold. You can schedule your destination wedding vacation exactly when you want to go, whether that's during the best time for you to take some vacation time away from your job, the dead of winter or even summer to accommodate children on school break. It's all at your convenience. This also nixes all of the stress of having to hop right on a plane a day or two after your ceremony for a honeymoon.
Resorts Know How Important an All-Inclusive Wedding Experience Will Be
Many resorts and properties that cater to the destination wedding experience know how important this special moment is in a family's life. They can make this weeklong (or more) wedding vacation adventure one that will truly put a smile on the couple's face and their guests for years to come. It's truly a grand way to celebrate a new life together in style and ease.
---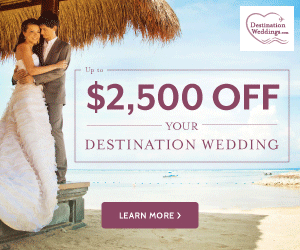 RELATED: How to Plan a Destination Wedding on a Budget
---
Incredible All-Inclusive Wedding Packages
When you get married, vacation, and honeymoon in one place, that's less travel time and expenses, and more time relaxing and enjoying the location with your new spouse. You can be at the pool more, do some water sports on the beach, spend some time in the spa, and really get to enjoy the entire experience more with a combination wedding and vacation package that's all-inclusive.
Many people like to have a destination wedding vacation because there are many packages available that are all-inclusive. That means that you don't have to worry about all the little expenditures on the vacation because usually things like the ceremony and reception decor, food, drinks, and entertainment are all included. You get your wedding, your vacation, and your honeymoon all in one! Here are some of the details that are included with these kinds of all-inclusive packages.
Your Wedding Venue:
This is usually a part of the package that you can pick your location on the property. This might be overlooking the beach, on the beach, by the pool, a fancy restaurant, a gazebo, or even a ballroom. Your wedding planner will usually be able to go into the specific details that each resort has for the perfect wedding venue.
Accommodations:
Usually, the wedding couple with an all-inclusive package will get a room upgrade based on availability. That means things like oceanfront views, bigger suites, and even group discounts on rooms for your guests that are coming to your destination wedding. This will really make your experience extra special!
Ceremony Decor:
The decorations for your ceremony, depending on which package you choose, are usually included. This can be aisle decorations, chairs for your guests, the archway for your ceremony, and flowers. There are different themes to pick from whether you want something tropical, sophisticated, or modern. Maybe you want an all-white themed wedding decor? Talk to your wedding coordinator at the hotel about the many options in decor that they will have for you.
Entertainment:
The wedding couple typically gets a discount on entertainment services like the spa, fitness area, or watersports. For family-friendly wedding resorts, there is usually a kids club that will entertain the little ones who tag along. They also have programs for older teens to keep them happy as well. If you plan on having a lot of family and friends, resorts with these options help to make a happier vacation for everyone involved.
Romantic Touches:
There are all kinds of romantic touches that are included with wedding vacation packages. Sometimes there will be a special welcoming gift for the couple, romantic room decor like rose petals and champagne, turn-down service, and candles. The resorts always go out of their way to make the wedding couple feel special and important.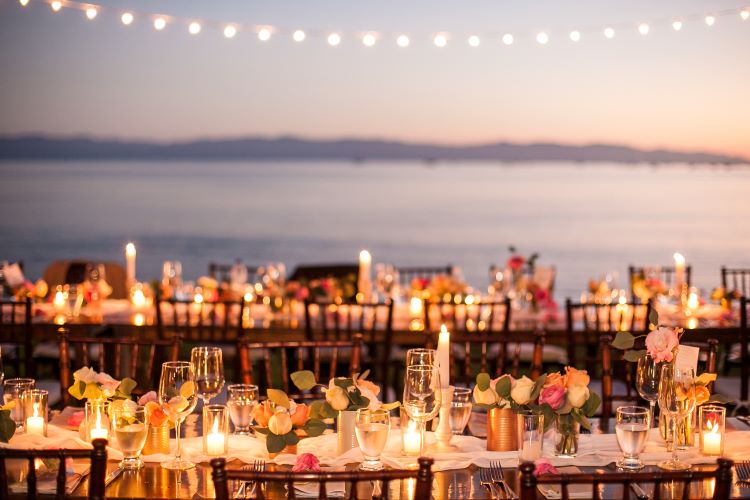 In conclusion
Turning your destination wedding into a full vacation is basically a no brainer. Allow yourself to fully enjoy the gorgeous tropical atmosphere surrounded by all of your loved ones for as long as you can take it! This is sure to bring your wedding experience to the next level!
Are you ready to start planning? Create a profile today! >>>