Weddings in St. Lucia
There's a reason for St. Lucia's worldwide reputation as an island paradise that is totally dedicated to couples in love – 238-square-miles full of reasons, actually. This lush, tropical eastern Caribbean destination offers couples vast stretches of pristine beaches, verdant rainforests, unlimited adventure, internationally recognized cuisine and gracious residents. Trust us, weddings in St. Lucia are truly breathtaking!
Once blissfully unknown, the word is getting out that St. Lucia is an emerging giant in the destination wedding industry. ABC's reality series "The Bachelor" filmed the final episode of 2014 on the enchanted island. Numerous consecutive awards for "World's Leading Honeymoon Destination" and "Caribbean's Leading Honeymoon Destination" just validate what couples know as soon as they set foot on the shimmering white sands.
This exotic island boasts a bevy of spectacular beachfront hotels, luxurious spa resorts, and all-inclusives. You can exchange your vows 24 hours after arriving in a botanical garden bursting with vibrant blooms or against the dramatic backdrop of the iconic Piton Mountains. The lack of a residency period makes it easy for couples to marry here, provided you apply for a Same Day Marriage License and bring along all the standard documentation.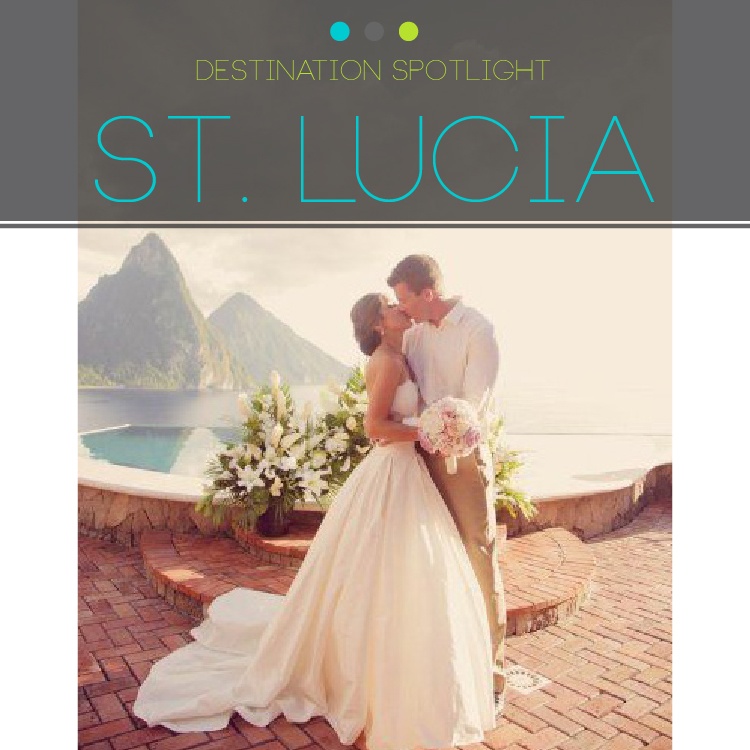 Revel in Romance and Rejuvenation with Weddings in St. Lucia
Feast on five-star gourmet meals served mostly al fresco, thanks to St. Lucia's constant temperature range of 77 to 82 degrees Fahrenheit. Dine in restaurants located on the beach, the waterfront, the side of a mountain, or in the midst of an active plantation. Delight your palates with romantic candlelight dinners that feature culinary influences derived from African, Indian, Caribbean, French, Spanish, and British cuisines. After savoring the freshest seafood catch of the day and tropical island produce bursting with sensual flavors, textures, and aromas, you'll understand why Saint Lucia has become an international culinary destination.
Stroll hand-in-hand on one of the numerous white-sanded beaches, ducking into secluded coves to smooch or massaging each other's back under a cascading waterfall. Seek out the remote and quiet romance found at Laborie Beach, or hit the popular water-sport-loving shores of Marigot Bay or Anse des Pitons.
Pamper and purify your newly wedded bodies in one of St. Lucia's mineral-rich mud and steam baths at the Soufriere Volcano, the world's only drive-in volcano. November is Health & Wellness Month, and the island's best hotels create value packages allowing couples access to the plethora of therapeutic benefits the land provides. So… how does a couple's hot stone massage on an ocean overlook sound?
Recreate Yourselves
Dive or snorkel in St. Lucia's warm and crystal clear waters filled with wondrous coral and marine life that thrive at the Anse Cochon and Anse Chastanet reefs. Take a night dive if you dare, and poke around an old sunken ship seeking your treasure.
Sail the day away on the pristine blue waters aboard a chartered yacht piloted by your own personal skipper at Rodney Bay. The calm, deep Caribbean Sea caresses the western coast of the island, offering access to secret coves and quaint fishing villages. Toast each other and your amazing fortune on a sunset cruise, snuggling close as the sun slips slowly over the horizon.
Hike the magnificent 19,000 acres of lush rainforests cradled between St. Lucia's stately twin peaks, the Pitons, soaring 2,000 feet above the sea. It's a bird and wild orchid lover's paradise. Tropical birds that defy you to believe that their colors are real include the flamingo and the endangered, windigenous St. Lucia parrot. Banana, coconut, mango, and papaya orchards are tucked into the rainforest — your own extraordinary Garden of Eden!
To learn more about weddings in St. Lucia, click here and get started with your wedding planning today! >>