Couple: Melissa and Ryan
Wedding Date: June 15, 2014
Location/Resort: IBEROSTAR Grand Hotel Paraiso
Number of Guests: 50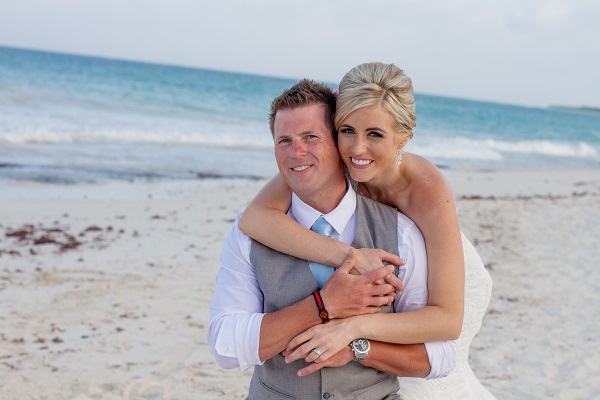 The (brief) story of how you met/fell in love:
Our professions brought us together!  As a local television news reporter, I often crossed paths with firefighters on scenes, but never thought I'd fall in love with one.  We talked to each other at a few fires, which eventually lead to a few dates and now we are husband and wife!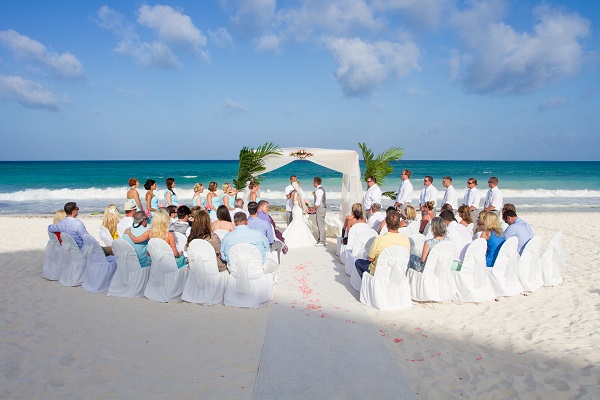 The destination wedding decision: something you've always wanted or came to love?
I'd always wanted my wedding to be small and intimate. Add the fact that all of my bridesmaids live in different states and a destination wedding just made perfect sense.  Ryan loves the beach and doesn't get a chance to go on many vacations, so he thought it'd be a great idea to make our wedding a fun-filled vacation with all of our closest friends. We are so happy we did because it was absolutely perfect!!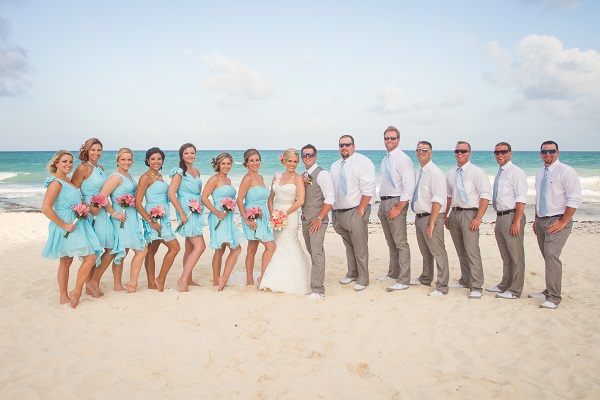 What made you choose Riviera Maya, Mexico?
It wasn't easy! I spent hours researching destinations and hotels. It's a lot of pressure picking the venue for your wedding, when you have never been to the resort! At first, we were looking at the Bahamas and St. Lucia but turned to Mexico when we realized how much more affordable it would be for all of our guests. Our Wedding Specialist recommended the IBEROSTAR Grand Hotel Paraiso because they offered a great wedding package, and it was a beautiful resort.  After reading so many positive reviews, I was sold and we made our final decision to book at the grand.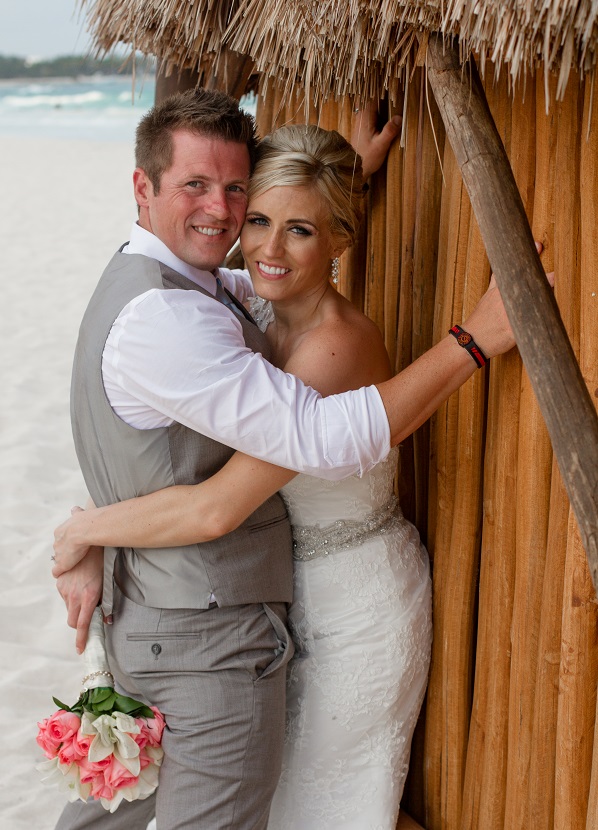 How did you personalize your wedding and ceremony?
It was very important to us to make everything very personal and to reflect who we are as a couple. I didn't go with a typical beach wedding dress, because it wasn't me. For our ceremony, we chose some of our favorite songs and wrote our own vows, which were both heartfelt and funny. At our reception we played a video one of my bridesmaids made that showed pictures of us as kids and an interview of us talking about how we met, why we loved each other and what the future held. We also made welcome bags for all of our guests, which had hand-written welcome notes inside along with other wedding goodies.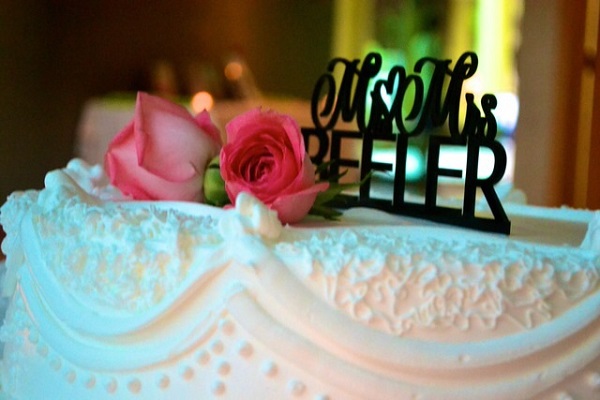 The funniest or most unusual moment was when…
There were quite a few!  However, the one we just can't forget is when the father of the groom leaned in a little too close to the microphone while the mother of the groom was giving a speech. Instead of whispering he was "going to the bathroom" to his wife, he announced it over the microphone for all the guests to hear!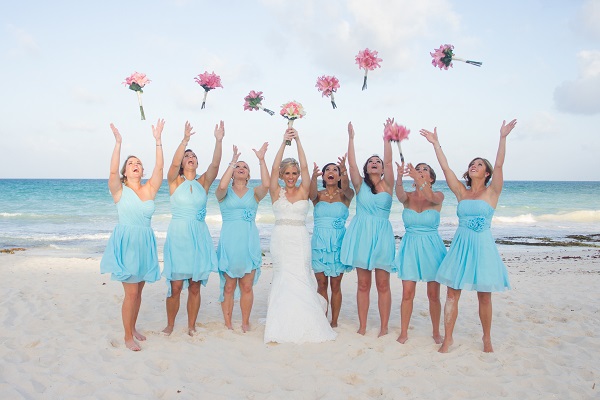 Three words that sum up your destination wedding experience are:
FUN, PERFECT, FABULOUS!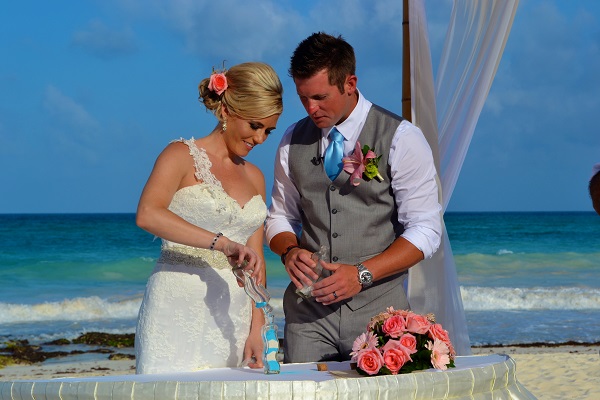 If you could travel anywhere for your one-year anniversary, it would be:
St. Lucia or right back to the same resort we got married at in Riviera Maya, Mexico.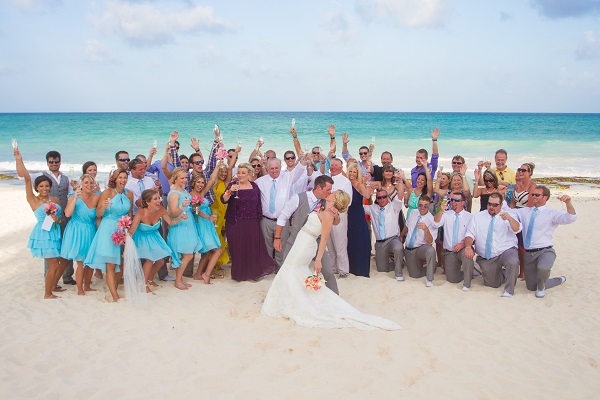 Your biggest piece of advice to couples planning a destination wedding would be:
Be flexible and don't get caught up in every little detail! You can't be as hands on with a destination wedding and may have to roll with the punches a little bit more, but that's where your Destination Wedding Specialist comes in to help. Ours was fantastic from start to finish. He helped me pick the resort and then answered countless questions from me and my guests, even throughout the wedding weekend. I am so thankful for DestinationWeddings.com. My wedding would not have been as worry-free and wonderful, without my Specialist's help. Sit back and enjoy the time leading up to your wedding day, the weekend goes by fast. 🙂