Couple: Megan & Michael
Wedding Date: October 4, 2014
Resort Name & Destination: Initially Riu Palace Cabo San Lucas but then transferred to Riu Palace Puerto Vallarta due to a hurricane
Number of Guests: 65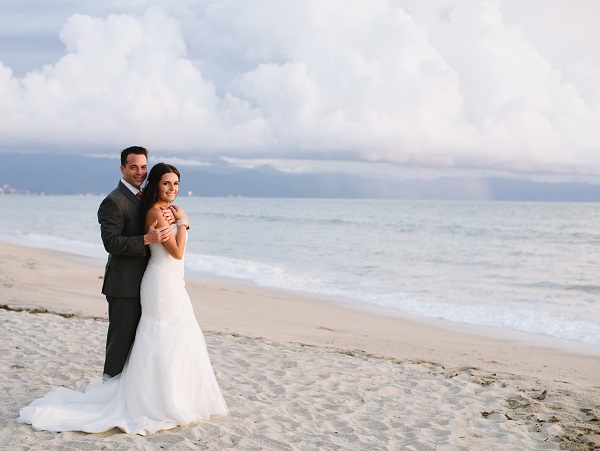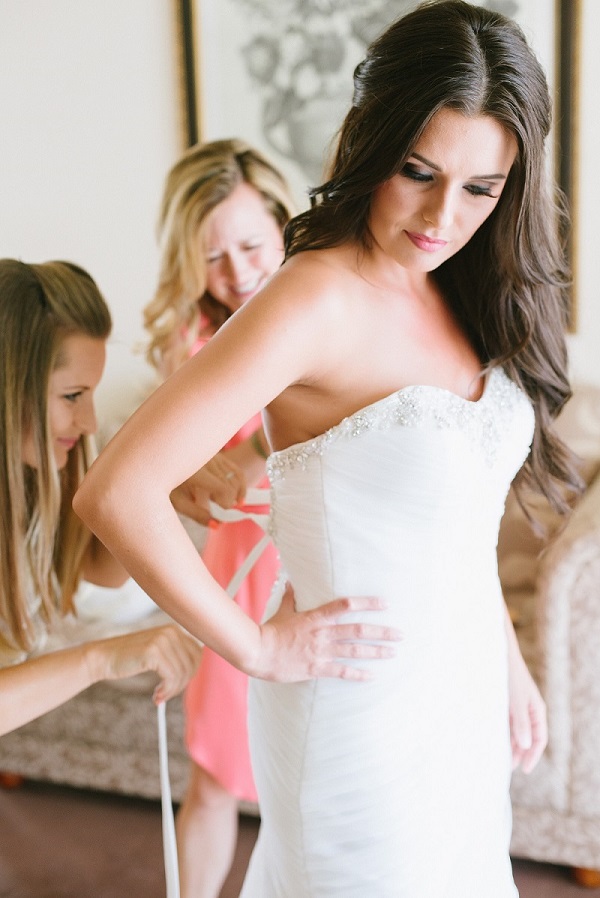 Wedding Dress: Blu Bridal Collection by Madison Gardner
Wedding Shoes: Aldo sandals
Photography: Jessica Kettle Photography
The (brief) story of how you met/fell in love: 
My husband and I met at a grungy local beach bar in Newport Beach, California in 2008.  Michael was wearing an Oregon State University baseball hat and I saw him from across the bar, thrilled to see someone from near my home state (Washington)!  My close friend introduced us (she's the gusty one) and we hit it off!  Michael made me dinner the following night (I had never had a guy cook for me before) and introduced me to his dog, and we have been inseparable ever since.  Michael supported me through graduate school and he balances me more than anyone else I've ever known.  We are both animal lovers and with the same North West roots, we are able to connect in the best of ways.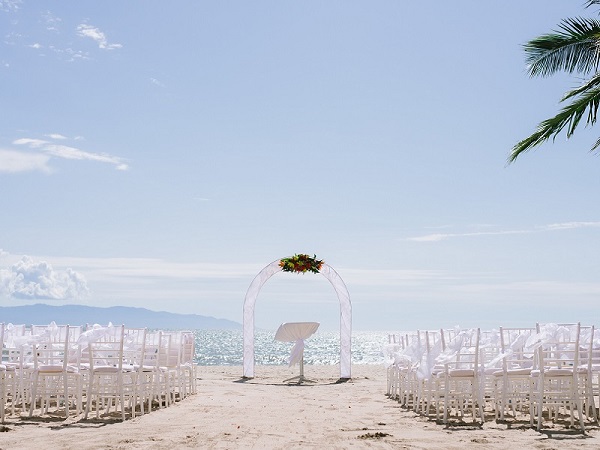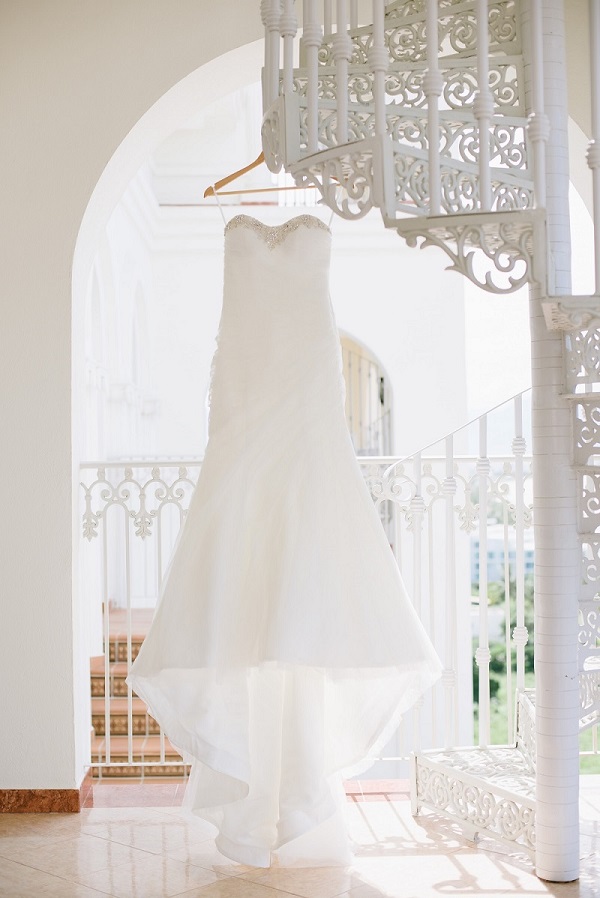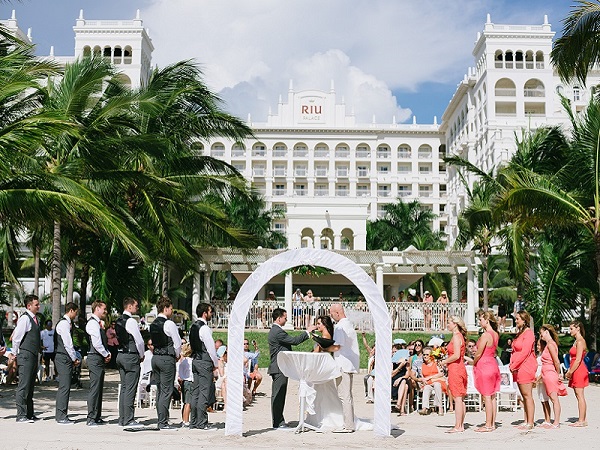 The destination wedding decision: something you've always wanted or came to love? 
Michael and I arrived upon the decision to have a destination wedding because we wanted to have the most fun we could at our wedding with as little planning stress as possible! I mean, who really wants to worry about napkins and table arrangements!?  We also had friends and family living all over the country who would be traveling for our wedding regardless, so we figured why not all meet together at an amazing location to celebrate?  Plus, we knew we would get the most bang for our buck with this type of wedding (all-inclusive all the way)!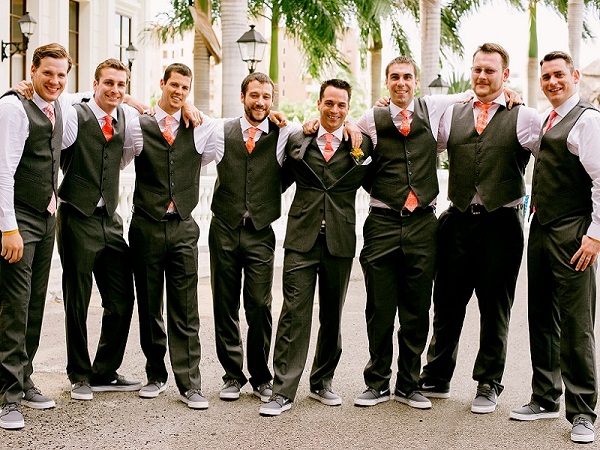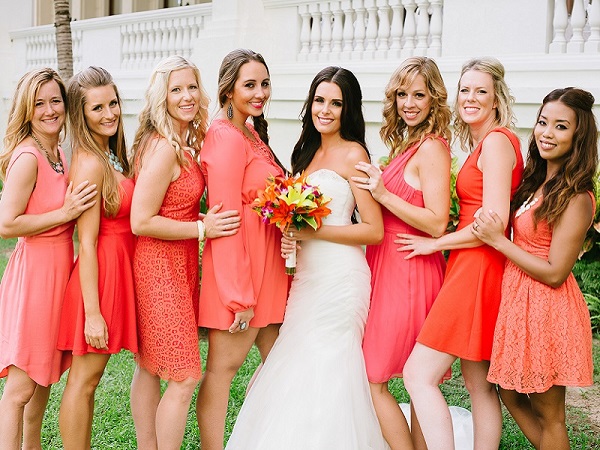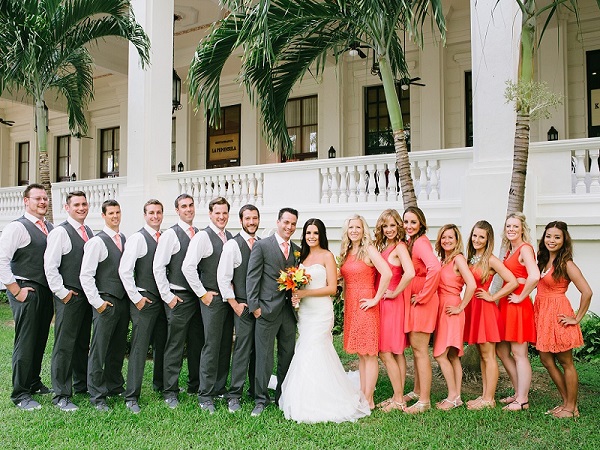 What made you choose your resort/destination? 
We decided to have our wedding in Cabo at the Riu Palace Cabo San Lucas. It seemed like an amazing resort with the all-inclusive option we wanted, and was in a fun and affordable city for all of our guests to travel to and from. The pricing was affordable, the ceremony options were ideal, and the location was perfect. We eventually got re-routed as you'll read later, but the amazing part was is that the wedding was entirely as I imagined despite it being in an entirely different city and at an entirely different resort. Riu Palace Puerto Vallarta picked up right where our original property left off, and we are so thankful.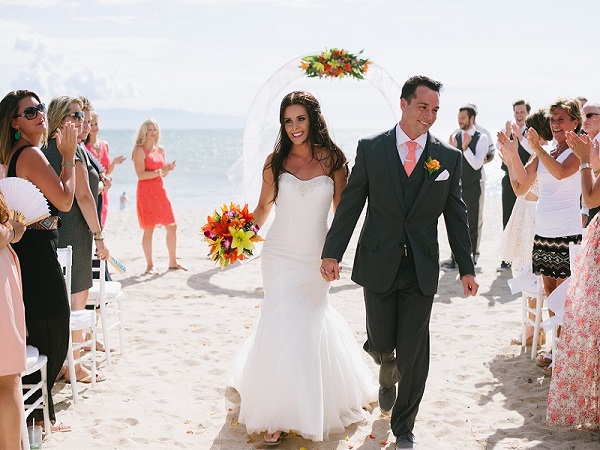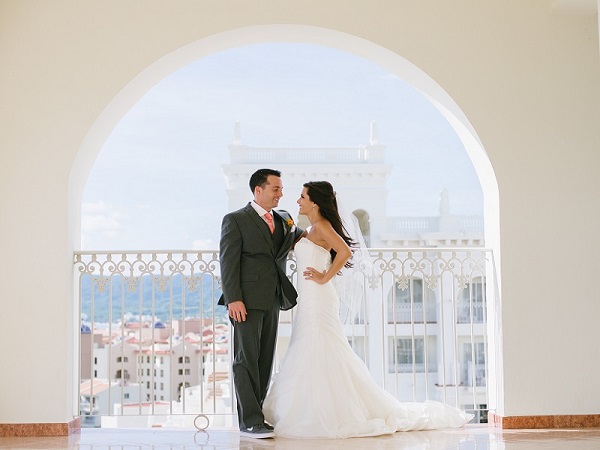 How did you personalize your wedding and ceremony? 
Michael and I wanted to add some small personal touches to our wedding. All of the groomsmen wore converse-like Nike shoes with their suits, which is a brand that Michael loves and that originated in Oregon (Michael's home state). We had small fans placed on each chair at the ceremony for fun/overheating prevention and photos of my grandfather and our close friend Tony (both of whom have passed away) placed on specific chairs to feel like they still were attending our wedding. The groomsmen also wore orange socks which was our friend Tony's "color" to remember him, along with TP tie clips and cufflinks (Tony's initials). My bridesmaids all chose their own dresses in my preferred color (coral) which added their own unique flair, and they did their own hair. We also wrote our own vows, and had a unique first dance song. I also walked up the aisle to a musical version of my favorite song from college, which was very sentimental to me.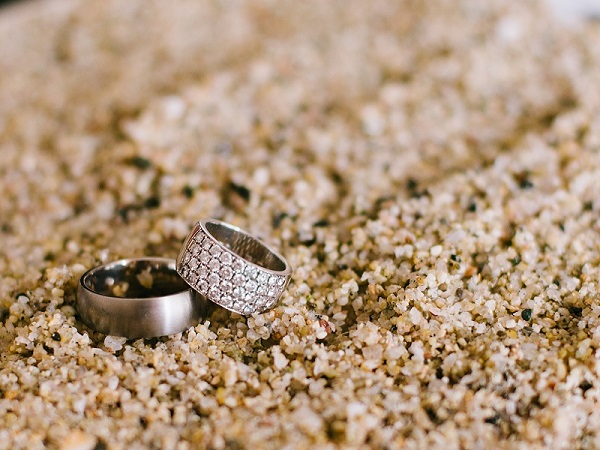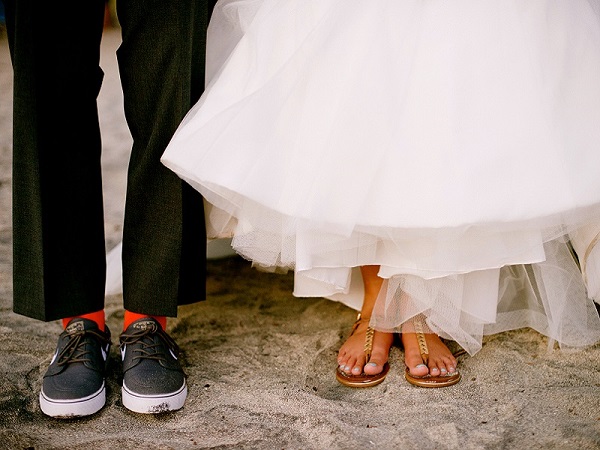 The funniest or most unusual moment was when….
Less than three weeks before our wedding, Hurricane Odile hit (the largest hurricane to hit that part of Mexico in decades)! Our resort was completely underwater and without power, and the Cabo airport was in pieces. We were heartbroken. Not to mention we had 75 wedding guests who were looking forward to an amazing week in Mexico. But without skipping a beat, our destination wedding specialist Natalie got in touch and we came up with a Plan B. Once we got word that the resort didn't have the ability to accommodate us due to their devastation, Natalie handled everything to transfer our entire wedding. Within a matter of hours, our entire wedding that was planned in the city of Cabo was moved across the country to Puerto Vallarta!!!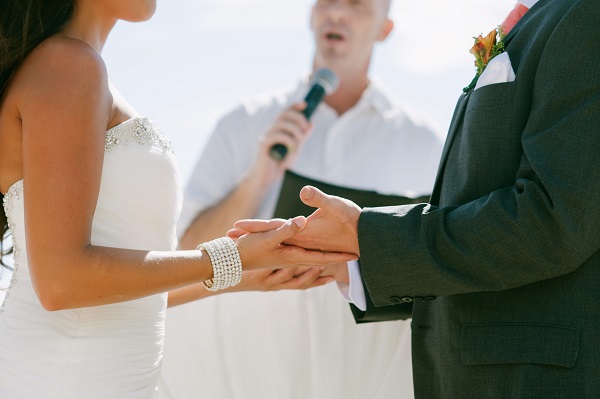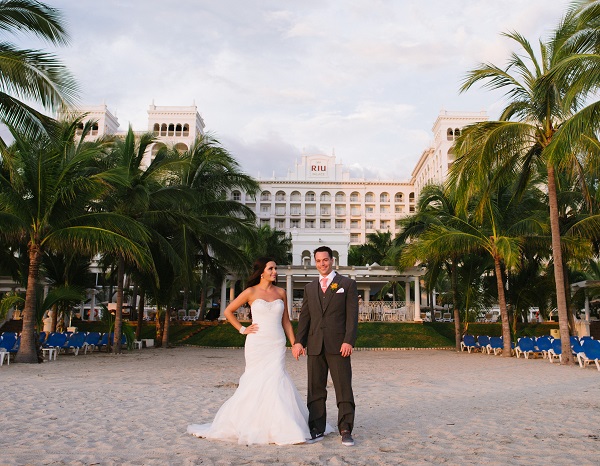 The most memorable moment was when…. 
Our wedding week finally arrived and everything went off without a hitch in the beautiful city of Puerto Vallarta, Mexico. My husband and I were able to have the gorgeous beach wedding that we had planned, the staff helped arrange all the last minute details we needed and we even got upgraded to an amazing penthouse suite for our troubles. Our friends, family, my husband and I had the absolute time of our lives. It all came together perfectly. Oh, and when we ALL jumped in the pool together at the end of the reception! Even me in my wedding dress!  Over 30 guests, groomsmen, bridesmaids and my husband and I high on love and happiness (and tequila) in the pool!  Needless to say, we still all laugh about it.  We even got a fabulous group picture.  It was awesome.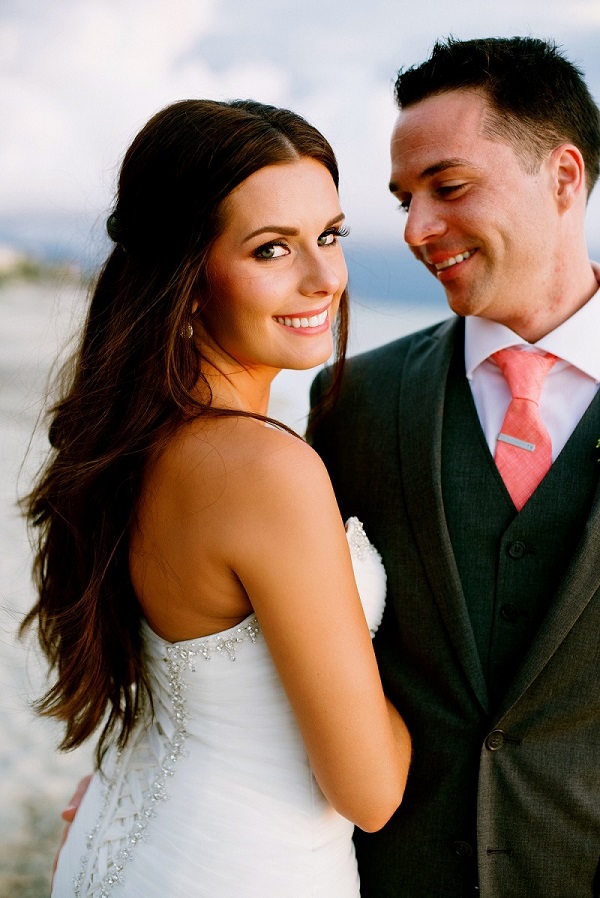 Three words that sum up your destination wedding experience are:
1:  Memorable.  2:  Successful.  3.  Perfect.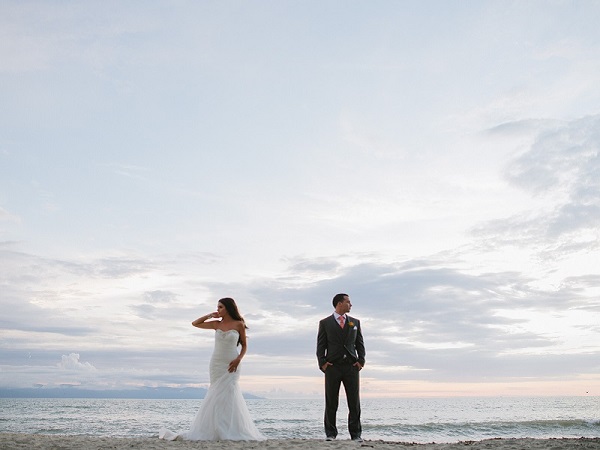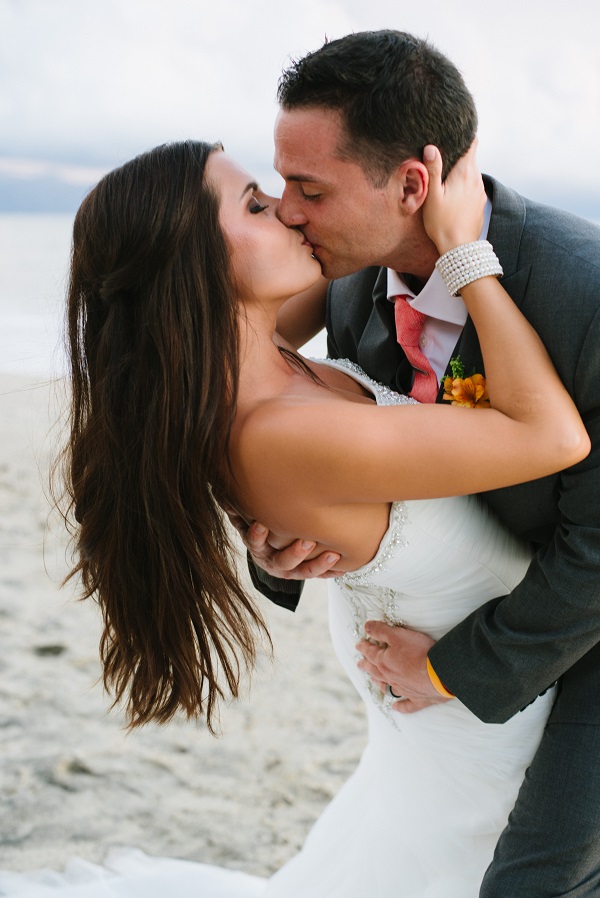 Besides the wedding itself, what was your favorite part of your trip? Did you do any activities with your guests? 
My husband and I thoroughly enjoyed the all-inclusive aspect of the resort, along with meeting new people from all over the world.  The staff at our resort knew us by name, fun little towns were right up the beach, my husband went golfing, and we even found an amazing hidden beach and cliffside restaurant (Ocean Grill) when we ventured off of the resort a day!  My husband and I really also cherished the fact that we had an entire week to spend with our guests, rather than one night like a typical wedding.  Our guests bonded.  We made memories. It was like adult-summer camp for a week with all of your loved ones!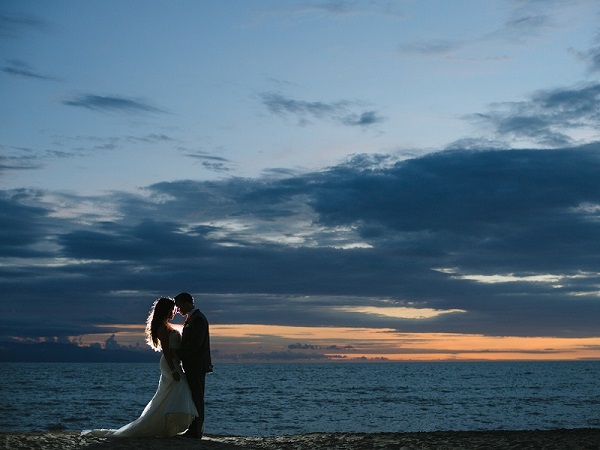 If you could travel anywhere for your one-year anniversary, it would be: 
Without a doubt, the Riu Palace Cabo San Lucas!  It was our original wedding destination and we heard nothing but good things about the resort. My husband and I have both committed to one day finding the chance to visit that resort.  We just HAVE to experience what could have been…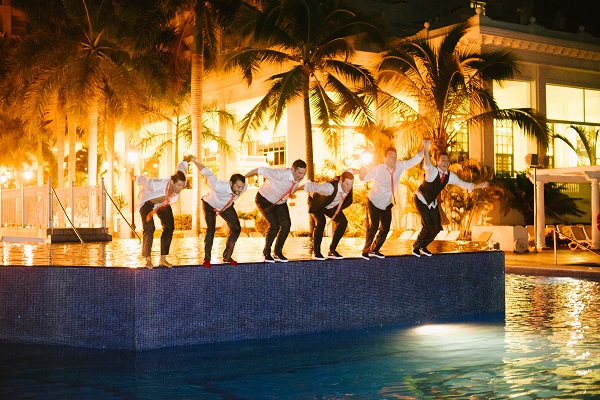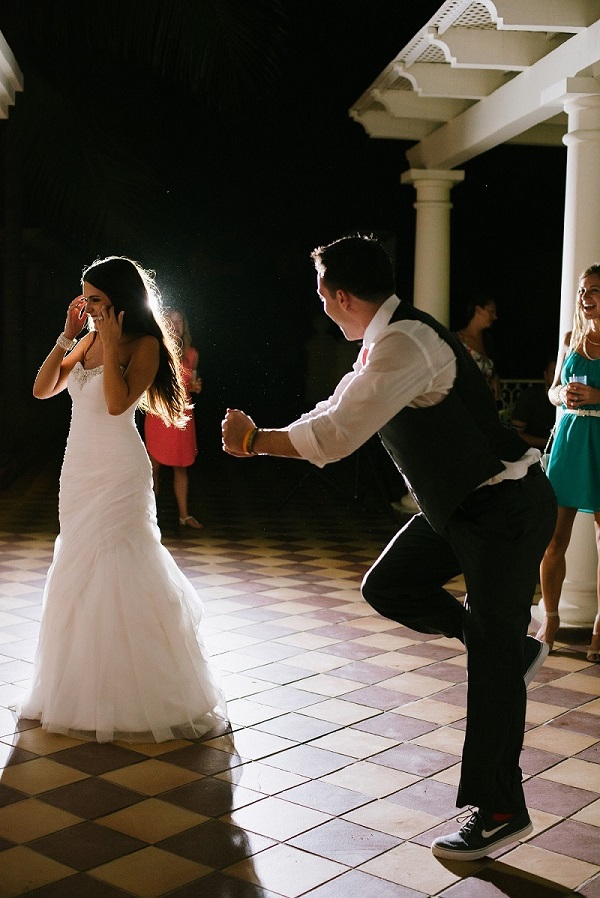 Your biggest piece of advice to couples planning a destination wedding would be: 
Utilize your Specialist and be as kind and easy to work with as possible.  Without the help of DestinationWeddings.com and our hard working Specialist, our wedding would have NEVER happened. Our Specialist even happened to be in our new wedding location for a work retreat prior to our wedding and personally took a cab over to the new resort to meet with the staff and help arrange our accommodations (and ease my anxieties)! I was so amazed at how above and beyond Natalie went to ensure our dream wedding would happen just the way we planned!  I personally believe that because Natalie and I had such a positive relationship, she was much more inclined to be supportive and accommodating during this insane re-routing process!  Not only because it was her job, but because of the relationship we had built during the year of planning.