Couple: MariLynne & Nick
Wedding Date: 7/11/14
Resort Name & Destination: The Beloved Hotel in Playa Mujeres, Mexico
Number of Guests: 40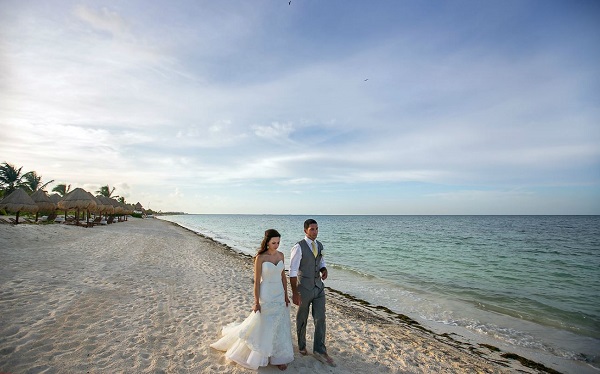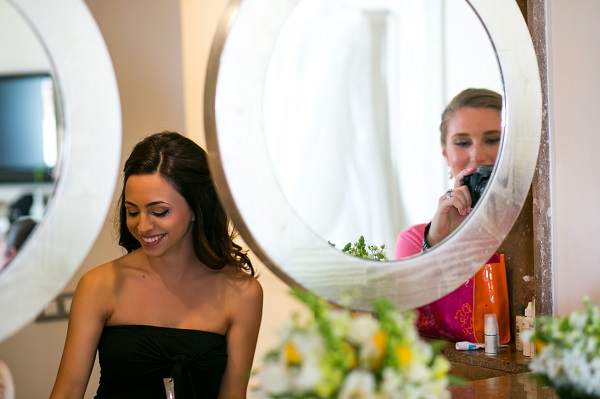 Wedding/Reception Shoes: Badgley Mischka (these were my something old, I wore them for my sister's wedding)
Photography: FineArts Studio (photographers were Diego & Alvaro)
Wedding Jewelry: My earrings by Alexis Bittar were my favorite, they looked like they were inspired by the ocean!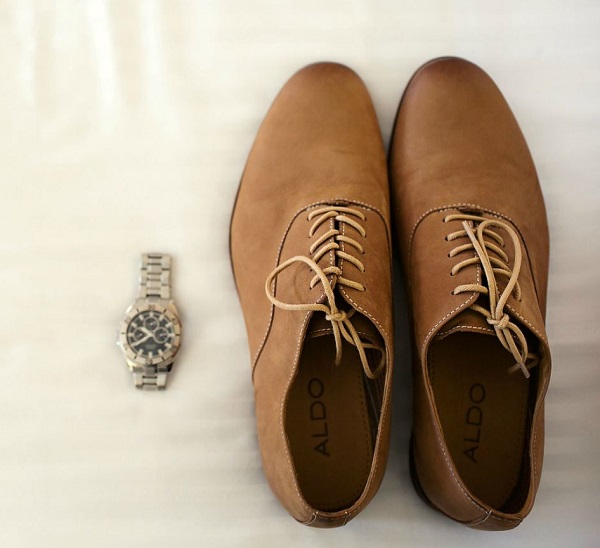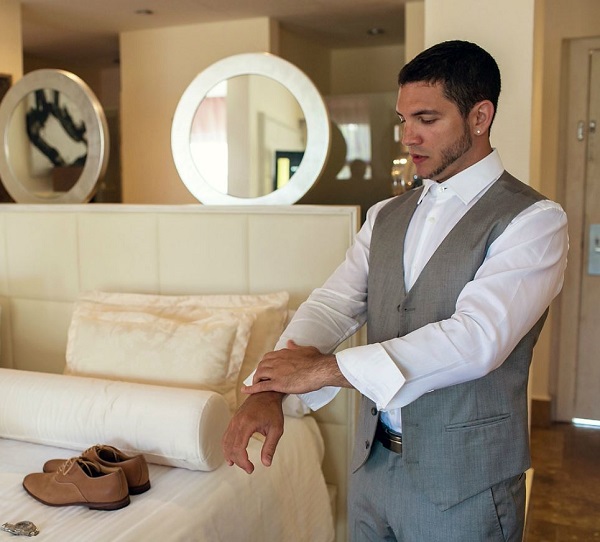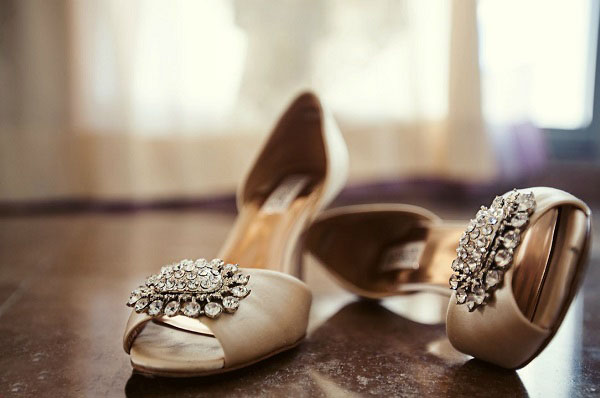 The (brief) story of how you met/fell in love:
We met when we were out at a bar with a mutual friend – no set up necessary. He approached me at the bar, and we didn't stop talking all night. That was almost 7 years ago!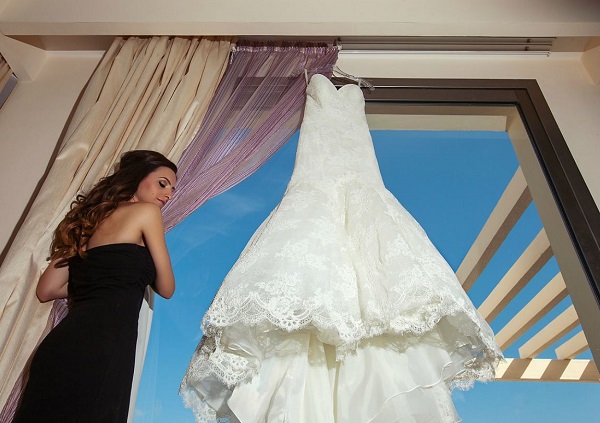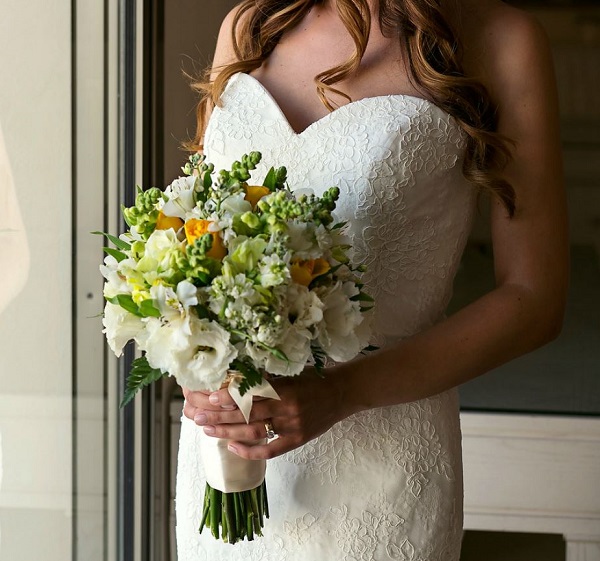 The destination wedding decision: something you've always wanted or came to love?
I never imagined getting married on a beach, but we went to my friend's destination wedding in Punta Cana together and were both instantly inspired. We were determined to keep our wedding relaxed, fun and enjoyable for us and our guests.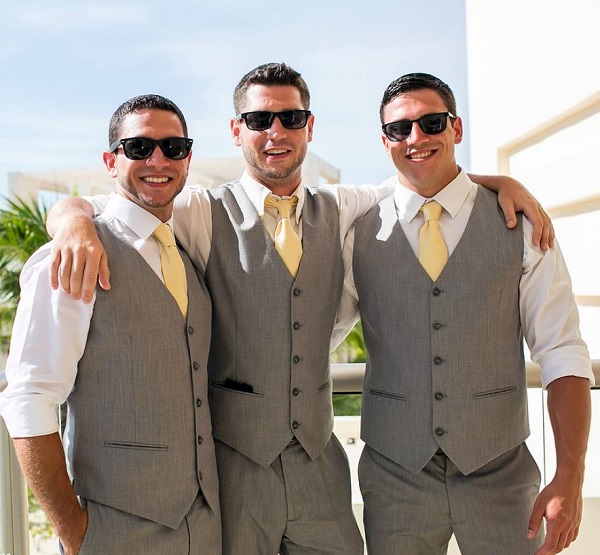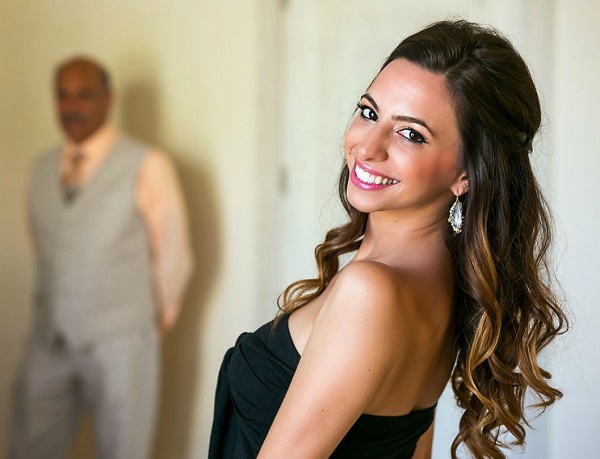 What made you choose your resort/destination?
It was important to me to have a venue that provided a level of luxury and elegance, but in a casual, laid-back way. We didn't want a common resort experience. When Kim (our amazing planner) showed us The Beloved Playa Mujeres, the boutique hotel was a perfect match. They had Casitas with private pools and offered an experience I knew everyone would remember forever.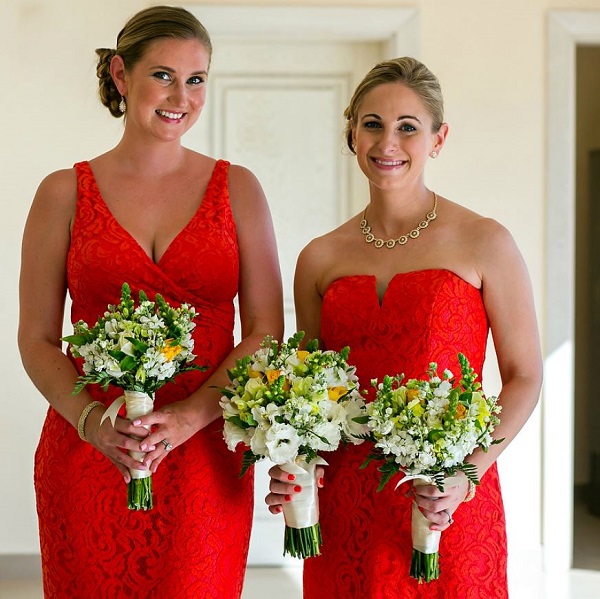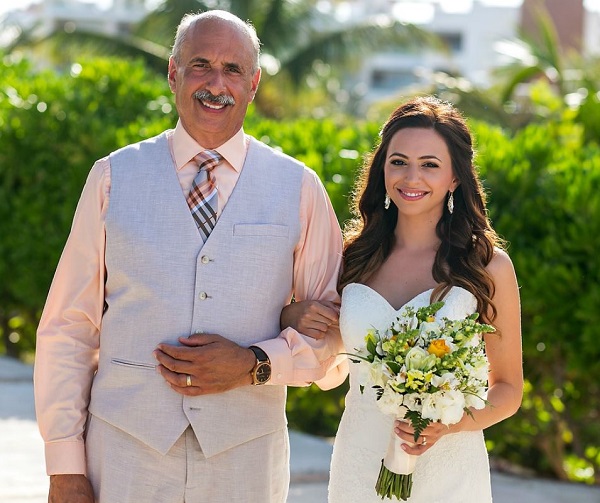 How did you personalize your wedding and ceremony?
My Uncle was our minister, it meant a lot to us to have him up there with us. At The Beloved Hotel, you create your own experience with décor using various vendors, as there were no packages, which meant we had creative control over every little detail. The guests sat on dark wooden chairs with bunches of white baby's breath alongside the isle and white and green flowers at the gazebo. For our reception, there was one long family-style table with handmade, gold sequin runners, candle light, white and green flowers and calligraphy place cards. There was gorgeous string lighting, an amazing buffet dinner, and a DJ playing my entire playlist – it was perfect.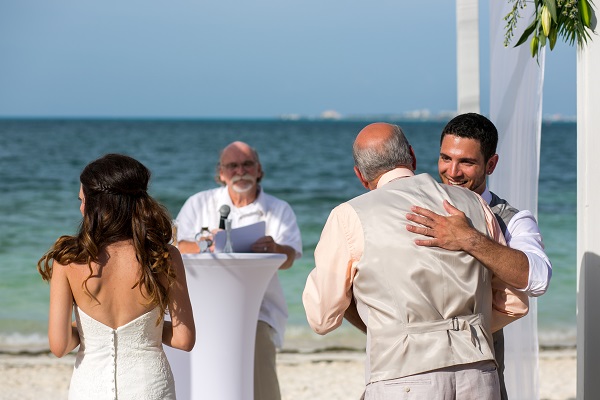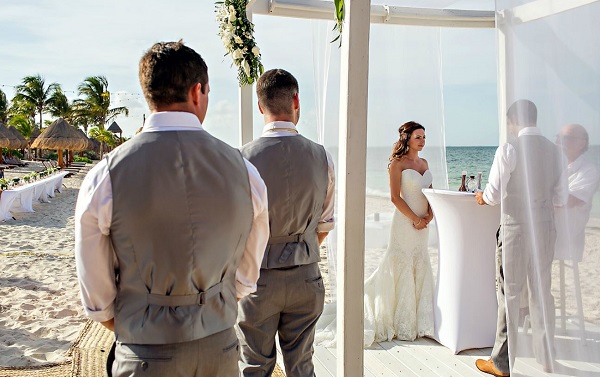 The funniest or most unusual moment was when….
I turned around on the dance floor and saw a couple of strangers, holding beers and dancing, and saying "Congratulations!" At first I was shocked, then I just kept dancing. We wound up with at least 10 wedding crashers, drawn to the music, just trying to celebrate and have a good time!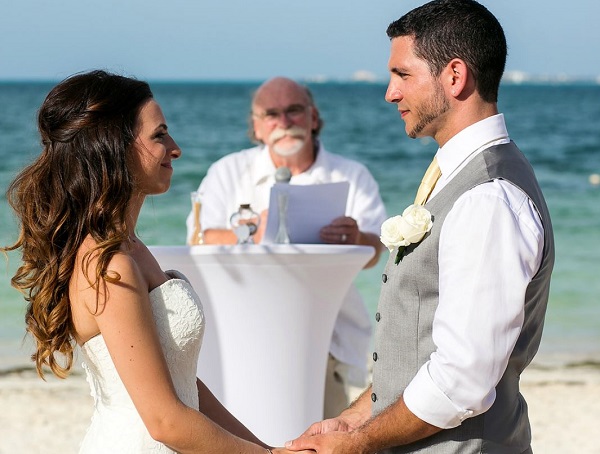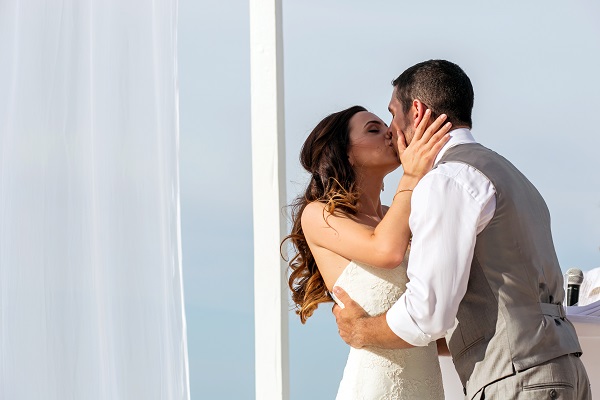 The most memorable moment was when….
I broke my foot! About 15 minutes before the last dance, I landed wrong on the plexus-glass, sand covered floor. Luckily, one of the wedding crashers was an ER doctor in the states. She took a look at it, and assured me it was fractured and mentioned that there wasn't much I could do about it…saving us a trip to the hospital! Another onlooker at our wedding thankfully gave us her daughter's boot so I could walk. It was the best-case of the worst-case scenario. And…Nick carried me around for the rest of the trip 🙂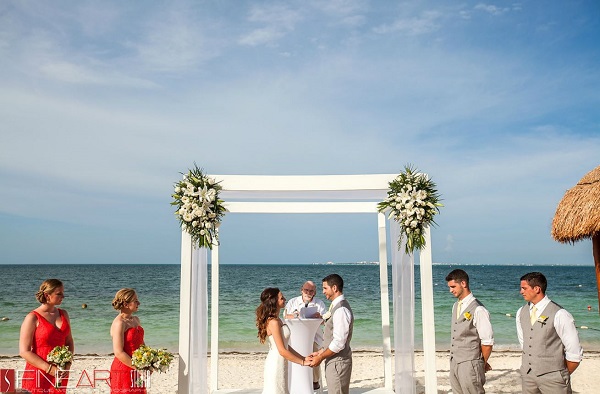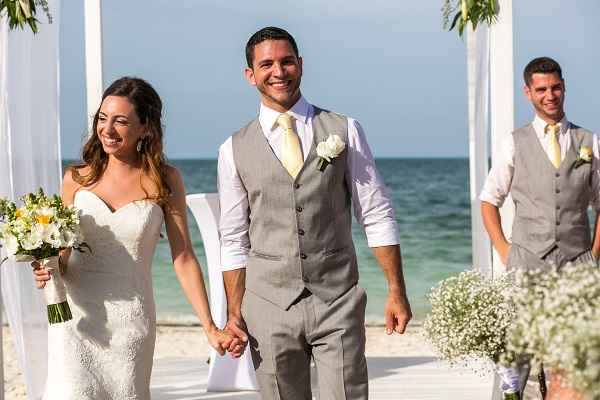 Three words that sum up your destination wedding experience are:
Unforgettable, Gorgeous and Comical!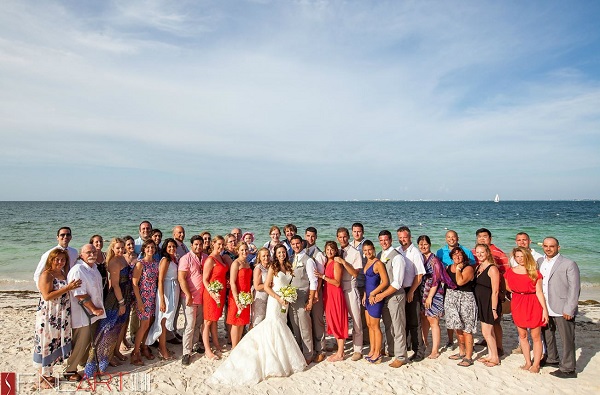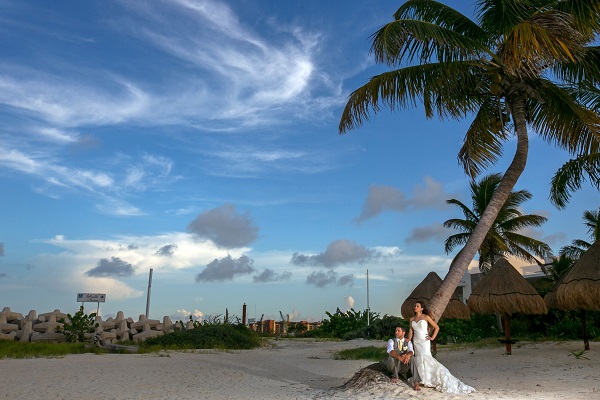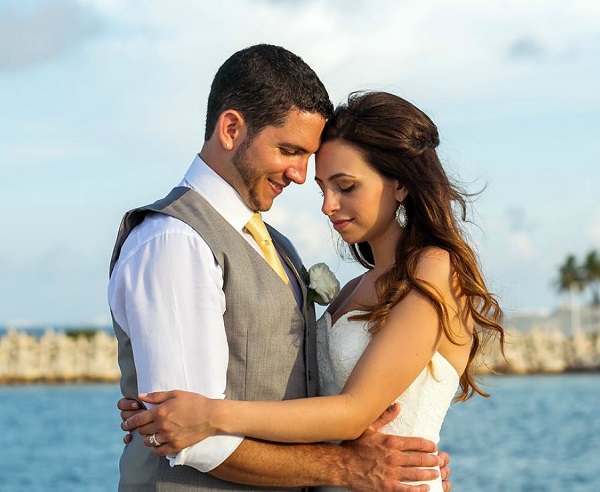 Besides the wedding itself, what was your favorite part of your trip? Did you do any activities with your guests?
Pool-hopping. Many of our guests had private pools, and there were a few large resort pools. We always knew where to find the fun, and it made it easy for our guests to find us, too.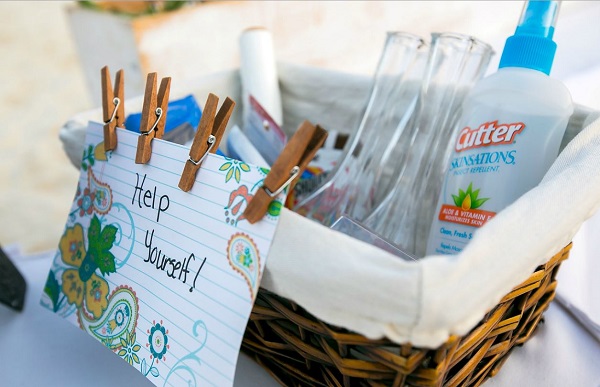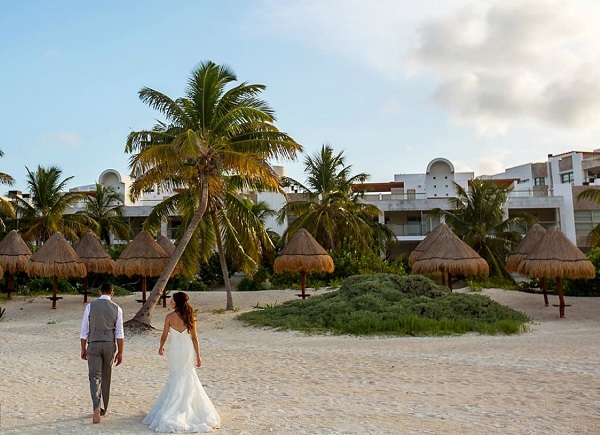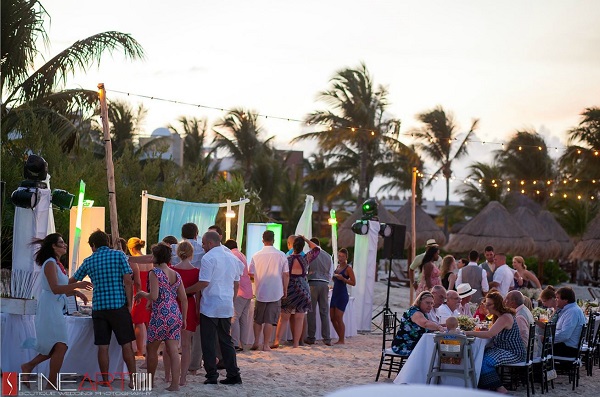 If you could travel anywhere for your one-year anniversary, it would be:
Luckily, we won it! We are going to Punta Cana, thanks to DestinationWeddings.com! We won the #DestWedVDay contest and consider ourselves extremely lucky. We are so excited to be able to celebrate – and most importantly, this time I can walk on the beach!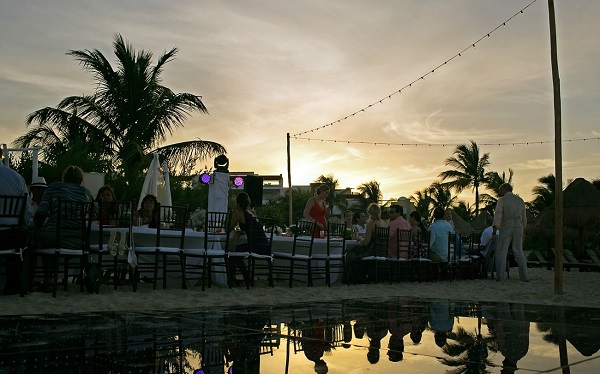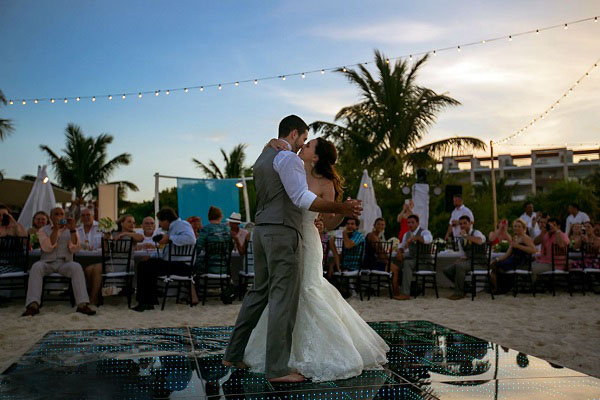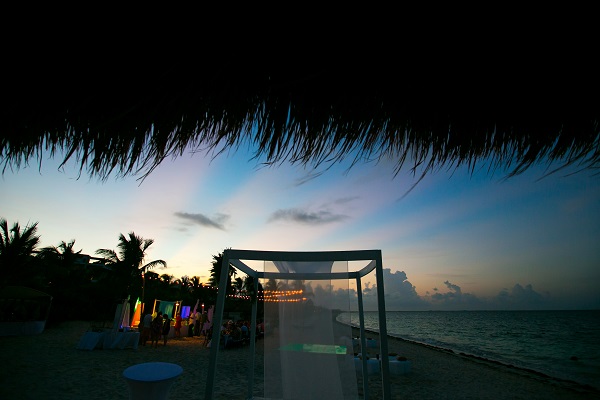 Your biggest piece of advice to couples planning a destination wedding would be:
Choose a resort with a strong wedding department staff!