Couple: Amanda and Adam
Wedding Date: May 5, 2015
Resort Name & Destination: Riu Ocho Rios, Jamaica
Number of Guests: 27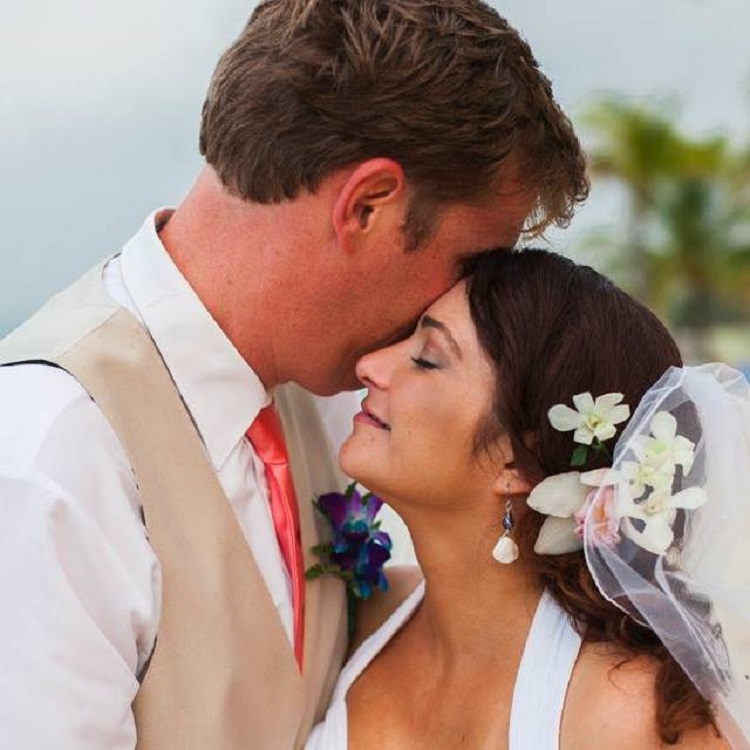 The (brief) story of how you met/fell in love:
We met 17 years ago on a college campus. We went on a few dates, but despite our mutual attraction, it didn't work out. Our paths crossed again five years later and we dated briefly once more, but again, it didn't work.
More than 10 years later, I was living in California when I received a Facebook friend request from Adam who was living in Utah. Coincidentally, I had just received a job offer in Utah and was considering moving there. I did so a few months later. After months of casually "liking" each other's comments on Facebook, I sent Adam a fateful message: "Your daughter, I assume. She is beautiful." Of course, that is the way into any father's heart and we began messaging frequently. Finally, I suggested we catch up over coffee and a date was set. After hours filled with reminiscing, laughter and great conversation, we were infatuated—yet again! We began dating and soon fell in love over a course of evenings that were filled with eating takeout and watching "Dexter" and "The Walking Dead"—odd, we know! We knew this time would stick when we found ourselves making out at a Halloween party amid casual acquaintances (Seriously! We just moved from room to room like teenagers). We were making up for lost time, after all. A few, short months later, Adam shocked me by proposing on Valentine's Day.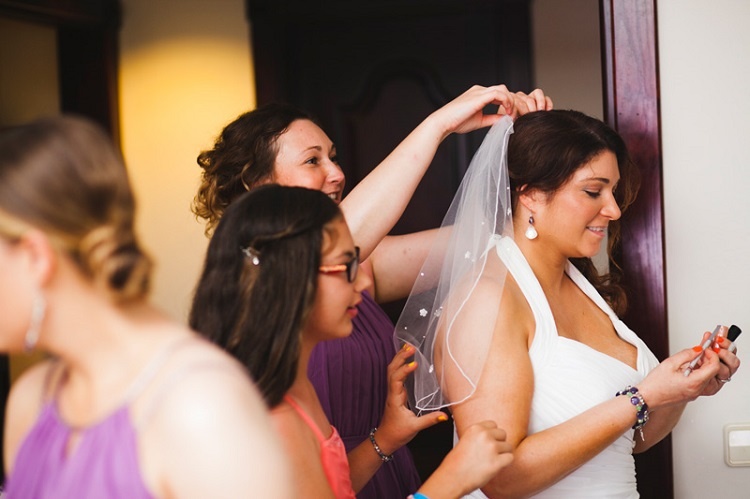 The destination wedding decision: something you've always wanted or came to love?
We dreamed of getting married on a beach, and because we live in Utah, a destination wedding was a must. Neither of us had ever attended one, so we didn't have a clue how to pull it off. A coworker told us about DestinationWeddings.com. We were considering many tropical locations and our coordinator helped us narrow it down. We eventually decided on Jamaica because it seemed to be the most affordable, and we were dying to see the stunning beaches.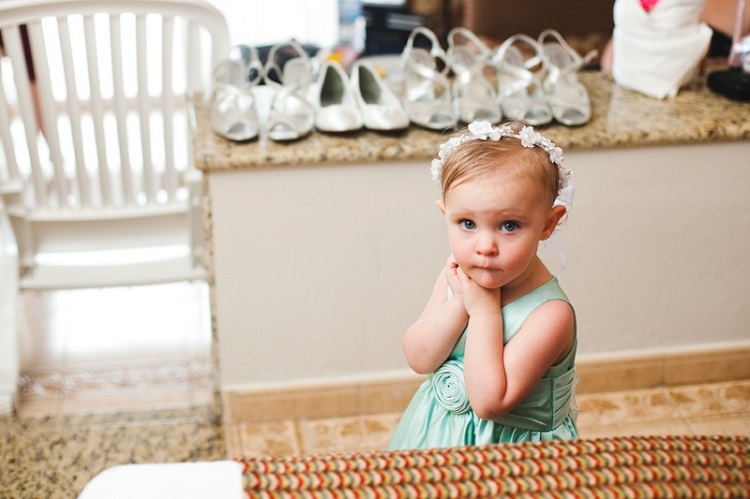 What made you choose your resort/destination?
Our primary concern was that no one could afford to attend. We chose the Riu Ocho Rios because it was the most affordable option that included everything we wanted. We had nearly 30 guests at our wedding and everyone had the time of their lives! An all inclusive resort is definitely the way to go. Our guests loved the unlimited food, drinks and recreation options. Best of all, everything was completely stress free and the wedding was perfect!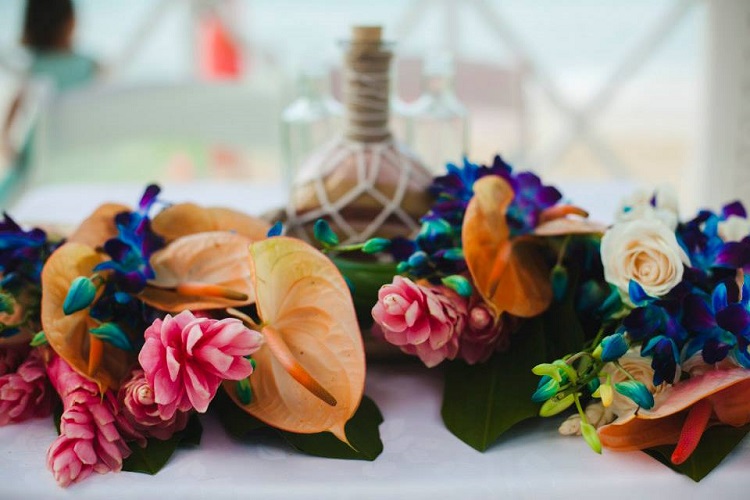 How did you personalize your wedding and ceremony?
A friend in our wedding party had just been ordained, so we decided to have her be the one to marry us. It was special because she has known us for years. She met with us prior to leaving for Jamaica to talk about us and our relationship so she could really personalize the ceremony. We decided to do a salt ceremony and include Adam's daughter to symbolize our family coming together. We now have a beautiful vase filled with the colors of our three distinct salts. It is unique and beautiful just like our family.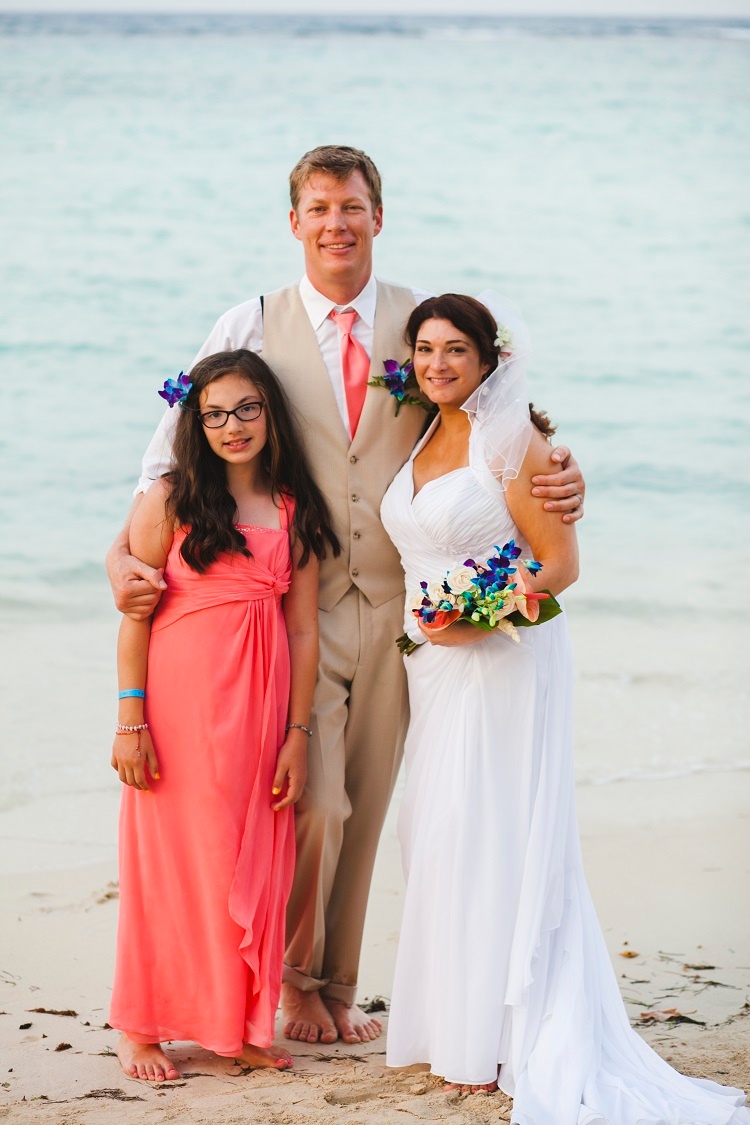 The funniest or most unusual moment was when…
Hotel Riu, like many all inclusive resorts, has a party boat. Apparently it heads out to sea around 5 p.m. Right about the middle of our ceremony I heard thumping nightclub music and lots of cheering and laughter. And, yes, there was the party boat cruising directly behind us! The people on the boat were crazy wild, and the music and crowd began to drown out the ceremony. The boat stopped directly behind us, then made a huge circle and headed back the other way. I found out after the ceremony that the wedding coordinator was on the phone yelling at them to turn the boat around. It was pretty hilarious. What's a wedding in Jamaica without a party boat filled with screaming people crashing the ceremony?!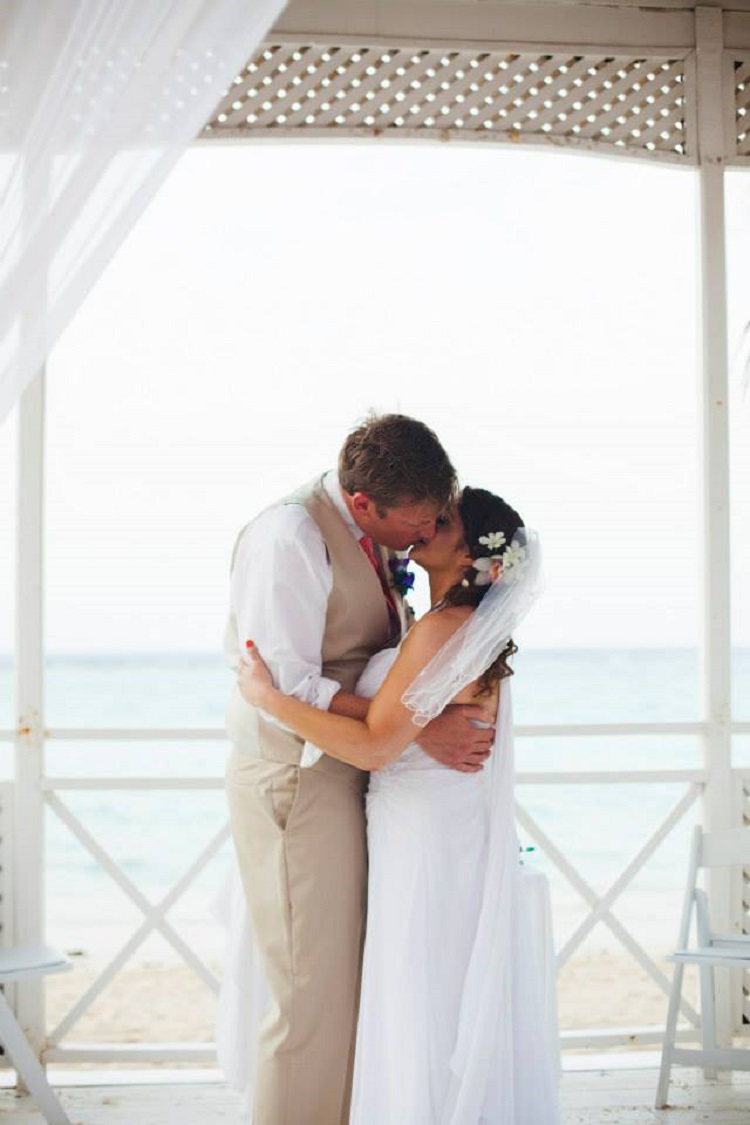 The most memorable moment was when…
It's really difficult to choose the most memorable moment because there were so many wonderful ones! I guess there is one that stands out. After the ceremony and rum punch reception on the beach, we had a reception dinner at the Mambee Bay Steak House. Adam and I sat at the head of the table facing all of our guests. There was a moment when we were just sitting there watching them chatting, laughing and having the time of their lives. Many of these people had never met before arriving in Jamaica. Adam said, "Look at this. Look at what we did. We brought all these people together and they are having so much fun." Everyone was so happy and I was so touched just watching at them. Our wedding brought people together who otherwise might never have met. Friendships were formed that might last a life time. Several of our guests connected on social media and exchanged phone numbers. Some of the people who live near each other began spending time together once they got home from Jamaica. In fact, Adam called his brother one evening to find that a friend from the wedding was there having dinner. It's pure magic!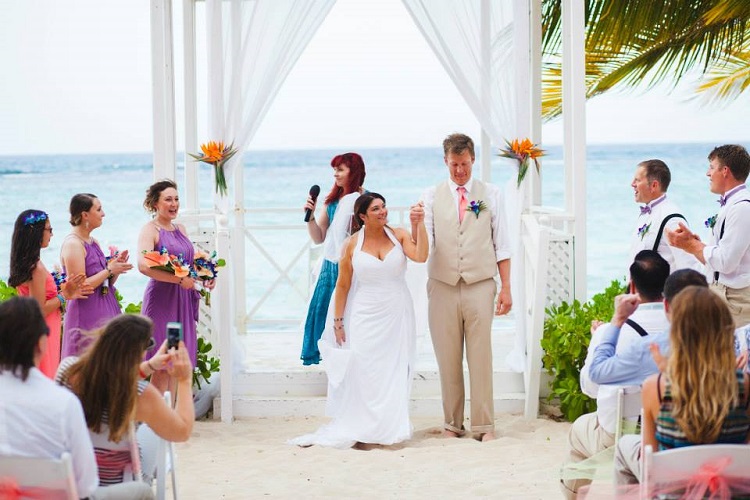 Three words that sum up your destination wedding experience are:
Magical, unique and perfect!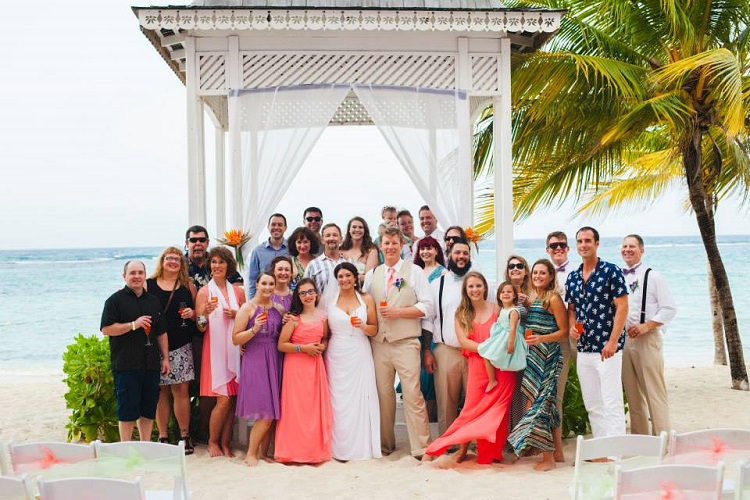 Besides the wedding itself, what was your favorite part of your trip? Did you do any activities with your guests?
We had a welcome dinner with our guests the first night and that was so much fun! Getting to meet new people from various stages of Adam's life and seeing others who I hadn't seen in so long. We also did our bachelor and bachelorette parties at the resort and those were a blast! The guys did a fishing trip and my husband ended up catching a blue marlin that was bigger than he is (and he's 6,7"!). The ladies played silly games and started a dance party on the stage. The staff got really into it and turned on the fog machine and started playing group line dance songs. Soon there were tons of people on the stage dancing with us.
Adam and I also did a wonderful excursion to Dunns River Falls. That was one of my favorite days! But, the thing I loved most was hanging out on the beach and swimming in the ocean with my family and friends without a care in the world.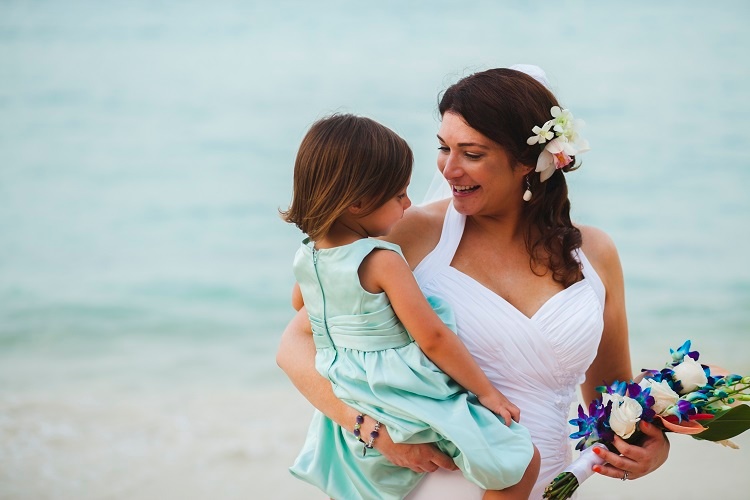 If you could travel anywhere for your one-year anniversary, it would be:
We want to go back to Jamaica! We would love to return to Couples Swept Away in Negril, where we spent our second week in Jamaica, just the two of us. It would also be nice to visit Montego Bay next time.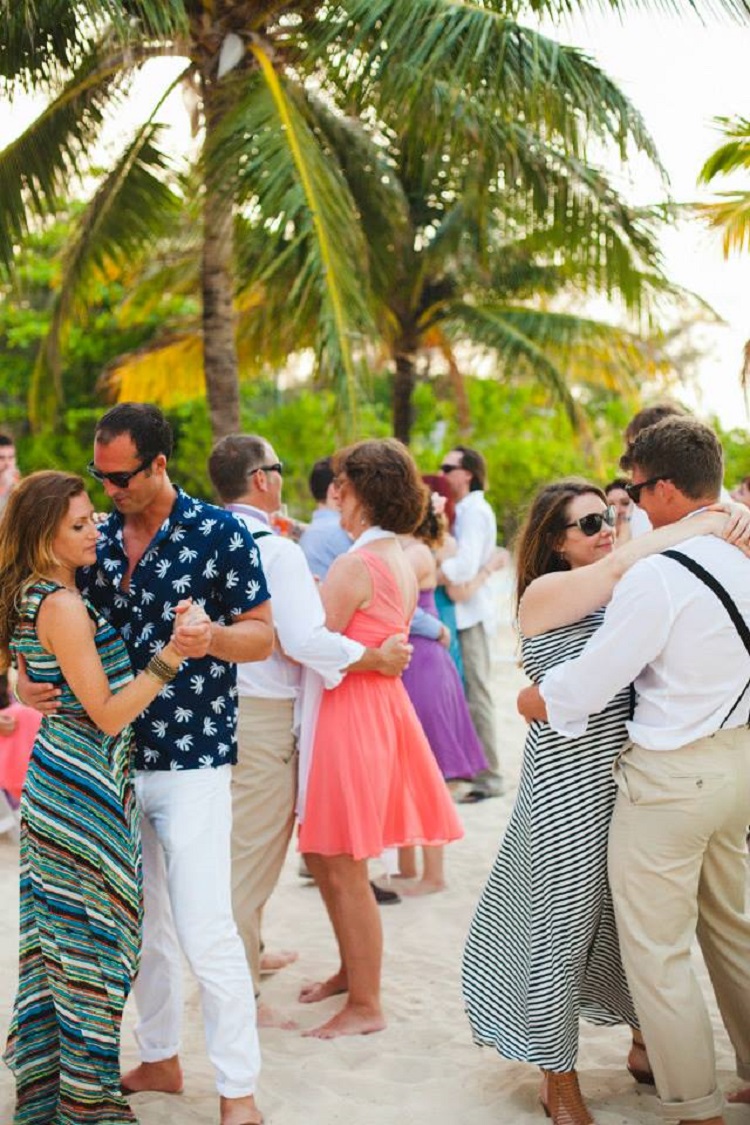 Your biggest piece of advice to couples planning a destination wedding would be:
If you're doing a beach wedding, there is no reason to go big. The natural setting is stunning all by itself. I am so glad I chose to go simple with the decorations. Also, don't fret too much. It will all come together and everyone who is meant to be there will be there. I was really worried about what to do after the reception dinner and we considered paying for a private reception, but our group was so small it seemed silly to do that. I had no reason to worry. Our group had an impromptu beach party with an iPad and a portable speaker. It was perfect!!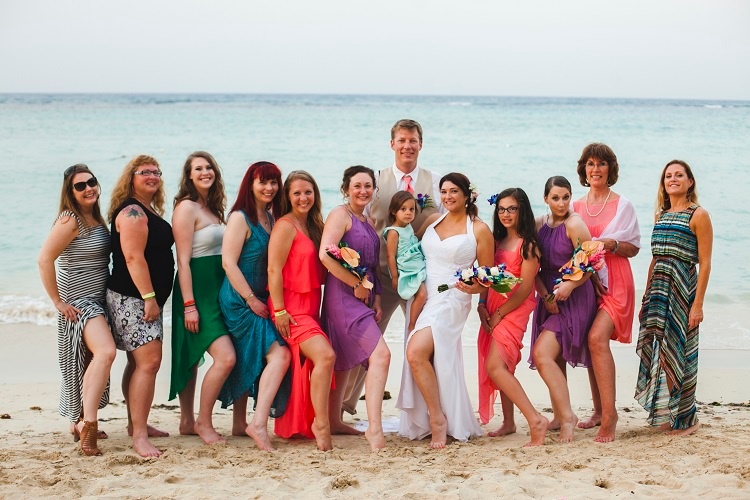 Photography by Pier 23 Photography