This is a featured guest blog post from Kara, one our destination wedding brides. Kara was married at Dreams Palm Beach Punta Cana in Punta Cana, Dominican Republic. 
When you're planning a wedding, you're going to get tons of advice. You'll get advice from prior brides, advice from future brides, advice from family, advice from friends, and advice from perfect strangers. As someone who likes to please everyone, wedding planning got off to a very rocky start for me. And so, I've decided to pass along the only good advice I received throughout the entire wedding planning process. Advice that took me far too long to learn. Don't worry about what anyone thinks but you. Make decisions with your fiancé. It's your day and you two only get to do it once!
Now that that's out of the way, I've decided to document a few of the things that I wish someone had told me when buying a destination wedding dress. But here's the thing – if this advice conflicts with what you truly want – then just do that you truly want! If you really want to get married on the beaches of the Dominican Republic in a princess dress, then do it! Don't let anyone's preconceived notions of what your destination wedding dress should look like get in the way of your perfect destination wedding!
If you were like me, you thought that purchasing a wedding dress was simple. Well, that turned out to be far from the truth! Like many other future brides, I had been pinning wedding dresses for a few months. I went into the dress buying process with a general idea of what I liked and what I didn't like. I invited my mother, mother-in-law, sisters, and two bridesmaids to accompany me on my dress buying adventure. In the end, only my mother, sister, future sister-in-law, and two bridesmaids were able to attend. I honestly think that was the perfect number. Most bridal salons are only equipped for a small number of guests. Any more than that and we would have been crowded and uncomfortable. Plus, everyone will have an opinion on your dress. You only want to invite those whose opinions matter that most to you – and in the end – you still want to make your decision based on the way you feel in your dress!
I made an appointment at two bridal salons – Alfred Angelo and a local bridal salon called In White. Our first stop was Alfred Angelo. I tried on several dresses. My first reaction was that wedding dresses are HEAVY! Even dresses that have little beading are incredibly heavy. All I could think about was how it would feel to wear such a heavy dress on a 90 degree, humid day on the beaches of the Dominican. At the same time, the only dress I really, truly liked at Alfred Angelo was heavily beaded. My friends and family were conflicted. They felt that the heavily beaded dress didn't "look appropriate for a beach wedding." But at the same time, I didn't like any of the other dresses. And I tried on so, so, so many dresses in varying silhouettes! This is also great advice. You might go into the store thinking that you need a mermaid dress, but fall in love with an A-line dress or a princess dress. You just never know until you put on the dress.
Being so conflicted, we left Alfred Angelo and moved along to In White. In White didn't have an online inventory and so our first task was to sift through their dresses and pick out about 10 in my price range to try on. I highly encourage you not to put on dresses that are out of your price range. You don't want to fall in love with a dress that you cannot afford! After trying on a few, I put on a dress made by Robert Bullock. This dress was perfect in every way. It was the style I was searching for, and it was incredibly light! I walked out of the dressing room and literally all of my friends and family agreed. 
Here are some lovely photos of Kara and her destination wedding dress: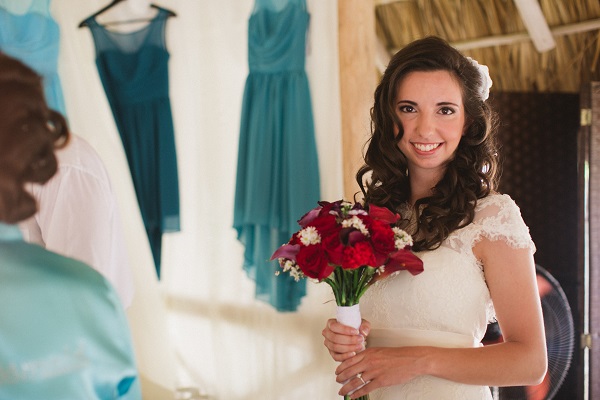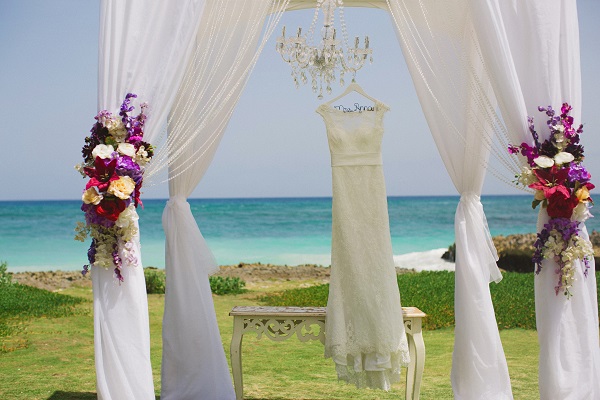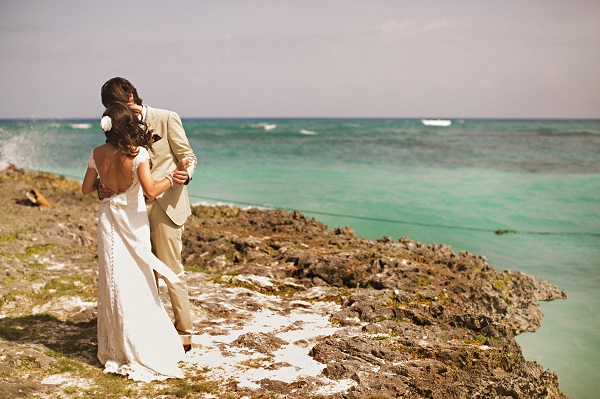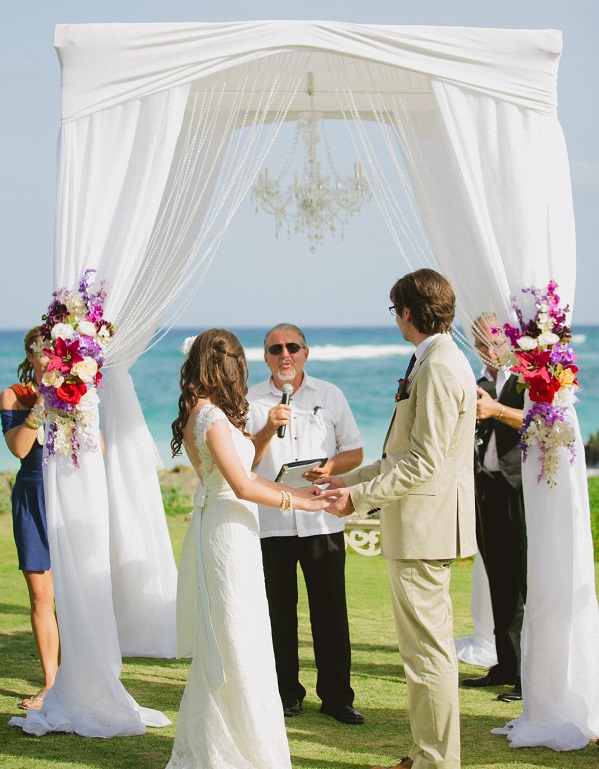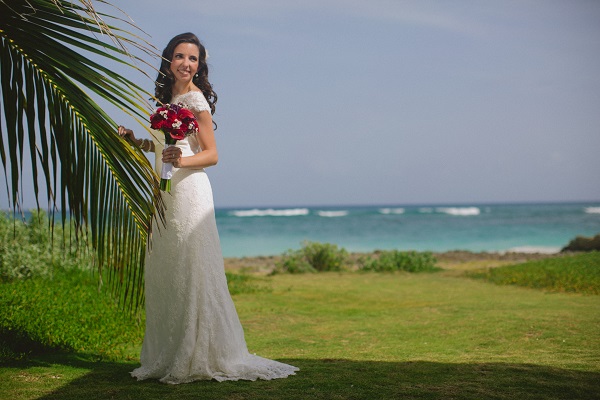 Thank you to Kara for sharing!
Stay tuned for more Notes From Our Newlyweds! 
Do you have any helpful tips & tricks? If you're one of our destination wedding brides with knowledge to share, email socialmedia@destinationweddings.com and get published!