Let's face it, at-home weddings can sometimes call for certain details and traditions that aren't meant for everyone. Luckily, destination weddings allow you to swap in more unique details that add a fun flair to your celebration. Don't worry, you can still have those to-die-for shoes with the sparkles… but maybe skip the 5-inch heel in the sand! Here are some of our favorite (and most useful) swapping tips: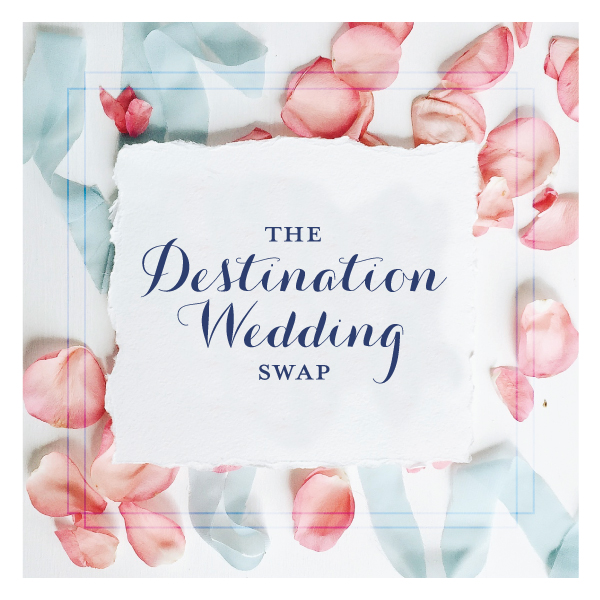 Do this: Weekday wedding days
Instead of this: A Saturday ceremony
They call it island time for a reason! When you're in paradise, it doesn't matter what day you decide to say "I do," so why not spring for the savings and opt for a weekday wedding date?
Do this: Flip flops (or even barefoot)
Instead of this: High-heel stilettos
If you're choosing to walk down the aisle with sand between your toes, we recommend ditching the pretty pumps and instead go for a more relaxed and casual shoe – such as a fancy flip flop, or pair of bejeweled barefoot sandals. Or better yet, why not both?! After all, wardrobe changes are even easier at a destination wedding!
Do this: Local blooms
Instead of this: Imported flowers
Not only will the natural beauty of your locale's local greenery save you money, it will also be a nice memento in your bouquet for years to come! Looking back knowing you incorporated your destination's culture into your big day will always put a smile on your face.
Do this: Hotel welcome bags
Instead of this: Over-the-top favors
It's always nice to gift your guests with a "thank you" for coming to your wedding celebration, especially when they've traveled as far as they have. This will double as a souvenir and beach/travel tote throughout their stay!
Do this: Natural surroundings
Instead of this: Expensive decor
When you're in such a beautiful location, there are bound to be breathtaking backdrops at every turn. Instead of dressing up your ceremony and reception space with expensive decor, let mother nature speak for herself, so you don't have to worry about the rest!
Do this: Signature drink
Instead of this: Open bar
Why not add a touch of personalization to your refreshing reception cocktails? Guests will love the option of having a drink created by both the bride and groom that symbolizes their special day, and you'll save on top-shelf liquor and over-priced bartender tips! Can you say win win?!
For more up-to-date trends, DIY tips, and wedding inspiration, browse through our latest edition of Get Married Away!