We know by now that Pinterest is a bride-to-be's wedding planning life saver! After all, finding the latest wedding trends, DIY inspiration, and personalized wedding tips in one place is pretty convenient if you ask us! Watch your dream wedding come to life as you pin everything from wedding gowns to dreamy and exotic locales! Pin away as you select your color palette, hair style, bridesmaid dresses and more!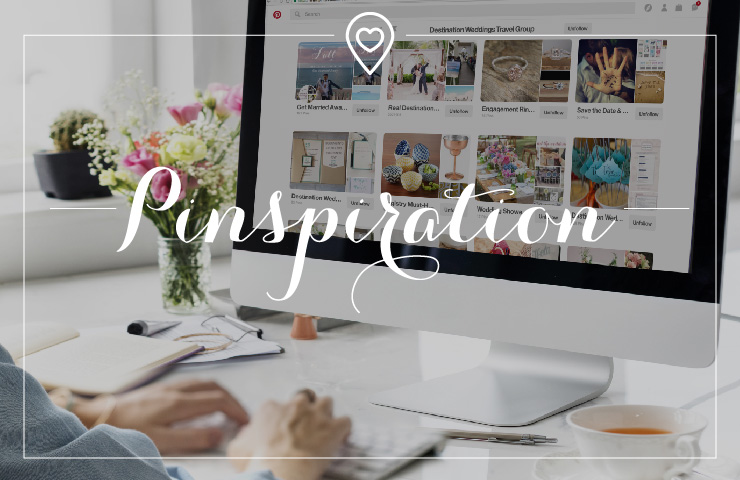 Pro Tip: After you're overwhelmed with all the trendy wedding inspiration you can ask for, share your online Pinterest board with your Wedding Specialist so they can completely personalize your destination wedding to your exact vision.
Here are a few Destination Wedding approved Pinterest tips that are sure to inspire you and your planning process:
The More Boards, The Better!
Create a board for wedding cakes, ceremony décor, tablescapes, bouquets, dresses, shoes, hair styles, and other aspects of your wedding (maybe even trash the dress ideas), then fill them with inspiration! After pinning away and gathering all of the swoon-worthy details you can handle, create one wedding board that includes your absolute favorites from each category and see how the details come to life!
Now Trending
In addition to following your friends' Pinterest accounts, make a point of following professionals such as The Knot, Style Me Pretty, and of course us! Whenever you pin an idea for your wedding, click on the original source. This is the perfect way to find Pinterest boards you'll love (and expert pinners, too)!
Are You Shabby Chic or Beachy Nautical?
Finding your style is a paramount moment when planning your destination wedding. With endless trends to choose from, Pinterest is the perfect way to absorb everything from fashion to centerpieces and choose what you want to swoon over! Do you adore the timeless and rustic feel or are you more electric and offbeat? Following the experts who match your style, whether it's rustic charm, glitz and glam, or beachy nautical, allows you to see the latest wedding trends and define your wedding style.
Shh… It's A Secret
We always suggest creating a top-secret wedding board that only you can see! Add the wedding details you absolutely adore and surprise you bridesmaids and wedding guests with breathtaking decor and stunning finishes they never saw coming! Don't worry; you can still share certain pins with whoever you wish by inviting them to the Board. Just scroll to the bottom of your Pinterest profile and click 'Create Secret Board' to get started. Enjoy!
For more inspiration, tips, and advice, browse through our latest issue of Get Married Away!