Leap Day is on the way; one extra day in this calendar year to share with the love of your life. Whether you're dating, newly-engaged, or in the final stages of planning your dream destination wedding, here are some creative ideas for celebrating February 29th to help your romantic fires burn more brightly.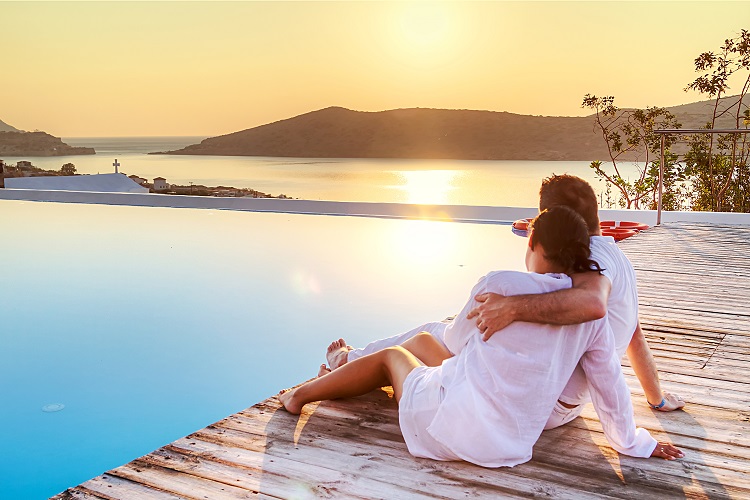 Ask him for his hand in marriage
An ancient Irish legend maintains that forward-thinking 5th century St. Brigit of Kildare convinced St. Patrick to allow women to propose marriage to men for the sake of a more balanced male/female dynamic. St. Patrick relented. But this brash act would only be permissible every four years on the last day of the shortest month.  
Not to be confused with November's Sadie Hawkins Day, Leap Day still finds women taking the marital initiative and popping the question to their men. 
If your man has to work on Feb. 29, ask his boss to hold a full staff meeting "of great importance." You can play the part of invited guest speaker, and watch your man's eyes pop out as you come into the room and get down on one knee. If that's too exhibitionistic for you, bake him a Shepherd's pie and pipe "Marry Me?" onto the top with a pastry bag full of mashed potatoes.
Play hooky in bed
Feb. 29 is a Monday this year, making it the perfect day to call in "well" for a three-day weekend. Line up your favorite streaming movies or TV shows, stock the fridge with plentiful adult beverages and snack foods, and snuggle in your jammies the entire day…what sounds better than that?!
Leap, literally
If you're an active, outdoorsy couple, ride a zipline, go bungee jumping, or rock climbing. Try something bold together that you've never done but have always wanted to share. Let the energy of this rare day inspire you to create powerful memories. Even better, if you're in the midst of planning your wedding abroad, take this inspiration to book a fun excursion while you're away!
Get your hedonism on
Book a two-hour couples' massage in the most exhilarating setting you can find, preferably outside, weather permitting. Stay well hydrated with a chilled bottle of your favorite bubbly, and then retreat to a soothing hot tub to prolong the bliss. Many resorts offer romantic treatments like this and more for wedding couples to enjoy…so don't miss out!
Work the "29" angle
Sit opposite each other, set a timer for 29 minutes, and create a spontaneous "Top 29 things I love most about you" list to share aloud. Or, make a mix tape, "29 songs that remind me of you." 
Digitally document your day
Create a detailed video documentary of your lives together in this very moment and then tuck it away. Don't view it again until our next Leap Day, Saturday, Feb. 29, 2020. It will be great fun to see what's changed in your lives over those four years. Think of it as your very own time capsule! 
Extend Valentine's Day
Decree February your own Leap Month and continue your loving celebration for each other. Exchange small gifts  — any symbolic expressions of your love and gratitude for each other that touch your hearts and strengthen your bond.
Get more wedding planning done!
Let's face it, an extra day of the year gives you one extra day to get things done in the wedding planning sector of your lives. And, if you're in the stages of planning your destination wedding, your timing has never been better! One extra day means one more day to take advantage of exclusive savings for your trip. 
With so many options on how to ignite your love on this extra day of the year, there's no wrong way to celebrate Leap Day…but remember, it won't come around again for another four years, so make it last!