The big day is finally here! It's time to put on your dress, primp your hair, gloss your lips and marry the love of your life. There's nothing more exciting than waking up on the morning of your wedding and starting the celebration. But first, there are a few more things to check off your list. With all the heavy-duty planning in place, the last minute to-do's are all about savoring the moment.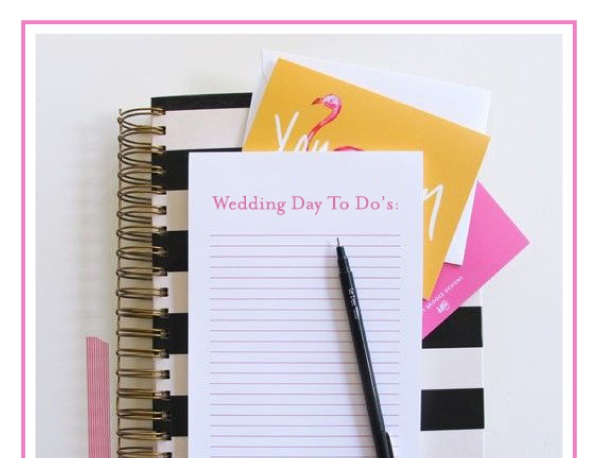 1. Charge it up
Your phone will be buzzing away all day as friends and family call and text their well wishes. Now is not the time for the dreaded low battery warning, so keep your phone on the charger whenever possible.
2. Appoint a social media manager
Turn your social media followers into virtual wedding guests by Facebooking, tweeting and instagramming the day as it unfolds. Establish an official wedding hashtag and ask one of your bridesmaids or close friends to take over posting duties for you. Encourage your guests to post about their entire experience as well. Post plenty of Prep pics, but don't reveal your dress or your complete look until you make your big entrance.
3. Eat, drink and be married
It's bound to be a busy day and many brides forget to eat during all the excitement. You don't want a stomach-growl to interrupt your vows, so stock your dressing room with snacks for you and your girls. Stay away from anything messy or heavy and stick to finger sandwiches, fresh fruit and plenty of bottled water.
4. Give a toast
Your wedding party has gone the extra mile for you, literally. Before the ceremony starts, take a few minutes to appreciate them. Raise a glass and tell each one individually, what they did to make your day special and why you lvoe them. Just be sure to do it before your final makeup touch ups since there are sure to be a few happy tears. From this moment and beyond, waterproof mascara is a great option!
5. Sip some bubbly
Enjoy a glass of champagne or sparkling white wine while having your hair and makeup done. It will feel indulgent and elegant, provide some fun photo ops and let you relax for a few minutes. And, if there is a splash, you can laugh off a champagne dribble, but a red wine or mimosa spill can be a full-blown crisis.
For more inspiration, check out our latest edition of Get Married Away!