It's that time of year again; we're reflecting on all of the latest destination wedding trends from 2019 that we couldn't get enough of!
Destination weddings continue to be a more affordable option compared to traditional, at-home weddings. According to The Knot, the overall average cost of a wedding in 2019 was $33,900 (not including the honeymoon). Comparatively, the average DestinationWeddings.com couple spent an average of $8,237 on their wedding and honeymoon combined in 2019.
As destination weddings continue to evolve, we're looking closely at the behavior of our real wedding couples and answering your questions like: "where to have a destination wedding,"  "when to have a destination wedding," and "how to plan a destination wedding."
Keep reading for some exciting statistics, and gorgeous inspiration from our 2019 Destination Weddings Trend Report! 
First, Some Quick Facts from Our Friends at The Knot* 
21% of couples are having a destination wedding
30% of couples create a honeymoon registry – especially Millennials who value experiences over household items!
50% of couples hire exciting reception entertainment to really wow their guests (like fire dancers and mariachi bands!)
Some other key trends include:

Embracing cultural customs
Creating new traditions of their own
Eco-friendly weddings
A tasty and unique menu
*The Knot 2019 Real Wedding Study
The DestinationWeddings.com Couple
Let's take a closer look at a typical DestinationWeddings.com couple:
The average age of one of our couples is between 25-34 years old. 55% of users are doing their wedding planning on their smartphones. The majority of our couples get engaged in December (especially around Christmas!) and get married in June!
As mentioned above, the average cost of a wedding is $33,900, while a DWTG couple can expect to pay a fraction of that at $8,237. The total cost comes from a breakdown of airfare, accommodations, and the wedding package, all averaging around $1,000, $4,088, and $3,149 respectively.
Destination wedding couples are paying extra attention to the guest experience. After all, they did travel so far to come to celebrate! Destination wedding guests can expect to pay around $2,316 for their accommodations, and typically spend 5 or 6 nights in paradise. Our couples are inviting an average of 30 guests to their celebration.
Top Destination Wedding Locations of 2019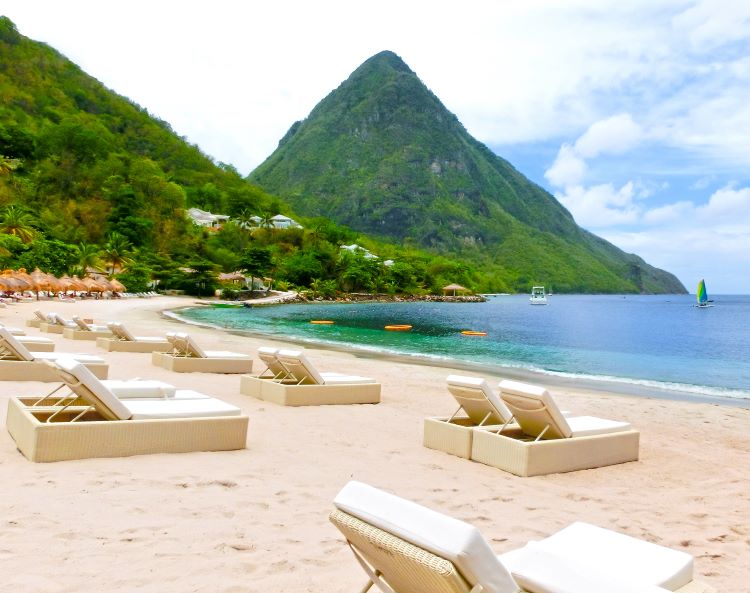 We offer a variety of tropical destinations that will please any couple looking to embrace the natural beauty of a tropical paradise for their destination wedding.
The most popular destination wedding locations include:
The top emerging destinations wedding locations to be on the lookout for are:
We have some of our most luxurious all-inclusive wedding resorts in these locations. The most popular destination wedding resorts of 2019 were:
* Top choice for LGBTQ weddings 
---

RELATED: Best Beach Wedding Venues You're Sure to Swoon Over 
---
Top Destination Wedding Detail Trends 
We love to see what our couples come up with when they are personalizing their wedding. This can be anything from what the bride is wearing as shoes, to the drinks that are passed at cocktail hour, and much more. Some of our favorite destination wedding trends we saw this year include bistro lighting, dramatically long dress trains, barefoot sandals (perfect to embrace the beach) whimsical stationery, personalized beach hats (hello new last name!) and fun entertainment, such as an authentic mariachi band.
Of course, there is nothing more fun to incorporate into your destination wedding than the Pantone Color of the Year. 2019 was blessed with Living Coral, which went perfectly with all of the lush, tropical settings. So many wedding couples played with this color to create some of the most beautiful wedding themes we've ever seen!
Celebrity Destination Weddings of 2019
2019 was a huge year for celebrity destination weddings, and it is definitely a huge part of where we get our inspiration from. Our favorite celebrity couples like Sophie Turner and Joe Jonas traveled all the way to the South of France to exchange vows. We also saw celeb couples travel to places like Hawaii, Mexico, Paris, and even Marrakech! This made their days super special and incredibly unique!
Now that 2020 is in full swing we cannot wait to see where our couples take this exciting industry to next. We love to see couples embrace the destination wedding trend as it allows them such an intimate experience, beautiful scenery, and everything they want for their dream wedding without draining their bank accounts.
For even more statistics click here to see our official 2019 Destination Weddings Trend Report, and get ready to be inspired!
Ready to start planning? Contact us today and receive a FREE consultation and $2,500 off your celebration >>>