Originating in the 60's, beach weddings have been defined as the epitome of carefree nuptials, and as the years went by, they've evolved from a trend to a classic. With personalization being at the forefront of modern-day wedding celebrations, there are many ways to break the mold from having the cookie-cutter beach wedding that may first come to mind.
We're showcasing the most popular misconceptions about sand-based nuptials and encouraging you to have it your way!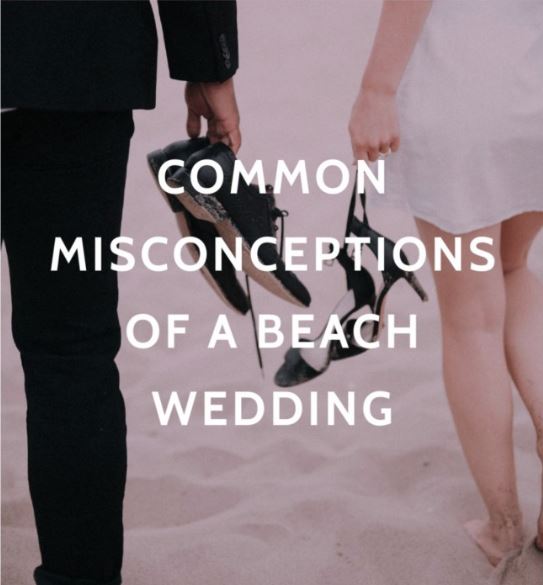 1. You have to say "I do" with your toes in the sand
Barefoot sandals may be all the rage right now, but if exchanging vows literally IN the sand isn't your thing, there are many other venue options to choose from without compromising your dream beach wedding vision. Think waterfront gazebos, beautiful seaside piers, or even a sky terrace overlooking the pristine stretch of sand!
2. You are required to have beach themed décor
Gone are the days of seashells and starfish at every turn of a beach celebration. Modern beach brides are opting for various themes that fit their personalities, whether that's old Hollywood glamour or a modern twist on a tropical fete. Trade in the nautical blue hues for pops of pink, orange and green and make your theme your own!
3. You should wear your hair up rather than down
The updo became the default hairstyle of beach weddings for a very simple and practical reason – most beaches are windy, and a right chignon allowed for your hair to stay out of your face. However, if you have your heart set on long flowing locks, simply opt for a covered setting or sunrise wedding, when the wind tends to be calmer.
4. You'll have strangers watching your ceremony
Although it's true that many destination wedding ceremonies take place on public beaches, most all-inclusive resorts take extra precaution to make your vows as private as possible. If your wedding resort does not offer a private beach option, consider hosting your nuptials either in the morning or during the week, where the crowds are less likely to surface.
Does a personalized beach wedding sound like your perfect big day? Contact us today to start planning yours… your way!

Get expert advice from a Destination Wedding Specialist today >>