If you're looking for a way to save money with your destination wedding, look no further. We were lucky enough to get the inside scoop from Jessica Bishop, the woman behind TheBudgetSavvyBride.com! She gave us some insight on how to save money without skimping on the fun – what more could you want? Read on for the budget-friendly low down!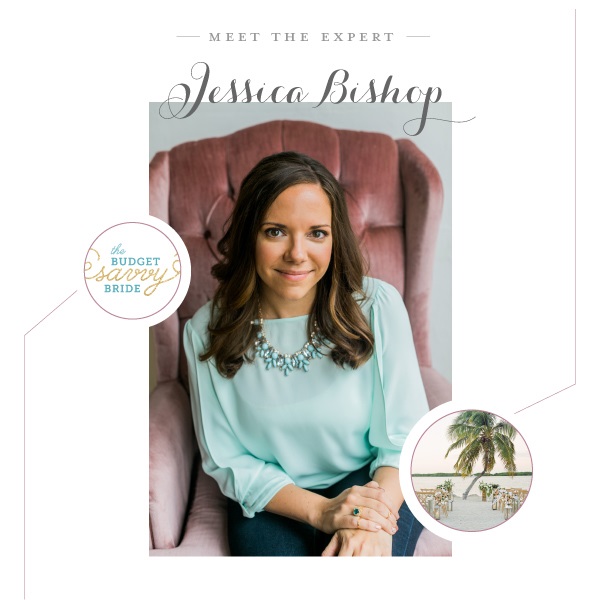 I was in the beginning stages of planning my small-budget wedding when I realized how few resources there were out there for brides who didn't have a huge amount of money to spend. I started my blog with the intention of keeping track of my ideas and money-saving tips along the way, in the hopes that it might inspire or help at least a few brides. Little did I know the site would grow to reach millions of brides over the last nine years and eventually become my full-time job!
What are some of the best details destination wedding brides should be able to save money on?
I think one of the major places that a destination bride can cut back on is décor. Destination weddings, especially ones that take place at a beach, are in such naturally beautiful locations that it really eliminates the need for fancy or expensive decorations.
What's your best piece of advice when it comes to remaining within budget when planning a destination wedding?
I think no matter what type of wedding you are planning, the best way to stick to your budget is to set one in the first place! So many couples skip this crucial step. You cannot stick to a budget if you don't create one, so make sure to take the time to sit down with all the contributing parties to come up with a total figure you are willing and able to spend before you start booking anything!
What are the best budget tips you've heard throughout the years?
Some of my favorite budget tips include thinking outside the box when it comes to various aspects of your day. Don't like traditional cakes? Serve your guests colorful donuts from a tiered display. Don't really care for flowers? Use candles, branches, and greenery to create a beautiful centerpiece for less. Don't want the typical chicken or fish served for your wedding meal? Consider something with a bit more personality that could also save you money, like a taco truck or something of that nature. I think there are ways to make our wedding more personal and original while also saving a few bucks.
What considerations should brides take into account when deciding on their destination wedding budget?
I think one of the main things that brides should consider is the number of guests you plan to invite versus how many actually have attend. The guest list has a big effect on the total cost of the wedding, and the more guests you have, the more thinly your budget can get stretched. My advice is to keep things intimate so you can treat your guests to an incredible experience they'll never forget!
How can destination wedding brides stay on trend without breaking the bank?
Keep an eye on the current trends and brainstorm how you can recreate those looks for less. Sometimes the key is getting your hands dirty with a little DIY! Just remember when you are planning a destination wedding that any of your DIY projects will have to travel with you or be shipped, which can cancel out the DIY savings. It's all about keeping thorough and accurate records of all you are spending so you can keep things in check.
Want more from The Budget Savvy Bride? Follow her on Facebook, Twitter, and Instagram.
For more tips and inspiration, be sure to browse through our latest edition of Get Married Away or Pinterest page!