You dream of marrying your sweetheart on a white sand beach, with cobalt waters and a magnificent sunset as backdrop. Destination weddings are gorgeous, and often, less expensive — but they also require more extensive planning than most couples realize.
The more you know before you book your destination wedding, the better. Check out these tips for making the most of your Caribbean wedding!
1. Know the Legal Requirements Inside and Out
Requirements to Legally Wed Abroad
Requirements vary considerably from one Caribbean nation to the next (more on that below); but in general, spouses who hope to wed abroad should furnish:
Birth certificate
Passport and/or visa
Driver's license or other valid form of photo identification
Proof of either divorce (such as a certificate of divorce) or widowhood (such as a death decree) if previously married
Written consent for those under 18 years for most nations, or under 21 in Grenada and St. Martin
Select Caribbean nations require spouses to undergo blood tests prior to legal ceremonies
Remember: both religious and non-religious ceremonies are binding.
Depending on the branch of religion, additional requirements may exist. For example, some prospective spouses must provide copies of baptismal certificates or proof of membership several months in advance. Catholic weddings are common in the Caribbean; typically, at least one spouse must already be Catholic.
Also, know that there is a waiting period of between 24 and 72 hours, depending on the nation – so be sure to work those requirements into your schedule!
Requirements for a Symbolic Ceremony
If you do not want to get legally married while abroad, you may find it easier to plan a symbolic ceremony and complete the paperwork at home. You'll enjoy all of the pomp and circumstance of a wedding ceremony in another country while avoiding legal hassles, such as international waiting periods and blood tests.
Symbolic ceremonies may also be preferable for same-sex couples in nations (such as Aruba) that define legal marriage as a union involving one man and one woman.
Requirements for symbolic ceremonies are typically minimal. Regulations in countries such as Jamaica require spouses to furnish copies of their marriage certificates prior to taking part in symbolic ceremonies.
Differences Between Caribbean Nations
Wedding requirements vary significantly from one island nation to the next. Differences could include:
Age of marriage without consent (18 in some nations, 21 in others)
Waiting period between arriving in the nation and the legal ceremony (typically between 24 and 72 hours, but some nations do not mandate waiting periods)
Period of passport validity (some nations require passports to be valid at least six months after the traveler's date of arrival)
Because wedding requirements look so different between countries, it's important to research local laws well in advance. A good place to start: The United States embassy for the country in which you intend to get hitched. For example, the U.S. Embassies in Jamaica and the Dominican Republic maintain official webpages on destination wedding requirements.
If you're not sure where you want to get married and are eager to compare requirements in various nations, consult a Destination Wedding specialist. Our experts are very familiar with marriage requirements throughout the Caribbean, and can help you narrow down possible locations based on your ability to comply with local regulations.
2. Be Prepared for Traveling to and Getting Married in the Caribbean
Destination weddings are notoriously affordable as compared to traditional weddings near home. Still, budgetary concerns are bound to play a significant role in the trip planning process. Keep the following considerations in mind as you plan an affordable wedding abroad:
The Cost of Legal Documents
Couples pondering destination weddings sometimes worry about document expenses, but these tend to be quite affordable. In Jamaica, for example, the cost of a marriage license is approximately equivalent to $80 USD. This fee can vary slightly based on the current exchange rate.
Currency and Exchange Rate
Most people assume that different island nations use different currencies. This is true to an extent, but several actually share the same currency: The Eastern Caribbean dollar. Accepted in nine Caribbean nations, one ECD is equivalent to 37 cents in the United States.
Jamaica's unit of currency is the Jamaican dollar. Far less valuable than the United States dollar, the Jamaican dollar currently has an exchange rate of just 0.0077. Keep in mind, however, that the exchange rate shifts regularly. Travelers typically exchange currency upon arrival at the airport in Montego Bay. However, most resorts and banks also provide currency exchange services.
Traveling with Important Documents
If you opt for a legal ceremony in the Caribbean, you'll need to supply a variety of important documents. For your security, experts recommend traveling with your passport and other travel documents on your person whenever possible. Critical documents can easily be lost even if stored in carry-on bags.
If a destination resort facilitates you wedding, you're in luck: you will most likely be allowed to send a notarized copy of essential wedding documents to your resort of choice. This prevents you from traveling with and possibly losing your birth certificate, certificate of divorce or other essential documents.
---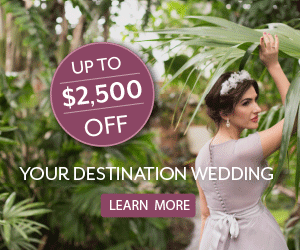 RELATED: Is A Tropical Destination Wedding Right For You?
---
3. Plan Your Wedding Details Like A Pro
Choosing a Date
Several factors will guide wedding date selection. Do you demand perfect weather on your big day? Avoid storm season at all costs. If, however, you're willing to risk rain in exchange for a price break, you might prefer an October wedding.
Keep in mind that top resorts will see fewer crowds during the off-season. For the sweet spot between low prices, beautiful weather, and minimal crowds, book your wedding in late November or early December.
Don't forget your guests' schedules! Holiday nuptials, while convenient for an intimate ceremony, may not be ideal for larger parties, as guests will face obstacles with annual celebrations and other obligations.
Timing considerations are especially relevant if you intend to get married aboard a cruise ship. Some cruises offer trips throughout the year, while others limit operation to specific seasons. With cruises, peak season (January to early June) is best; stormy weather could make not only your ceremony, but your entire cruise less enjoyable.
Choosing an Island and Venue
Your choice of island depends, in part, on the ease of tying the knot. How difficult is it to score a visa or a wedding certificate? How long must you remain on the island to establish 'residency' for a legal wedding?
Weather and activities are also key, particularly if you and your guests plan to spend several days at your chosen island nation. What types of activities are available? How easy is it to get around if you leave your resort? Some islands are better suited to water activities. Others are better options for a thriving nightlife.
If you're planning an LGBT ceremony and reception, keep the island's attitudes in mind. Some nations are more welcoming of LGBT couples than others.
Venue selection is just as important as island choice; your wedding should boast a magnificent backdrop. Primary factors determining where and how you wed include budget and the size of your wedding party. Intimate affairs grant you greater flexibility; with only 10 or 20 guests to accommodate, you could wed on the beach, in a gazebo, or even in a cave. Do you prefer a larger ceremony? Many beaches accommodate sizable parties with beach-based or ballroom weddings.
Getting Around the Island
As mentioned earlier, transit should be a chief consideration as you book your destination wedding — especially if you intend to experience the culture in your destination of choice. First, consider the ease of getting from the airport to your resort. In some destinations, you'll find plenty of options for shuttles, buses or taxis. In others, transportation may be more difficult to arrange.
Once you've arrived, how will you explore the island? Some island nations are small enough that you can easily get where you need to go by taxi. Keep in mind that not all transit providers are reliable or even legitimate. If you travel to Jamaica, for example, you'll want to stick with taxis operated by the Jamaica Union of Travelers Association.
For a more scenic take on transit, consider booking a ride with a local water taxi service. While these tend to only traverse between major tourist hubs, they're quite enjoyable. Adventurous travelers may prefer to drive but be forewarned: navigating island nations can be frustrating and expensive.
Rideshare options are slowly growing more common in the Caribbean. For example, Uber recently launched in Trinidad and Tobago. Keep in mind that rideshare options may be limited outside of main hotel zones.
If you're worried about transit, your best bet may be booking day trips with your resort of choice. Most resorts provide transportation and travel guides for prearranged day trips and other excursions.
Destination weddings require an extra element of planning, but most brides and grooms agree that the beauty and serenity of a Caribbean wedding is well worth the effort. Furthermore, destination wedding specialists are happy to explain the logistics of marrying abroad. If you turn to the right resource for assistance, you'll find planning for your dream wedding to be shockingly easy.
For more destination wedding information and inspiration, visit our website and Pinterest!