Between planning out budgets, venues, catering and more, find out if you're ready to take the plunge for a tropical destination wedding! So, how can you tell if having an all-inclusive destination wedding is the right move for you and your fiance? We recommend asking yourself these essential questions to start!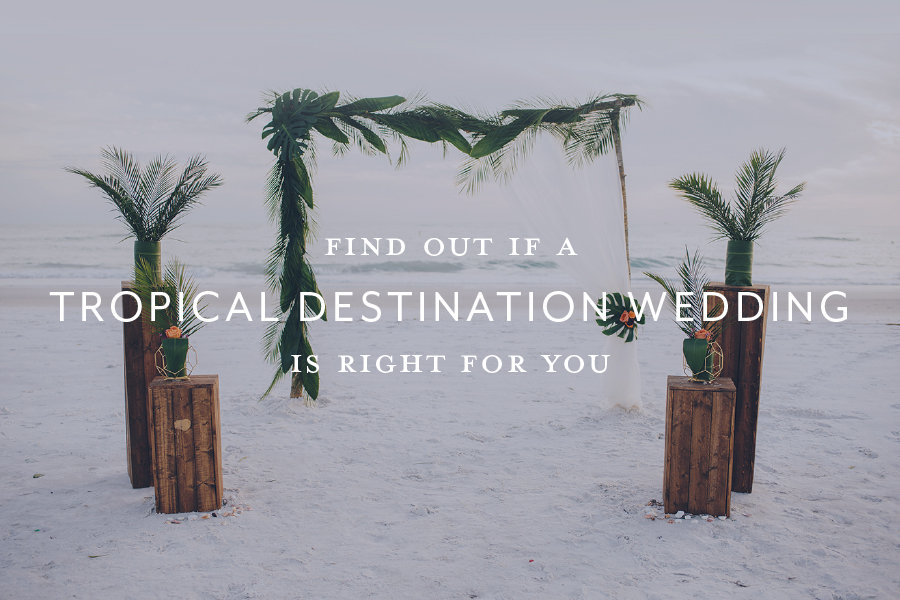 Do you like to travel?
A. Yes, anywhere and everywhere!
B. Sporadically, but it's not always our priority
C. Not particularly
Is there somewhere new you're dying to go?
A. Yes, our bucket list is endless!
B. I can think of a few spots that would interest me
C. Not off the top of my head
Have you talked with your closest friends and family yet?
A. Yes, they're totally on board
B. Briefly. We're not sure how they feel about it
C. No, that hasn't even crossed our minds
Have you set a budget?
A. Yes, we've talked about it thoroughly
B. Not really, we're kind of winging it
C. No, I'm scared to even approach the subject
Should you have a tropical destination wedding?
Mostly A's
Don't hesitate – just go for it! You've done your homework and are prepared to jet off into the sunset. All that's left to do is pick your wedding destination and hash out the details with a Certified Destination Wedding Specialist.
Mostly B's
Think about it a little more… You've checked off some boxes and are well on your way to saying YES to a destination wedding, but there are still some important details to agree upon before booking your flight.
Mostly C's
Think about it a lot more… We're thrilled that your wedding vision involves tropical surroundings and your loved ones by your side. But before taking the plunge, step back and make sure all your must-haves are checked off.
We'll Be There When You're Ready!
Need more tropical destination wedding inspiration? Check out our website and latest edition of Get Married Away!