Oleo Cancun Playa is an all-inclusive boutique resort located in the heart of Cancun. This modern and luxurious beachfront property is one of the most ideal locations for destination weddings in Mexico. You'll be welcomed in true style, Friendly staff members treat you like royalty while accommodations and other services are geared toward making your destination wedding, honeymoon, or vacation one you'll always remember. Let's take a look at the four reasons why  Oleo Cancun Playa is a destination wedding couple's dream come true:
Incredible  wedding packages
Luxurious  accommodations
Non-stop entertainment for all
Delicious dining options
And more!
Get expert advice from a Destination Wedding Specialist today >>
Wedding Packages & Romance for Destination Weddings in Cancun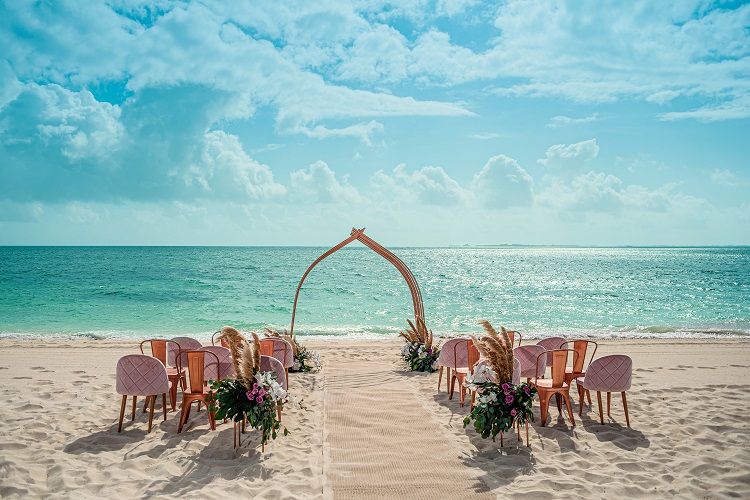 Romance is a given when you book any of the destination wedding packages offered by Oleo Cancun Playa. The resort provides three separate wedding venues to hold your ceremony at. You can choose from a beachfront venue, the elegant event room in Almar Restaurant, or the pool deck that overlooks the ocean. Any of these locations would be the perfect spot for a memorable destination wedding in Mexico.
Couples have the luxury of being able to choose from the four different wedding packages offered by Oleo Cancun Playa that are sure to suit every wedding party's needs. They start at a basic level and go up in size to accommodate larger destination wedding parties. All four of the packages include a wedding coordinator that is able to ensure that your wedding and stay go perfectly!
With so many amazing packages available, it may be a challenge to determine the right one. Luckily by including your Certified Destination Wedding Specialist in the conversation,  this process will be much easier since they have years of experience and amazing insight.
Let's take a look at all of the packages that are offered:
 Just Us Package:
Enjoy an intimate celebration with this wedding package. It was designed solely for the couple, making it perfect for a romantic elopement!  Package details include a symbolic ceremony, semi-private wedding venue and setup, boutonniere, in-room decorations, sparkling wine, and 15% off spa services. You can also get a room upgrade if it's available at the time of your check-in.
Sweet Little Story Package:
(For up to 10 people) This romantic wedding package includes everything the Just Us Package comes with, plus a few extras. There's an artist who will paint a live scene of your ceremony, wedding cake, and a surprise gift. You can also add on extra people for an additional price if needed.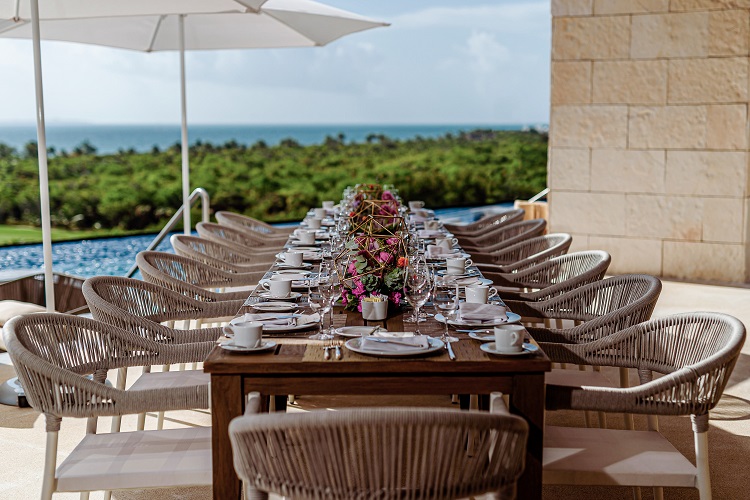 Lure Package:
(For up to 20 people) Your ceremony includes a government permit if you want to get married on the beach, sound system for the ceremony, a cocktail hour with hors d'oeuvres, a three-course dinner with open bar, 1-hour photography services, a digital album with 20 photos, and a brunch the day after the wedding.
Handmade Package:
(For up to 50 people) For the grandest and most complete package on the list, the Handmade Package is the way to go. It includes all the amenities of the first three but also features bonus perks. Gather your guests for an Ice Breaker party with cocktails and hors d'oeuvres. Your wedding reception dinner will be a four-course meal with a 3-hour open bar. You'll also get more photos with your photography package as well as hair and makeup for the one person. The room is also complimentary the night before your wedding. This is a great option to turn your destination wedding into a mini-vacation for you and your guests!
Accommodations for Weddings at Oleo Cancun Playa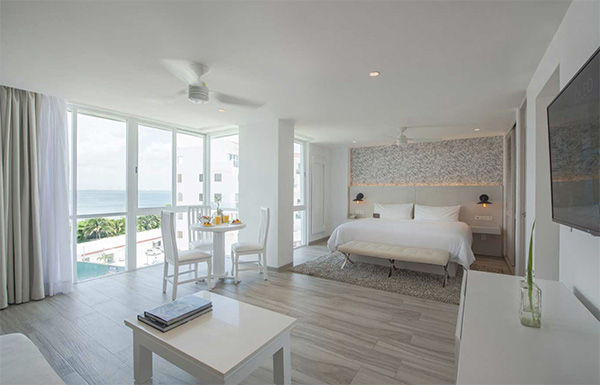 The rooms and suites at Oleo Cancun Playa are modern and luxurious. There are 168 rooms that include amenities such as air conditioning, ceiling fans, bathrobes, smart TVs, a safe deposit box, Wi-Fi, coffee machine, minibar, and USB docks.
Standard rooms come with two double beds or one king bed with ocean or lagoon views. There's also a room that features 180-degree views so you can look out onto the clear-blue sea from a private terrace.
For those who really want to turn up the romance vibes, the INSPIRA Romance Suite is a perfect choice. This luxurious oasis features a minimalist design and guaranteed ocean views. Couples can also enjoy special services such as turn-down service, a welcome cocktail and reflexology hand treatment, early check-in, and a VIP cabana section on the beach.
If you are looking for more space, the INSPIRA Master Suite features a living room, kitchenette, and two bedrooms. This is a fun option for larger parties or families.
---

RELATED: How to Choose the Ideal Wedding Location
---
Activities & Amenities During Destination Weddings in Cancun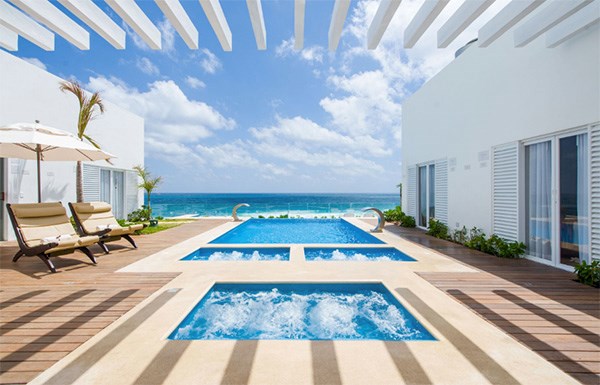 The activities offered at Oleo Cancun Playa are truly endless. You and your guests will be able to immerse yourself completely in the tropical setting while kayaking, parasailing, and even jet skiing in Oleo's exclusive AquaWorld marina. There's also a state-of-the-art fitness center along with a tennis court for those who want to remain active on their trip.
If you are looking to relax and unwind, you can enjoy the NUUP Spa Cancun Playa. This luxurious spa features luxurious amenities like steam baths, saunas, sensation showers and an amazing list of massage treatments as well as manicure and pedicure services. This is the perfect place to spend your time both before and after the ceremony!
In addition to all of this is the beautiful beach and a pool that overlooks the ocean. These are two amazing locations to soak up all of the rays!
Bars & Restaurants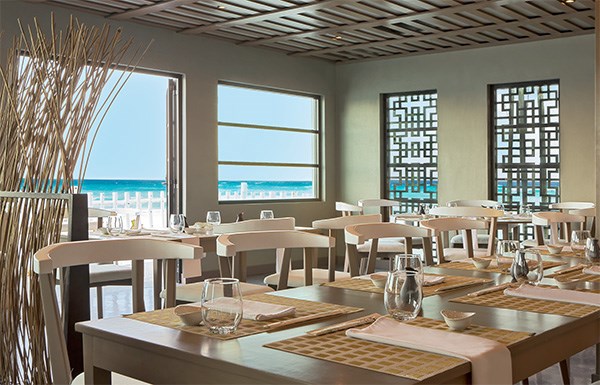 There are four restaurants and two bars on the resort property. The Azul Restaurant is a beachfront venue offering a variety of international cuisines. The Almar Restaurant features ocean views and upscale Mediterranean cuisine, like a duck, lamb, and seafood.  Enjoy authentic flavors at the Japanese steakhouse or a poolside restaurant for lighter fare like sandwiches and salads.
The two bars include a pool bar with swim-up service and an indoor lobby bar for craft cocktails, beer, and delicious wine.  Guests can also enjoy room service that is available for select hours during the day and early evening.
To Recap:
Destination Weddings at Oleo Cancun Playa are not only beautiful but truly one-of-kind. Thanks to the amazing wedding packages, romantic suites, VIP beach access, and delicious dining options, destination wedding magic is sure to be made!
Are you ready to start planning? Create a profile to get in touch with a Specialist today. Your dream destination wedding is only a few clicks away!