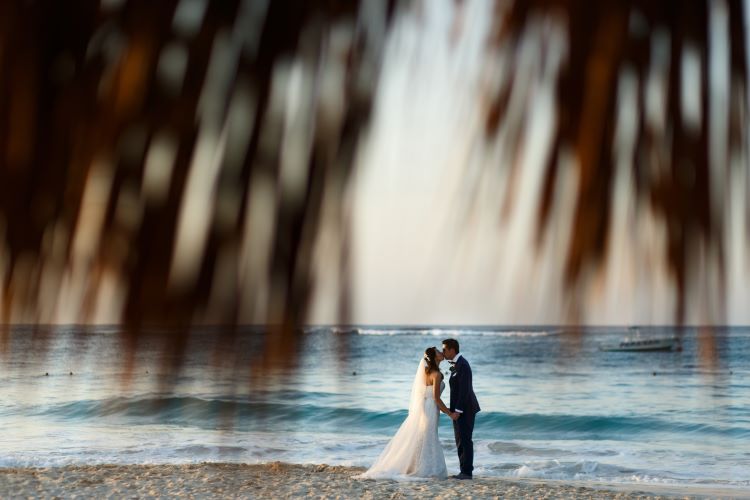 Destination weddings are beautiful, fun and…budget friendly? That's right! Many people have the misconception that — just because a wedding takes place at a luxurious resort in a tropical paradise (think Aruba or Mexico!) — it will be way out of their price range.
Luckily, destination weddings have proved to be a cheaper option. While a domestic wedding typically adds up to cost an average of $34,000, destination weddings are only a fraction of that at $7,804. This is mainly due to domestic wedding couples having a larger guest list, and they have to pay per person for all of the food and drink. By booking a destination wedding the couple does not have to worry about this, only the flat package price, which is typically very affordable!
Follow along as we break down the pricing of a destination wedding and what you can expect to pay!
What Couples Pay: A Breakdown for Destination Wedding Prices
There are a few main things that couples should be expecting to pay when having a destination wedding. This is simply their airfare, accommodations (which can come at a great discounted rate) and their wedding venue and package.
Airfare
The average cost of airfare for a couple averages around $1,206 per couple. Since the wedding will be held very far away from the hometown, couples can expect travel to be one of their biggest expenses for the big day. A major perk of this is that you don't have to worry about traveling for your honeymoon!
Accommodations
With couples staying an average of 5 nights with the guests, and then a few more after the wedding in an upgraded room category, they can expect to pay around $1,973 per couple. Lower rates are normally available when securing a room block well in advance. (This can easily be done with your Certified Destination Wedding Specialist!) If you have 20 people or more coming to your destination, it is typically under $1,900. WIthout a group block, guests can expect to pay over $3,000. It is also good to keep in mind that when booking at an all-inclusive there will be special amenities and romantic touches that come included.
Wedding Packages
It is typical that couples should set aside 50 percent of their wedding budget for the venue itself. This is true for both domestic and destination weddings. The great thing about a destination wedding venue is that it includes much more than just the wedding venue if you're at an all-inclusive resort. Couples can expect basic inclusions like the ceremony set-up, cocktail hours, wedding flowers, and more! The average cost of a package is $4,625 per couple.
What Guests Can Expect to Pay
Your guests are what makes this experience so fun, and extra special! Typically for a destination wedding, couples invite just their closest friends and family to create an intimate experience with those who mean the most to you! The average amount of guests who attend lingers around 30 people.
This is a vacation for your guests, so they should expect that they will have to pay some expenses of their own. Between airfare and accommodations, guests can expect to pay $2,316. Of course, this is all dependent on where the location is, the type of resort you are staying at, and the time of year you plan to travel. Guests stay for about 5 – 6 nights, and always rave about how incredible the experience was!
Some couples consider paying for a close loved one or two (think parents/grandparents) but it is not the expectation for them to pay anymore. Typically couples opt-out of a wedding registry in this case and just express to their guests that their presence is all that really matters to them.
---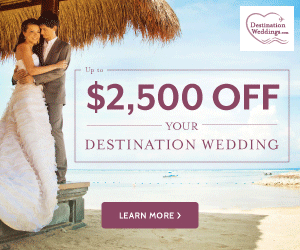 RELATED: Breathtaking Wedding Venues in Punta Cana 
---
All-Inclusive Pricing Perks
By booking all-inclusive, the perks are truly endless. This is the greatest way to receive value when planning your dream wedding. By booking your travel as a large group, resort chains will offer a cheaper rate if there are 10 rooms or more booked.
With this room, the block comes exciting offers like spa credits, reduced rates on excursions and even free wedding packages! This will include it all from the set-up, officiant, bouquets/boutineers, cocktail hour, reception, and more! The wedding couple can always expect some special treatments like a complimentary massage, mimosa breakfast or a candlelit dinner on the beach. And of course, plenty of champagne!
Once you are on the property you and your guests can enjoy the stress-free environment of enjoying all that the resort has to offer. Since your food and drink costs have already been covered everyone can be at ease and indulge as much or as little as they choose!
Add-On Costs You May Come Across
A great thing about staying in a luxurious resort is all of the fun things that they have to offer. While some resorts may allow more inclusions than others, couples and their guests should always prepare for a few add-on costs.
It is expected that spa treatments are not included in the all-inclusive package. The same goes for excursions, as they can be sourced from local companies that have their own partnerships with the resorts. It is also customary that you tip your servers either as you go or at the end of each day.
Conclusion
Destination weddings can be as expensive or budget-friendly as you would like them to be. We love them so much because they can include everything you want and more, that may not be available to you if you held your wedding domestically. On top of that, the atmosphere of paradise is truly incomparable, and it will create the most amazing experience for everyone involved.
Our Certified Destination Wedding Specialists are experts at creating dream days. They are complementary and work hard to find the right package, venue, and travel specifications perfect for you. They have so much knowledge and know exactly how to score the best deals!
Are you ready to start planning? Click here for your free consultation now! >>>