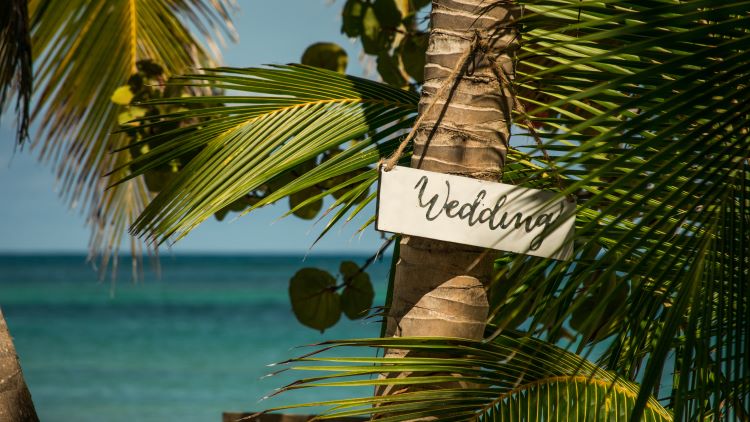 Punta Cana, a popular and romantic spot in the Dominican Republic, is a wedding paradise. Known as the land of rest and relaxation, it tops the list of some of the most desirable wedding destinations. The weather is perfect, the views are breathtaking and the all-inclusive resorts are amazing. The only thing missing is a couple in love, who want to tie the knot and live happily ever after in paradise.
With a location as idyllic as Punta Cana, it is expected that there are countless amazing venues to hold your destination wedding ceremony. We know that weddings should be as romantic, and personal as possible. A big part of this is choosing the right location. We are certain that Punta Cana has a gorgeous wedding venue fit for any couple and the atmosphere they are looking for. Let's go through some of our favorite Punta Cana wedding venues, and highlight what is so amazing about each!
Get Married on The Beach
Punta Cana offers sunshine and tropical temperatures throughout the entire year making it a perfect spot for getting married right on the beach. Couples not only have a wonderful and natural venue, but no decorations are also needed thanks to the beautiful ocean scenery. This helps to fit any wedding budget!
There are both private and public beaches, adult only and family-oriented, in Punta Cana, so it just depends on personal expectations. These are just three of the top-rated and beloved beaches in this tropical paradise.
Isla Catalina
This exotic and exceptional beach is located near the southeastern coast of the Dominican Republic. Some locals refer to Isla Catalina as a well-kept secret so it is ideal for celebrating special occasions. This piece of heaven offers beautiful white sandy beaches, a magnificent view and few to no buildings. It is actually a protected Natural Park so it offers an old-fashioned, charming atmosphere. But just because it is quaint and charming, after a couple says, "I do," under the sun, there is plenty to do and see. VIP tours, snorkeling, underwater shipwreck museums, fabulous food, and sight-seeing are only a few of the fun in the sun activities for the honeymoon.
Macao Beach
If you love everything about spending time at the beach, then Macao Beach is one of the wedding venues in Punta Cana for you.  It is known as one of the Dominican Republic's treasures for its amazing views, all-inclusive resorts, wonderful waves that are perfect for surfing, kiteboarding, fishing, and other water activities. This small beach town has one main road that leads directly from the highway to the gorgeous beach. It's a simple town with charming views, delicious food, and friendly locals who make your special day and extended stay memorable as well as picture-perfect.
Bavaro Beach
Bavaro Beach is a stunning location that showcases the beauty of the Dominican Republic. Beautiful white sand and the most unbelievable turquoise blue sea is the perfect backdrop for a couple who are in love to say "I do." This simply stunning and romantic location allows you to slow down, hold hands and take walks along the pristine beach to start your forever together.
---

RELATED: Tips for Taking Wedding Photos on the Beach
---
All-inclusive
Once you select your scenery, it is time to choose your luxurious accommodations! Punta Cana is filled with all-inclusive resorts that will make your jaw drop but still fit the budget. Let's take a peek at some of our favorites to narrow down the perfect one for you!
All-inclusive resorts make Punta Cana wedding venues popular among destination wedding seekers and vacationers alike. Most of the gorgeous resorts feature complimentary onsite wedding planners that work with couples assuring every detail of their special day is organized and ready for their arrival. Whether a wedding is as intimate as just the two getting married, or a big family and friends affair, wedding venues in Punta Cana exceeds expectations. Here are some venues that were designed around their beachfront location with wedding parties in mind.
Located on the amazing Playa Bavaro Beach, this all-inclusive resort is as beautiful as it easy to locate. It is just 11 short miles from the local airport. Melia Caribe is located right on the beach with picturesque views of the ocean and the area's spectacular views. Everything and more is waiting inside this beachfront upscale resort including balconies overlooking the ocean, 12 restaurants, 14 bars, spas, 10 pools, tennis courts, fitness center, meeting rooms, and a business center.
Planners are waiting at Royalton Bavaro Resort and Spa to turn your wedding dreams into a reality. Located on one of the best beaches in the world, this resort is the perfect haven for a dreamy wedding experience. Featuring the luxurious All-Inclusive Luxury exclusive to Royalton Resorts you and your guests can indulge in modern suites, expertly crafted dining experiences, and award-winning service.
This Punta Cana, luxury, adult-only all-inclusive resort located on a white sandy beach overlooking the ocean will make your destination wedding everything you dreamed about and more. You and your entire party up to 120 guests will celebrate your special day in style. Both indoor and outdoor wedding settings set the 5 star Excellence El Carmen apart from other resorts. Enjoy lavish beachfront suites, private pools, a tropical paradise and island living during your stay that showcases 23 swimming pools, a world-class spa, breathtaking views, and all the top-rated customer service amenities to make your stay as convenient as possible.
Things to Do
The sights and sounds of Punta Cana make this Dominican Republic wedding destination beloved by thousands of visitors. It's not just the all-inclusive resort packages, spectacular second-to-none venues, or breathtaking ocean views. There are many things to do when getting off the beach and venturing out into the area.
Go Horseback Riding: Explore the beautiful, peaceful Punta Cana countryside by scheduling a private horseback riding adventure. You will travel on horseback within the company of a dedicated guide, who will provide all the instruction you need to have a wonderful experience. This is an opportunity to get off the beaten path and experience some of the Dominican Republic's most valued treasure…its natural landscape.
Visit Adventure Filled Theme Parks:  Looking for some adventure and something new to do? The young and young at heart who have a love for theme parks and adventurous rides will love Punta Cana's exceptional theme parks. First, there is Scape Park that features amazing rides, educational opportunities, games and a whole lot of fun. You can zipline on a cliff, explore ancient caverns, swim in underground caves, or ride in splash hammocks!  Monkeyland and Plantation Safari tour is devoted to everything nature-inspired. This natural habitat that is located deep in the jungle offers a guided tour where you will explore gorgeous botanical gardens, a coffee and cacao plantation complete with samples, and meet local farmers and their organic way of gardening.
Enjoy sailing and snorkeling: Punta Cana features a small group catamaran tour that offers much more than you might think. This personalized excursion features swimming in a natural water reserve, snorkeling in beautiful clear waters while enjoying fun and beverages while on the deck. The boat will also anchor in a lovely sand bar with waist-deep water to relax and take in the amazing scenery.

In Conclusion
There are so many things to see and do, so many beautiful all-inclusive resorts and wedding venues in Punta Cana, that it may be difficult to know what is right for you. By working with an experienced Certified Destination Wedding Specialist, the Punta Cana wedding of your dreams will be simple to create! By working with us you can just focus on where you want to go, what venue speaks to you the most, and all of the details that will make your reception the best party of your life!
With so many gorgeous venue options in Punta Cana, your dream wedding cannot be far away!
Ready to start planning? Click here to get a FREE consultation today >>