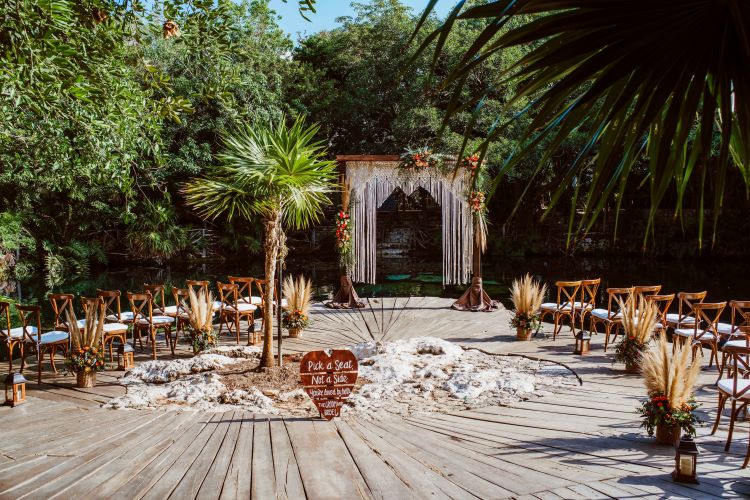 Once you have decided that you want to have a destination wedding, you get to indulge in all of the luxurious resorts that the world has to offer. Our favorites being located in places like Mexico, Antigua, Jamaica, and even Costa Rica!
There is a lot to consider when choosing your destination wedding resort. You want to be sure that it is affordable, but also modern and elegant. You want it to be beautiful and embrace its tropical surroundings. You want the accommodations and service to be above all others. And of course, you want it to have glowing reviews. We have made things easy and ranked our top 10 destination wedding resorts. We will map out why each one is so great, and why they will be trending in 2020 and beyond.
Here is the official list of the 10 best destination wedding resorts in 2020:
Hard Rock Hotel & Casino Punta Cana
Iberostar Selection Rose Hall Suites
Moon Palace Cancun
Finest Playa Mujeres
Riu Palace Cabo San Lucas
El Dorado Royale
Azul Beach Negril
Grand Palladium Jamaica
Dreams Las Mareas
Sandos Caracol Eco Resort
What Do the Best Destination Wedding Resorts Have in Common?
Amongst all of these resorts, some key similarities can be found. This is great for any couple looking to enjoy a 5-star, luxurious and tropical experience. Each of these resorts is located in such gorgeous landscapes you will be able to enjoy them wherever you so choose. With white-sand beaches, crystal blue waters, and lush jungles!
All of these places are relatively close to the U.S. and Canada, which makes travel easy and affordable. There will be no 24-hour travel days or prices that will make travel unrealistic to guests. With tickets being so affordable, this is a great time for couples to treat themselves to first-class treatment on their way to paradise! (Hello, champagne!)
With all of the gorgeous natural landscapes available, this gives couples a wide array of wedding venues to choose from. This can be classic on the beach, or somewhere unique like a rooftop terrace, garden gazebo, Mayan Ruins, or even an overwater bungalow!
All of these resorts are well known for their luxurious accommodations, 5-star service, delicious cuisine, and exciting activities.  Whether you and your group are looking for adventures all over the region, or to just kick back by the pool and spa – these resorts will satisfy any desire!
The Top Destination Wedding Resorts
Let's take a look at each resort and see what exciting things they have to offer!
Ranked as #1, this resort has everything you could ever ask for to fulfill your destination wedding dreams. Hard Rock Hotel & Casino Punta Cana is perfect for anyone who is looking for an incredibly romantic setting, as well as something that is super fun! With four unique and beautiful wedding packages to choose from, wedding couples are able to get the most out of their day. Guests will also be entertained from sunrise to sundown with 12 pools. 4 swim-up bars, non-motorized water sports, golf, an exciting casino, and 13 delicious restaurants.
Secluded on an enclave, this luxurious adults-only property awaits the experience of a lifetime. There are four ultra-romantic wedding packages to choose from that will cover it all from the flowers, officiant, on-site planner, champagne toasts, and a super fun reception. Plus couples are treated to exclusive inclusions like spa discounts, late check-out, and candle-lit dinners on the beach. This resort is also home to incredible suites, unlimited golf, beautiful beaches, and international cuisine. Learn more here.
All-day and night long this resort is filled with fun and activities. This kid-friendly resort is both fabulous and romantic. Couples can enjoy not only a complimentary wedding package but a complimentary honeymoon package too! Sitting on a gorgeous white-sand beach you have the option to spend the entire day soaking up the sun or enjoying some fine dining, golf, fun watersports, spa treatments, or dance the night away. Check out Moon Palace Cancun.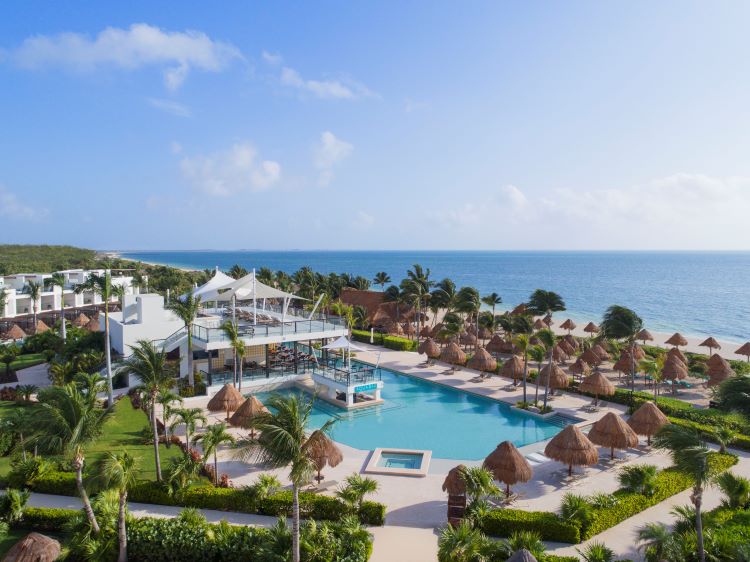 As the only luxury all-inclusive resort in the Cancun area, Finest Playa Mujeres welcomes the whole family for an unforgettable wedding experience! Enjoy each day by relaxing in your oversized jacuzzi tub, taking a sunset yacht cruise, or indulging in a couples massage. With a multitude of wedding packages to choose from couples can bring their dreamy visions to life.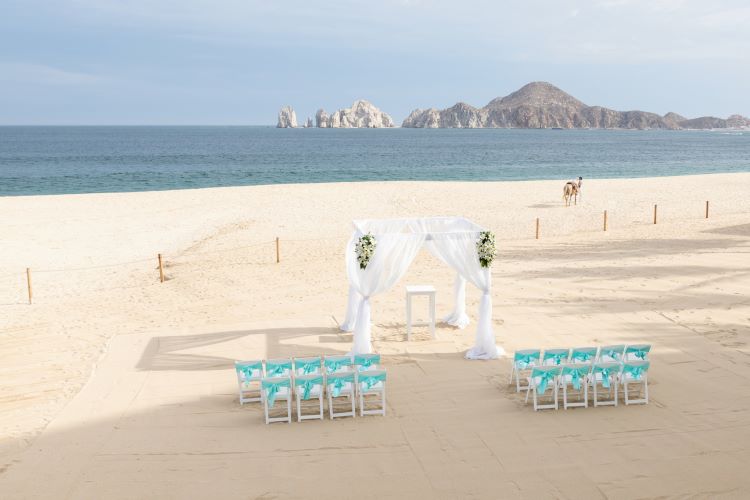 Overlooking the stunning turquoise blue waters, this hotel offers the most amazing 24-hour service, delicious cuisine, and non-stop entertainment. Whether you want to spend your days relaxing by the beach in hammocks with a drink in your hand or taking in part of the many different pool parties it will be an experience like no other. Riu Palace offers five different wedding packages ranging from simplistic to totally glamorous, all complete with a complimentary honeymoon package for couples to choose from.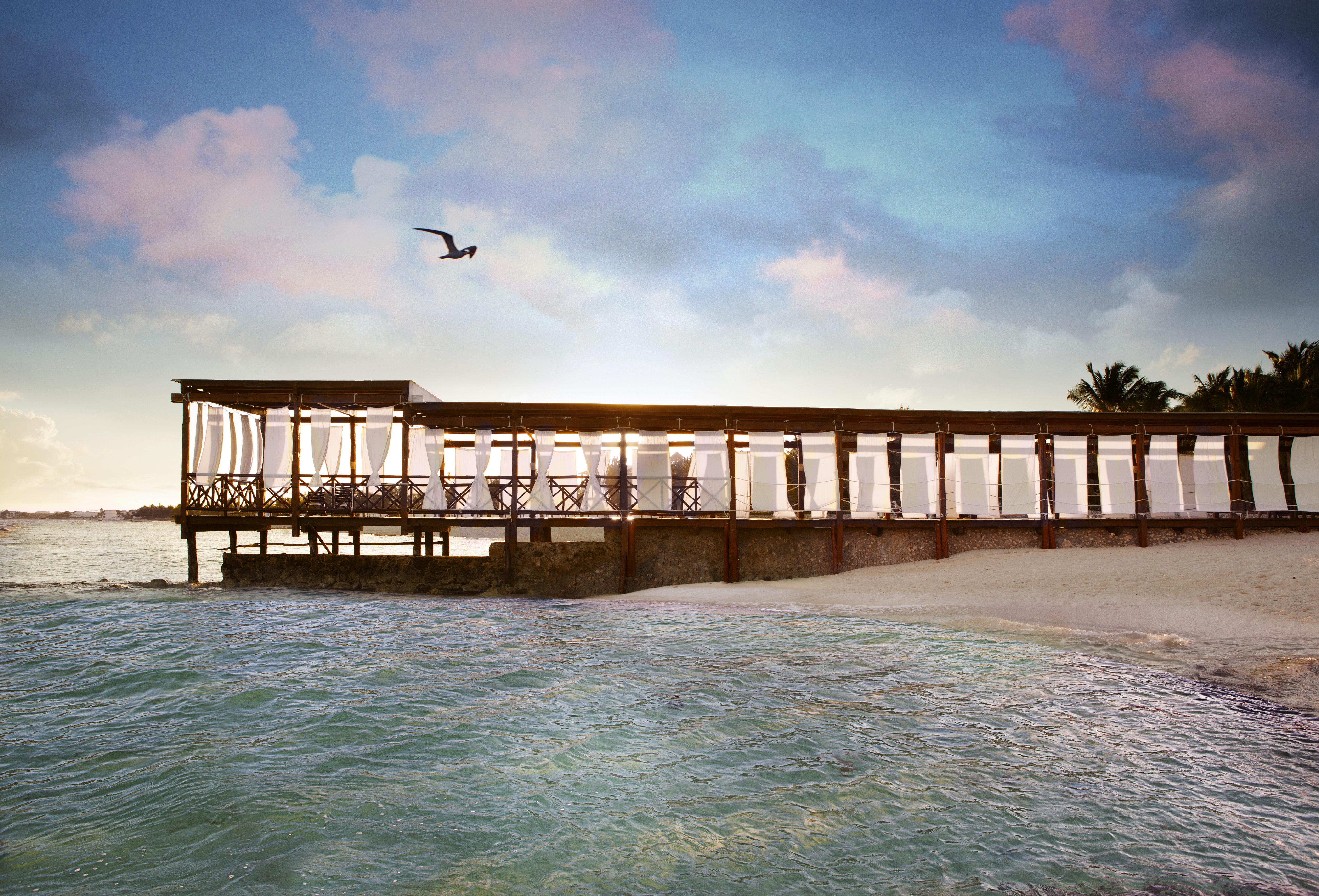 As one of the most well-known resorts in all of Mexico, this property will truly take your breath away. Sitting on more than a mile of beach this is an escape that no others can match. Right in the sand, or in the beach-front chapel are both intimate and beautiful options for the perfect destination wedding ceremony. Learn more.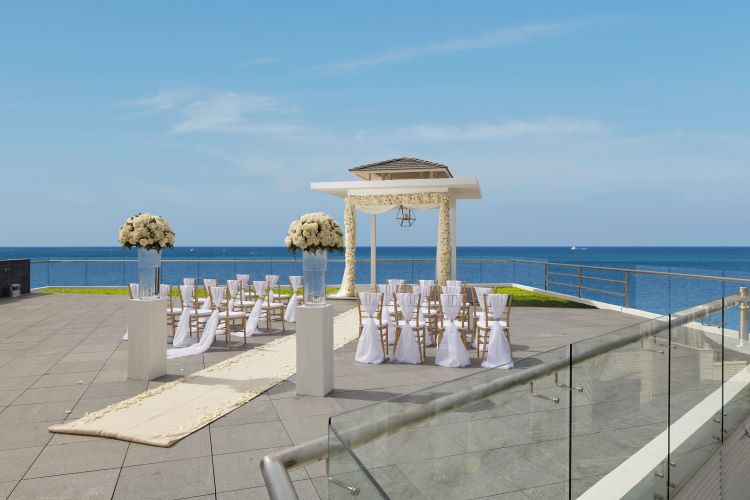 Placed on Negril's famous Seven Mile Beach, this all-suite property by Karisma offers exquisite luxury and views. There is plenty to do, like enjoying spa treatments, a frozen drink by the pool, or the exciting splash park! With customizable wedding packages available, it is easy to create the destination wedding that you have always envisioned with no limitations. Learn more about Azul Beach Negril.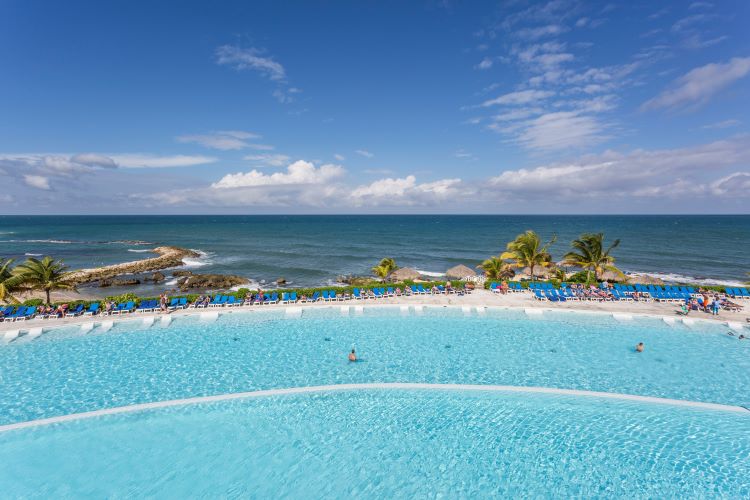 The perfect pairing of modern design and luxurious facilities await at this beachfront resort. Home to the largest pool in Jamaica guests will be encouraged to enjoy the warm Jamaican sun for as long as they can. There is a great focus on relaxation at this resort, as there is one of the best spas in Jamaica here. There are daily special offers for guests to look forward to, and included access to the world-renowned hydrotherapy areas with any spa treatment. Additionally, there are some of the most beautiful wedding packages offered at Grand Palladium Jamaica. Perfect for couples who love floral details, and embracing the natural scenery.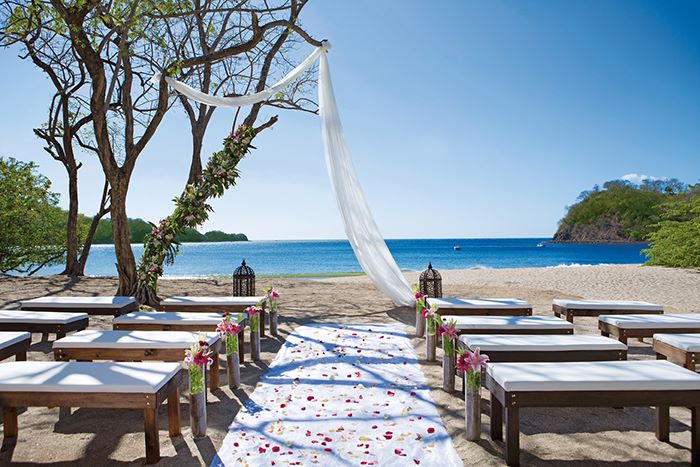 Costa Rica is the perfect setting for a vibrant, beachy destination wedding getaway. Guests can enjoy all that this region has to offer from its white-sand beaches to lush jungle and waterfalls. The unlimited-luxury offered at this resort covers it all from fun activities, incredible service, delicious cuisine, and top-shelf spirits. There are three lovely wedding packages to choose from, as well as a super romantic honeymoon package that is offered. Dreams Las Mareas is the perfect place for couples who want a setting that is a little unique but still includes all of the luxuries of paradise.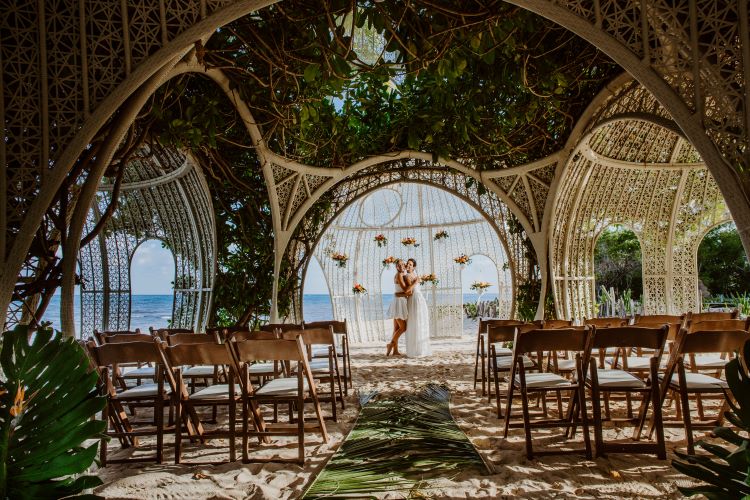 Become one with nature at this super exciting eco-resort. Built around a natural ecosystem, guests can enjoy tropical birds and monkeys right outside of their suites. There are also incredible views of the cenotes, mangrove forests, and lush jungle. There are tons of activities to enjoy such as swimming in the cenotes, floating down the river, learning jungle survival skills, and even nighttime Mayan shows. This is a truly special place to swap "I dos" as there are not too many eco-resorts this luxurious. Additionally, there are countless wedding packages that can be customized to your tastes and embracing the natural scenery like overlooking a cenote! Learn more here.
---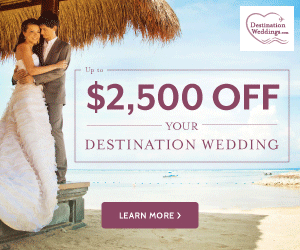 RELATED: How to Choose the Right Wedding Resort Abroad
---
Where to Find the Best Destination Wedding Resorts
There are amazing destination wedding resorts all over the world. Our favorite ones have a tropical climate, sunny skies year-round, and plenty of palm trees. The ones that top our list include:
Riviera Maya, Mexico
Set between Cancun and Tulum this region is filled with sugar-sand beaches, brightly-lit reefs, and crystal clear waters. Destination weddings set on Riviera Maya beaches are sure to take anyone's breath away. With some of the most luxurious resorts in the whole world in this location, it will be easy to find a wedding package that can provide it all for you and your guests.
This tropical setting continues to become more and more popular among tourists. Home to the dreamy Bavaro beach, countless golf courses, and some of the most fun nightlife in all of the Caribbean it is an easy choice to plan your destination wedding here.
Montego Bay, Jamaica
Montego Bay is known as Jamaica's most iconic region for good reason. There are incredible beaches, a charming downtown, and fun nightlife. Bamboo rafting is exclusive to this region and a must to take in all that this area has to offer. Jamaica is a super romantic setting, and perfect for romantic getaways.
Costa Rica
In between both the Caribbean sea and Pacific, Costa Rica had a very diverse landscape. There are black-sand beaches from volcanic ash as well as crystal clear, reef filled waters. This location is truly perfect for those looking to relax, and enjoy some adventures whether by land or sea. You can go horseback riding, hiking, ziplining, and cave exploring. Home to some luxurious resorts and very friendly locals it is the perfect place to bring your whole crew to for a destination wedding.
Created from volcanic rock, this island has incredible and unusual beauty. The twin peaks of Gros Piton and Petit Piton provide breathtaking views that can't be found anywhere else in the Caribbean. Covered in both tropical forest and soft sandy beaches there is plenty to explore! And the warm winds are perfect for sailing and yacht excursions – which is extra romantic at sunset!
To Recap
Choosing a destination wedding resort can be tough when there are so many great options. Luckily by working with a Certified Destination Wedding Specialist, this process can be made much easier. Keep in mind that with any of our top 10 best destination wedding resorts you will be guaranteed stunning scenery, an easy flight, a variety of unique wedding venues and packages, delicious cuisine, fun activities, and much more! Additionally, everything can be tailored to any wedding budget assuring that it is affordable for both you and your guests!
Are you ready to start planning? Click here for a FREE consultation now >>>