Destination weddings combine adventure and excitement with joy and romance…and so should your week of events! The average stay for guests at a wedding abroad is typically four nights; so how do you keep everyone entertained each day? Fear not! We've created a list of essential events needed to ensure everyone (including you!) has a great time throughout their entire stay.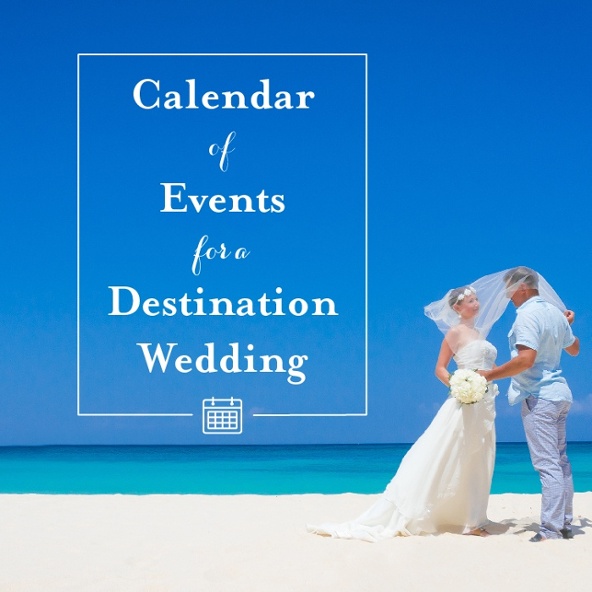 Day 1: Welcome Dinner and Cocktails
Your closest friends and family have arrived to your wedding resort – yay! After getting settled in their rooms and enjoying a few hours of relaxation, it's time to officially welcome everyone to your wedding weekend! Set up a nice group dinner with cocktails on the beach and get everyone excited for the days ahead!
Day 2: Fun Group Excursions
The sun is shining and it's time to explore your surroundings! Whether you suit up for a fun day of snorkeling and swimming with the dolphins or tour the back country on a jeep safari or ATVs, you and your guests are sure to have a blast. When you return, set sail on a catered, sunset catamaran cruise with your loved ones.
Day 3: Wedding & Reception
Your big day is finally here – it's time to get prepped and ready in your bridal suite. Then you'll exchange vows against a picture-perfect backdrop and be pronounced husband and wife! Now it's time to dance the night away (and maybe even jump in the pool!)
Day 4: Post-wedding Brunch
It's the last day in paradise for most of your guests, so it's always nice to round out their stay with a scrumptious brunch hosted by the newlyweds! After a few thank-you's and reminiscent stories of the night, everyone may enjoy some free time by the pool or at the beach…after all, it's important to soak up the last bit of tranquility before heading back to reality!
For more inspiration, browse through our latest edition of Get Married Away!