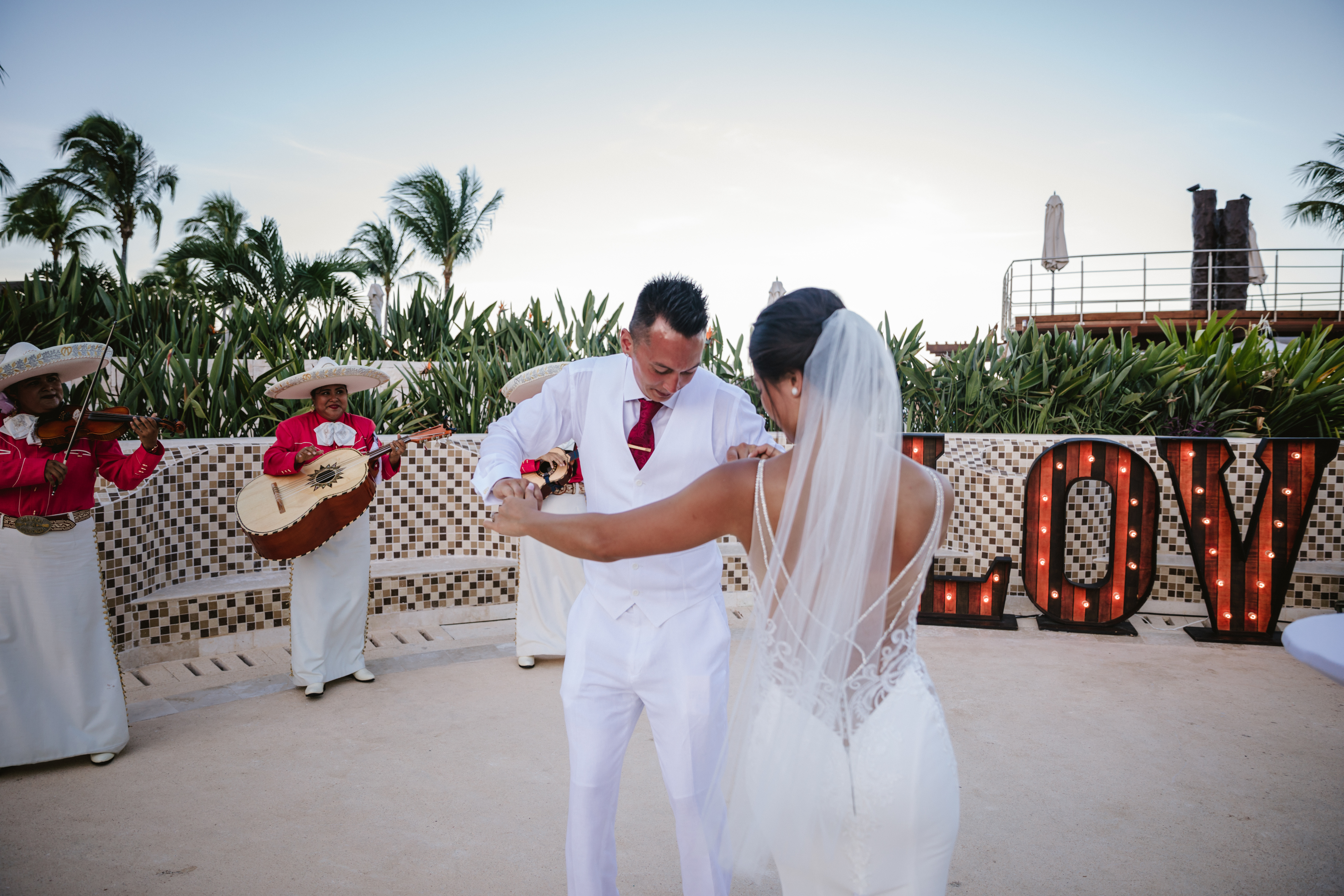 From your first dance as newlyweds to the song, you'll walk down the aisle to, the music for your destination wedding plays an important role in your big day. But with so many great songs out there, it can be hard deciding which ones you want to include.
As the couple, your most important music choice is going to be for your first dance. It could be a song that has a special meaning to your relationship, or maybe it's just one that you both really love. You can also consider your personal tastes. If one of you enjoys oldies music, but the other prefers more modern hits, check to see if any of today's artists have covered a classic song. If you've narrowed it down to two options, but you're stuck, choose one for your first dance and use the other for the ceremony procession. This lets you have both as part of your day.
Songs for the father-daughter dance and mother-son dance are also significant. Talk to your parents to see if they have any requests for those special moments. It's a big day for them as well, and it will make them feel good knowing you wanted to include them in the process.
Your reception will have a wider selection of songs. You want to get everyone out on that dance floor, so consider hits from different decades. Another great opportunity to play a mixture of songs is during dinner. It may not be something you think about at first, but what you choose to play while your guests enjoy their meals will get them excited for the rest of the evening.
If you need a little guidance, we've come up with some song ideas to put on your destination wedding playlist!
Wedding ceremony processional:
This song should be something very meaningful to you and your spouse-to-be as well as super romantic. Everyone will be tearing up at the sight of the wedding couple walking down the aisle, so you might as well play into it. this is definitely one of the most memorable songs that will be played throughout the day. Let it have all of the feels to it. Like,
A Thousand Years by Christina Perri
Make You Feel My Love by Adele
Falling in Love at a Coffee Shop by Landon Pigg
Wedding ceremony recessional:
This song you should be very upbeat and exciting. you're married, finally! Dance down the aisle to something that will be as giddy as you are. Like,
Marry You by Bruno Mars
I Choose You by Sara Bareilles
This Will Be (An Everlasting Love) by Natalie Cole
Reception entrance for the couple:
This song should be super fun and really express just how happy and in love you are! The reception entrance marks the start of the party, so choose a song that you both love that matches that vibe! Like,
Crazy in Love by Beyonce ft. Jay-Z
We Found Love by Rhianna
Shut Up and Dance by Walk the Moon
Wedding dinner:
During this portion of the wedding, everyone will be having a conversation amongst their tables, reflecting at the gorgeous ceremony, and aw-ing over you and your spouse. The songs being played during this should be super fun, light and airy with a big focus on love. It will set the perfect tone. Songs like this should be played,
Come Fly with Me by Frank Sinatra
Better Together by Jack Johnson
Kiss by Prince
First dance:
This is another opportunity to capitalize on the romance factor. We all have that one song that we've always loved throughout our lives knowing that it would someday be our first-dance song. We hope you choose that one, but if not these songs are also so beautiful:
Perfect by Ed Sheeran
No Place Like You by Joy Williams
First Day of My Life by Bright Eyes
---

RELATED: The 11 Must-Have Photos Your Destination Wedding Photographer Needs to Take
---
Father-daughter dance:
This is a sentimental one. Choose a song that will make you smile, and inevitably make your father cry. Some beautiful songs we love for this are,
Daddy's Little Girl by Frank Fontaine
Butterfly Kisses by Bob Carlisle
Daughters by John Mayer
Mother-son dance:
Read the description above. No parent dance is safe from getting teary-eyed. We love these songs,
I Hope You Dance by Leann Womack
My Wish by Rascal Flatts
The Man You've Become by Molly Pasutti
Cutting the cake:
This is sweet and fun for the wedding couple. Choose a song that is playful, and will allow you to sing along and remind everyone how sweet it is to be married to each other! We love these classic tunes,
Sugar by Maroon 5
How Sweet It Is (To Be Loved By You) by Marvin Gaye
I Can't Help Myself (Sugar Pie, Honey Bunch) by The Four Tops
Reception songs:
Finally, it is time to dance the night away! Choose songs that match your style and keep your guests moving and grooving all night long. Some go-tos for that are,
Despacito by Luis Fonsi ft. Justin Bieber
Can't Stop the Feeling by Justin Timberlake
Dancing Queen by Abba
The music is such an important factor in setting the tone of your destination wedding. No matter what you choose make sure that the songs are meaningful to you, and will make you think back to this perfect day anytime you hear them!
Ready to start planning? Make a profile today to get in touch with a Certified Destination Wedding Specialist >>>