These days, wedding couples tend to tailor their celebrations perfectly to their nuptial vision — and now, they can enjoy that customization even more with a unique song personalized to their special love story.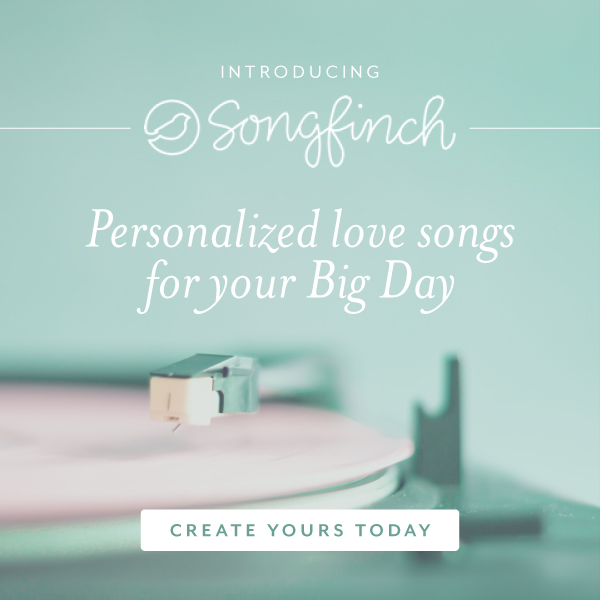 From the first dance to wedding party introductions and every moment in between, music plays such a strong role in making the Big Day even more magical. We're teaming up with the musical masters at Songfinch to help make your moments on the dance floor as unique as ever. Share your favorite memories, select your song preferences and receive one-of-a-kind lyrics made from scratch based on your special story.
We're here to create the soundtrack to the best day of your life with an original song written just for you.
How It Works
To get your own one-of-a-kind love song brought to life, first click here. Next, you can browse previous wedding stories and purchase your song with just a few clicks! Click BUY NOW and begin your song whenever you're ready — no rush! Here's what to do once you're ready to get started:
Share Your Story
After you place your order, follow the steps to share details that help shape your song, including your favorite memories together, preferred musical genre, desired moods and much more.
Songfinch Plays Matchmaker
Using those details, Songfinch hand-picks the perfect songwriter from its community of professional musicians to bring your song to life.
Studio In Session
The songwriter immerses themselves in the story and crafts a one-of-a-kind song, complete with an original melody, instrumentation and lyrics, inspired by the customer's notes.
Give The Gift
Within seven days, the song is ready for the big reveal via your Story Homepage — a personalized web page made just for you. Here, you can listen to the song, download it, read the lyrics, learn about their songwriter, and easily share with friends and family.
Songfinch + Your Wedding Day
There are many ways a couple can personalize their wedding day with their song.
Some couples want an original tune for their first dance, while others are tired of choosing the same ol' track for the mother/son or father/daughter dances, and instead want something truly unique to their relationship.
No two love stories are the same, and no way to use this experience is more special than another; however, Angie's story of her original song is certainly special, and one that her father won't soon forget.
When she began wedding planning, Angie knew she needed to do something unique for her father/daughter dance. Music has always been an influential part of her relationship with her dad, but she wasn't in love with any of "their songs" that helped define their relationship. She told Songfinch all of their inside jokes, special memories and anything else she could think of that summed up their relationship and got a new song created to add to their collection. When she debuted it to him on their wedding day, it brought him and everyone else to tears.
Why Destination Weddings + Songfinch
From weddings to honeymoons, anniversaries and vow renewals and more, we at DestinationWeddings.com love all things romance travel and want to make every couple's vision a reality. Songfinch is just as eager to bring your love stories to life, so we're eager for you to get started!
Together, we're committed to making more and more dream weddings come true for couples across the globe.
Get started with your personal songwriting experience now! For additional information on how the process works, click here!