Dreaming of a beach wedding in paradise? Make sure Maui's at the top of your list. Rich with breathtaking tropical views and romantic all-inclusive resorts, Hawaii's most scenic island is a perfect setting for simple – and simply stunning – outdoor weddings. If you want to let the views and resort do all the work, you have your pick of world-class venues that offer Maui beach wedding packages.
Whether you're weighing the benefits of a destination wedding or already planning a beach wedding in Hawaii, make sure you know what Maui beach wedding venues have to offer.
Beautiful Benefits of a Beach Wedding in Maui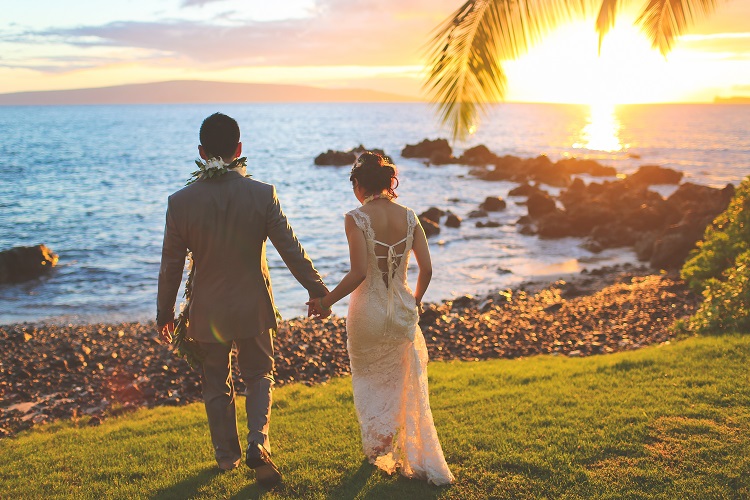 Maui is a popular island, but it boasts more than 30 miles of picture-perfect beaches, and many still seem untouched and remote. Who needs to rent a grand venue and décor when you can have teal blue waves and soft peach sand underfoot? Maui's beachfront resorts are great options for couples who love sunshine and want a breathtaking ceremony without the stress and expense of a huge wedding on the mainland.
Here are some of our favorite benefits of booking your beach wedding in Maui:
World-Class Beach Views– Maui's terrain is actually pretty diverse, and your views will depend on which part of the island you choose for your wedding. A national park and four different forest reserves make up the eastern half of the island, while West Maui Forest Reserve is surrounded by scenic beaches (including cliff-side black rock beaches) on the island's mountainous West Side. Many of Maui's most luxurious all-inclusive resorts are nestled here or the South Side, the most populated and flat part of the island.
Hawaiian Wedding Customs– Part of the appeal of a destination venue is the change of scenery – and the chance to make one-of-a-kind memories in a new place. You and your guests get to experience Hawaiian culture together during your stay in Maui, and you don't have to go far to seek it out. Many Maui wedding venues will incorporate local cuisine, entertainment, and even marriage customs into Hawaiian wedding ceremonies and receptions.
Maui Beach Wedding Packages – Of course, when you opt for a destination wedding package, it's especially easy to unwind and enjoy paradise. Our favorite Maui wedding packages cover all the important details – from the officiant and wedding cake to cocktail hour and wedding reception. Elope on the beach in a simple ceremony, or invite everyone you love to a huge party in paradise.
RELATED: Hawaii Destination Wedding Ideas >>
What to Look for in Your Wedding Venue
If you're searching for Hawaiian venues that offer dreamy outdoor weddings, don't settle for less than a natural masterpiece with world-class accommodations. Many Maui resorts offer spectacular, luxurious experiences that include massages and beauty treatments before the wedding and more pampering the morning after. Even if you just want basic wedding services, your Maui beach wedding is your time to indulge in the finer parts of paradise.
As you research different Maui beach wedding locations, keep some of these perks in mind:
Find a Package that Fits Your Style – Some resorts stick to the bare basics and let the Maui beaches speak for themselves, while others offer multiple decorative options and themed parties for your Hawaiian wedding. Make sure you pick a resort with package options that speak to you – and fit your budget.
Luxurious Accommodations – You picked a destination wedding so that you could indulge instead of stressing out about every little detail. Now make sure your resort will provide the ultimate wedding experience, including rooms with ridiculously comfortable beds and sweeping ocean views.
Proximity to Hot Spots – How close is the resort to your airport, cruise ship terminal, or planned activities? Maui is nearly 40 miles long and 727 miles around, so don't book your resort before checking the location. If you'd like to get up close to nature with mountain and forest adventures, consider the West Side over the South Side of the island.
Other Wedding Traditions – Maui is a great place to have a Hawaiian-influenced wedding, but if you want a more traditional American wedding – or even an Indian or Chinese wedding – you'll want to find a resort that caters to you. For example, Makena Golf & Beach Club in Kihei offers breathtaking, multi-day Indian wedding packages, while most popular resorts on the South Side and West Side will accommodate all your Western wedding ceremony needs.
Privacy – Some resorts are right on a world-famous beach, while others are tucked away on private beaches or surrounded by lush forests and dramatic cliffs. If you don't mind a public beach ceremony (the more the merrier), this might not be a top priority. But if you prefer a secluded, intimate atmosphere for your destination wedding in paradise, make sure you research your Maui beach wedding locations.
All-Inclusive Resorts with Wedding Packages
There's certainly no shortage of gorgeous Maui beach wedding locations, but it's important to pick the venue that's right for you. Whether you want to elope in a romantic gazebo or throw a beach party for 200 guests, Maui's world-class resorts will work with you to make your beach wedding as special as possible. Here are some of our favorite Maui resorts with Hawaii beach wedding packages:
The Westin Maui Resort & Spa, Ka'anapali – Mountain views, flamingos, swans, and an upscale village are all yours to enjoy in this sprawling, gated wedding destination. This Maui resort combines ultra-modern rooms with sweeping views of the island, and your wedding venue options include waterfalls, gardens, and lagoons.
Maui Eldorado – One of Maui's most beautiful vacation rental sites, this resort gives you everything you need to feel at home during your wedding and honeymoon. Beautiful mountains tower over a bright green golf course, and resort amenities include three different pools and rides to and from Kaanapali Beach.
Four Seasons Resort Maui at Wailea– Nestled against the calm, teal water of Wailea Beach, Maui's breathtaking Four Seasons is a private palace that will make you feel like you're tucked away into a fragrant piece of paradise. Go for a swim in a scenic infinity pool, indulge in a relaxing massage in an oceanfront, open-air hut, and check into a room with views of the ocean and mountains.
So, are you ready to book your dream beach wedding in Maui? Check out our guide to Maui beach weddings for more information about traveling and enjoying your big day in paradise.