RIU Hotels & Resorts is excited to announce that all properties in the Americas are now OPEN. This is amazing news following a challenging season for brides-to-be and many postponed destination weddings. If you're planning a destination wedding, now is the perfect time to look into wedding packages at RIU Hotels & Resorts. 
A total of 42 RIU Hotels located in the Caribbean and on the Pacific coast are currently open again, following safety closures due to COVID-19. This includes The United States, Mexico, Panama, Costa Rica, Bahamas, Dominican Republic, Jamaica and Aruba. No matter where you envision saying "I do," you can look forward to having the celebration you've always dreamed of.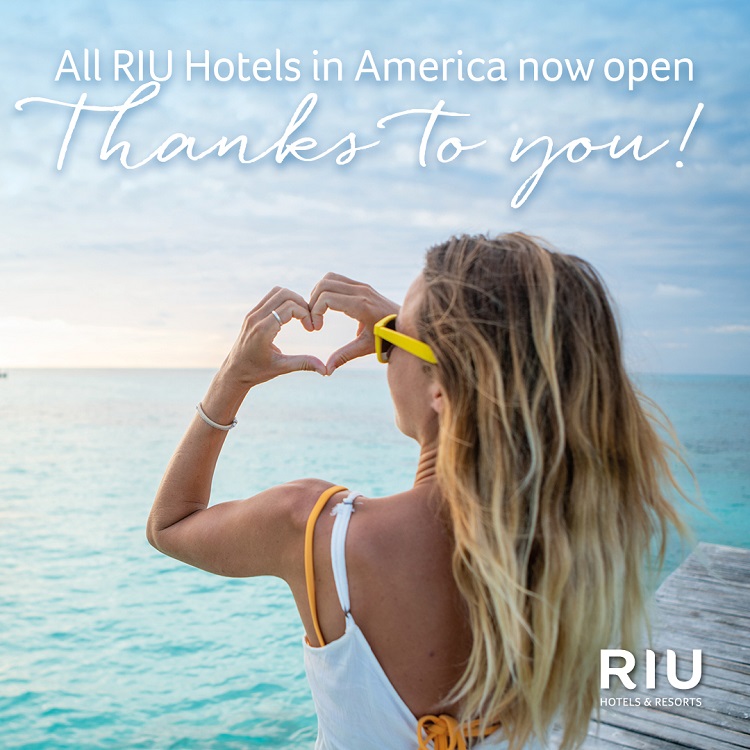 Popular Destination Wedding Locations
Mexico Wedding Venues
A Mexico destination wedding is the perfect place for a beautiful ceremony with minimal effort. Captivating beaches and natural history set the tone for the perfect wedding day scenery. Choose from venues in Cancun, Los Cabos, Riviera Maya and more. 
Caribbean Wedding Venues 
Caribbean wedding resorts each have their own unique personality with so many islands to choose from. The sandy beaches and calm, blue waters bring a sense of relaxation leading up to the big day. RIU hosts Caribbean weddings throughout the Bahamas, Aruba, Costa Rica, Panama, Jamaica and Punta Cana. 
Each destination boasts an array of scenic spectacles, fun-filled adventures, spacious rooms and sensational cuisine that's sure to exceed you and your wedding guests' expectations. A full array of wedding packages can accommodate all party sizes, tastes and budgetary needs – including a complimentary option! 
Weddings at RIU
RIU destination weddings go beyond your ordinary beach wedding. Whether it's a colorful celebration in Mexico or a soothing tropical ambiance in the Caribbean, you'll have all the natural scenery you need to wow your guests from the moment they check in. Plus, you'll never experience a dull moment, because RIU all-inclusive resorts offer everything you could wish for without ever leaving the property. 
Guest Activities
For relaxation, you and your guests can spend the day getting massages or facials at the spa followed by the tranquil hydrotherapy circuit. Multiple pools on property give you a reason to lounge all day and soak in the sun. 
For a more active crowd, beach volleyball and non-motorized water sports are available. At night, a variety of cuisines aim to please every palate, whether you're craving exotic or familiar dishes. All resorts offer a buffet and themed a la carte restaurants, plus cafes and bars to sip on refreshing libations at your leisure. 
RIU Wedding Packages
Mexico and Caribbean wedding venues allow you to get as up close and personal to the sea as you desire. You can sink your feet into the sand as you walk down the aisle, reserve a secret garden with an ocean view, or enjoy the distant sound of the lapping waves as you celebrate in a lavish ballroom. 
Destination wedding packages at RIU Hotels & Resorts range from a sweet and simple complimentary package to the top of the line Indulgence Package. The free option is best if you're looking for something small where you still receive the royal treatment, whereas the Indulgence Package gives you a luxury experience with all the perks, bells and whistles for you and your guests. Or, meet somewhere in the middle with a total of five packages to choose from at most resorts. 
Ready to Start Planning a Destination Wedding?
Beach wedding resorts are back in action and there's no better time than NOW to start planning! Live in the moment and have the destination wedding you've always dreamed of. RIU Hotels & Resorts are elated to welcome you and your guests for a celebration you'll never forget. 
Create a profile online and a Certified Destination Wedding Specialist will be in touch with you soon on the next steps!