Anyone planning a destination wedding in Mexico will fall in love with Azul Beach Resort Riviera Cancun. This all-inclusive wedding venue in Riviera Maya, Mexico naturally embodies everything dream destination weddings are made of. Here's what you can look forward to while creating the perfect wedding experience in paradise:
Romantic accommodations, including a Honeymoon Oceanfront Suite

Gourmet cuisine for your reception menu and beyond

Fun activities for you and your guests to enjoy

Breathtaking views and custom wedding packages to match your style

And much more!
Get a free quote for your Mexico destination wedding here >>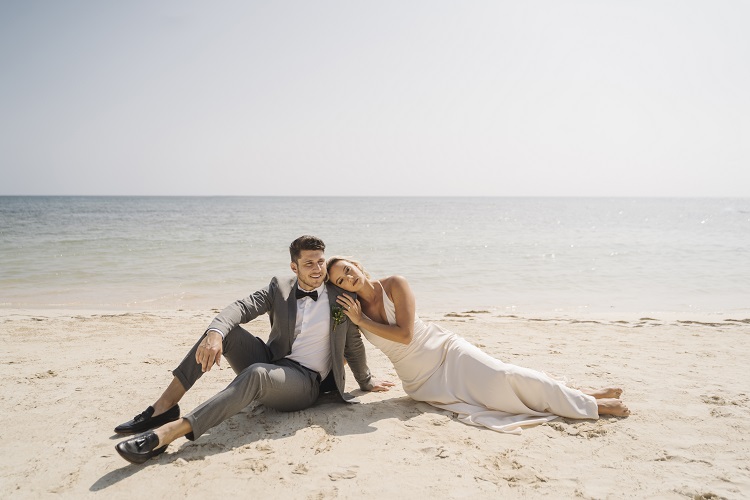 Luxury Accommodations in Mexico
Azul Beach Riviera Cancun has an impressive collection of rooms ranging from Luxury Junior Suites to Royal Swim Up Suites and Presidential Studios. Exclusive features such as premium pillow selections, aromatherapy options and concierge services showcase the effort made to ensure a relaxing stay. When the big day is over, you can upgrade to the Honeymoon Oceanfront Suite designed specifically for newlywed couples.
Have young kids on your guest list? The Connecting Luxury Ocean View Suite featured two oversized rooms with a connecting door in the middle, perfect for accommodating families with multiple children. 
Gourmet-Inclusive® Dining 
No matter your mood or craving, there's onsite cuisine to pleasure your palate. On days where you have a taste for international dishes, look no further than the Mexican, Caribbean or Italian a la carte restaurants. This resort is also home to Le Chique, voted number one best restaurant in Mexico, and a can't-miss for wedding couples hoping to indulge during their stay. 
Group dinners can be accommodated so all guests can enjoy a night out together, or on low-key nights, 24-hour room service is available in all guest rooms. 
Mexico Wedding Group Activities 
Spas, beach sports, catamaran cruises, and more! The number of adventures you and your guests can have during your beach wedding weekend are endless at Azul Beach Riviera Cancun. All ages and venture levels will find something fun to enjoy. 
Have a competitive bunch? The beach volleyball court is where bridesmaids vs. groomsmen can duke it out! History buffs will enjoy a day out exploring ancient Mayan Ruins, and adrenaline junkies can soar through the jungle on a thrilling zipline or plunge into an authentic Mexican cenote (a crystal-clear sinkhole). 
Wedding couples can choose to plan a unique welcome party or farewell brunch for all guests by booking an exclusive catamaran cruise fully equipped with sunset cocktails or a snorkeling pit-stop. 
Destination Weddings at Azul Beach Resort Riviera Cancun
Planning the Big Day
All-inclusive destination weddings at Azul Beach are beautifully crafted and encompass a Gourmet-Inclusive experience where no detail is left unturned. Brides and grooms will work with a Signature Wedding Designer™ to help choose the perfect decor for a stunning ceremony and reception, while a Personal Wedding Attendant will cater to the couple as the big day approaches. Best of all, guests will feel the warmth every step of the way with the dedicated assistance of a Wedding Guest Concierge. 
Destination weddings at Azul Beach Resort Riviera Cancun cater to all styles, budgets and religions, including Catholic and South Asian traditions. 
All-Inclusive Wedding Packages
Azul Beach Resort Riviera Cancun offers various all-inclusive wedding packages to cater to your specific needs. The Always & Forever Wedding Package includes more than just the basics, from the romantic ceremony location and decor, to a semi-private dinner reservation and complimentary honeymoon package to keep the celebration going beyond your vows. 
All couples have the option to upgrade their base package decor to a Memorable Moments Signature Wedding Collection™. With more than enough themes to choose from, such as Vintage Elegance, Coastal Bliss, Pure Glamour and more, every couple is sure to find the perfect match to represent their love story. Custom decor can also be coordinated with the help of the event staff's expert insight. 
Finally, be sure to ask about the new Shape of Love wedding package by Le Chique, which allows couples to plan a 3-day event like no other, while savoring one-of-a-kind creations by renowned Chef Gomez. 
Stunning Ceremony Venues 
As the blessed couple, you decide on the scenery that fulfills your wedding vision, including overlooking gorgeous, blue-green Caribbean waters from the rooftop terrace or a closer experience sinking your feet into the pristine sand on the beach. 
Most destination wedding couples opt to host a symbolic ceremony and legalize their marriage once back home. Symbolic ceremonies in Mexico are typically performed by a non-denominational minister, or a religious officiant for an added cost. In order to get married in Mexico via a symbolic ceremony, the wedding couple must arrive at their hotel one full business day prior to the ceremony. 
Ready to Plan your Mexico Destination Wedding?
The great thing about all inclusive weddings is that you have everything you could ever want or need at your fingertips. And having your Mexico destination wedding at Azul Beach Resort Riviera Cancun is sure to exceed every expectation. Our Certified Destination Wedding Specialists are here to assist from start to finish, so you don't have to worry about a thing!