Couple:  Rosalyn & Stephen
Resort Name & Destination: IBEROSTAR Rose Hall Suites in Montego Bay, Jamaica
Number of Guests: 48
Photography by: Julian Moniz & Kelly Moniz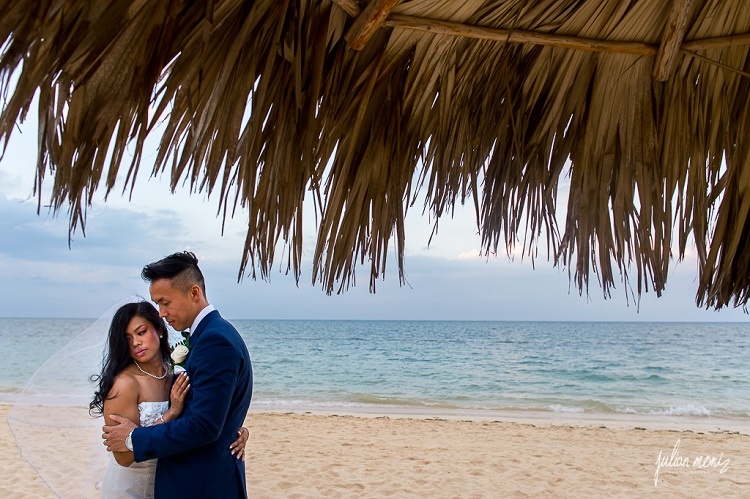 The (brief) story of how you met/fell in love:
Stephen and I met in high school. We started dating during our last year of high school and have been together ever since!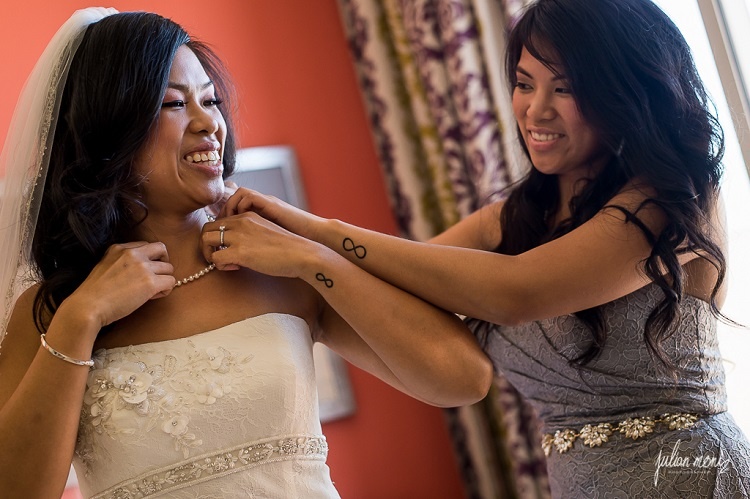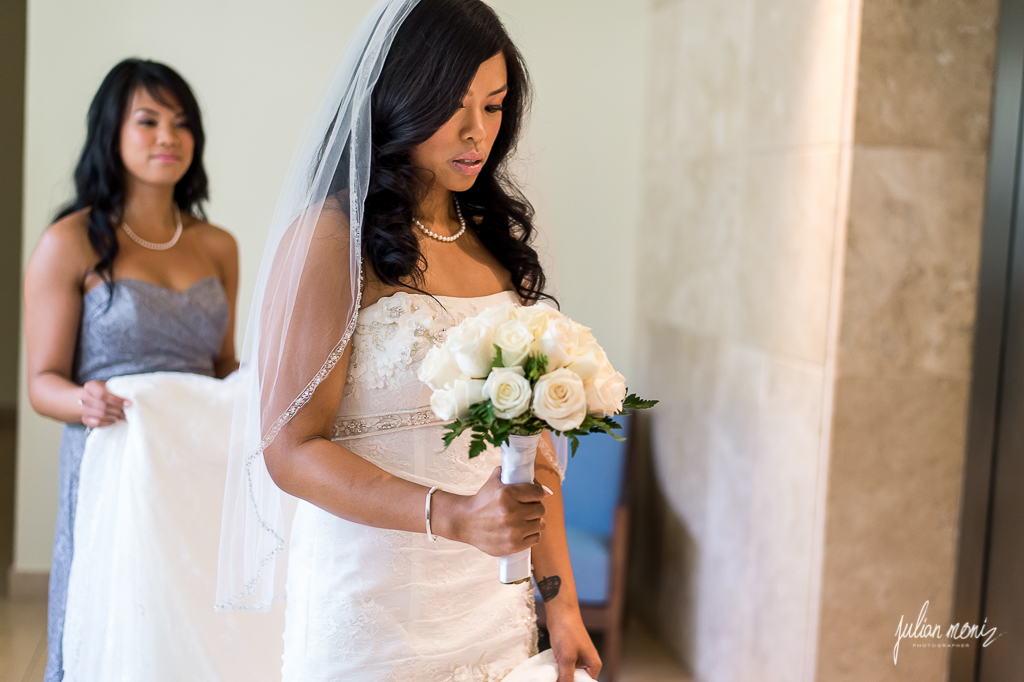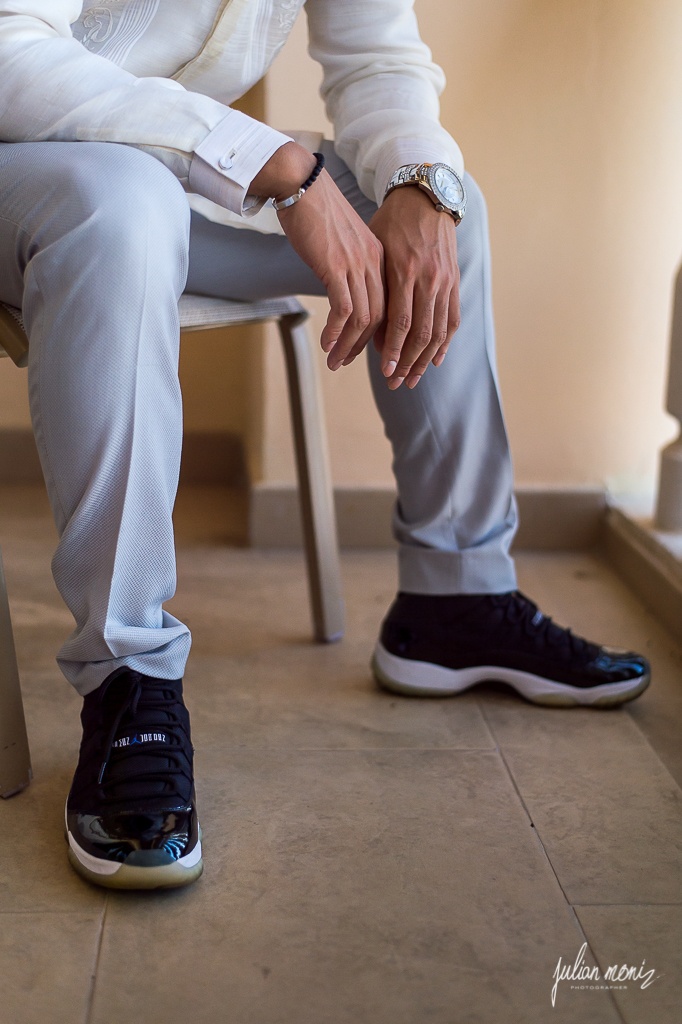 The destination wedding decision: something you've always wanted or came to love?
I started seriously thinking about a destination wedding after one or two all-inclusive vacations. We both love the beach, and I thought it would be an amazing opportunity to not just tie the knot, but take a vacation with our friends and family, too! Plus, everyone always says the wedding day goes so fast, and we got to enjoy a 'wedding week.' Especially considering we had been together for so long, I felt our love and wedding celebration deserved more than just a few hours on a Saturday night.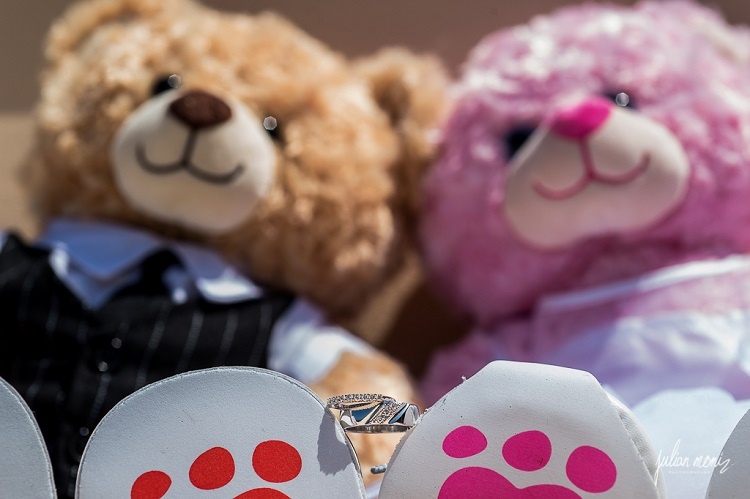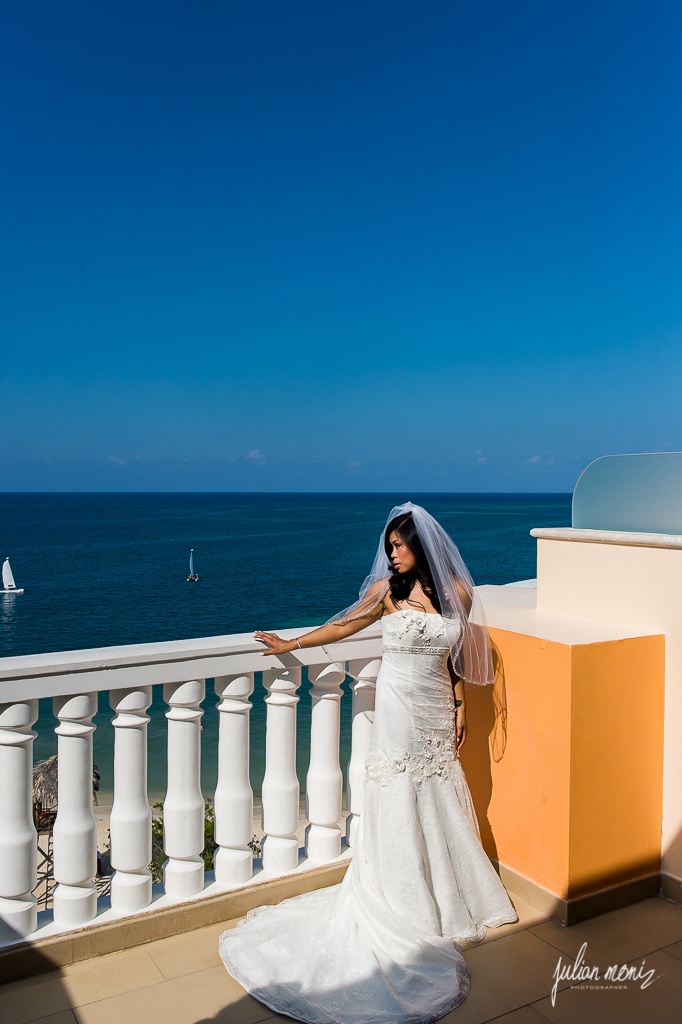 What made you choose your resort/destination?
Stephen and I stayed at an IBEROSTAR in the Dominican Republic in the past and loved it. On our 11th anniversary, Stephen took me on a trip to Montego Bay, Jamaica and we stayed at the IBEROSTAR Grand Hotel Rose Hall. It was breathtaking –  but the best part? Stephen proposed to me on the balcony. After a week on the amazing beach enjoying the beautiful sights, weather and mouth-watering food we both decided then we would come back and get married there.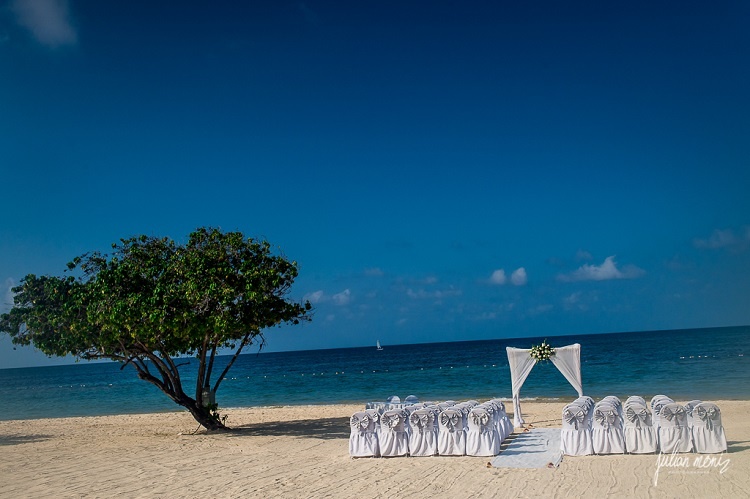 How did you personalize your wedding and ceremony?
One of the most amazing experiences in working with the wedding coordinators, is they let you have almost complete free reign. I am a huge fan of Beyonce and got to walk down the aisle to the instrumentals of "Flaws and All" by Queen Bey, our outro song after our vows was "Crazy in Love" by Beyonce and Jay-Z. Sadly, my husband nearly upstaged me. He walked down the aisle with his best man (already an unusual request the planner said, for the groom),  with a bouquet and then did a dance to "This is Why I'm Hot" by MIMS. I'd known he was planning something but had no idea what until I watched with my dad from far away. This took everyone by surprise, and it was all his idea with help from some friends!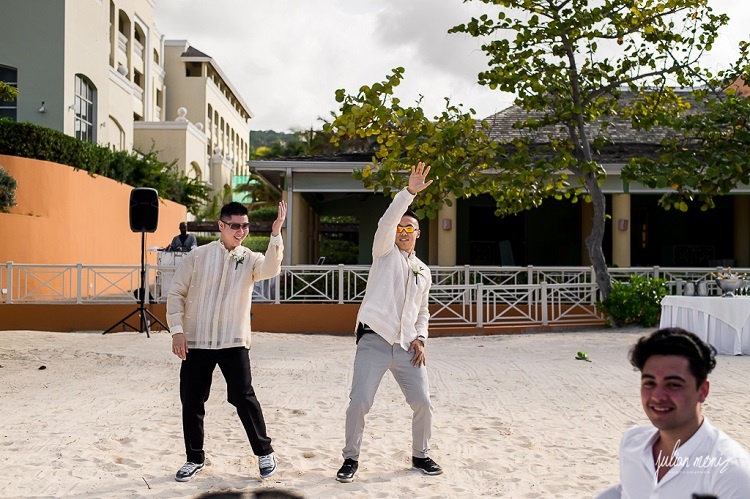 We also paid tribute to our love of sneakers, we, along with our small wedding party, all wore the same Air Jordan 11's in different colors.  As fans of Batman, our cake topper was a bride and grrom with Batmasks on, made by a friend of the family, and our guest book was actually a poster featuring a photo of our Mr. & Mrs. Batman cake toppers, the sneakers we wore – and as a tribute to my work in media, a newspaper announcing our nuptials and empty "books" or spaces where people left their messages.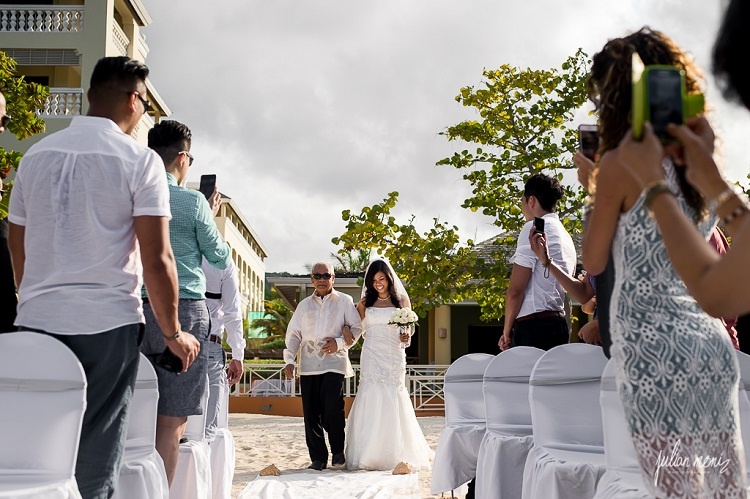 Finally, on each table, there was a photo of us at one point or another in our relationship with questions about us; whichever table got the answers correct won gift cards. We're proud to say every table scored perfectly so we had to choose out of a hat!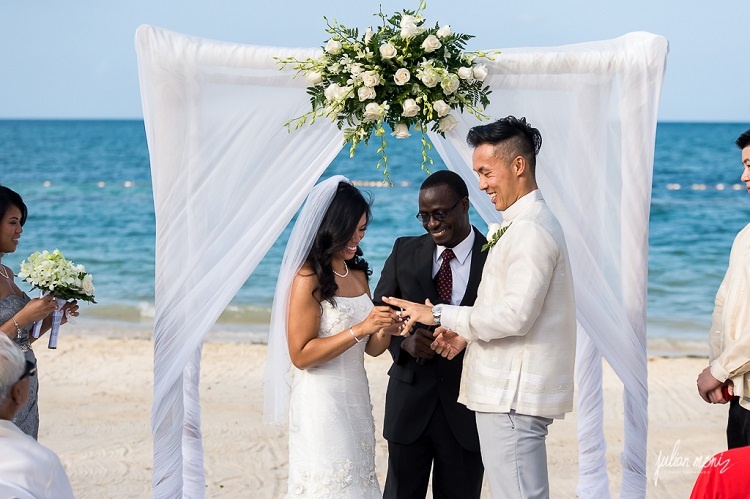 The funniest or most unusual moment was when….
It was so hot the day and night of our wedding, the wedding planners kept telling me it would likely rain because of the heat. Luckily, it didn't. Needless to say, while most people went up to their rooms to change for the beach party, some guys simply went shirtless – there also may have been a striptease, PG rated!!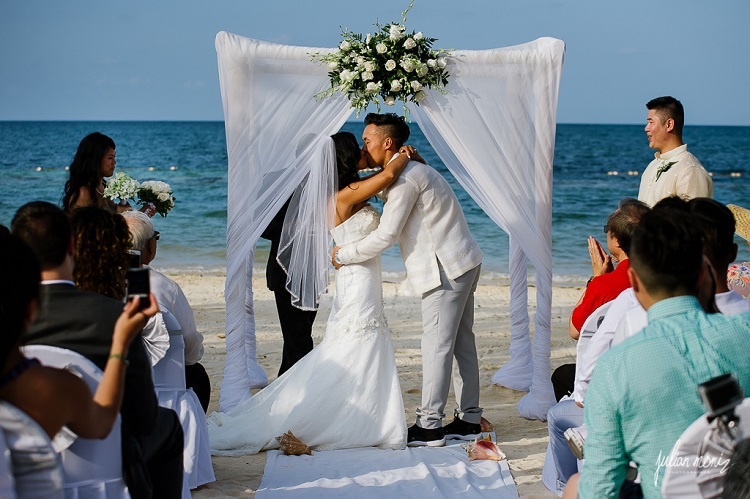 The most memorable moment was when….
For me personally, it was walking down the aisle with my dad. I couldn't believe that we were on the same beach we were on two years prior when Stephen proposed. All that planning and waiting and the moment was there, I was facing my closest family and friends and walking towards my husband on the most beautiful, sunny day.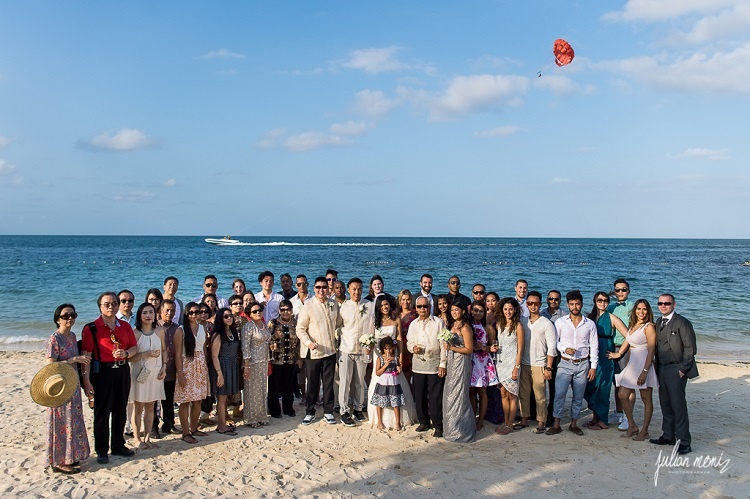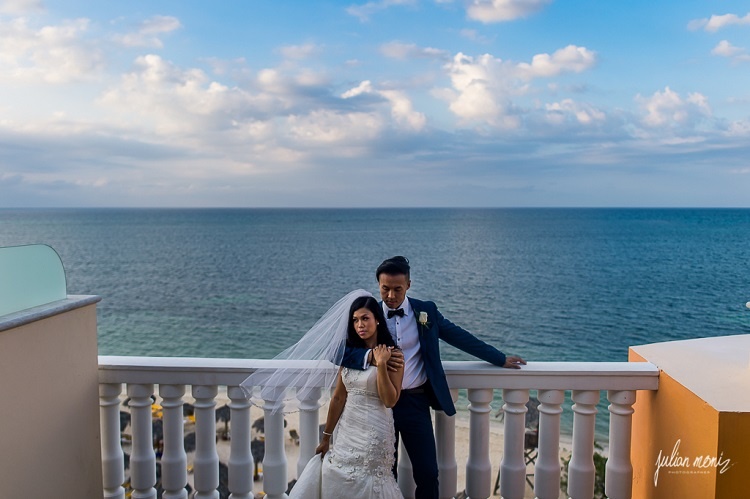 Three words that sum up your destination wedding experience are:
Dream come true!
Besides the wedding itself, what was your favorite part of your trip? Did you do any activities with your guests?  
Some people went on excursions, Stephen and I went with a group to Dunns River Falls which was nice. The best part of it all was the group would all come together at night and party the night away! When it was time to go home, it was so nice to hear that everyone enjoyed the trip and their time in Jamaica.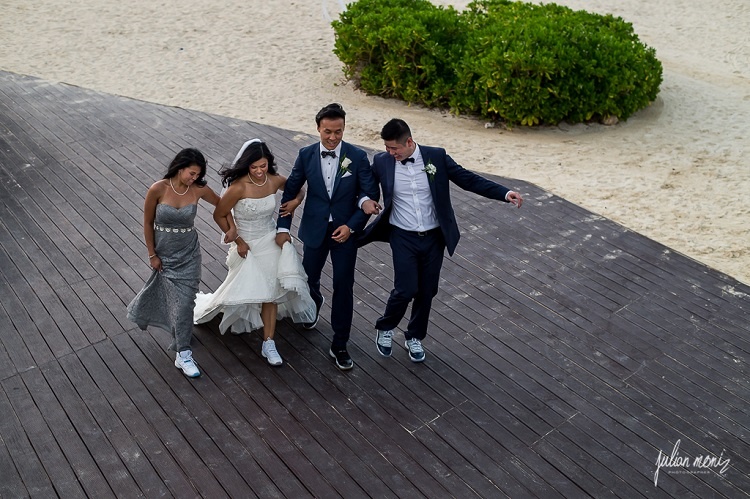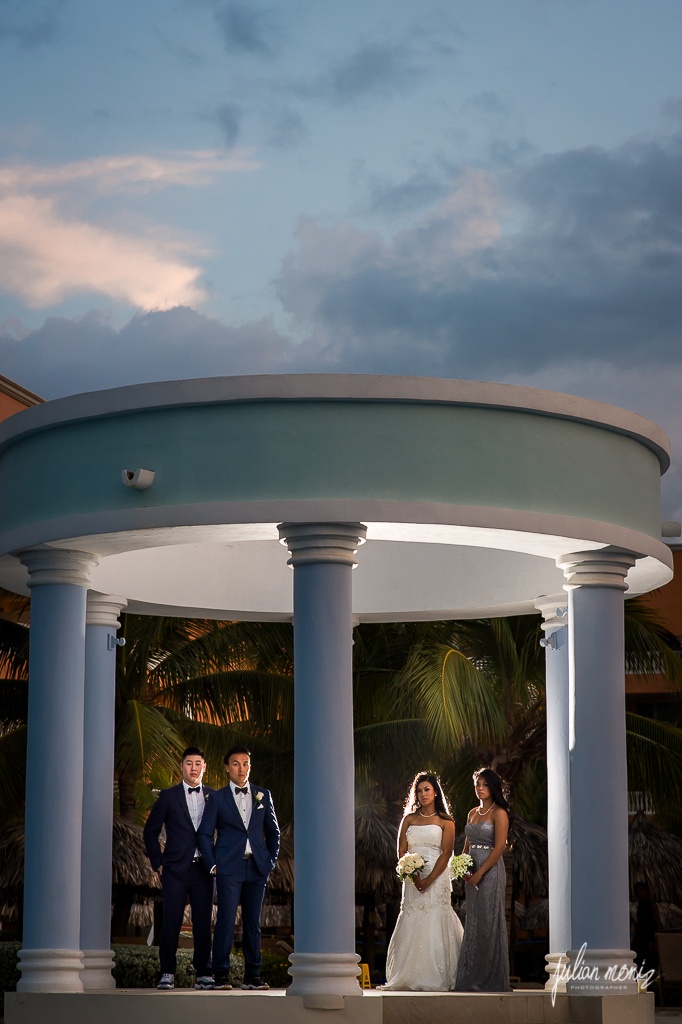 If you could travel anywhere for your one-year anniversary, it would be:
Anywhere with a good beach and even better food!
Your biggest piece of advice to couples planning a destination wedding would be:
Don't be afraid to ask for what you want – no matter how wild you think it sounds. You only get to do this once, it might as well be everything you dreamed of!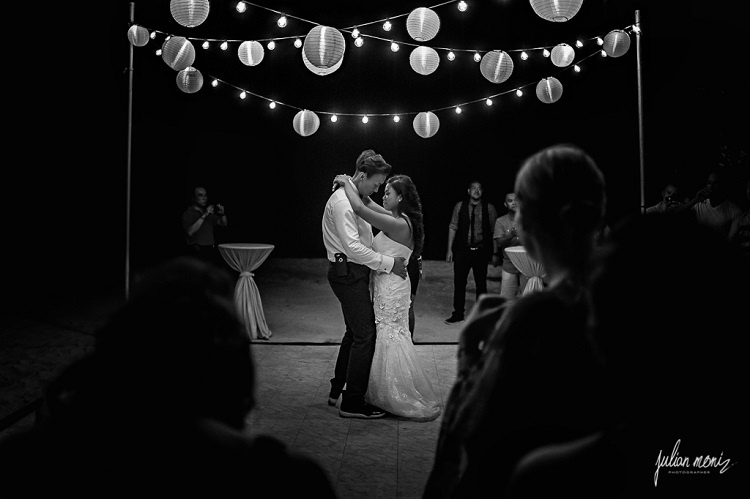 Check out more of Rosalyn & Stephen's fun-filled reception here: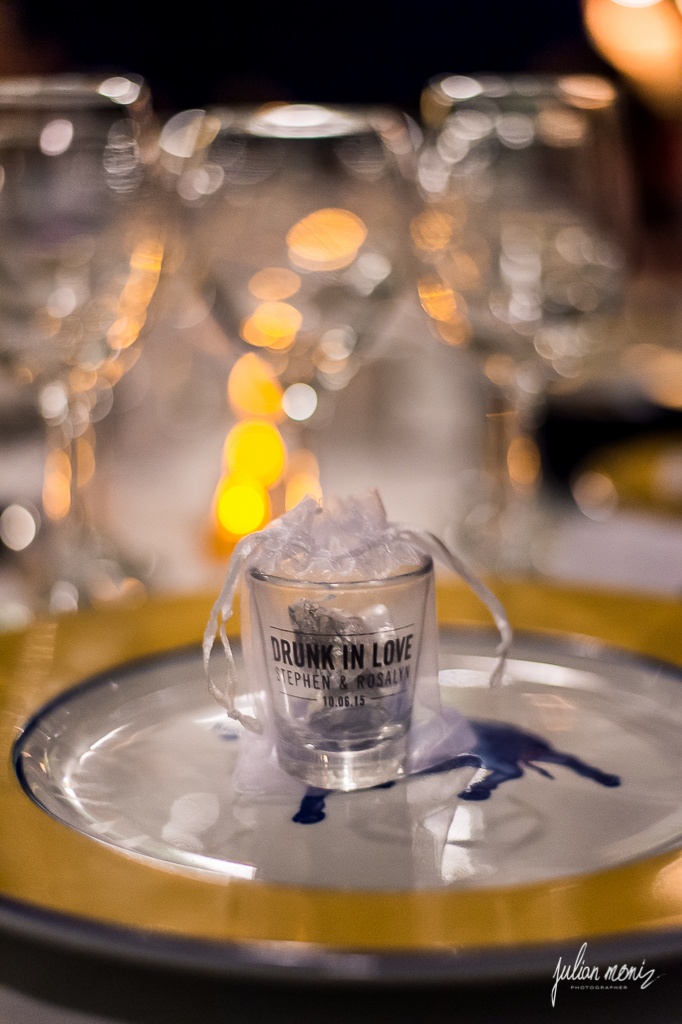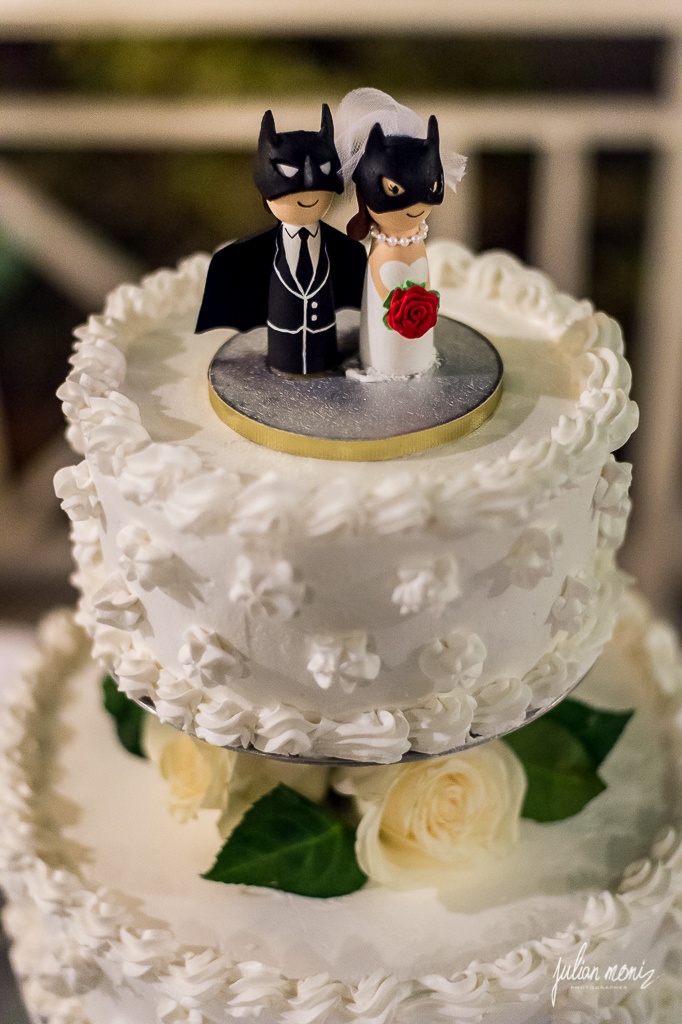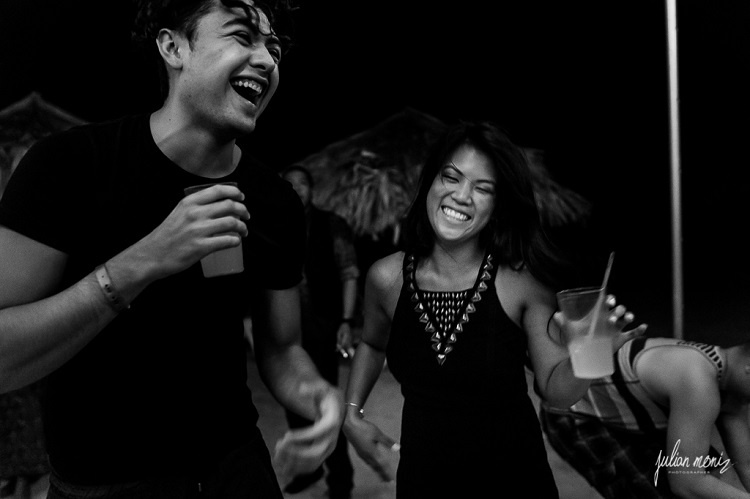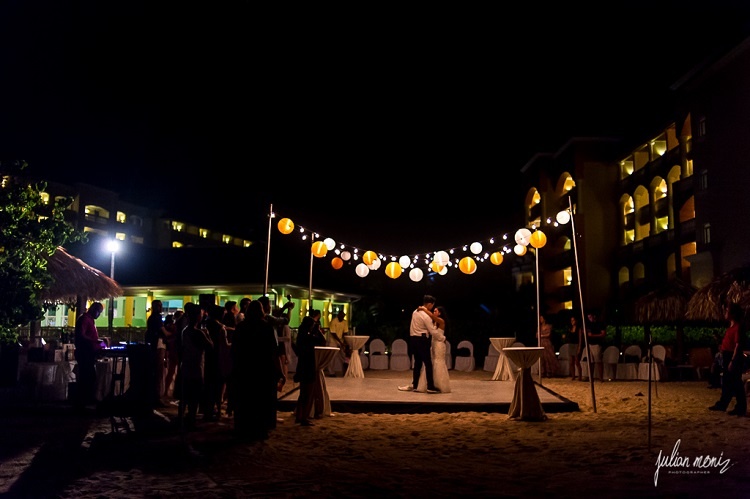 For more real wedding inspiration, check out our Pinterest!
Ready to start planning your destination wedding? Click here for a FREE quote!