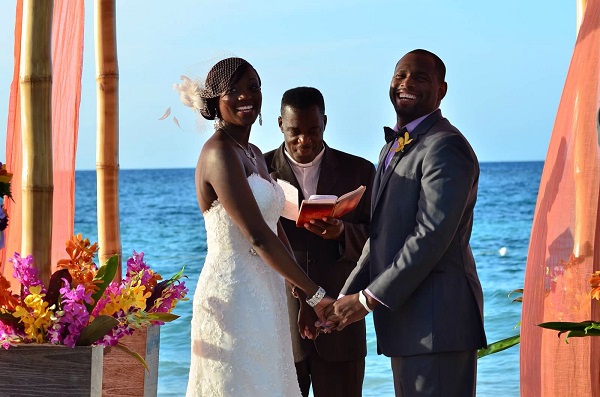 Couple:  Jean & Ano
Wedding Date: 5/25/14
Location/Resort: Beaches Ocho Rios in Ocho Rios, Jamaica
Number of Guests: 116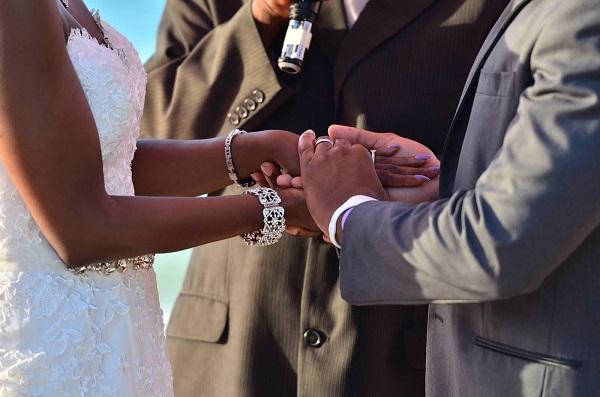 The (brief) story of how you met/fell in love:
We met, or as I like to say that we were forced together at Aunt Lena's Labor Day BBQ in September 2011 by cupid matchmakers Judith (sister), Maxine (aunt) and Tanya (cousin). Ano came to the BBQ with his friend and after inquiring and finding out that he was single, the matchmakers insisted that Ano take my number. He hasn't stop calling me since.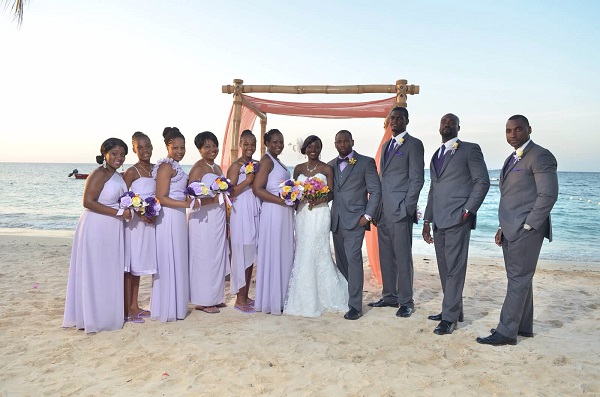 The destination wedding decision: something you've always wanted or came to love?
Of course every girl has a vision of her wedding day. For the last 10 years, mine has always included a beach scene with white sand, bare feet, tropical flowers and beautiful summer weather. My wedding day was just as I had envisioned it for all these years.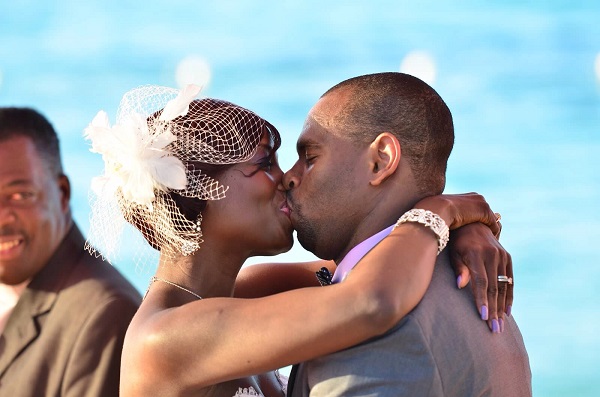 What made you choose Ocho Rios?
I am from Jamaica and Ano is from Guyana, South America.  We decided that Jamaica would be the perfect tropical location, and that it would be central for our family and friends traveling from Jamaica,the United States, Canada, England, Guyana & Trinidad.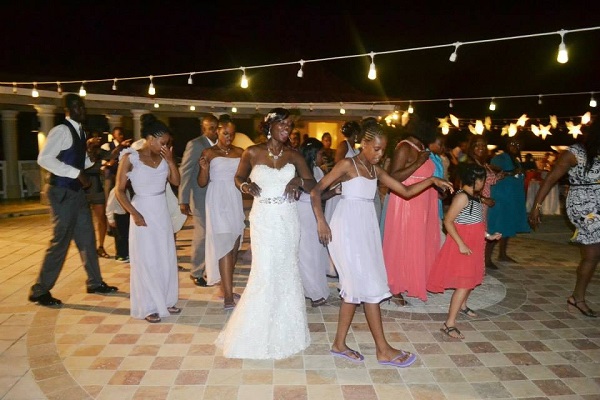 How did you personalize your wedding and ceremony?
I chose the tropical paradise theme, which included tropical flowers and bright colors in the decoration, the cake, and more. Purple is my happy color and so I wanted infused throughout. The bridesmaids wore purple dresses, I had purple for my nail color and eye make-up. In addition, I wanted a fun and fabulous ambiance, which meant no long drawn out speeches and enough time to mix and mingle with all my guests who travelled so far to celebrate with us. We had a saxophonist for the ceremony, a mento band playing local folk/reggae songs and a surprise fire dancer performance during the reception.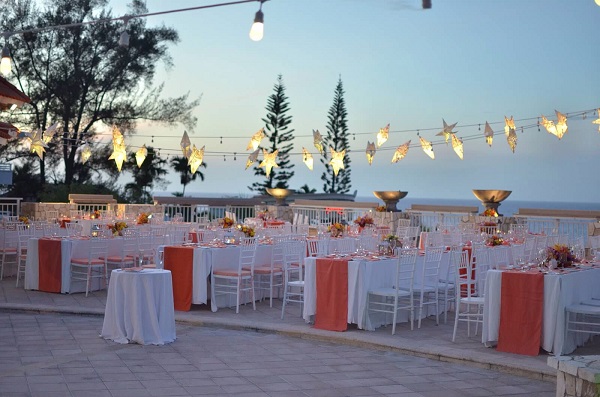 The most unusual moment was when….
The fire dancer came out. I wanted something different to entertain my guests, and the fire dancer and his limbo fire eating act kept us completely in awe.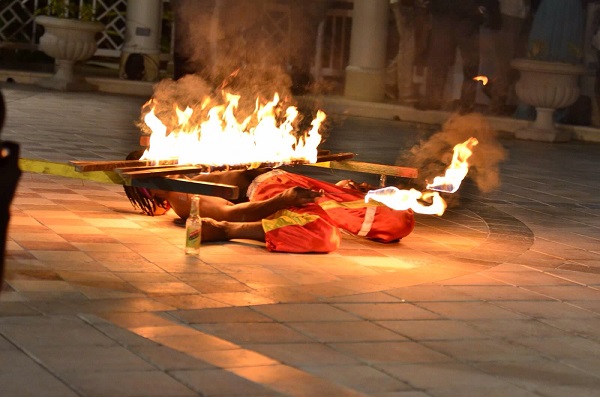 Three words that sum up your destination wedding experience are:
Fun, fabulous and tropical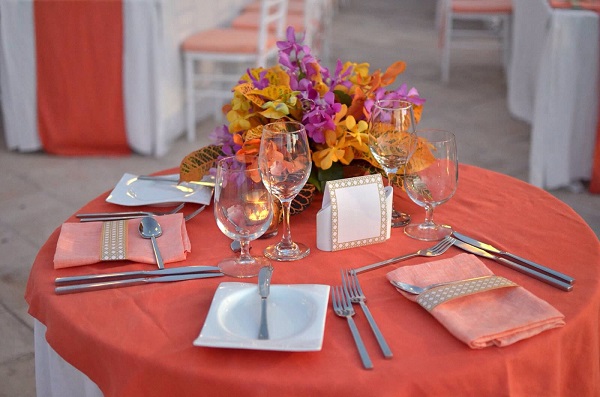 If you could travel anywhere for your one-year anniversary, it would be:
St. Lucia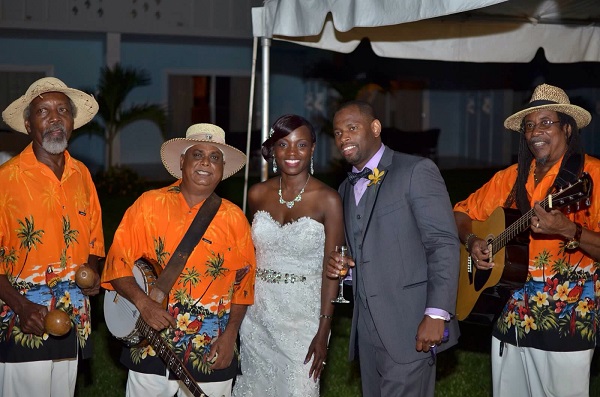 Your biggest piece of advice to couples planning a destination wedding would be:
Start planning early and give guests at least a year to plan their vacation around your wedding.  Also, encourage guests to leave their deposit early so that they can lock in the best rates and pay for the trip in easy installments. This allows them to have adequate time, a workable budget, and it prevents guests from feeling overwhelmed.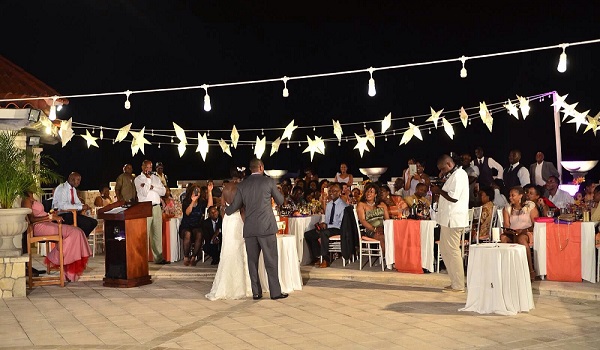 Thank you so much Jean and Ano for sharing your destination wedding story with us! 🙂