Couple: Elaine & Tyler             
Wedding Date: October 11, 2014      
Resort Name & Destination:  IBEROSTAR Cancun in Cancun, Mexico
Photography by: M&J Photography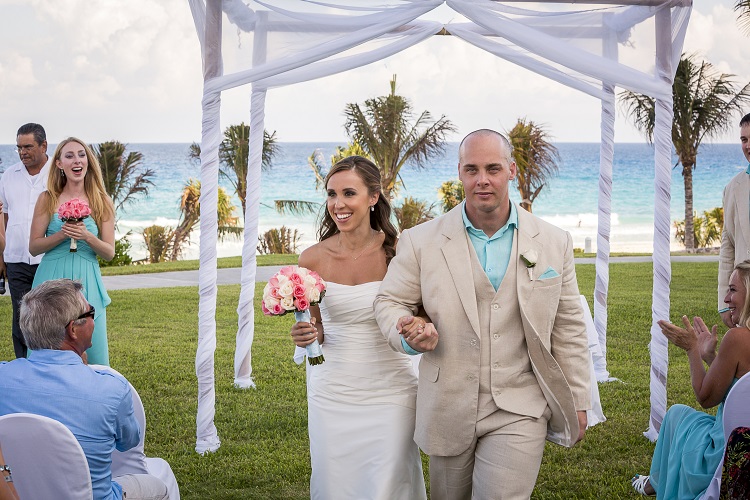 The (brief) story of how you met/fell in love: 
We are one of those Match.com couples.  We met online while Tyler was in Virginia for military training.  We emailed and texted for weeks until he returned to Massachusetts.  Even before we met, our texts and emails were something very special to both of us.  That connection continued once we met for our first date.  Tyler wanted to plan a big first date to the North End, but I insisted on a quick pre-date at the mall near his house.  What I was most taken with when I met Tyler was how I could tell him anything, even some pretty embarrassing stories from childhood.  He would tell you my smile was the thing that got him, he said he could see it from the opposite end of the mall as he was walking to meet me.  Tyler to this day shares how I was the only girl that made him take me on a pre-date before the actual date, but it was something that stuck with him!  That first real date to the North End was where we had our first kiss, and 9 months later in that very same spot, Tyler proposed.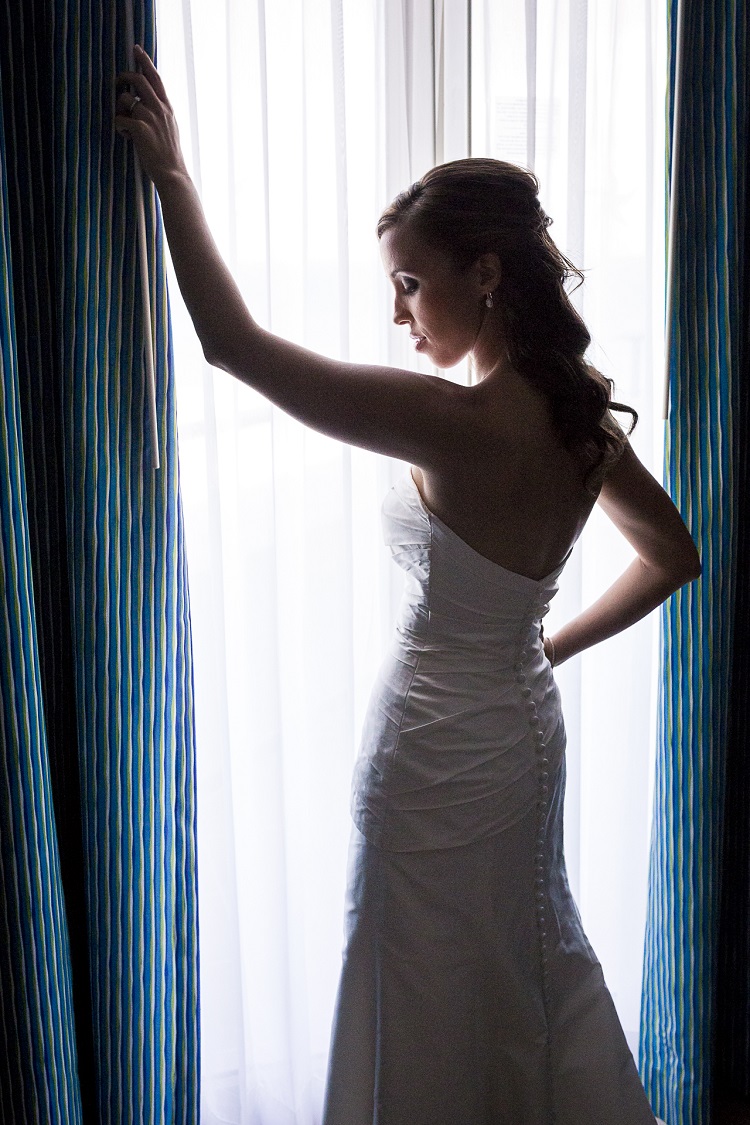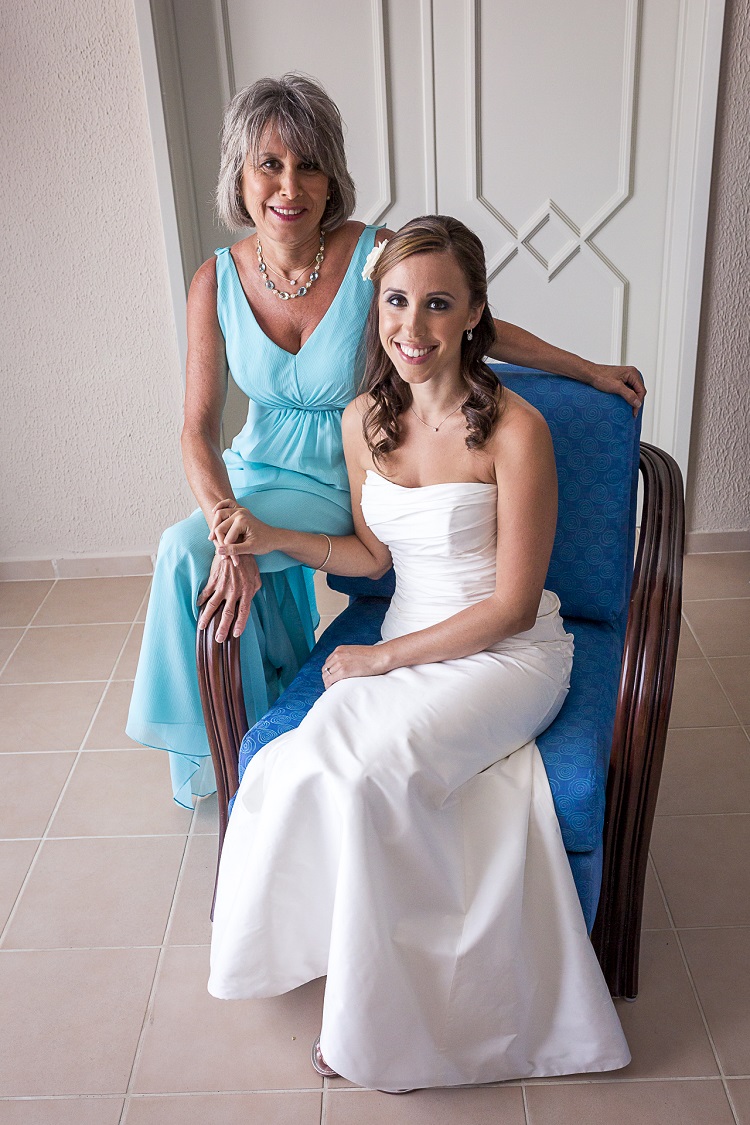 The destination wedding decision: something you've always wanted or came to love?
It was something Tyler had always thought about doing, it suits his personality; laid back, relaxed, all about having a good time. For me, Cancun was a travel destination for me and my family growing up, so I feel connected to the area and have always dreamed about sharing the experience with friends and family.  We have family in different parts of the country, so the location that seemed right for us and for everyone else if they had to travel, was Cancun!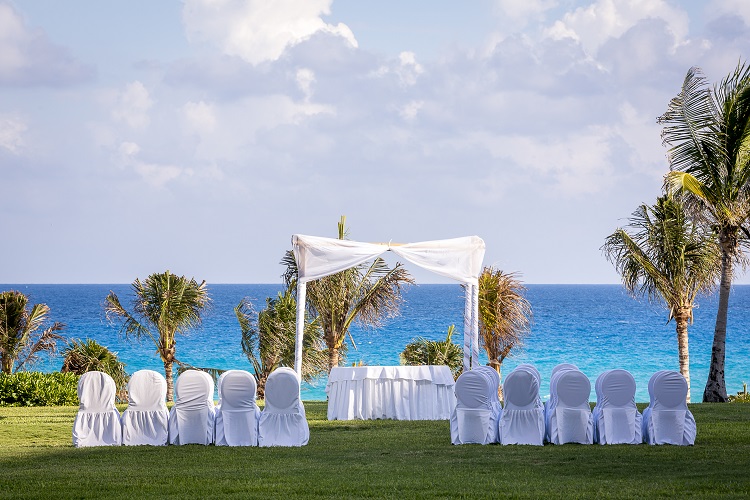 What made you choose your resort/destination? 
We took our first Vacation together at the IBEROSTAR in Cancun.  We both have been to Cancun before, and during our vacation we both talked about how great it would be to have our wedding at the resort.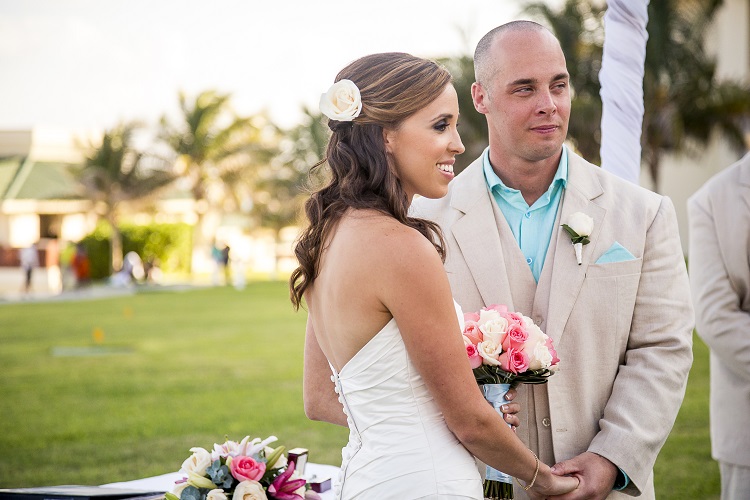 How did you personalize your wedding and ceremony?
Our wedding was personalized by our love, and the people that came to celebrate with us.  The setting itself was absolutely stunning, and to have your wedding ceremony in paradise with your family and friends who are also enjoying a vacation for themselves was the perfect touch for the beginning of our marriage.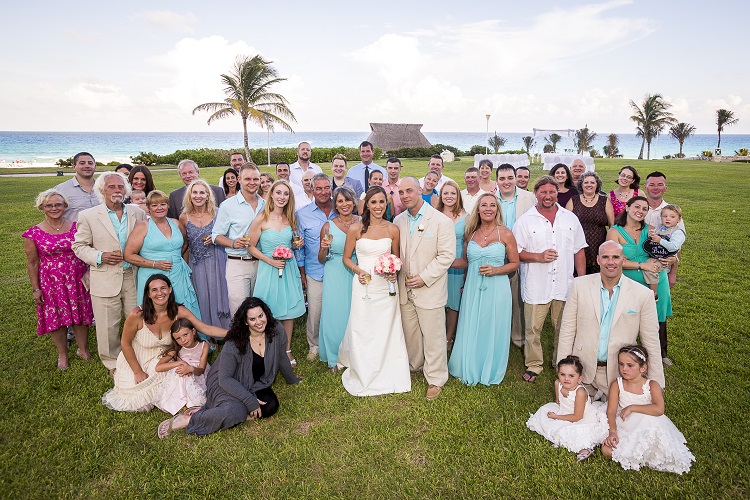 The funniest or most unusual moment was when….
Our little ring bearer Michael (he was two) developed a crush on one of the wedding planners at the resort.  At the party he kept trying to bring her on the dance floor to dance, and he made up the funniest little dance move that had us all laughing.  Each time she left the dancefloor he started to cry, it was so adorable how much he wanted to spend the evening with her!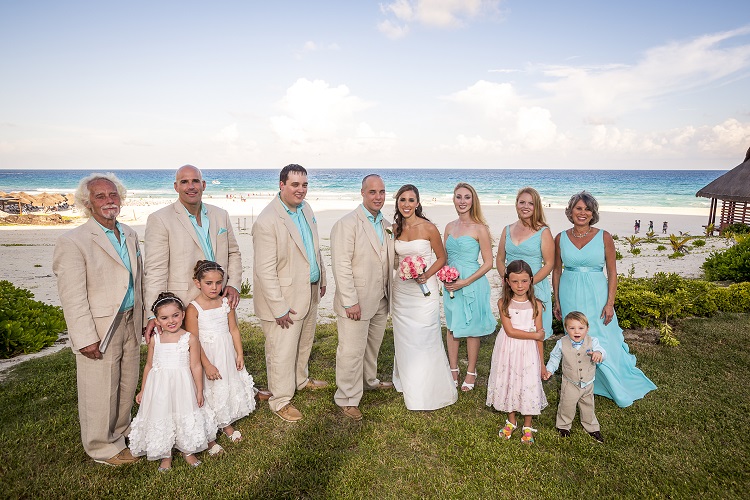 The most memorable moment was when….
Tyler and I wrote letters to each other to read on our wedding day.  After I read the first one, his brother came back with a second letter, with Tyler telling me that he had purchased the earrings I borrowed from our jeweler as my wedding present!  I was shocked, and as usual completely spoiled by my new husband.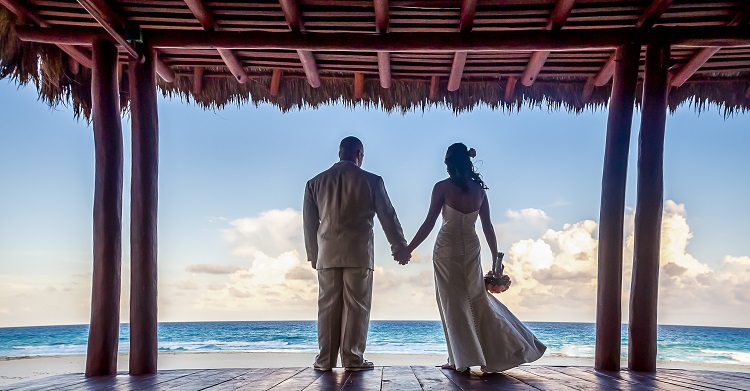 Three words that sum up your destination wedding experience are:
Romantic, relaxing, and fun!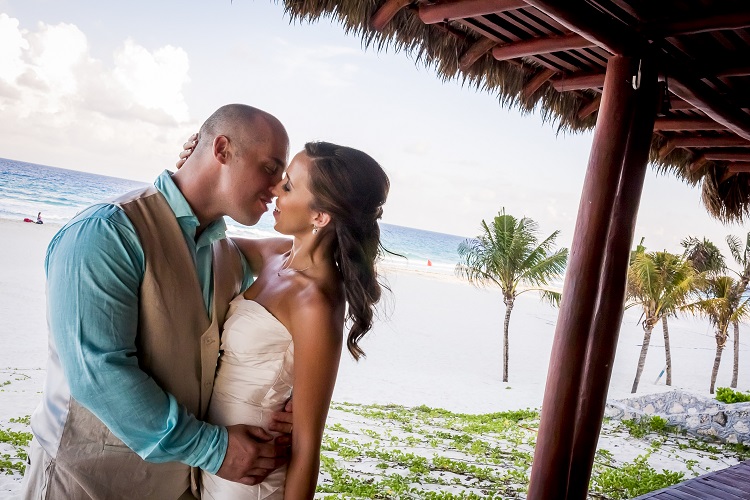 Besides the wedding itself, what was your favorite part of your trip? Did you do any activities with your guests?
Our two favorite parts were our rehearsal dinner and our one-day excursion as husband and wife.  Our rehearsal dinner was at Captain's Cove, a restaurant on the lagoon side that Tyler and I went to on vacation, and I went to each year I traveled to Cancun with my family.  We had a great time, a delicious dinner, and got to watch a crocodile swim underneath us in the lagoon!  Our one-day excursion was to Isla Mujeres, where Tyler and I rented a golf cart to travel the 7-mile island.   We had beautiful views of the ocean along the entire ride, and ended the trip with some fish tacos and margaritas on the beach.  The next time we go back to Cancun we would have to visit the island again!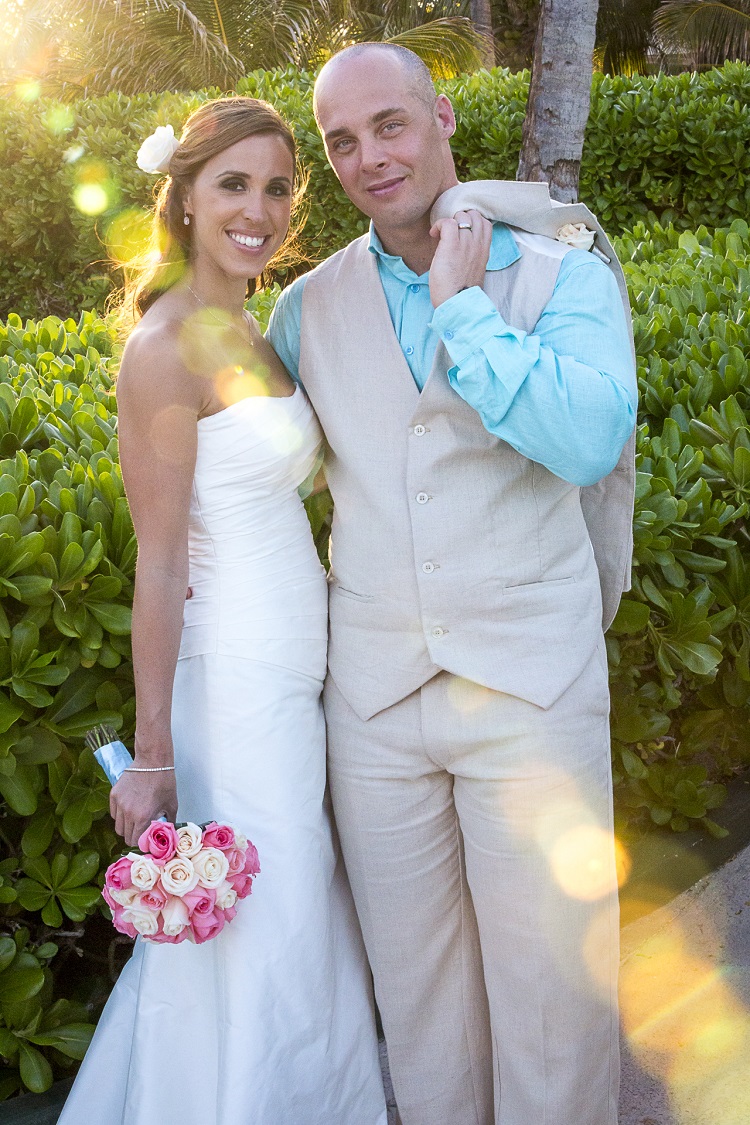 If you could travel anywhere for your one-year anniversary, it would be:
We are in the process of planning a trip for our one-year anniversary. If time and money were no concern we both agree that we would chose Hawaii!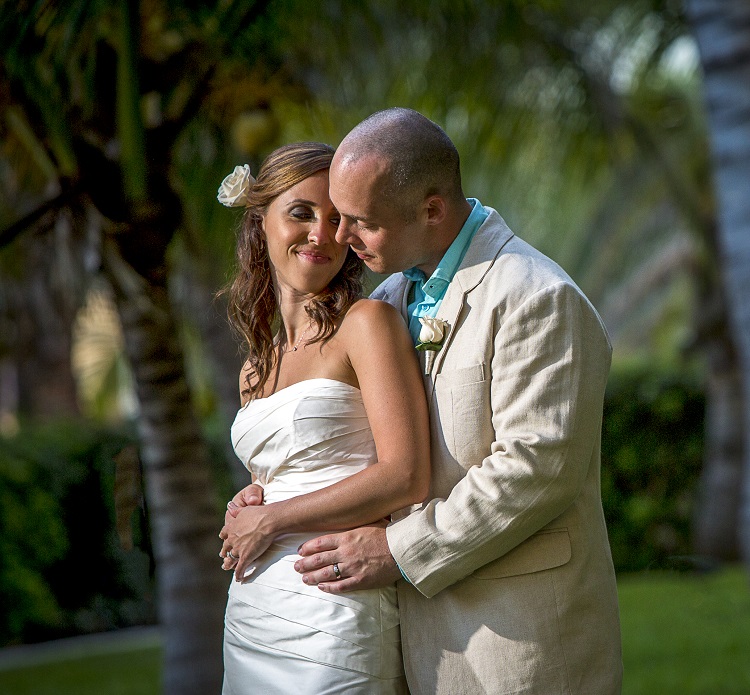 Your biggest piece of advice to couples planning a destination wedding would be:
Don't sweat the small stuff.  Know what is important to you, and be flexible with the rest.  The reason why you are planning a destination wedding is so you can have fun with your friends and family, so that's how you should be spending your time.  Let the wedding planners at the hotel take care of the rest!