Couple: Dayna & CJ
Wedding Date: May 24, 2015
Resort Name & Destination: Moon Palace Golf and Spa Resort – Cancun, Mexico
Number of Guests: 48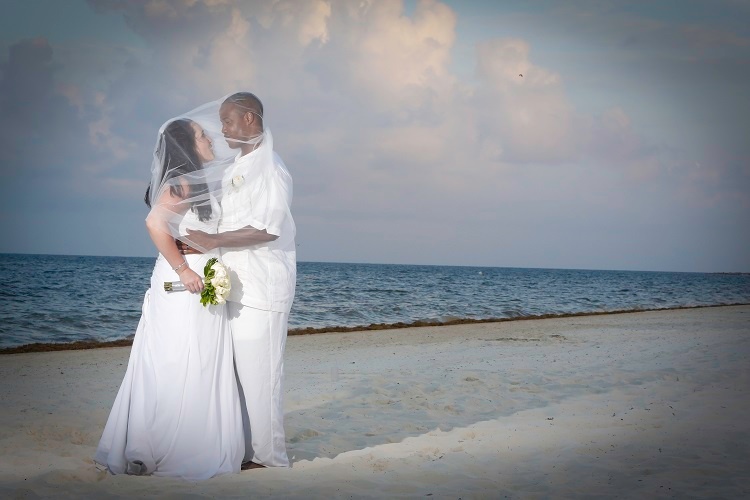 The (brief) story of how you met/fell in love:
CJ and I had both been out of serious relationships for about a year when we met. I had actually seen him tagged in a few our mutual friends' pictures on facebook and I thought he was so cute and had the kindest smile. I remember thinking "I think I am ready to meet a good guy like that!" I never asked our mutual friend who he was or anything, but a few weeks later we both ended up at a birthday party together. I remembered him from the pictures, so I probably gravitated towards talking to him more, but we ended up talking a lot that night. He thought I was there on a date with another guy and I thought he was there with another girl, but we found out later that we were both wrong. We ended up messaging each other the following day, getting numbers, and after spending a lot of time together that first week, we fell in love very quickly. I told friends that I was going to marry him before our first date and apparently he was thinking the same thing. He proposed on Christmas Day in front of my family after dating for nine months. We were engaged over a year and half before getting married.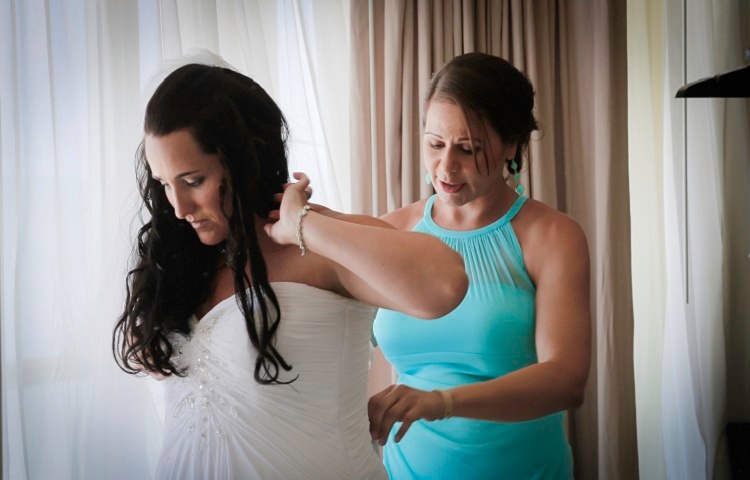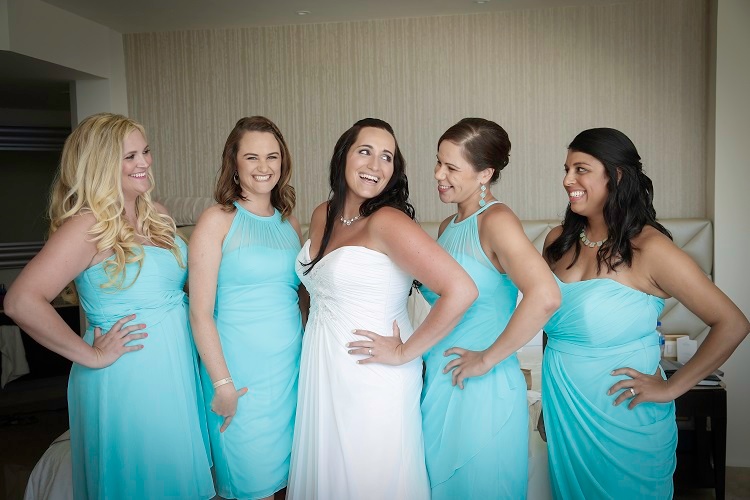 The destination wedding decision: something you've always wanted or came to love?
Growing up I never really was that type of girl who dreamt of her wedding. I dreamt of having a family, being married, having kids, etc, but the actual day of the wedding never crossed my mind. As I got older all that really mattered to me was that it was a huge party with my closest friends and family there. I LOVE to travel and I started thinking that it would be perfect if we took a trip and at some point during the trip we had a wedding….which is exactly what I got and I am so glad that we did it this way!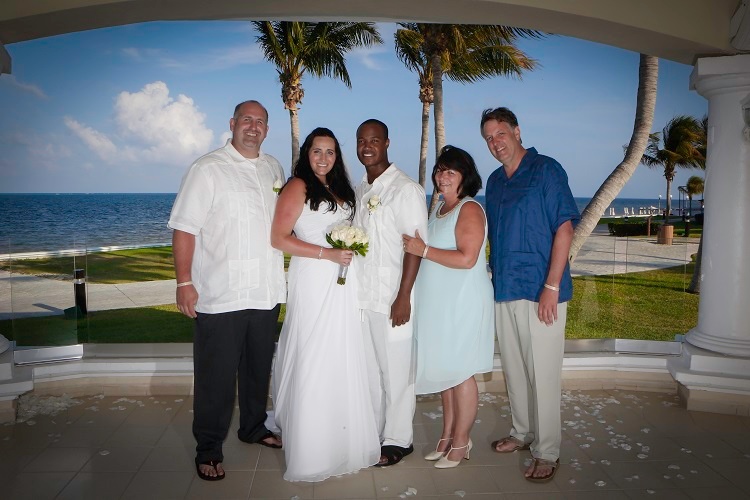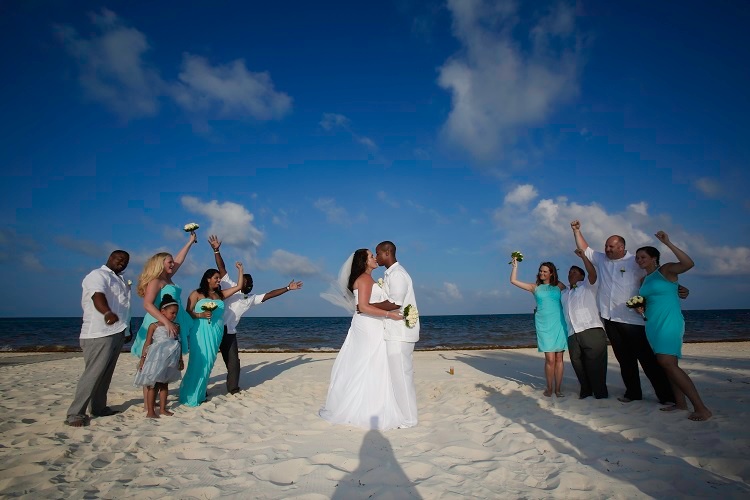 What made you choose your resort/destination?
We chose Cancun because I am from Oregon and I still have a lot of family on the west coast, my husband is originally from Louisiana and we live in Texas. So no matter where we had our wedding, guests would have to travel. Cancun is really easy to get to from Texas and Louisiana and fairly easy from the west coast. And I have spent a lot of time studying and living in Mexico, so Mexico has a little piece of my heart too. So, after consulting with Sally Martinez, my wedding Specialist from Destination Weddings, we opted for Cancun.  My husband and I spent a weekend in Cancun visiting as many resorts as possible before deciding on Moon Palace. Honestly, a lot of the resorts started looking pretty similar, but Moon Palace was our last resort to visit. Our tour guide was really informative and very sweet, the grounds were beautiful and one of my friend's dads happened to be attending a wedding at Moon Palace the same day as our tour so we decided that if he liked it (he has very good taste!) then we knew it would be our venue. He ended up loving the resort and said it was a great place for a wedding so we decided to go for it!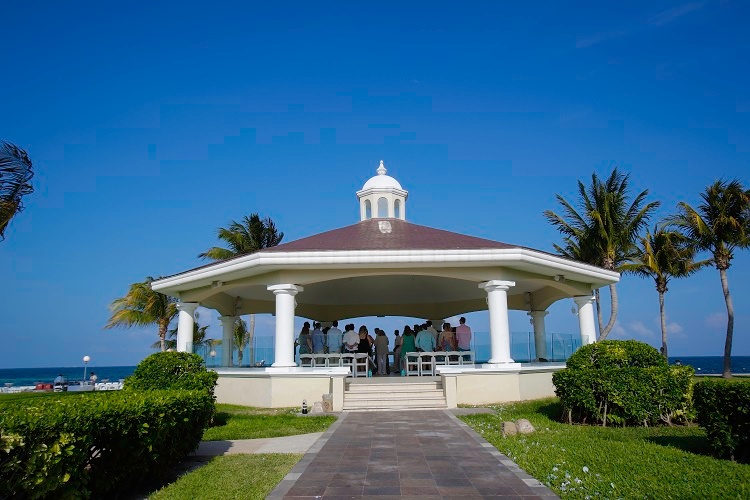 How did you personalize your wedding and ceremony?
I would say our decorations made the wedding more personalized. I ended up finding some really good deals on decorations, so I took a LOT of our own decorations and decided not to pay for the resorts table decor. It was a little bit of a pain to pack all of it, but I think it was definitely worth it in the end. We took our own linens, centerpieces (floating candles and tea light candles…it was too windy for the floating candles to stay lit, but the vases still looked pretty. We also had a lot of decorative lanterns). I also think the maracas added a personalized, fun touch to the wedding.  And my husband and I wrote our own vows.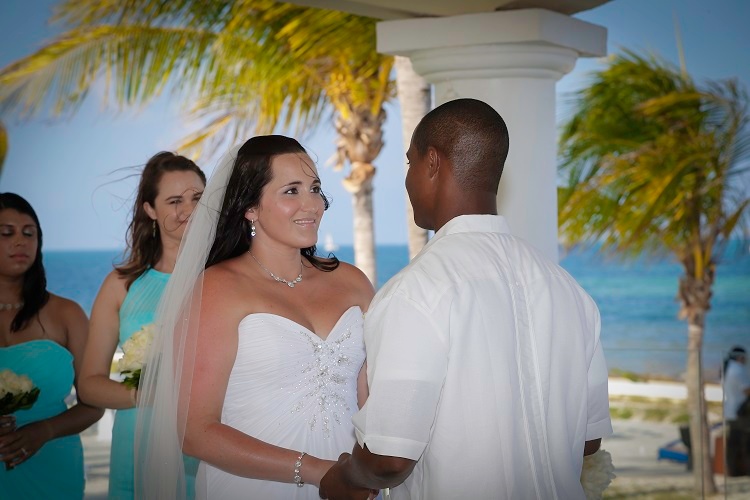 The funniest or most unusual moment was when….
The whole wedding was a blast, but a few things that stand out are our vows. My husband and I are a very perfect match and we ended up having almost the same vows – down to agreeing to cheer for the other's sports teams and him loving me through sickness and health, including through my hypochondria and me always thinking I am sick when I am not at all. Our vows were very funny and also very sincere and sweet too. A lot of our guests were cracking up and crying!
Also, my husband's family LOVES to dance and they are very good at it. So my father-in-law had a dance-off with another guest and he definitely won! Then my brother-in-law did an impromptu MC Hammer dance-off with a guest!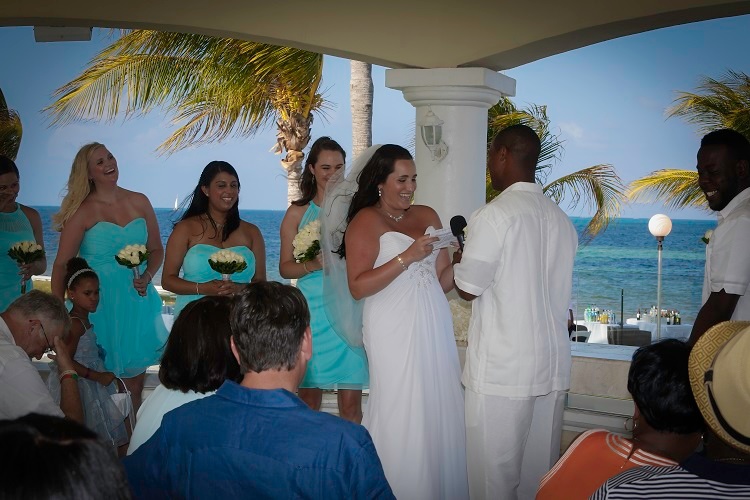 The most memorable moment was when….
I loved every part of my wedding, but initially I was really looking forward to getting through the ceremony and starting the reception/party. However, the ceremony ended up being so beautiful and special that I loved it way more than I thought I would. It was so perfect!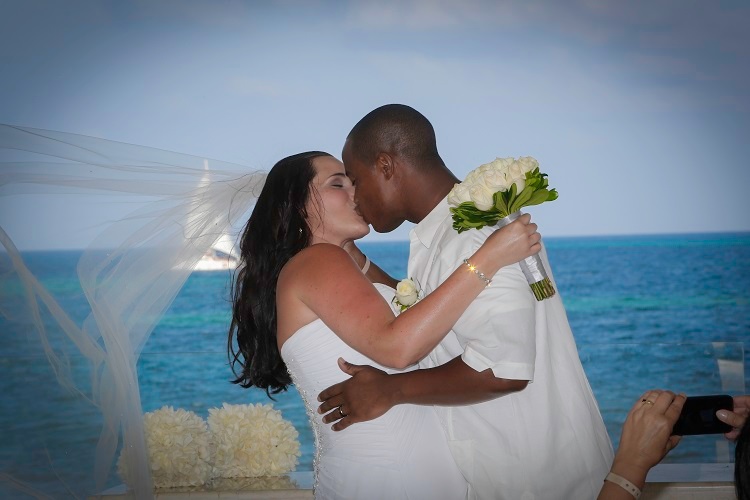 Three words that sum up your destination wedding experience are:
Amazing, Smooth, Unforgettable!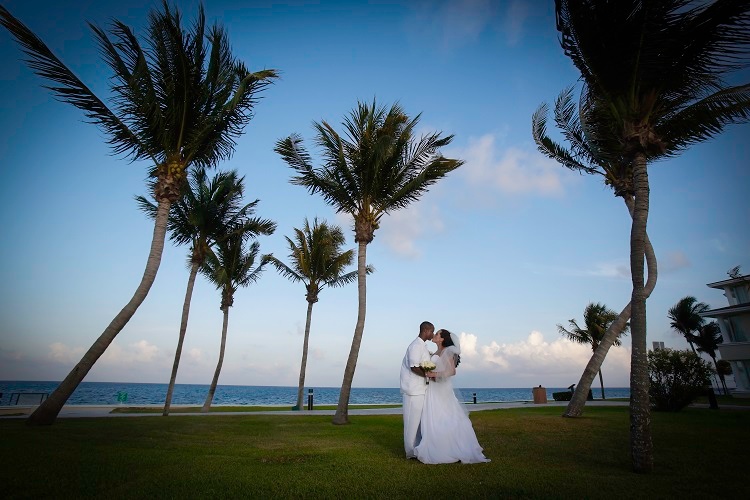 Besides the wedding itself, what was your favorite part of your trip? Did you do any activities with your guests?
We did a guy's dinner and girl's dinner one night and then about 30 of our guests went to Coco Bongo afterwards. The best way to describe Coco Bongo is Vegas Show meets Mexico night club. It's all you can drink for about 4 hours, but there are performances that go on throughout the night. In between the performances the music is playing and the whole club is dancing. I have been several times and it is always fun!
One of the promotions at Moon Palace was that they gave you resort credits for excursions and spa treatments. So a lot of guests swam with dolphins which was great! And a lot of other guests went to Isla Mujeres for the day. I highly recommend Isla Mujures! On the island we rented golf carts for the day and we drove around the island sightseeing. We went to the beach which is one of the most beautiful beaches I have ever been to!
Moon Palace is a golf and spa resort. The spa was great and everyone who golfed (which they are all very avid golfers) said the golf course was beautiful and very nice. A few of the guys also did a deep sea fishing trip  and they all caught big fish!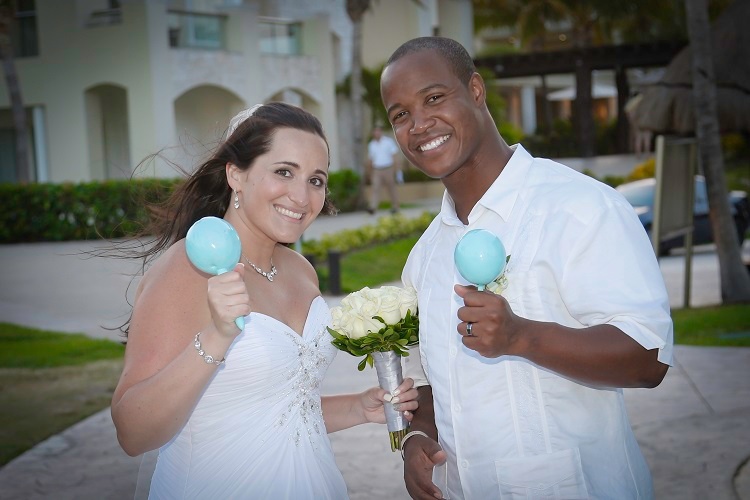 If you could travel anywhere for your one-year anniversary, it would be:
My husband and I have been talking about going to New Zealand.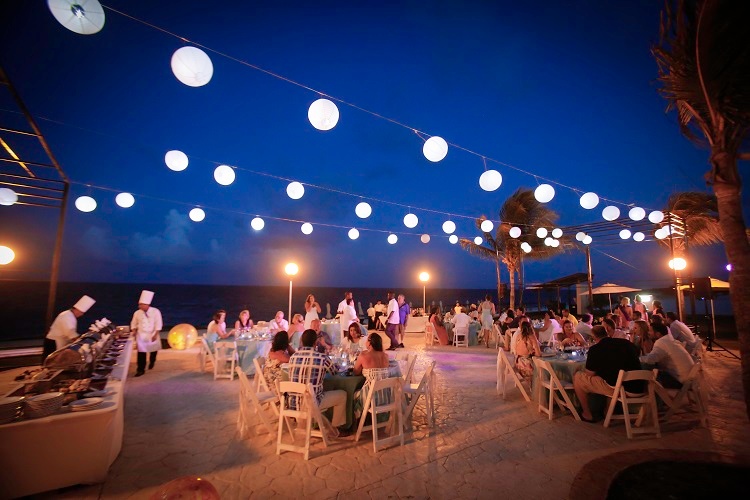 Your biggest piece of advice to couples planning a destination wedding would be:
I have a lot of advice! First, keep a very thorough list of everything and plan out of your budget. I run a business, so budgets and spreadsheets are the norm for me. I estimated everything that we would pay for at the very high end and budgeted a few thousand dollars for miscellaneous expenses too. We ended up coming in way under budget so at the last minute we splurged on a few extra things like the photo booth. 
As a destination bride, you have to remember that not everyone will be able to make it to your wedding. My best friend ended up getting pregnant and she had her baby right before my wedding so she was unable to attend and a few other family and friends could not make it because of either financial problems or scheduling problems. You really need to focus on who is coming and celebrate that and not focus on who cannot make it. Guests might also complain to you about the cost of travelling, etc, but you can't let them ruin your wedding!
Also, trust the process. These resorts do a LOT of weddings and they know what they are doing. The communication I had with the resort was very frustrating for me at times, but once I got to the resort everything was perfect and I was not stressed for once second on my wedding day.
But, the number one piece of advice I can recommend is to rely on your wedding Specialist. I was so fortunate to have Sally who was always there for me. There were times I was getting so frustrated because the communication with the resort was minimal or none at all and I really wanted to know the price of something, but I was not getting a response. I would contact Sally and within a few days she had all of my answers and I would also get a direct response from the coordinators at the resort.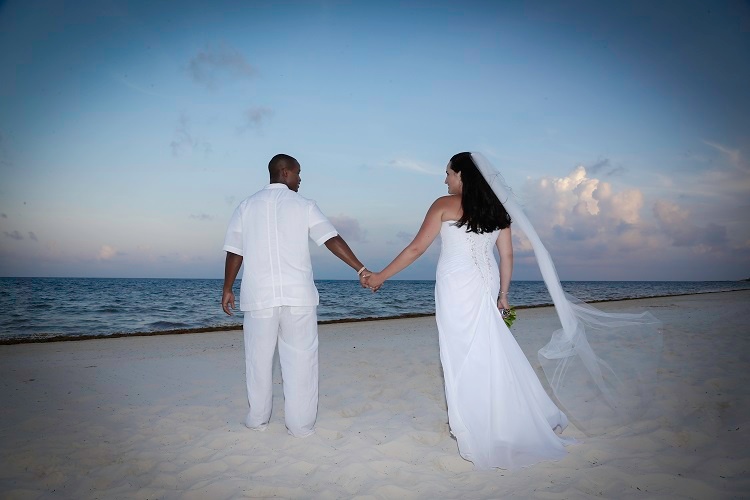 Photos by Dos Kiwis