Couple: Brittany and Jordan
Wedding Date: June 14th, 2014
Location/Resort: Paradisus Palma Real Golf and Spa Resort in Punta Cana, Dominican Republic
Number of Guests: 15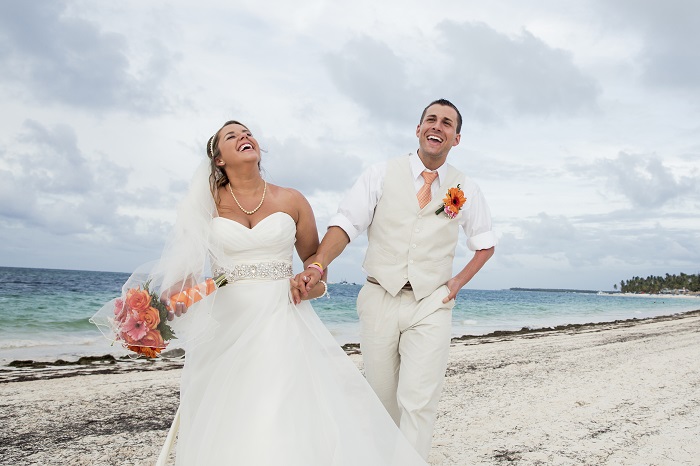 The (brief) story of how you met/fell in love:
We were that storybook couple: the middle school, next-door-neighbor, ride the same bus, roll-your-eyes kind of romance. Our story began in the 7th grade, starting out as just friends (since, at this point, members of the opposite sex were known to have cooties). All throughout middle and high school, we lived just down the road from each other, within walking distance to each other's houses (in fact, our parents still live in these houses to this day, as neighbors). Eventually our friendship grew into crushes, and then into love. Entering college, we decided to go to the same one (of course), University of Michigan. Things were great, and then the worst-case scenario happens: an accident. Jordan hit a tree with his snowmobile and ended up with many injuries, from broken bones, collapsed lung, brain bleed, and so on. The most devastating injury was his arm that became paralyzed. I was thousands of miles away and after getting the news I hopped on the next flight. He was in the hospital for 17 days, and I never left his side. This is where I believe our love story really comes to be.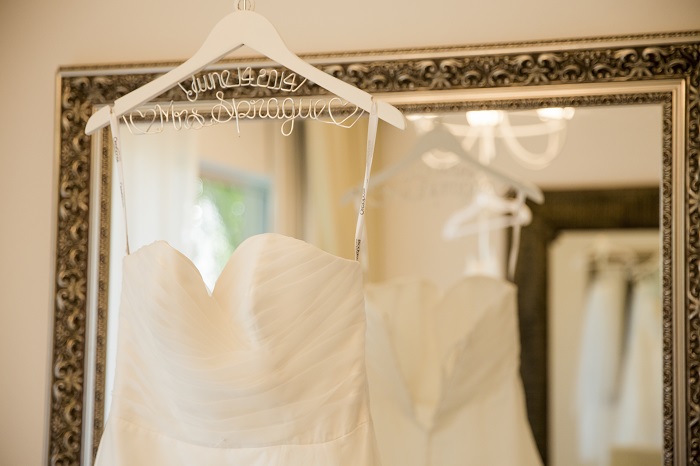 The accident, although incredibly unfortunate, brought us so much closer together. After coming so close to losing him, I really learned how to appreciate him and what we have, and to never take him for granted. And through this, he came to appreciate me for holding his hand every step of the way. It was at this point in time when we knew, without a doubt, that this love was forever.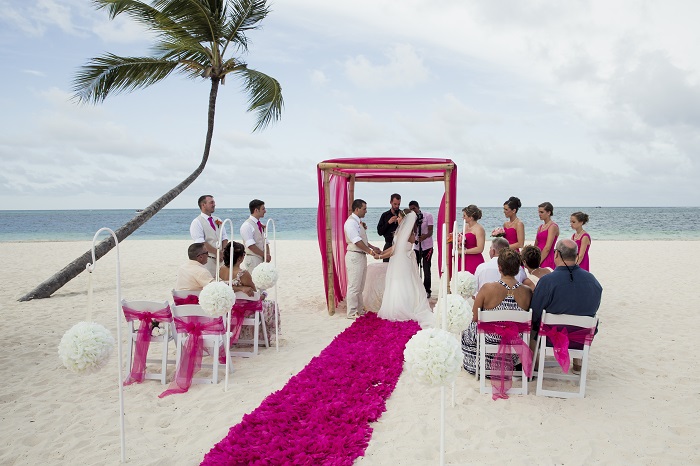 The destination wedding decision: something you've always wanted or came to love?
When I was about 7 years old, my mom had a destination wedding in Jamaica. To this day, I can still hear her say in her sing-song voice, "destination weddings!" as she tried to convince me and my sister that we should follow in her footsteps when we got married. I distinctly remember laughing it off and saying "Mom, I'm not going to do that…" And I meant it, or so I thought. Years later, I find myself engaged and trying to plan the wedding of my dreams. All of the sudden, my mother's voice saying "destination weddings!" enters my brain. I researched it and thought it over a while before mentioning it to my fiancé. One day, we were at the gym, and I brought it up to him, and to my surprise he actually liked the idea. The more we discussed it, the less we felt like a traditional, church wedding suited us as both individuals or as a couple. We agreed that we wanted something small and intimate, and we both had always pictured ourselves getting married on the beach. Also, being college students, we knew we didn't have a ton of money to put towards our wedding, and a destination wedding is significantly cheaper than a traditional wedding (yet, in our opinion, much more beautiful!) Therefore, we began to realize that a destination wedding suited us and our relationship, and we came to love the idea!
What made you choose Punta Cana?
When we began our search for the perfect place to hold our wedding, we took it one step at a time. Our first concern was picking the right LOCATION. We mulled over many different places from Mexico, the Caribbean, to even Australia! A couple of times, we even thought we had found our location, but we would eventually come to change our mind for one reason or another. As for location, we knew one thing we wanted specifically: if we were going to get married on the beach by the ocean, we wanted access to beautiful beaches. We didn't want to have to travel out of the area to find a nice beach. This is where Dominican Republic comes in! After much research, we came to find out that Dominican Republic is known for their gorgeous beaches. After selecting a location, it was actually fairly easy to pick a resort. We knew we wanted lots of activities and excursions to choose from so we had it narrowed down to two options. The list of activities and excursions were endless and the pictures of the resorts looked beyond beautiful. Eventually, we agreed that it was worth it to pay a little more money for the resort we loved most, especially since we were saving so much money in the long run. And that resort was Paradisus Palma Real Golf and Spa Resort in gorgeous Punta Cana.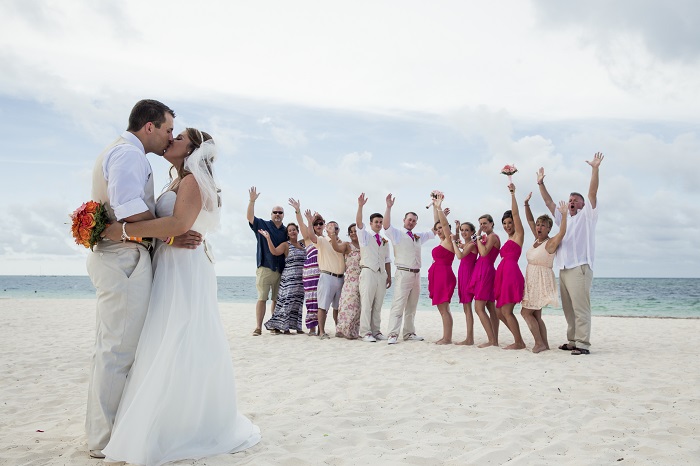 How did you personalize your wedding and ceremony?
One way that we chose to personalize our wedding was to write our own vows for our ceremony. This helped to make the ceremony a little more special and unique to our specific relationship. Another way we personalized our wedding was that we left one seat empty in commemoration of those family members, both living and dead, who could not attend the wedding.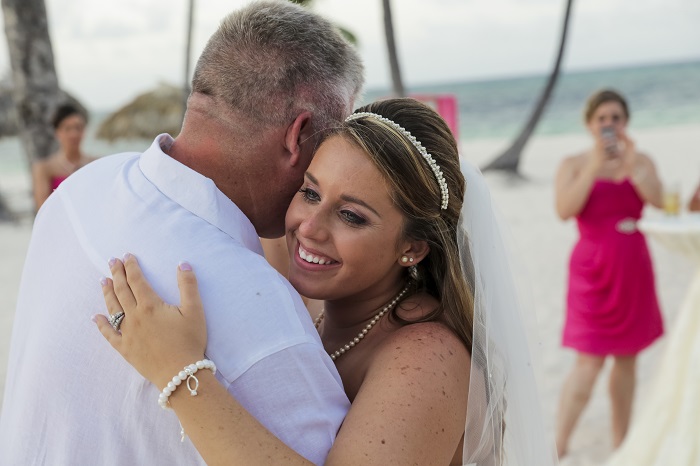 The funniest or most unusual moment was when….
After the wedding was all said and done, we retreated back to our room and found it just as we had left it. Thinking nothing of it, we went on with our trip. A couple of days later, after a long day in the sun between the beach and the pool, I headed back to the room to get gussied up for dinner. When I entered our room, to my surprise, I found rose petals leading a path into the bedroom, and also arranged into a heart on our bed. I followed the rose petal path into the bathroom where I find a hot bubble bath drawn with rose petals in the shape of a heart on top of the bubbles as well. When Jordan eventually enters the room after golfing we both had to laugh at the surprise. They must have mixed up our wedding day, but it was alright because we got a good laugh (and a good story)!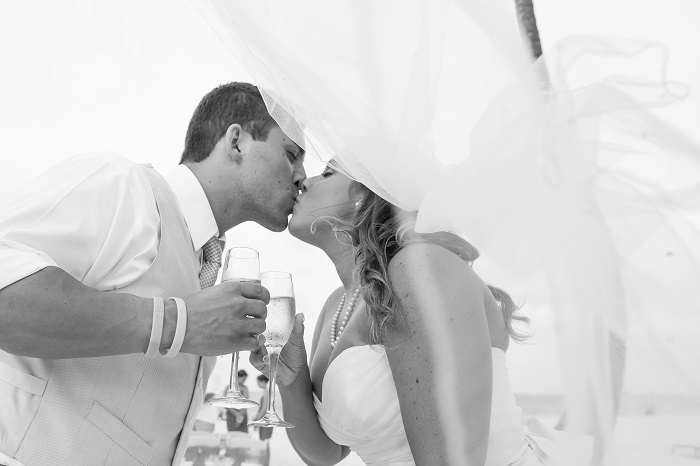 Three words that sum up your destination wedding experience are:
Easy. Unique. Perfect.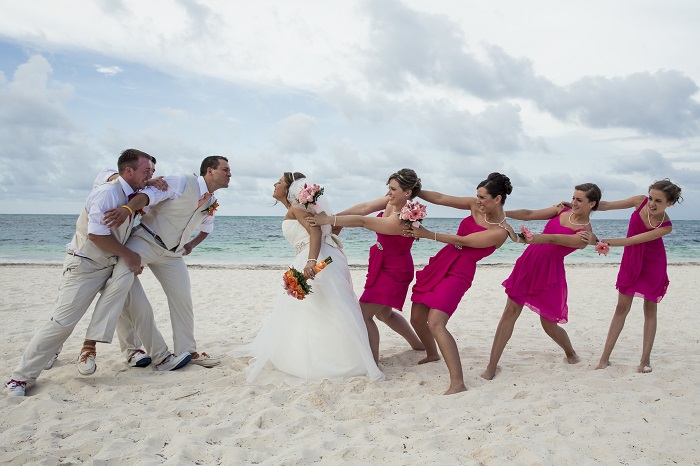 If you could travel anywhere for your one-year anniversary, it would be:
We would both love to go to Australia, although we are also terrified because they are known for their creatures (bugs, spiders, scorpions, snakes, etc.)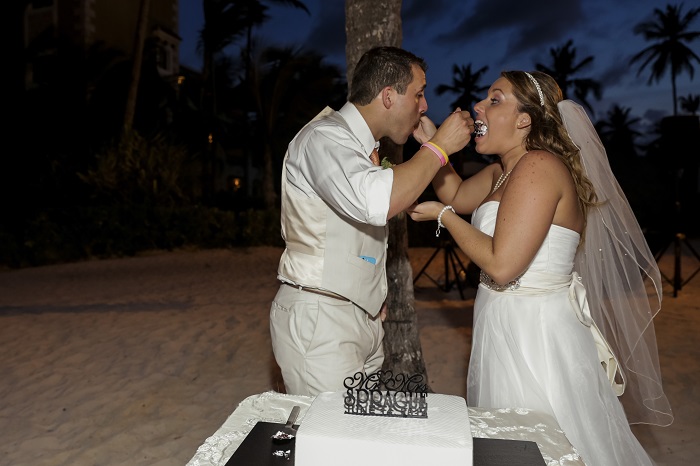 Your biggest piece of advice to couples planning a destination wedding would be:
We had some initial backlash from some of our family members who didn't approve of a destination wedding away from home. Our advice to other couples planning a destination wedding would be to ignore any backlash. Eventually, those upset family members will come around. Ours did! If you know that this is what is right for you, that is all that matters! At the end of the day, the wedding is about YOU. (And trust me, you won't regret it!)