Couple: Jason and Angela
Wedding Date: April 12, 2014
Resort Name & Destination: Secrets St. James – Montego Bay, Jamaica
Number of Guests: 30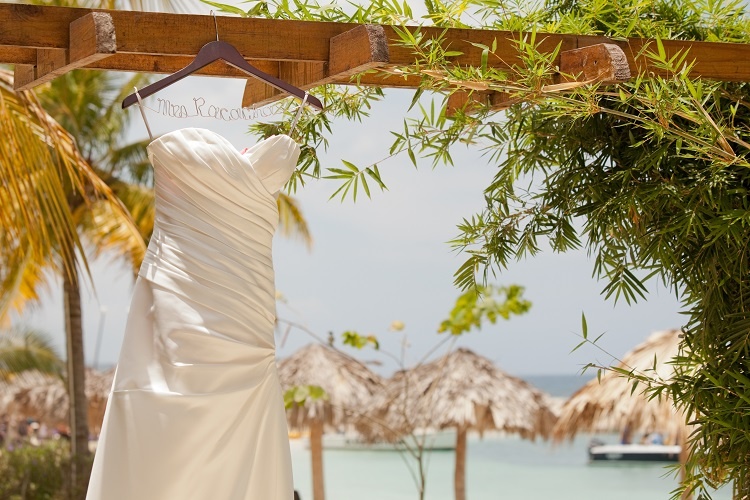 The (brief) story of how you met/fell in love:
Jason and I met completely by fate – we literally just happened to be in the same place at the same time. One weekend, he was out in downtown Pittsburgh, PA with a group of his friends celebrating a friend's birthday. I was at the same place, entertaining friends in from out of town. He struck up a conversation with me and eventually asked for my number. At the time, I was finishing my third year of law school and getting ready to study for and take the Bar Examination, the last thing I was thinking about was dating anyone, let alone meeting my future husband! He called me a few days later to ask me out, and I agreed. For the next several months, he was funny and caring and charming. However, more importantly, he was understanding and patient. He worked around my demanding school and study schedule. We grew closer and closer over the next several months. School was coming to an end, and I had to break the news that (prior to us meeting and getting close) I had accepted a job in a city two hours away. I anticipated the talk ending in us trying to maintain some type of relationship where we stills saw one another on the weekends. Through tears, I told Jason that I would be moving soon. Without any hesitation, he told me that he would move with me! He loved me and could not imagine seeing me only on the weekends. I knew I was falling for him before that evening, but after that night, I knew I would marry this wonderful, handsome, kind-hearted, selfless man. A few months later, Jason and I moved for my job and the weekend that I found out I had passed the Bar Examination, he proposed to me in our first "together" home 🙂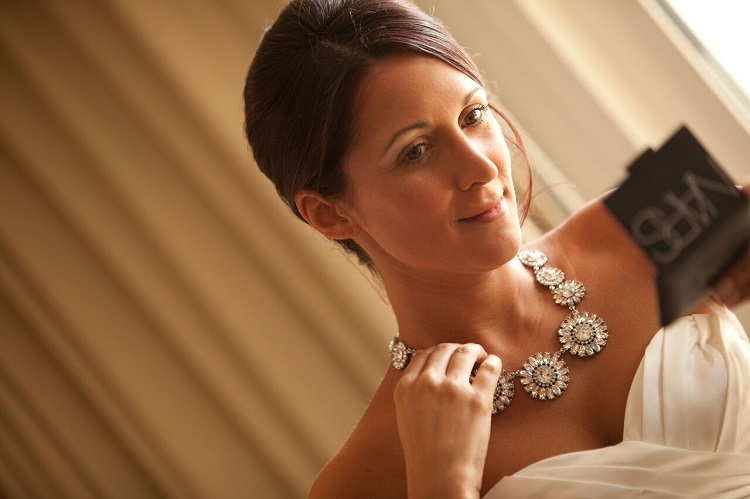 The destination wedding decision: something you've always wanted or came to love?
I had never thought about a wedding, let alone my wedding. I had no real preconceptions of what I wanted, or where I wanted it. After we got engaged, Jason and I discussed where we would get married and a destination wedding ended up being something that we both wanted and were excited about. We decided that we would go for it!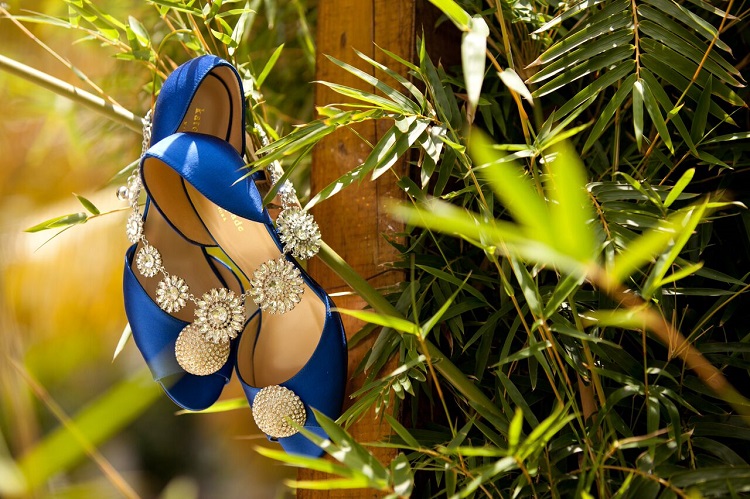 What made you choose your resort/destination?
Neither of us had been to Jamaica and we wanted our destination wedding location to be a place that neither one of us had ever been before. We wanted it to be uniquely special because it would be the place where we got married. After working with Andrea Williams at DestinationWeddings.com and telling her what we wanted, we kind of came up with the location and resort together. As it turned out, we ended up having friends who had stayed at Secrets St. James before and they had nothing but wonderful things to say about it. As the months went by, we continued to hear of other people we knew who had experienced wonderful vacations at the resort as well. So it was a perfect fit!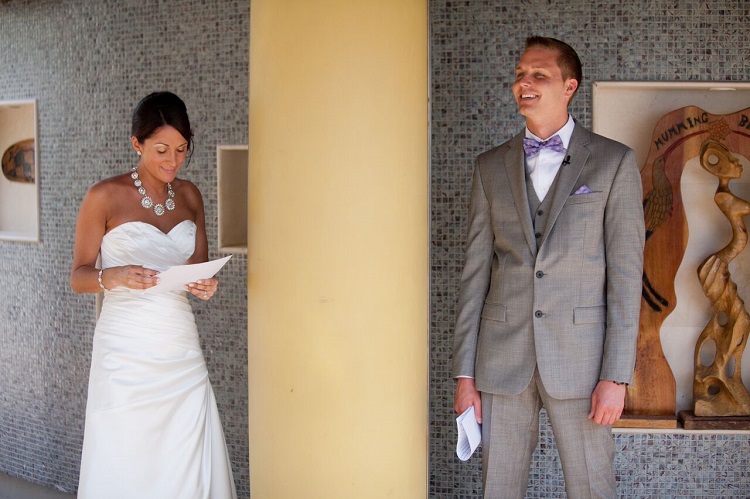 How did you personalize your wedding and ceremony?
We needed two witnesses to sign our marriage certificate, and we chose my brother and Jason's sister. Looking at our marriage certificate now, it is special to see how on that day, two families really became one!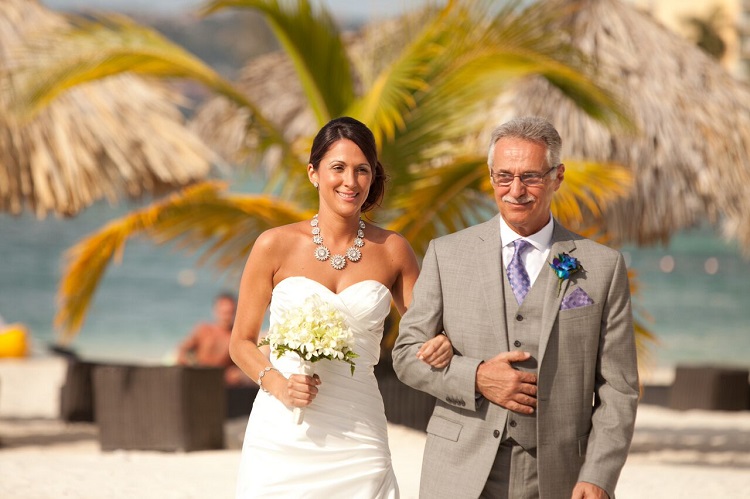 The funniest or most unusual moment was when….
As a group, we took a day trip to Negril to go cliff diving at Rick's Café. Everyone had so much fun and Jason and I ended up jumping together hand-in-hand. I love sharing experiences with him, and that is not something either of us would typically do, so getting to experience it together was unusual and funny!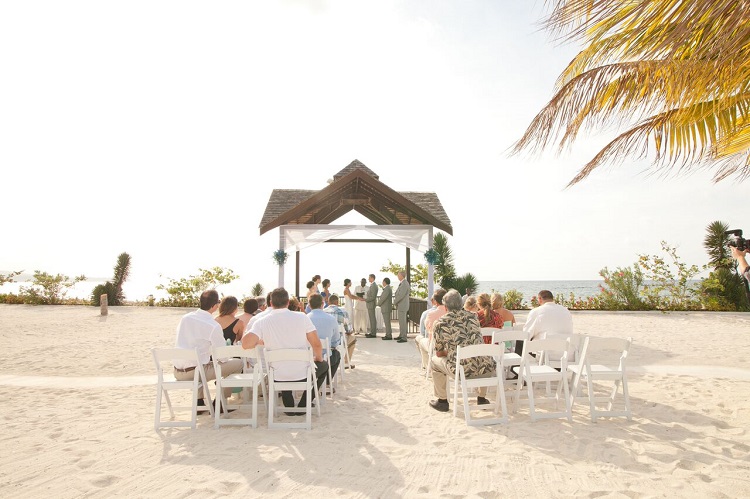 The most memorable moment was when….
Jason and I wrote letters to one another before the wedding ceremony. Prior to the actual walk down the aisle, we met up to read them to one another. There was a barrier in between us so we couldn't see one another but we held hands as we read our notes to each other.  It was such a powerful, special moment. Our videographer taped the whole thing and captured it so that we could see each other's reactions later. It was really special.
Three words that sum up your destination wedding experience are:
Special, Fun, Memorable!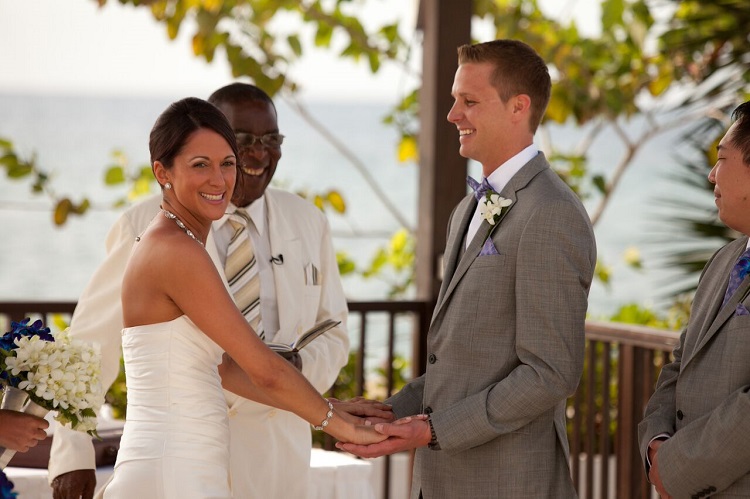 Besides the wedding itself, what was your favorite part of your trip? Did you do any activities with your guests?
The cliff diving in Negril was a ton of fun, and we also made a stop in Ochos Rios. The best part though was just spending a week with all of our great friends and family. Two of my dear friends came with their husbands – we have been friends since elementary school, but all live in different cities now. As adults, it is not often, if ever really, that we get to spend that much time just having fun with so many great friends and family .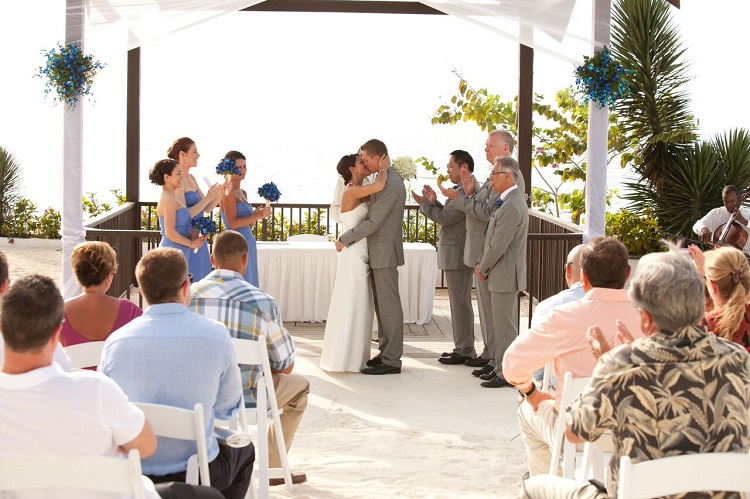 If you could travel anywhere for your one-year anniversary, it would be:
We are actually thinking about planning another Secrets trip for our one-year anniversary. The resort and its employees were truly top notch and I have heard that is the case throughout all Secrets resorts. So, we are excited to plan another stay, this time in a different county.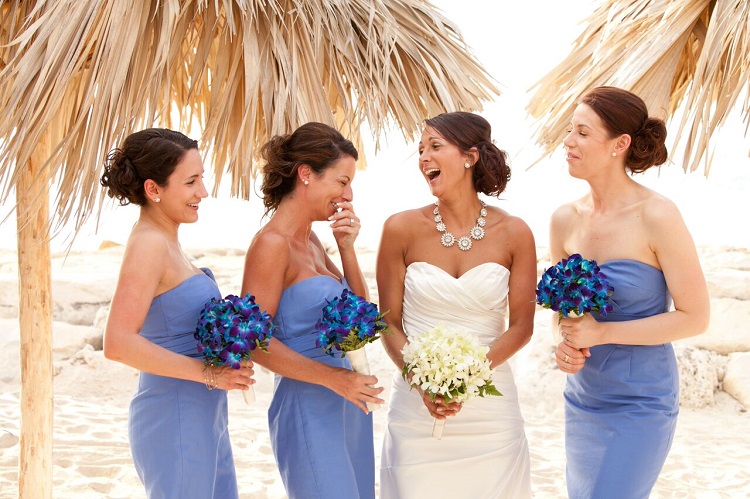 Your biggest piece of advice to couples planning a destination wedding would be:
Do no attempt to do it on your own! DestinationWeddings.com is full of professionals who are truly amazing at what they do – and planning destinations weddings is what they do! Chances are this is your first time trying to plan a wedding, let alone a destination wedding. DW.com is reliable, professional and very knowledgeable. Don't be afraid to enlist the help of the professionals.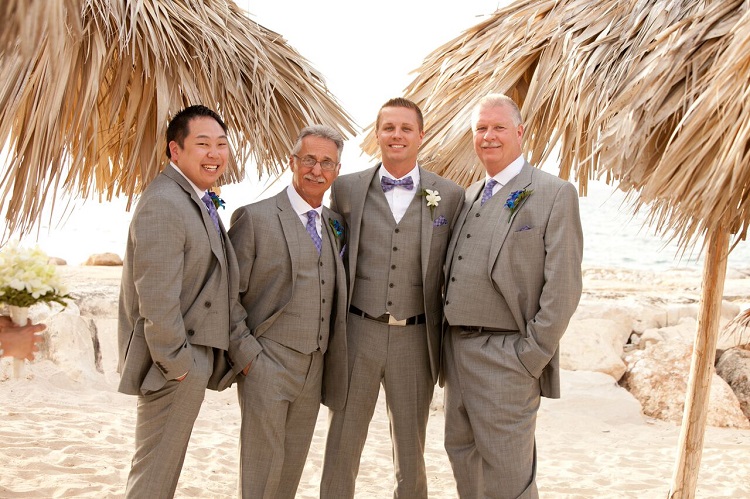 Photography by Acacia Studios