Couple: Amanda & Keith
Resort Name & Destination: Sandos Cancun Luxury Resort in Cancun, Mexico
Number of Guests: 46
Photography by: Chris Bautista Photography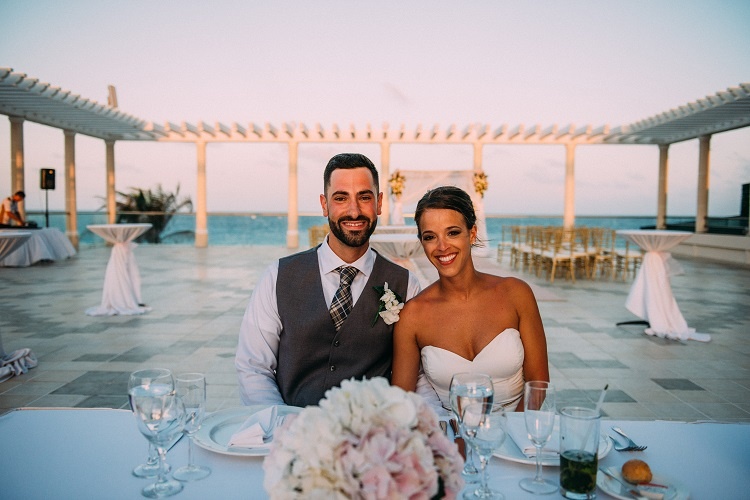 The (brief) story of how you met/fell in love: I wish we had a really exciting story on how we met but we don't…we met through mutual friends! We dated for 8 years, bought a house, got engaged during our 9th year together and are now going on our 10th but now as newleyweds (with our rescued dog, Rosco)!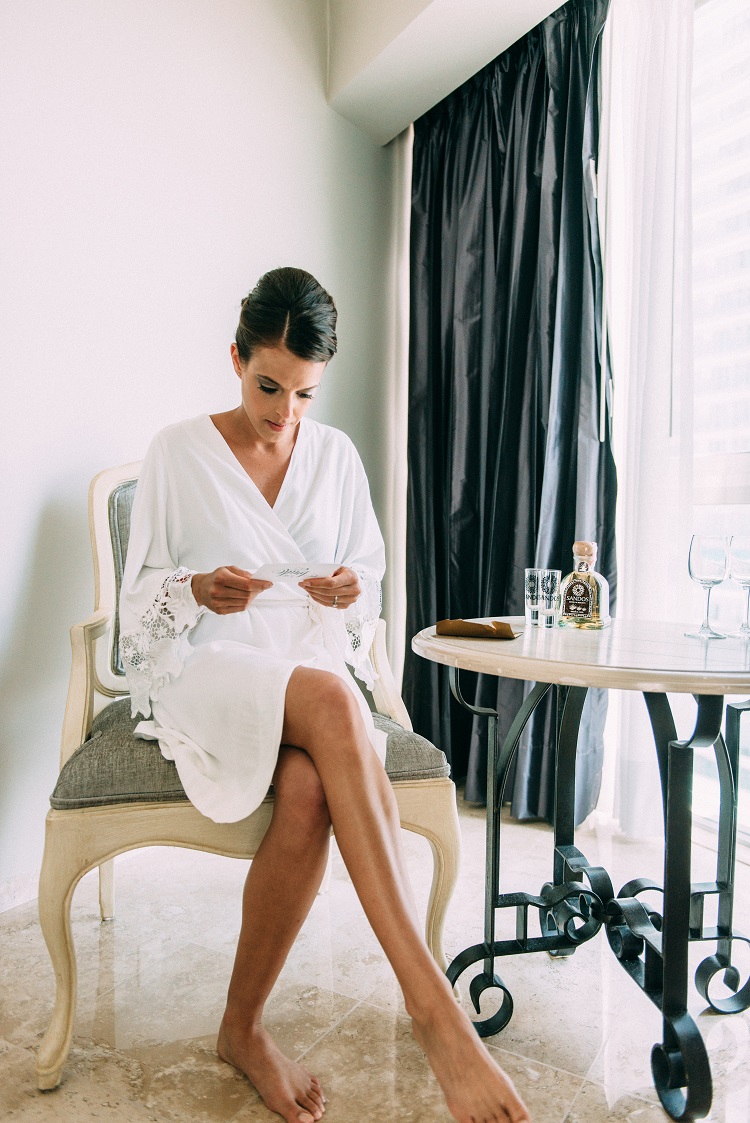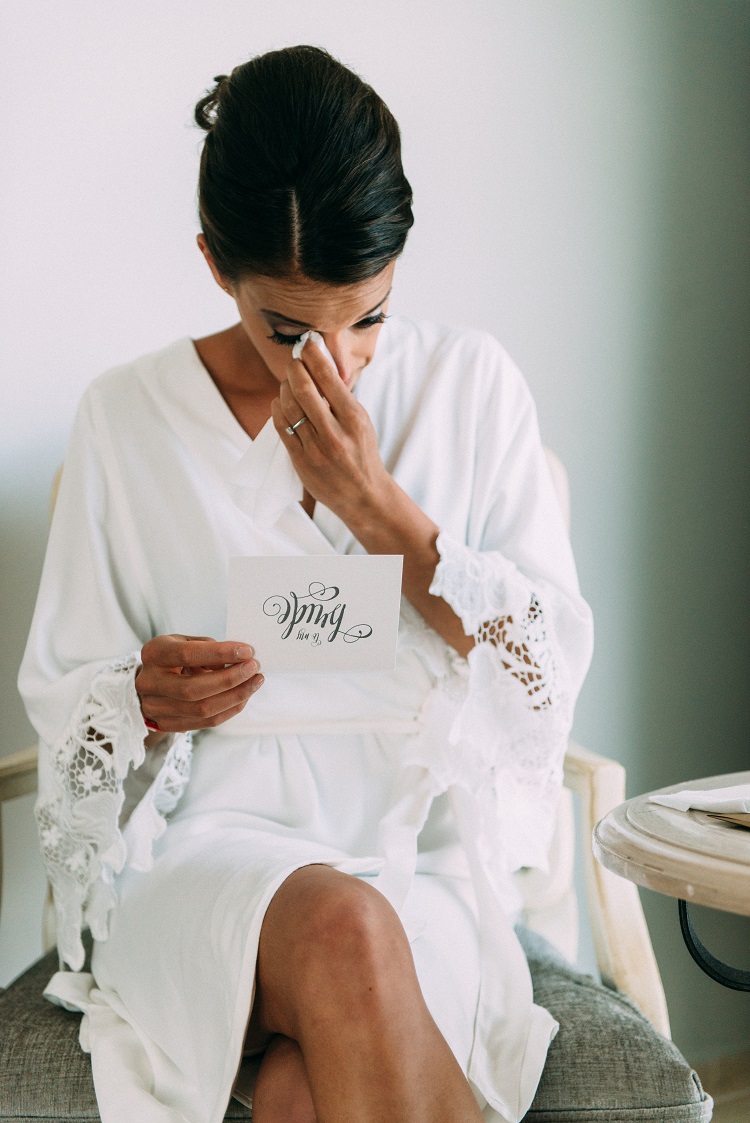 The destination wedding decision: something you've always wanted or came to love?
One of our favorite pastimes is being at the beach. We actually got engaged while away for a beach weekend! After being together for 9 years, we had been to numerous weddings and although they all had their own special touches, they seemed to all be much the same. We wanted our wedding to feel different than all the other ones and what could be more memorable than a destination wedding?? We also knew a traditional New England wedding wasn't financially an option for us. A destination wedding would allow us to have something special and beautiful without putting us into $30-50k of debt (at a minimum!)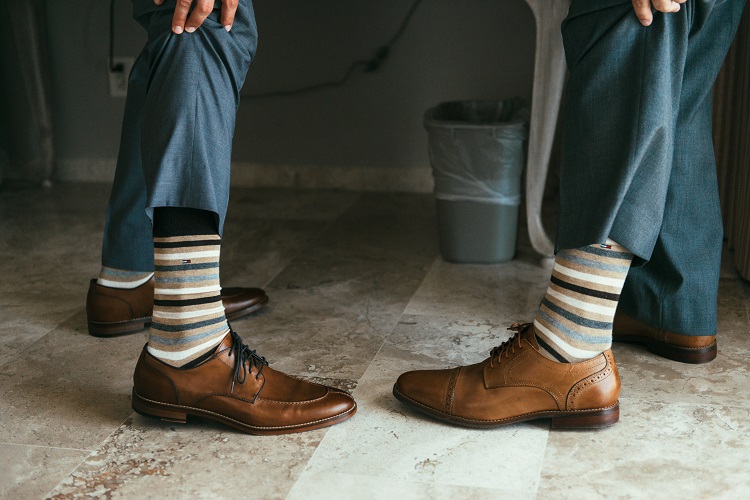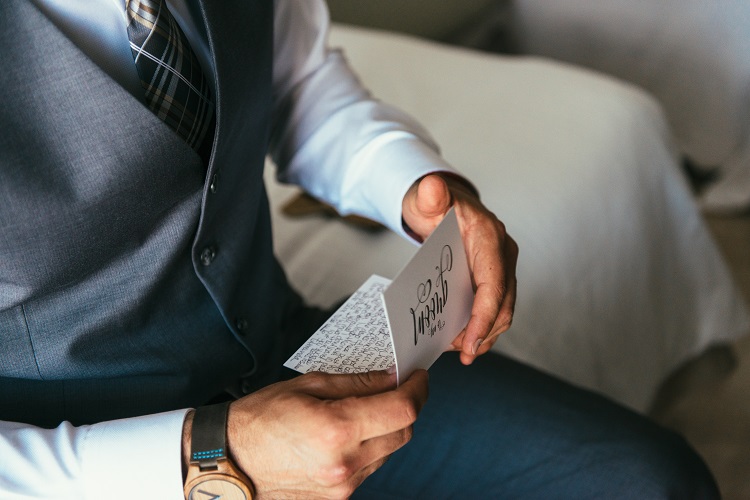 What made you choose your resort/destination?
We wanted as many of our friends and family to be able to make it to our wedding and Sandos Cancun is a beautiful budget-friendly resort. Their wedding packages were reasonably priced for us as well as their pricing for a 3 night stay (which is typical for destination wedding guests). The locations for the ceremony and reception were to our liking, and the reviews of the resort helped to assure everyone would enjoy our wedding weekend without breaking the bank!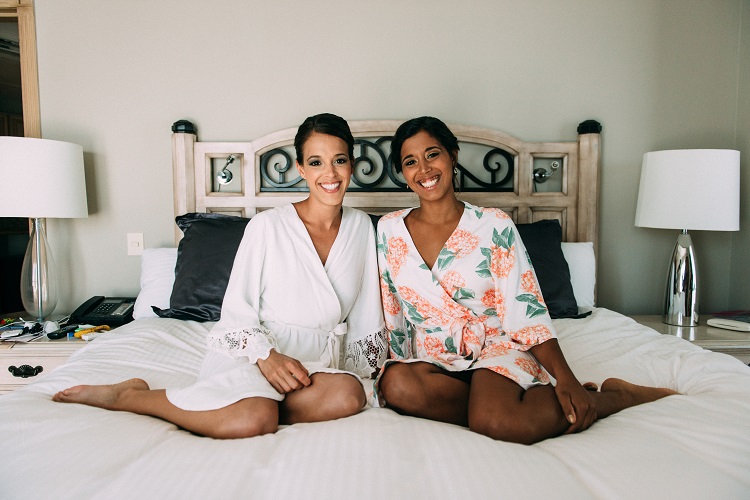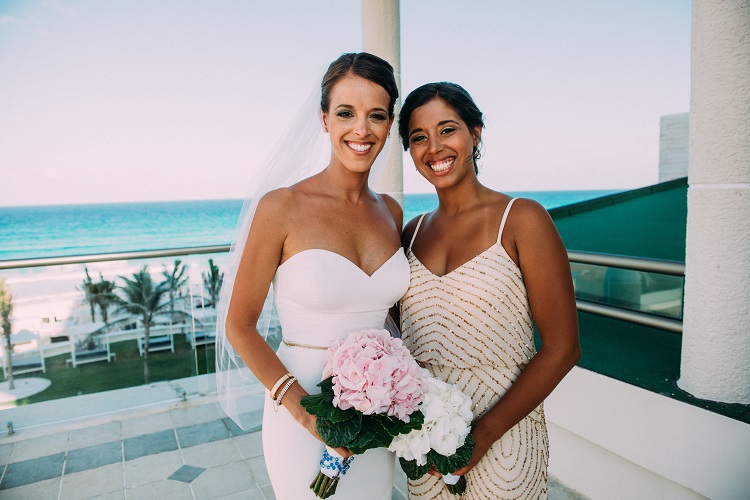 How did you personalize your wedding and ceremony?
We kept it pretty simple. We both feel like less is more. The beautiful blue water/beach view from the rooftop was such a perfect backdrop for the ceremony and reception that we didn't feel the need for extras. We did however upgrade our chairs for the ceremony and reception. We chose gold Tiffany chairs. They tied in with the gold sash on the brides dress, the maid of honors gold Adrianna Papell dress, and the metallic dresses the mothers of the bride and groom wore. They were also the perfect contrast with the bright white table clothes and the pink and white hydrangea centerpieces. They made for a beautiful setting!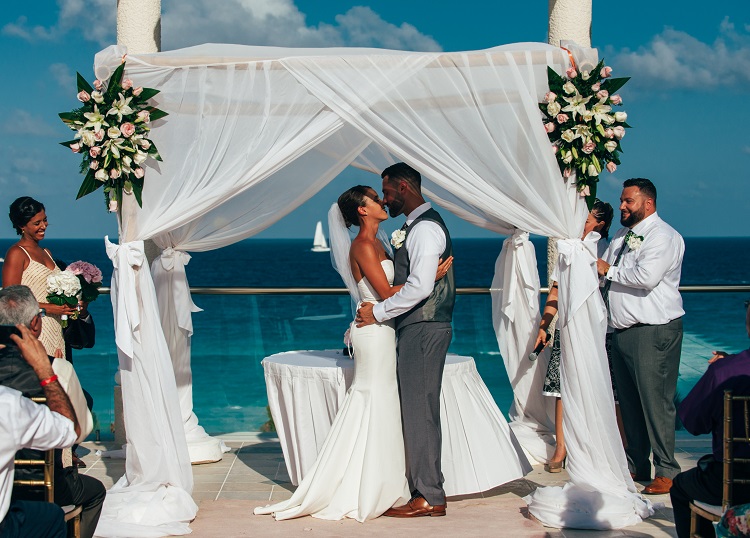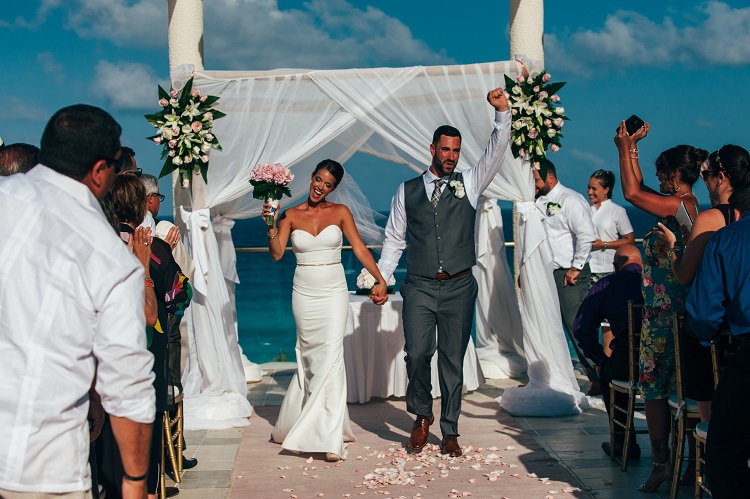 The funniest or most unusual moment was when….
We were all on the dance floor at one point at the beginning of the 'dance party' portion of the reception. You could see numerous guests from our resort peeking out their windows and others standing out on their balconies celebrating/enjoying the music with us. We all noticed one particular woman in a window dancing and waving down at us. Everyone on the dance floor threw their hands up in the air and starting cheering her on as she cheered us on! It was so fun!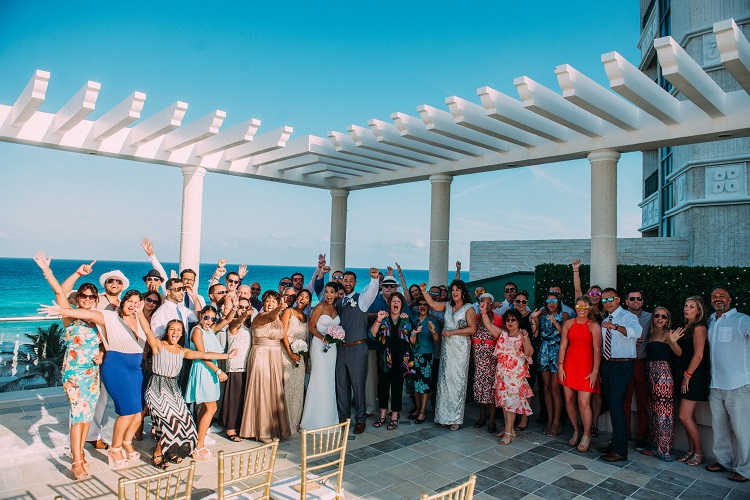 The most memorable moment was when….
There was a delay in the sun setting. According to our wedding coordinator, the sun typically tends to move behind the resort during cocktail hour but it would not budge. It was extremely hot and our wedding coordinator and her staff were all saying how surprised they were that it was still so strong. We were then introduced by the DJ and it could not have been more perfect timing than for the sun to begin dimming as our first dance started! It was absolutely beautiful.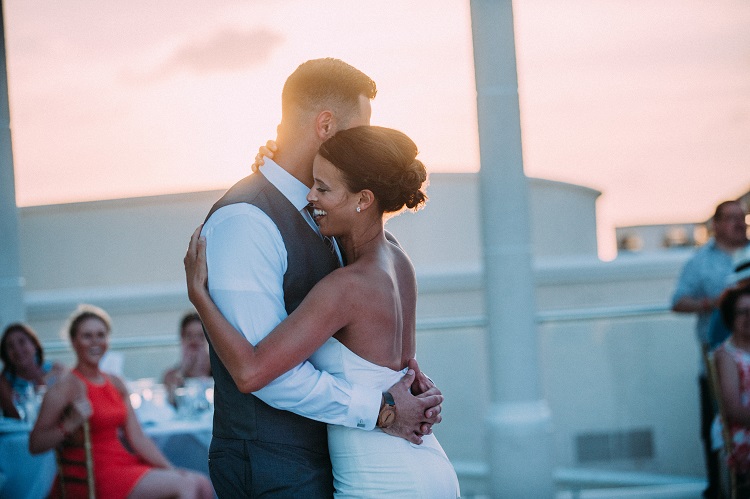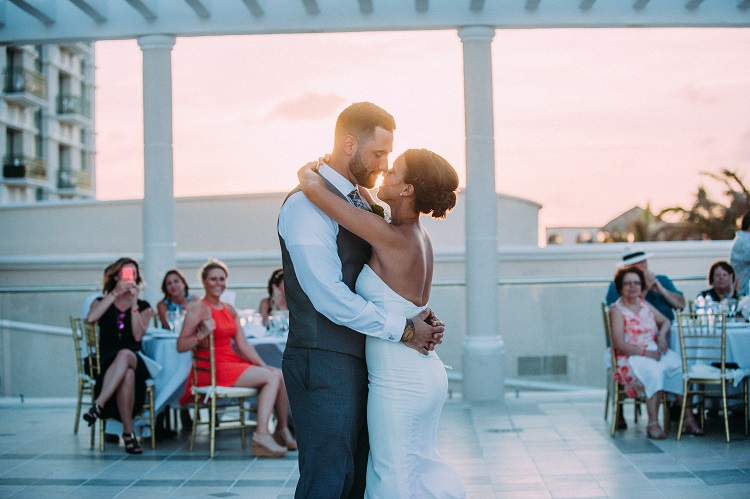 Three words that sum up your destination wedding experience are:
Unforgettable / Fun / Flawless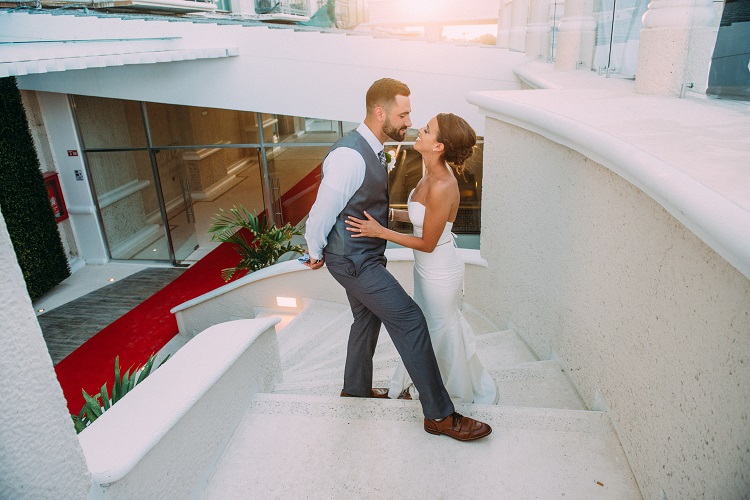 Besides the wedding itself, what was your favorite part of your trip? Did you do any activities with your guests?
Sandos Cancun Luxury Resort has the perfect pool set up for a destination wedding weekend! The three infinity pools are beautiful. The cabanas and lounge chairs are abundant (and free!). It was beyond heartwarming to see all of our family and friends hanging out together in one area playing pool volleyball, bingo, chess, grabbing some drinks, enjoying delicious food…the list goes on and on!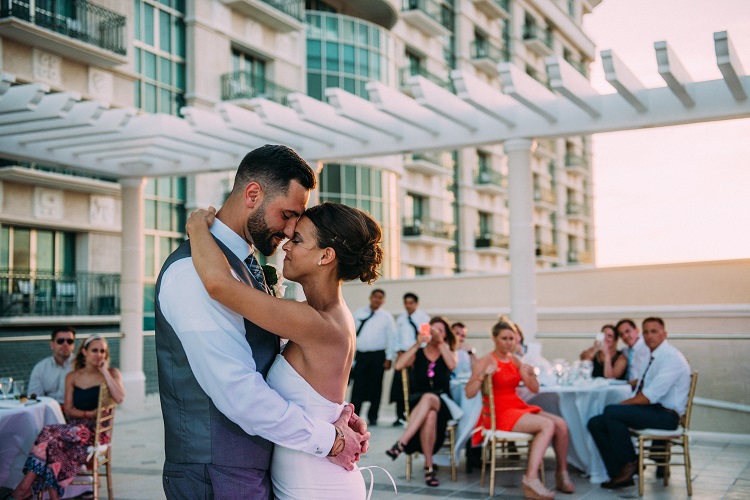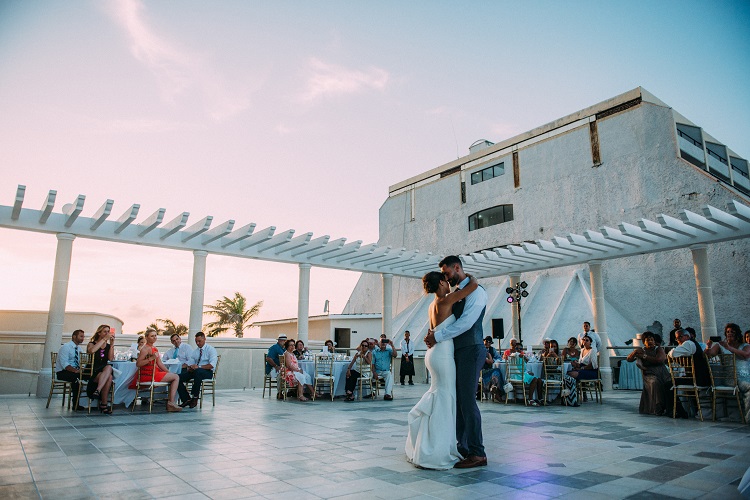 If you could travel anywhere for your one-year anniversary, it would be:
Anywhere tropical! We love the Caribbean but would also love to travel to Hawaii at some point in our lives.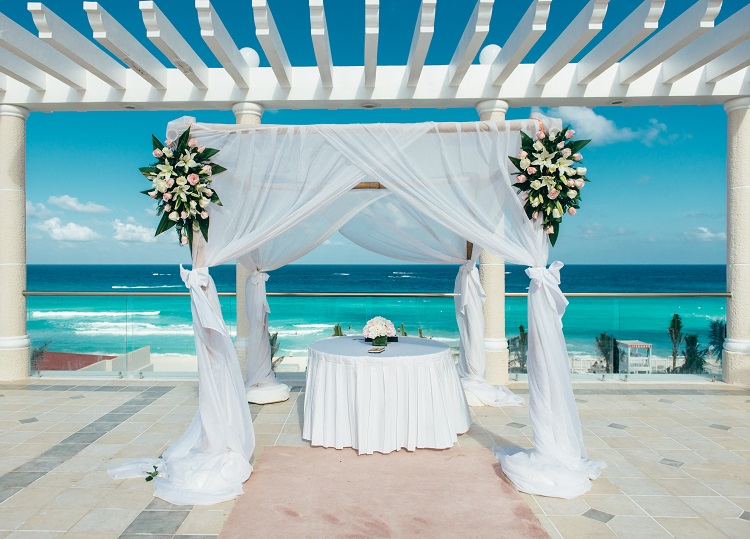 Your biggest piece of advice to couples planning a destination wedding would be:
Put yourselves first! At the end of it all, the day is for you. You cannot please everybody. Everyone you invite may not be able to make it. People may complain that you're selfish for having a destination wedding. But if a destination wedding is truly what YOU want, you will NOT be disappointed. The wedding coordinators (both from destinationweddings.com & the resort) do EVERYTHING in their power to make sure your day turns out exactly as you want it to. It will be difficult at first planning your wedding via emails/Pinterest/telephone calls but it all comes together once you arrive at the resort. The guests that are able to make it will not be disappointed and at the end of the night, we promise you'll say "we're so glad we did this!"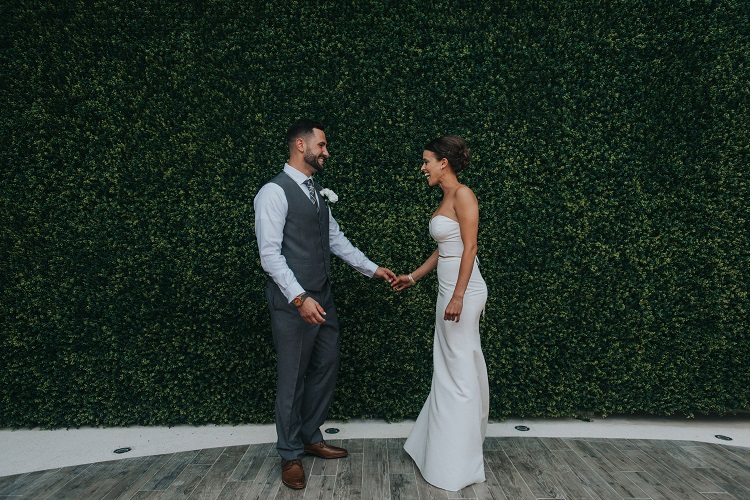 See more of Amanda & Keith's reception below: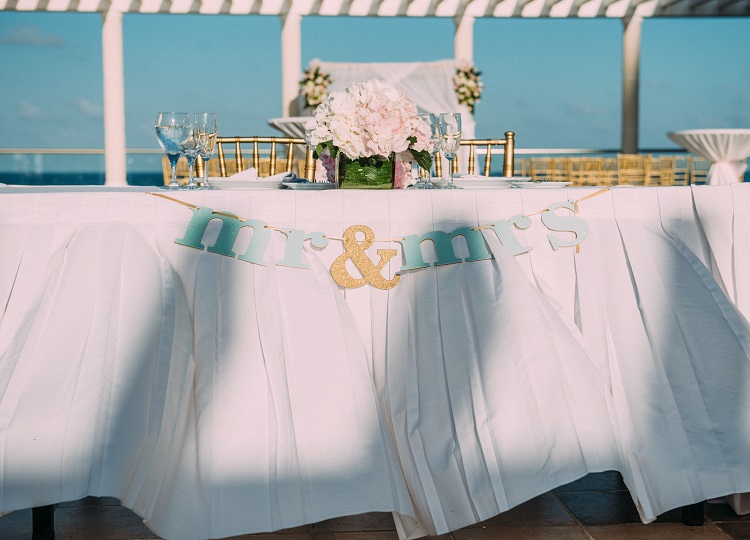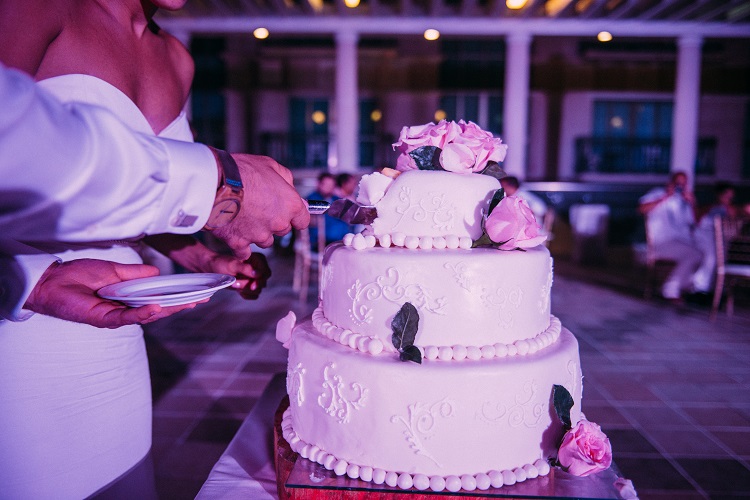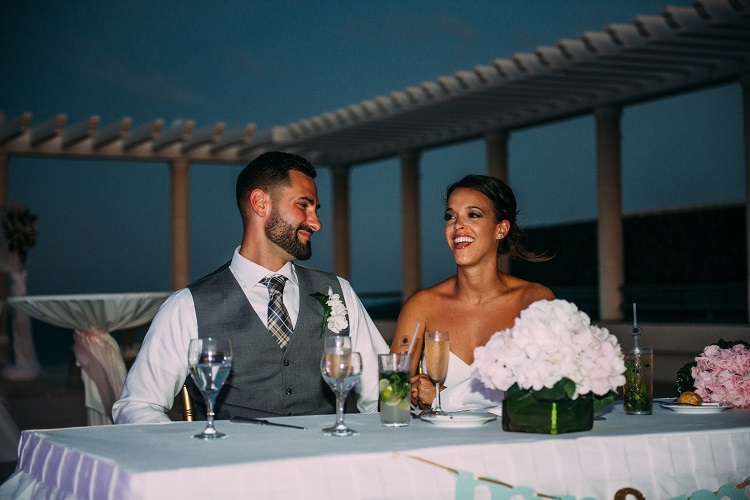 For more real wedding inspiration, check out our Pinterest!