This guest blog post was written by Jess Moore, co-founder of Stylebook. Stylebook is a closet management app for the iPhone and iPod that helps you organize your clothes, create outfits & moodboards, save and catalog style inspirations, track what you've worn, shop from over 7,000 brands and last but not least, pack for a trip!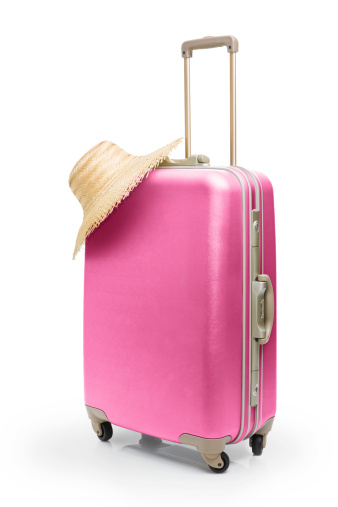 When you're traveling to a destination wedding, few things are more important than knowing that you have everything you need. When my fiancé and I came up with the packing list feature for Stylebook, the virtual closet app for your iPhone, we wanted it to be the perfect way to get the most out of your suitcase. Planning what you're going to bring ahead of time is the best way to ensure that everything you bring is useful and nothing important gets left behind. Whether you're the bride or a guest, there are a few steps you can follow to make sure you're prepared for the best trip ever:
1. Think About Activities – Find out if there are any planned activities, look into the vibe of the hotel, and see if there are any additional formal dinners other than the wedding itself. This will help you pick out clothes that you'll feel comfortable in.
2.  Choose a Color Palette – Stick to two or three colors that look good together and you'll be able to mix and match everything in your bag.
3.  Create a Packing List – Use Stylebook to add individual clothing pieces into a packing list. Since your packing list will be on your phone, you can work on your list while riding the train home or waiting for an appointment. With a visual list, you can quickly spot items that don't fit in with your overall theme. Stick with clothes that are in your color palette and you already know and love – a trip is not the best time to experiment with a new shape or fabric, since the item may end up being uncomfortable.
4.  Plan Your Carry On – Your carry-on plays an especially important role when going to a destination wedding. You want to make sure you have everything you need for the day of the wedding and at least two versatile changes of clothes for other activities. This will save you from worry in the event your checked bags are lost or delayed.
Bride
wedding dress (packed in acid free white tissue paper to help prevent wrinkles and protect any delicate details like beading)
wedding accessories (veil, shoes, jewelry, etc.) neatly packed in soft protective dust bags or tissue paper
emergency kit (I like this list from Martha Stewart)
beauty supplies (make-up and hair styling tools)
wedding dress undergarments
wedding rings
at least one versatile day-to-night dress (jersey is super-thin and wrinkle-resistant)
shorts or a skirt
Two or three tanks that match the skirt or shorts (jersey or silk won't take up a lot of space)
flat sandals (that have already been broken in!)
everyday accessories (flower hair clip, jewelry, etc.)
bathing suit
large scarf or sarong
travel-size garment steamer (just in case your dress gets wrinkled in transit)
(remind your groom to bring his day-of attire and and accessories in his carry-on!)
Guest
dress for the wedding
accessories for the wedding
gift for the bride and groom
bathing suit
at least one versatile day-to-night dress (jersey is super-thin and wrinkle-resistant)
shorts or a skirt
2 or three tanks that match the skirt or shorts (jersey or silk won't take up a lot of space)
flat sandals
make-up
hair supplies (styling tools and a pretty headband that matches the dress you're wearing to the wedding – just in case the ocean air triggers a bad hair day)
large scarf / sarong
5.  Make Your In-Flight Outfit Useful – Think of this outfit as an opportunity to bring a few more useful items without taking up additional space in your bag.

Sneakers – Wear cute sneakers that will come in handy if you want to go on a hike or other adventures. Plus, you'll have socks on so you won't have to go barefoot at the security gate.
Scarf – Wear a huge gauzy scarf that looks good with your bathing suit. It will keep you warm on the flight and you can use it as a cover-up at the pool or beach.
Pretty Cardigan – Choose a cardigan that looks good layered with the other clothes you packed. It might come in handy if the nights are chilly and wearing it in-flight will save space in your suitcase since sweaters can be bulky.
Versatile Bottoms – Wear your favorite pair of jeans so you know you'll have an extra pair of bottoms that coordinate with the tops you packed.
6.  Keep a Visual Record Your Outfit Ideas – Use Stylebook's outfit feature to create and save outfit collages made with images of the clothes you packed, which you can reference when you're getting dressed at the hotel. Saving your outfit ideas ahead of time will save you time and stress!
7.  Mix-and-Match – Create as many outfit combinations as you can using the items in your packing list. Saving your extra ideas may come in handy if there is an unexpected change of plans or if you just don't feel like wearing one of your original choices.
Record Styling Tips – Choose tops and dress that can be styled in different ways and make note of these options in the notes section of your saved outfits in Stylebook.
8.  Make a Plan – Schedule what you're going to wear according to the planned activities ahead of time with Stylebook's calendar. You'll be the first one dressed in the morning and you'll look fabulous!
9.  Try It On – If you have time, try on your outfit selections before you pack and make sure everything feels comfortable and looks good.