Are you in the middle of planning your dream destination wedding? Congratulations! This is a huge time in your life leading up to an exciting new chapter. With everything you have to think about, one of the things on your wedding list is probably flowers.
Flowers are traditionally part of every wedding. They make a beautiful statement, tie your color scheme together, and add a little magic to your photos. You probably have an idea of what you're looking for. Maybe you adore roses or lilies in reds or pinks. Buttercups, peonies, or gardenias are all popular wedding choices. Or perhaps you just know that you like pure white flowers with simple green accents.
If you have something specific in mind when it comes to flowers for your destination wedding, it might be better to go with fake, or "faux," flowers. At first, you may think that's not a good option. Luckily, we've come up with some information to help you determine if these artificial buds will be right for you on your big day. You'll also get some advice from a real bride and her experience using faux wedding flowers!
Here are the pros of real vs. fake flowers for your destination wedding:
They help save money
Faux flower material doesn't look fake
Shipping them to your destination (and back home!) is easier
They hold up better in warm climates
No allergies
Get expert advice from a Destination Wedding Specialist today >>
Keep the cost of flowers down by going faux
There's a pretty standard list of flowers that you'll need for your destination wedding. From your bridal bouquet to aisle decorations for the ceremony, everything adds up quickly, and so will the price. Instead of spending thousands of dollars on real flowers, you can opt for fake ones at a lower cost. If you're on a budget, especially with all the travel expenses that comes with a destination wedding, flowers might be on category you can save some serious bucks on.
Before you make any decisions about flowers, it's always good to check with your resort's wedding coordinator. Flowers might already be included in whichever wedding package you choose, so you may not have to worry about providing your own (one less thing to worry about!). If you're looking for something specific, however, exploring the option of faux flowers isn't a bad idea.
The material of faux flowers looks real
If you've never used faux flowers before, you'll be surprised at how amazing they can look. Their high quality makes it practically impossible to notice the difference between fake vs real. Your guests will have no idea! With the right vendor, they'll be the spitting image of fresh flowers. Plus, they come in all different styles and colors to bring your wedding flower vision to life.
Since the material is fake, your flowers will also hold up better in warm tropical settings. If you're having your destination wedding in places like Cancun, the Bahamas, or Aruba, the humid air can make real flowers wilt in a hurry and look less than spectacular in photos.
Transportation is easier
Faux flowers do a lot better when traveling. Whether you decide to ship them to your destination or pack them in your luggage, you won't have to worry about them falling apart or getting crushed. This means you can also take them home with you. Your fake flowers will make great wedding mementos and they'll still look as beautiful as they did on your special day.
---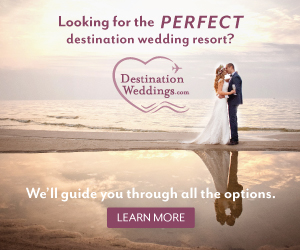 RELATED: The Ultimate Guide Destination Wedding Attire
---
Any flower for any season
With fake flowers, you also don't have to worry about what is in season. You can have any flower type you want in any color, at any time of the year. How cool is that? If you like something rare and unique, it's going to be easy to find it in a faux version. You can also do unique color combinations and let your imagination run wild. Want blue roses because it's your absolute favorite color? The sky's the limit here. Anything you want goes with fake flowers to ensure your day is everything you hoped for!
You'll stay allergy-free
Do you, your spouse-to-be, or anyone in your bridal party have allergies? If so, then you may want to consider faux flowers. The last thing you need to worry about is someone having an allergy attack in the middle of your ceremony or even during the reception. Red eyes and stuffy noses don't look great in wedding photos, so having artificial flowers will save you from that problem hands down.
Still not convinced?
If you're still hesitant about real vs fake wedding flowers for your destination wedding, hear what one of our brides had to say!
Jenni Boyer got married to her husband Andrew in Riviera Maya, Mexico. She ended up going with silk flower bouquets for herself and her bridesmaids, relieving her of unwanted stress and frustration. Jenni worked with an online silk flower florist, Faux Real Flowers, and ended up with beautifully made bouquets. Nobody knew they were fake!
Keep in mind that the real vs fake wedding flowers debate is ultimately going to end up being what you're most comfortable with. Just know that if you do end up going with fake flowers, they are lovely enough to enhance the beauty of any wedding day.
Ready to start planning your destination wedding? Contact us today >>