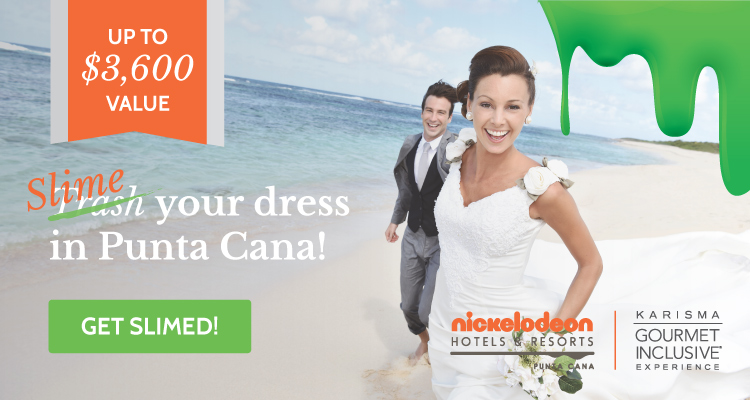 Something old, something new, something borrowed, something GREEN!
We're taking the trash the dress concept to the next level with our brand new, offer! For the first time ever, couples can enjoy a private sliming PLUS a complimentary Always & Forever wedding package (and more!) from Karisma Hotels & Resorts!
And that's not all…
When you take advantage of this exclusive promotion, you'll be automatically entered to win a 4-night stay back to this amazing resort! Can you say 'honeymoon' or 'first anniversary' trip?!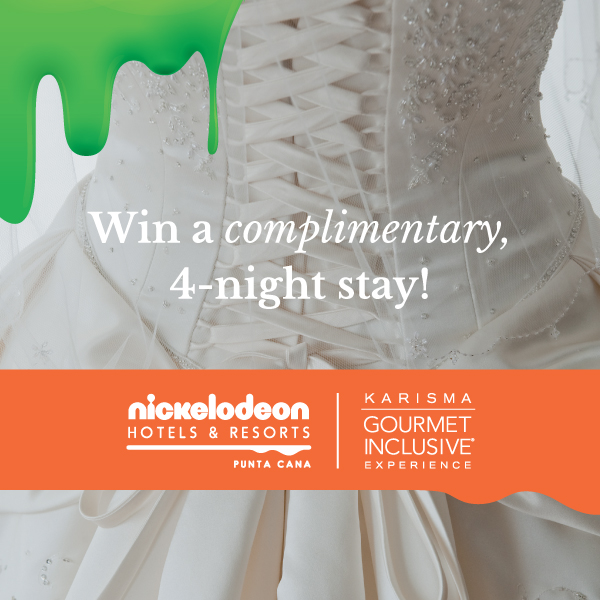 Nestled on the coast of Punta Cana, Nickelodeon Hotels & Resorts Punta Cana brings the spirit of infinite play to every moment of your dream destination wedding. Unleash your inner kid while enjoying swim-up suites, lavish luxury amenities, and of course the one-of-a-kind Pineapple Villa, where guests can enjoy the superb SpongeBob Squarepants life.
Our exclusive slime the dress promotion is filled with happy surprises, as you meet all of your favorite nickelodeon characters from the Ninja Turtles to Dora the Explorer! Don't worry, your sliming also comes with a complimentary hairstyling and make-up service for the bride…so you're sure to be picture-perfect afterwards!
Sliming mixed with glamorous fashion and stunning, picturesque views makes for a unique and memorable wedding. Embrace youth, while enjoying award-winning cocktails and fine wines paired beautifully with delicious culinary creations from world-class chefs. Nickelodeon Hotels & Resorts Punta Cana offers the perfect mix of personalized service, playful luxuries, and delicious cuisine. Slime the dress is the latest upcoming wedding trend for couples with a love for youthful excitement. This offer is currently only available at Destination Weddings; enjoy complimentary private sliming for the happy couple, free hairstyling and make up service for the bride and a FREE Always and Forever Wedding.
So what are you waiting for? Be the first ever bride (or groom) to GET SLIMED!
Complimentary stay terms & conditions: Certificate is valid for one year from issuance. Subject to availability, holidays and special events excluded. Not redeemable for cash and is non-transferable. Cannot be replaced if lost, stole, destroyed or expired. Credit will not be given on any unused portions. Reservations may be confirmed at least 30 days prior to requested travel dates. Original certificate needed to redeem prize.